Few weeks ago I received a short, but sweet text message from my ex-boss in Perth.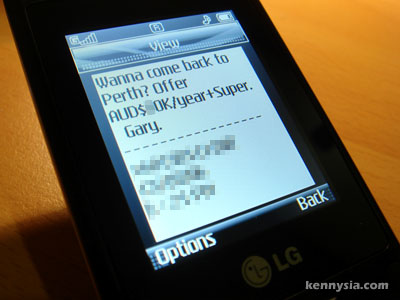 My jaw fell to the ground. I struggled to pick it up.
It is a very huge sum, something I could only dream earning of at the moment. I was offered a salary that only people who have worked their arses off for ten, fifteen years would be getting. And right now it's sitting right in front of me within reaching distance. The figure is more than double of what I am earning in Kuching right now. That means I could buy my own house, drive my own car, fill up my savings account and reach my financial goals twice as fast.
If I wanted to.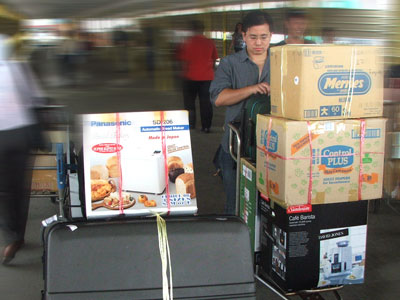 About two years ago, I left my former job as a software engineer for a radio base station manufacturer in Australia to return home to be with my father. It was a difficult decision at the time, but one that I made without any regrets. We packed our bags, sold off 8 years worth of everything and moved back to Kuching.
A chapter was closed. A new page begun.
Fast forward 18 months later, I have more of less settled down in my new job, kickstarted a few projects and even managed to get the ball rolling. Thanks to the popularity of this blog, my social circle within Malaysia and around the region expanded considerably.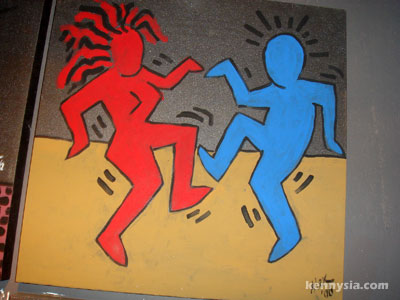 Within a few short months, I went from a nobody to a somebody. No longer do I feel lonely and without friends like I did initially. After all the drama and major changes endured last year, at least now there's some calmness and serenity in my life.
At first, I didn't plan to stay in Kuching for too long. I only thought of staying back temporarily just to make sure everything is alright before moving elsewhere.
It's not that I don't like it here. I do. But working here and living here, I just feel that there are too much restrictions in place that I had to obey, and I felt that stifle my creativity process. I love Kuching, but I feel it is not exactly the place where I could take full advantage of my youthful energy and hunger for knowledge.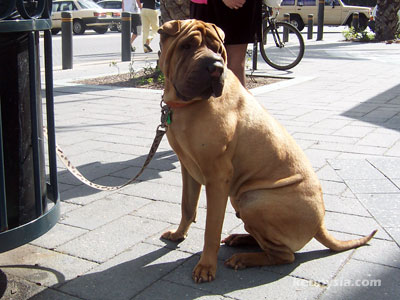 Part of the reason I started kennysia.com is to have it serve as a personal creative outlet for myself. It has been extremely theurepatic for me writing here. I thought to myself "Hey, eventhough I cannot take control of my own life, at least I still have my blog which is the one thing I have 100% complete control over."
But since I started writing here, I had been called into "the room" many times with "the powers that be" for "a discussion" because of all the "concerns" that my blog has brought about to them. Words were exchanged, tears flowed, but I was as stubborn as a brick wall. They think that I am troubled because I don't tell them things that I do on this blog.
Well, actually I had, but no one was listening.
They asked me again what I wanted, and I told them exactly what I wanted in life. Their replies were exactly what I anticipated – that there's nothing much I can do. They even tried to console me by explaining that "sometimes there are paths that you don't want to walk, but because of certain events, you have to walk down that path." After a while, I was told to stop dreaming about moving out of Kuching and just concentrate on what I have here.
Time has passed. By and large, I have mostly forgotten about Perth, although I still think about it every now and again.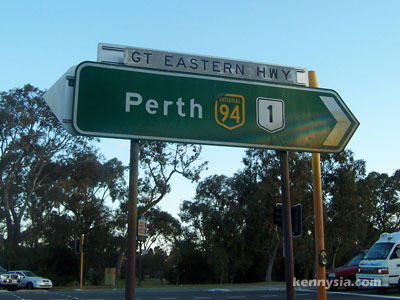 The arrival of the unexpected SMS sent me into a tailspin for the rest of the day.
Suddenly, my inner desire was re-awakened. I find myself in a dilemma once again, choosing between doing the irresponsible thing of leaving home for a better life, or stay back and (try to) be happy with what I have.
Technically, I could go back to Perth if I wanted to. After all, my Australian permanent residency is still valid. I did think of giving up my PR a while back, but this conversation with Wingz made me think twice.
Wingz: "actually hor .. since u got ozzie PR better chow la. stay here play lampar only."
Kenny: "heh. i think i have to give up my aussie pr already."
Wingz: "WTF weiii. u sure anot? kanneh not easy to get ledi u know?"
So I sat down and wrote to myself the pros and cons of going back to work in Perth.
| Pros | Cons |
| --- | --- |
| The pay there is more than double of what I get right now. And 1 AUD = 2.77 MYR. | I have to give up travelling because Perth is too isolated and airfares are too expensive. |
| My job will be more relevant to what I did at University. I can fully realise my potential and not be bound down by conservative rules. | I have to give up the management position I have here, which I kinda enjoy. |
| I can do anything I want here because nobody knows me, and there's no case of small town mentality and rumour-mongering. | In Malaysia, I am a somebody. In Perth, I am a nobody. |
| There is zero stress, no deadlines in my work. And I don't even have to work on Saturdays. | I don't have much friends to go out with in Perth. |
| I can go back to tutoring high school students and earn RM150 an hour per student. | I can't do advertorials on my blog anymore because no way would any company send their products to Australia. |
| I am considered "fit", not "fat", by Australian standards. | This blog is not even gonna be as interesting because it will slowly lose its Malaysian flavour and popularity over time. |
| If I'm not happy with certain politicians or government policies, I can criticise them all I want without being abused. | It's not going to be the same anyway because I don't feel the same connection for Australia the way I feel for Kuching. |
| Aussies are genuinely friendly people and they ask about your day even if you're a total stranger. Over here, people are friendly to you only if they work in Starbucks. | My surname is "Sia", which is pronounced "see-ya" but Aussies always call it "sai-ah". My Chinese name is "Tze Foo Sia" but they like to call me "Tze Sia" because they think "Foo" is my middle name and decided to drop it off. |
| It's easier to stay healthy in Australia because the weather there is more conducive to exercise in and healthy food are more readily available. | Kolo Mee in Perth costs RM20 a bowl and tastes like dog poo drenched in shit oil. |
At the end of it all, I still don't know what I should do. 🙁