I enjoy running and, after having lost many loved ones to the dreaded disease, am passionate about cancer research too.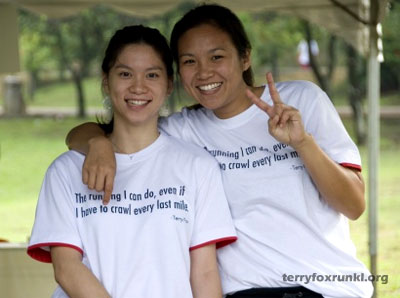 So what better way to combine my love for the two than to take part in the Terry Fox Run KL, happening at the Lake Gardens this coming Sunday at 8:30am.
(No, I still live in Kuching. Yes, I'm flying off to KL again.)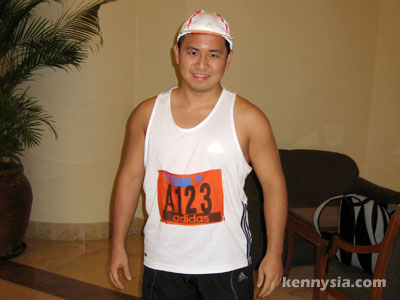 The Terry Fox Run KL aims to raise fund for cancer research.
The run is 6.5km long, but kids can take the shorter route of half that distance. The event is easy, all-inclusive, non-competitive and the route will be scenic and shaded. If you don't wanna run, you can choose to cycle, rollerblade or find other ways to propell yourself forward. As long as you cross the finishing line, it's good enough liaw.
No registration is required and no fees are payable. Of course, it'd be nice to buy the T-shirt and donate a bit to charity lah!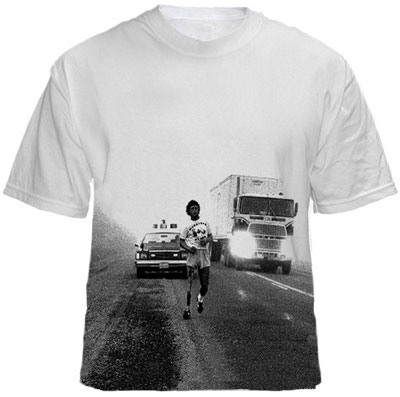 Last year, aspiring ironman-in-training Azman participated in the run and had this to say.

This event is such an eye opener. I've never witnessed the generousity and support of Malaysians for charity events like this. And according to my guess, I never will.
Why?
70% of those who came are not Malaysian! I've never seen such gathering of expats and their offsprings ever in my life!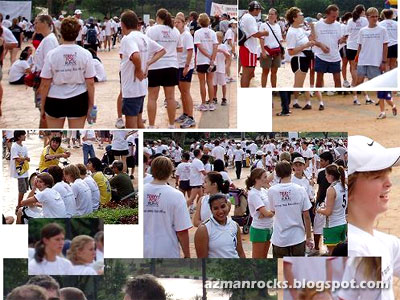 Please lah, people. It's for charity, it's a healthy activity, and you're not even obligated to pay a single cent to take part in it. So what exactly is so difficult?
Unfortunately for some Malaysians, it seems REALLY difficult. Even I had a hard time trying to get my friends to join me for the run.
A typical MSN conversation goes something like this.
Kenny: Hey, I'll be in KL this Sunday, taking part in the Terry Fox Run. Wanna join?
Friend: What time is it?
Kenny: 8:30am at Taman Tasik Perdana (Lake Garden).
Friend: Thanks but no thanks. But I will run with you in my sleep.
Kenny: Come lah!
Friend: I don't think I could wake up!
Kenny: Why not?
Friend: Because I'll be clubbing on Saturday night!
Kenny: …
Looks like I'll be running solo again.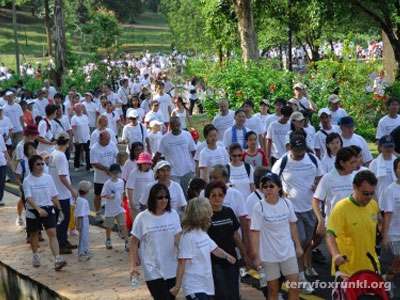 In case you're wondering who this "Terry Fox" person was, he's a Canadian who was 18 years old when he was first diagnosed with bone cancer. As a result of his disease, his right leg has to be chopped off and replaced with an artificial leg.
While in hospital, Terry Fox was touched by the suffering of his fellow cancer patients. He wanted to help them. In 1980, he made a resolution to run across Canada in order to inspire people and to raise fund for cancer research. Despite losing a leg, the then-22-year-old ultimately ran the distance of 42km EVERY DAY, for 143 consecutive days.
He called it the Marathon of Hope. The photo of him limping with a prosthetic leg, with vehicles following closely behind him, is the most iconic from the 1980s.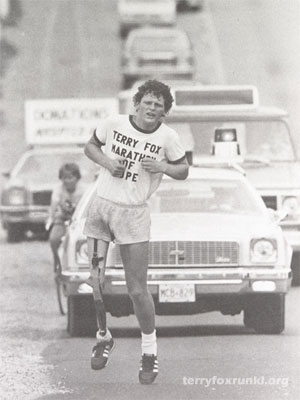 Terry Fox died one month short of his 23rd birthday, after he was forced to abandon his run due to failing health.
By then, everyone had heard of the cancer patient who ran with a prosthetic leg to cover an amazing distance of 5,373 km. His legacy led to the establishment of the Terry Fox Foundation and the Terry Fox Run, both of which were set up the same objectives as the Marathon of Hope.
To find the cure for cancer.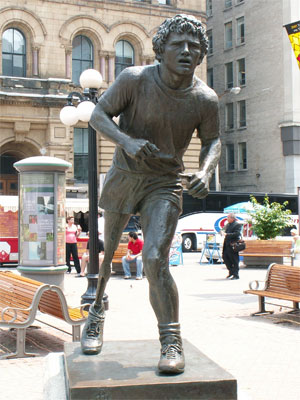 30 years ago, a cancer victim with a prosthetic leg ran a marathon distance of 42km EVERY SINGLE DAY. If someone in that position could do that, what more does that say about us who've got two perfectly fine legs?

Today, trying to get someone to wake up for a run is already like worse than getting cancer.