I've been collecting newspaper and magazine articles that mentioned me for quite some time, but it is only until now that I decided to post them up.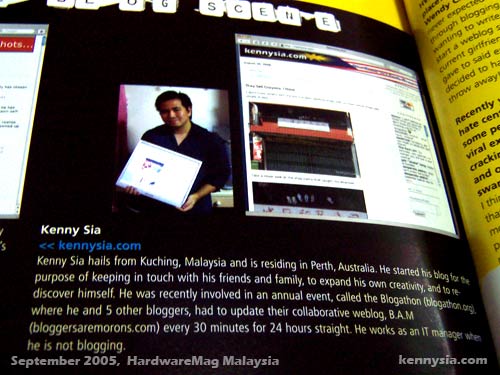 Being on semi-hiatus can be quite therapeutic in a strange kinda way. It certainly is blissful to stay away from all the limelight, all the ugly bloglitics and return to blogging at its most basic level – updating whenever I want without putting in too much of an effort to think of a punchline or be entertaining. Admittedly, doing so has made this blog stale and it has lost me a couple of readers.
That's ok, at least I hadn't received a single negative comment against me since World Toilet College.
I remember it didn't used to be that way.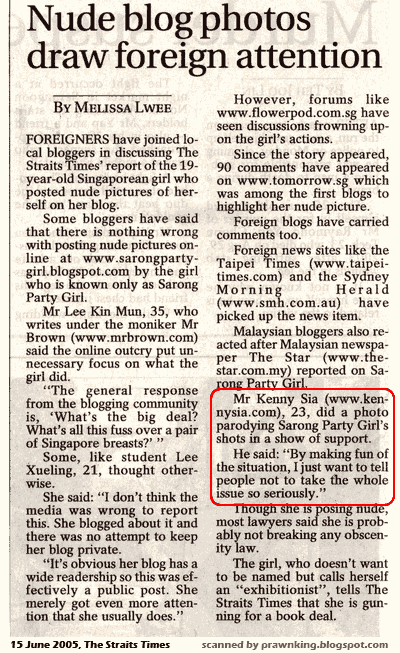 There was a time when I was able to write whatever I want sincerely and honestly without having to see critics jumping and posting retaliating entries against me on their sites. There was a time when I noticed that almost every single day, minishortsand Wendy's blogs would be filled to the brim with entries of them responding to their critics. Secretly I'd be rejoicing inside knowing I don't get attacked the same way they did.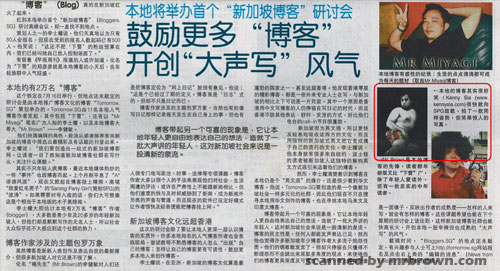 I was still writing as an asshole, but I still made people laugh and to my knowledge there wasn't anyone out there openly declaring their hate against me. Comments by anonymous trolls are always present but they were mostly far and few in between and too easy to ignore. I considered myself very lucky I wasn't involved in any bloglitics. I never wanted to be.
Things then started to go awfully wrong.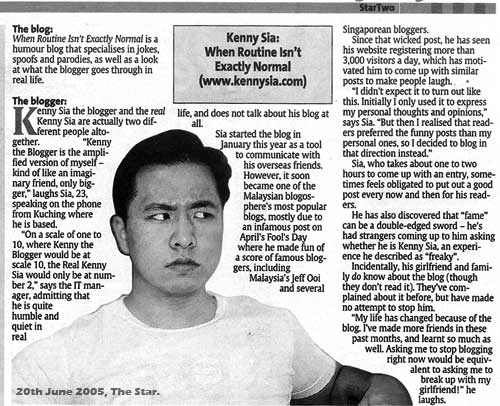 "Are you ready to handle fame?" Michael asked.
I scrunched my eyebrows quizzically, "Huh? Fame?"
At the dawn of the SPG controversy, Michael Cheang's StarTwo feature on four Malaysian bloggers (the other three being minishorts, Peter Tan and Suanie) drew mostly praises for his attempt at "fixing up" the blogosphere. However, my decision to accept Michael's request for an interview in turn, raised the ire of some bloggers and I subsequently received my first online spat from Su-Yin, Michelle and Tim.
At this point, I wish to urge readers who clicked on the links posted here to just read what they wrote for an 'alternative point of view' about me. But please, DO NOT attack the bloggers and DO NOT engage in meaningless online bitchfight. I've gotten over it a long time ago already and I do not wish to add fuel to an extinguished fire. Its not like I still bear any grudges against them. Besides, Su-Yin got into a car accident soon after that entry, so all's fair. (I take that back. Sorry I stepped out of line.)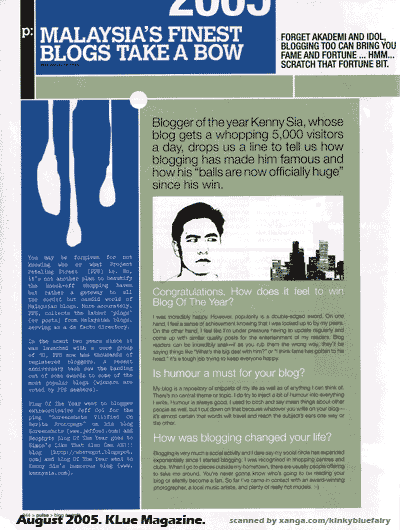 For days, I sank into disillusionment . I simply could not fathom why people would so viciously attack me like that. Unlike anonymous trolls who disappeared as soon as they jabbed, these are actually real life flesh-and-blood people with their faces and real names attached to their blogs.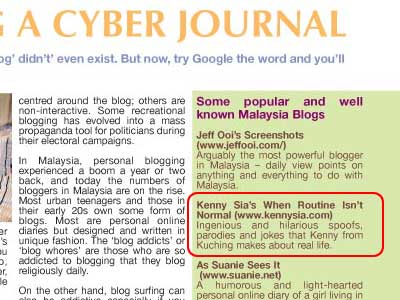 It hurts a lot more when attacks like that came unexpected. I did not write anything controversial, I did not insult their grandmother, and I most certainly am not fame-whoring. My only crime was that I politely accepted an interview when a journalist requested. What am I supposed to do? Turn him down?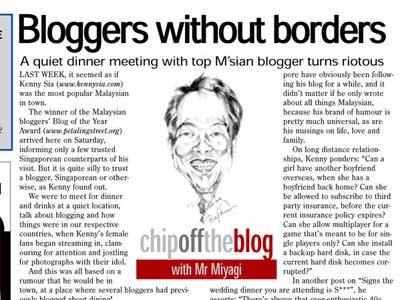 I never think I'm famous, nor do I regard myself as a celebrity. For the record, it wasn't me, but others who jumped in and described me as "Kenny Sia, famous blogger". It's not entirely true. I can always argue the accuracy of that description, but who am I to do that?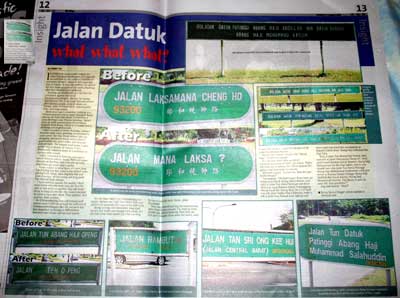 The PPS 2nd Anniversary Bash marked a turning-point in my blogging "career", if you could even call it that. kennysia.com came in as an underdog finalist for the Blog of the Year (only because Jeff Ooi pulled out) and stole the award. I've said it before and I'll say it again: I do not feel I deserve this award.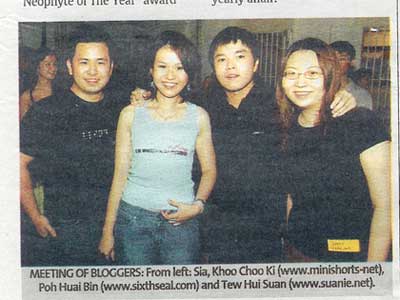 No, I'm not being modest. I know I'm supposed to be proud and all that for winning. I know its common for bloggers to put up buttons on their sites flaunting their awards. But for months, I did not even want to see that button up on my blog proclaiming how kennysia.com is Malaysia's Blog of the Year. The way I look at it, being Blogger of the Year is more like a weapon others use to attack me than an award I can truly be proud of.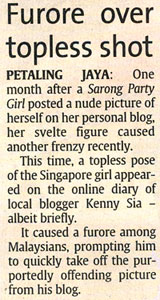 Even my patriotism gets questioned. "He kept saying he wants to go back to Perth. So much for Malaysia's best blogger." said one commenter.
Things went downhill since that initial trip to KL and Singapore. I carried on blogging as usual, only this time I got a lot more critics nitpicking and scrutinising my every word. Links were pulled. Friendship lost. Strangers who once stood by my side during my toughest times, suddenly turned and stabbed me with a knife on my back.
I was lost. I didn't even know what I did wrong. Once again I did not write anything controversial. All I did was writing about my trip to KL and Singapore, and I didn't even say Singapore pretty much sucked.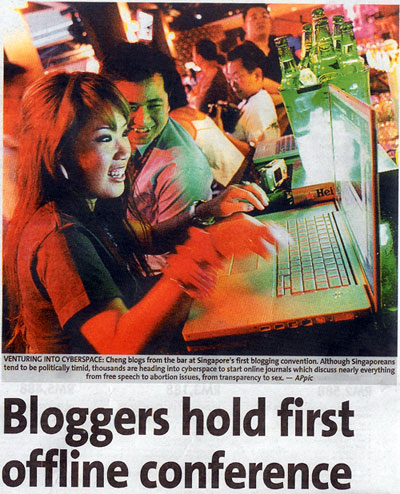 It got so bad that at one point, I couldn't even post an entry without expecting someone to get upset over it. Bloodthirsty commenters on xlx roared to put me up for public execution. Even my work on charity got brushed off as a personal agenda to advance my so-called "career". If my entry on Furong Jiejie or SPG rubbed people off the wrong way because I came across as being harsh or sleazy, I can understand. But I know I'm fucked when even a review on hair salon would make people angry.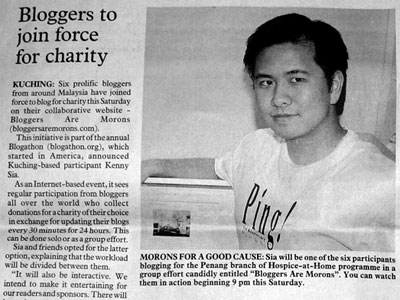 The point of this entry isn't to gain sympathy or what not, so with all due respect please save the "ignore them, we still love you" comments. Critics aren't meant to be ignored. They're meant to be proven wrong. And this is what I want to say to my critics:
I didn't choose the attention, attention chose me.
I didn't ask people out there to talk about kennysia.com, they just did.
I'm not famous, people just say I am. I never once said that I'm famous on my blog. Never. So spare me the "Fame has got to his head" comments EVERYTIME I wrote something you disagree with.
I didn't choose fame. Fame came knocking on my door and I had no choice but to answer it. Unless I go on Malaysian Idol, I don't think its even remotely possible for someone to choose fame.
If I can put fame for sale on eBay, I'd sell it off to people who can choose fame and make a handsome profit.
Strip me off the glitz and glamour, the vanilla and the icing, the awards and the connections with femes people. You'll find that I'm just a plain and regular guy working 9-to-5 (sometimes 9-to-10) documenting his life much like what everyone else is doing. Why are you so upset at me?
There's no "blogging career". There's nothing special about Kenny Sia. There never was.
I just write.