Regardless how many times I visited Disneyland, it never gets old. 🙂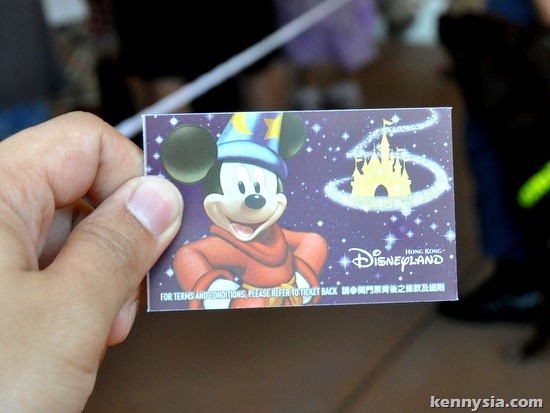 I first visited Hong Kong Disneyland when it opened its doors 5 years ago. I even blogged about it here.
Although I went alone that time, I still remember having lots of fun. After all, Hong Kong Disneyland is the closest one to Malaysia, and there's just something magical and fantasy-like about Disneyland that keeps luring people back.
This time round, I was lucky I wasn't travelling alone…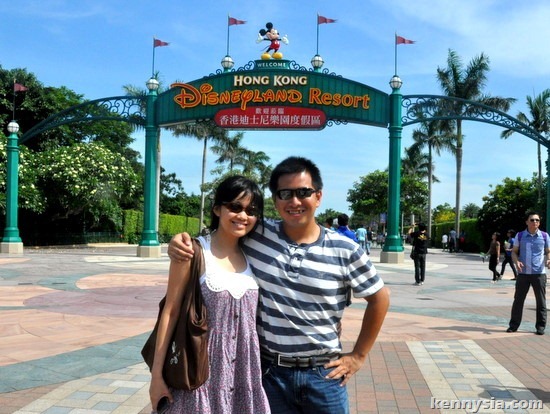 Everyone says hi to Ming!
It was Ming's first Disneyland experience and our first time travelling together, so we were both doubly excited. Throughout our 3 days in Disneyland alone, we were both running around like two overly-excited overgrown kids.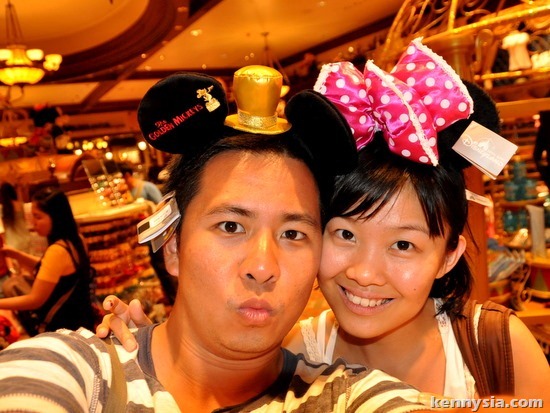 Proof.
We flew into Hong Kong two days earlier, and went around exploring the big city for a bit before spending our next two days in Disneyland.
Getting to Disneyland is super easy. The park is linked to Hong Kong's MTR train network, complete with their own Disney-themed train.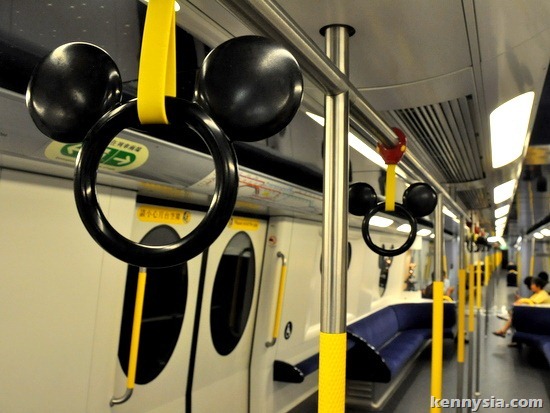 Even their handle-bars have Mickey ears.
I half-suspect the train driver to be Mickey too.
A short shuttle bus ride later, we reached our accommodation for the next two days… Hong Kong Disneyland Hotel!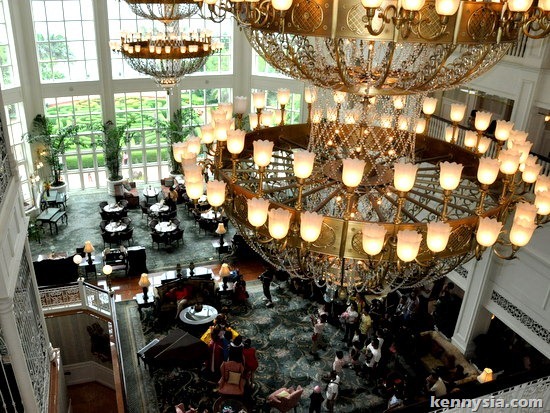 What an amazing hotel!
The entire hotel is decorated like a Victorian-era fairy tale castle with grand golden above your head and plenty of sunlight seeping through four floors of glass windows.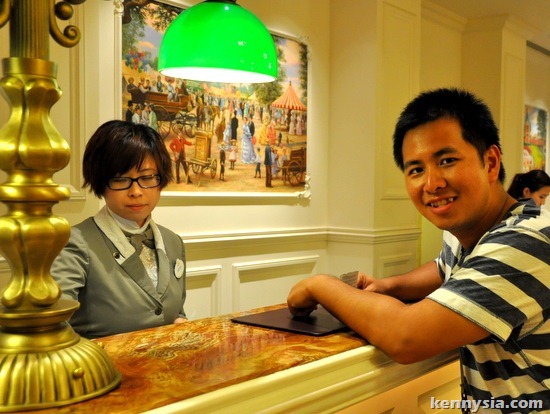 Checking in at the front counter.
We were supposed to have a sea view room but it was all booked out. The receptionist was quick to upgrade us to a 'Fantasia' room without the sea view, but equipped with a Jacuzzi inside the bathroom.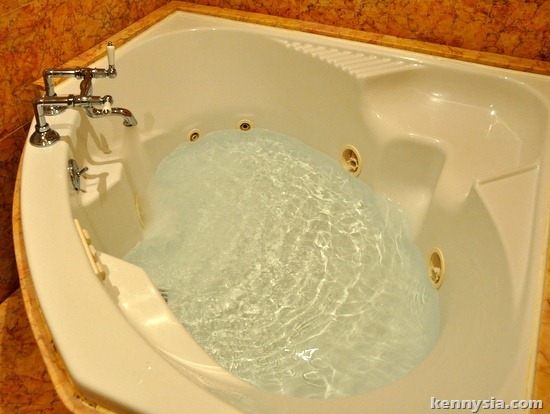 Can't complain about that!
The attention-to-detail inside the Hong Kong Disneyland hotel is incredible. Almost every single decor in the room has a either a Mickey Mouse silhouette or a Disney character drawn on it.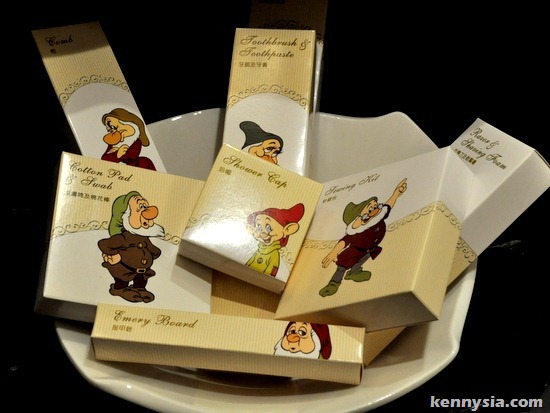 From the Seven Dwarves on the toiletries.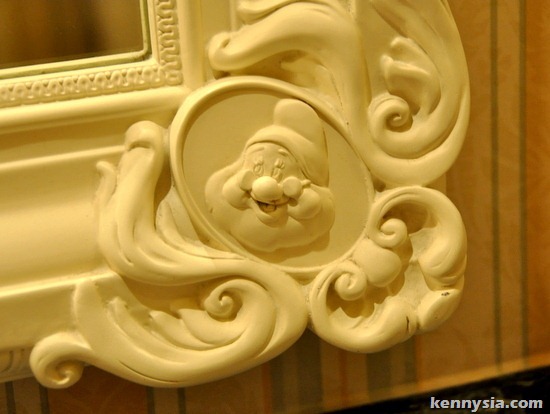 To the frame on the bathroom mirror.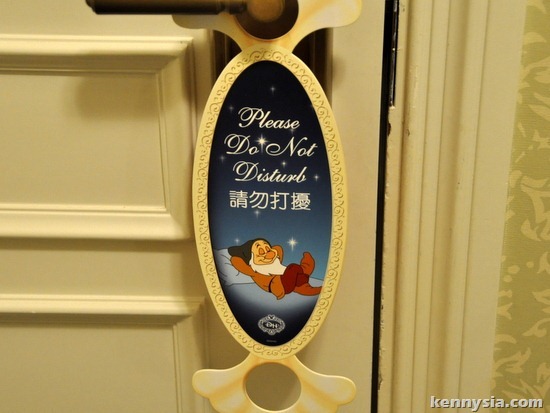 To the "Do Not Disturb" sign.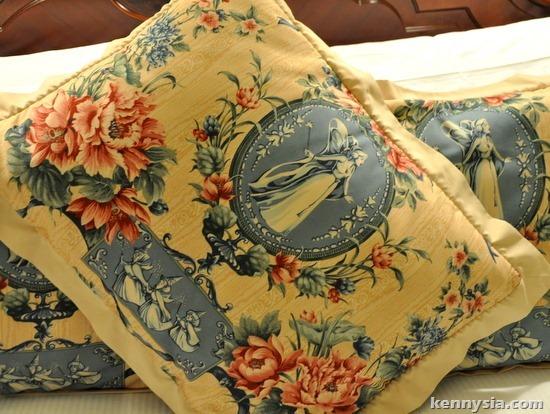 Even the pillow cases have Cinderella and the Fairy godmothers printed on them.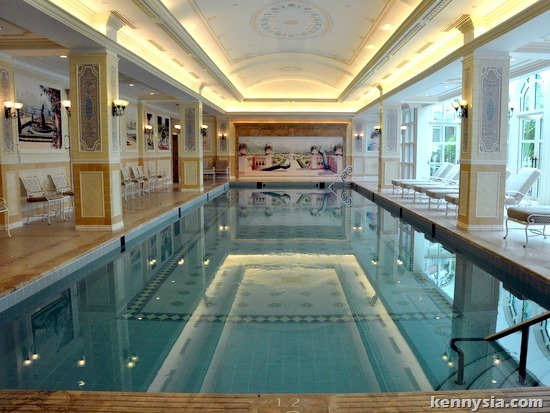 The Hong Kong Disneyland Hotel also boasts a large heated indoor swimming pool and an indoor gym, all decorated like they come right out from 19th century England.
Well, except their gym equipment.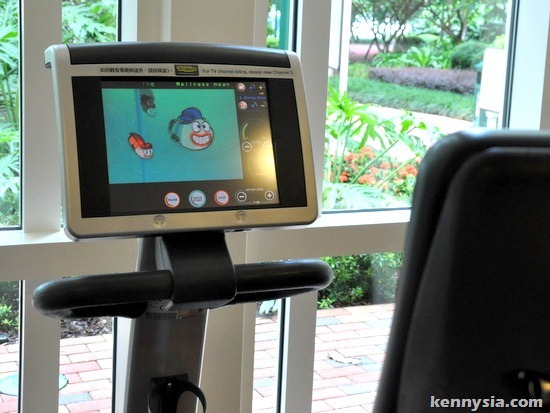 Guess what's playing on their stationary bike TV?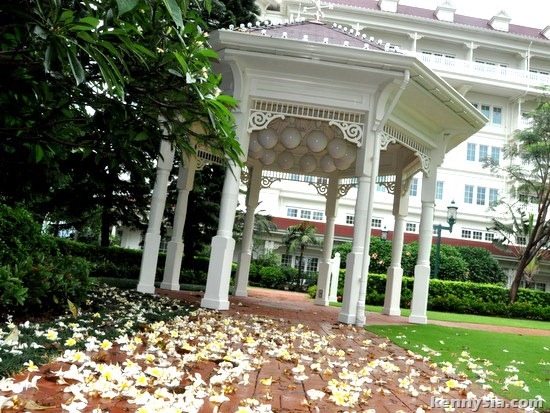 The hotel I stayed at has nice romantic courtyard and a beautiful buffet restaurant called The Enchanted Garden.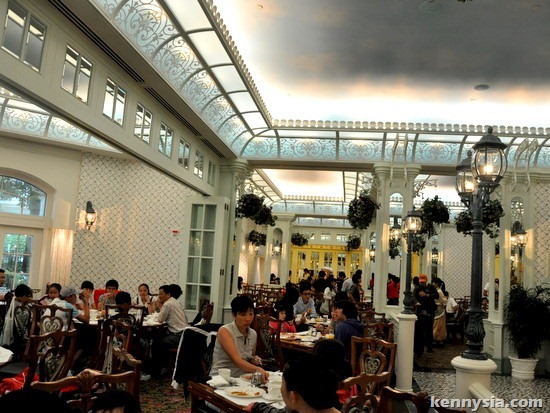 This is the best place to have breakfast in Disneyland!
While we were munching on our food, all the familiar characters started coming out to shake hands, take photos and interact with us! We didn't even have to fight with other people or queue for ages under the sun.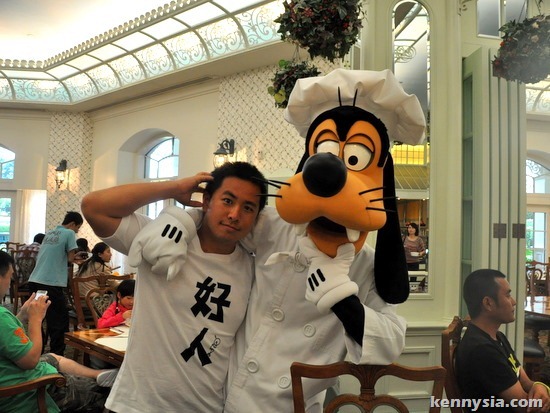 Goofy!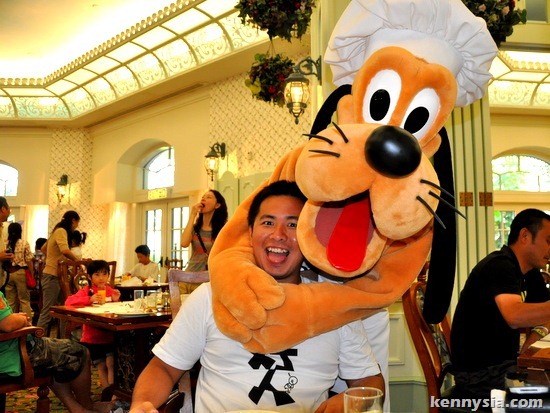 Pluto!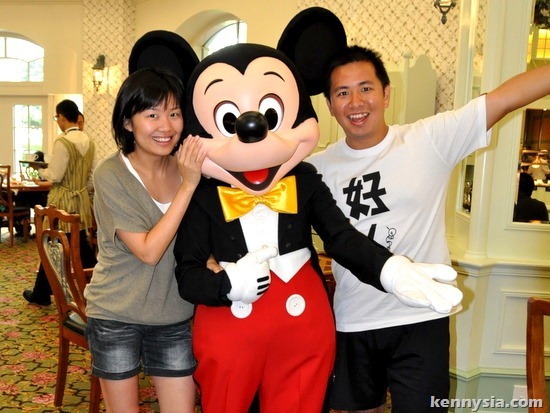 And of course, Mickey himself.
In other restaurants, the presence of a rodent would've shut their business down. Lucky The Enchanted Garden is not like "other restaurants".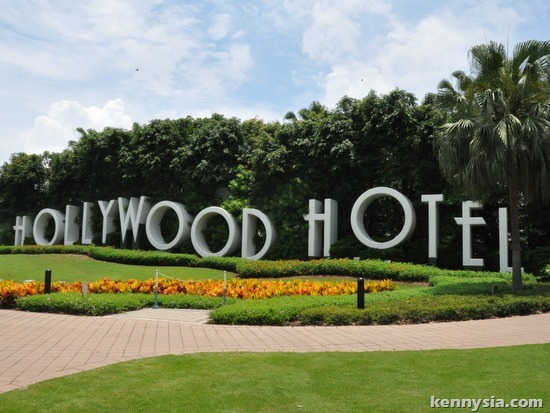 Hong Kong Disneyland Hotel is one of two hotels within the vicinity of the theme park. The other is Disney's Hollywood Hotel.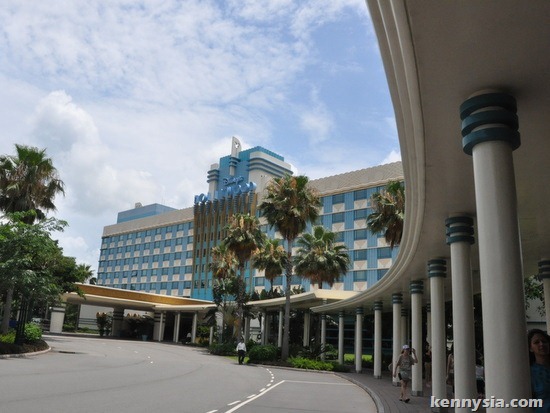 If Disneyland Hotel is old English, then the best way to describe Disney's Hollywood Hotel is "old-fashioned American".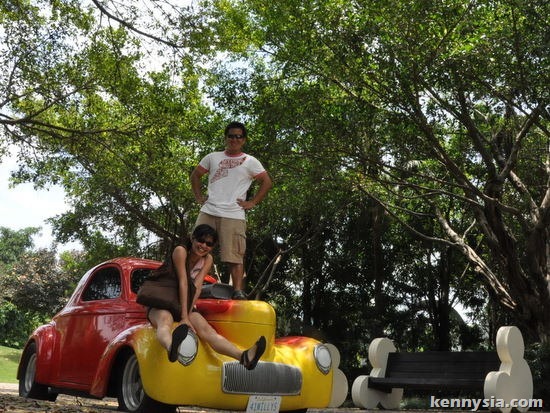 I love it! It even has a jogging path behind the hotel named after all the famous streets in Los Angeles.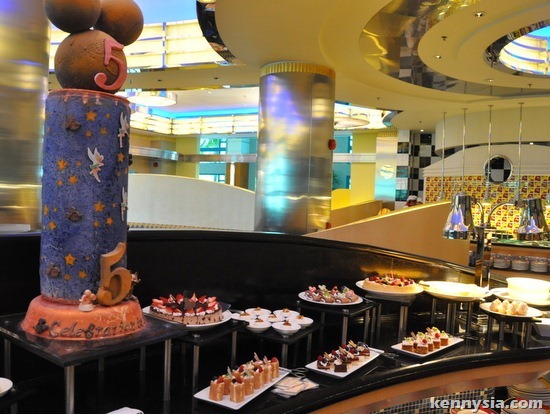 Although we didn't get to try the breakfast buffet in Disney's Hollywood Hotel (someone woke up late mah), we managed to catch a glimpse. All I gotta say is that the presentation and array of food is simply mind-boggling.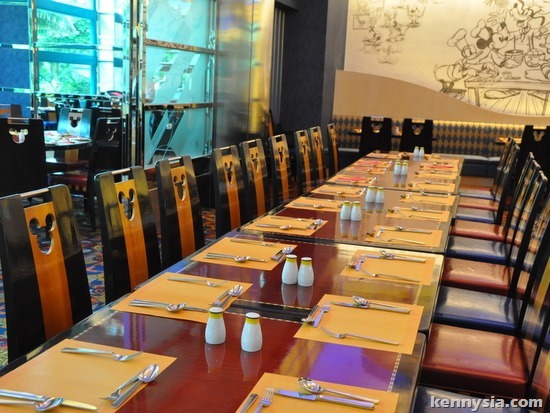 Gotta love the Mickey Mouse chairs!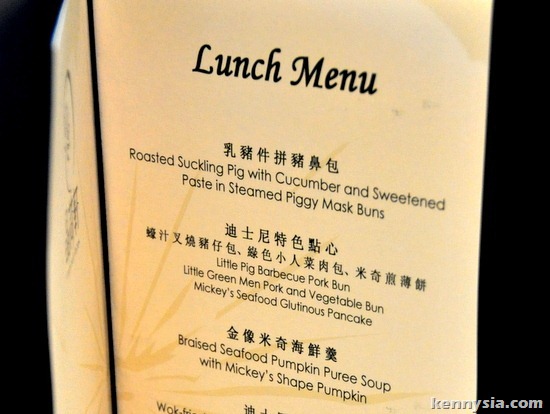 Anyway, after check-in, we headed over to the Chinese restaurant inside our hotel to have a dim sum lunch.
It was the cutest Chinese dim sum lunch I ever had in my whole entire life.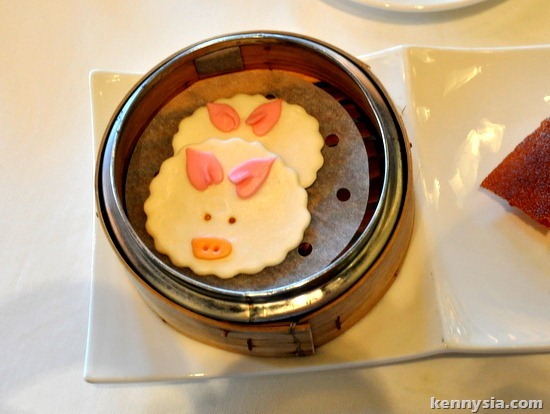 This is our appetizer – Steamed Piggy Mask Buns. Cuteness overload. How to eat liddat?!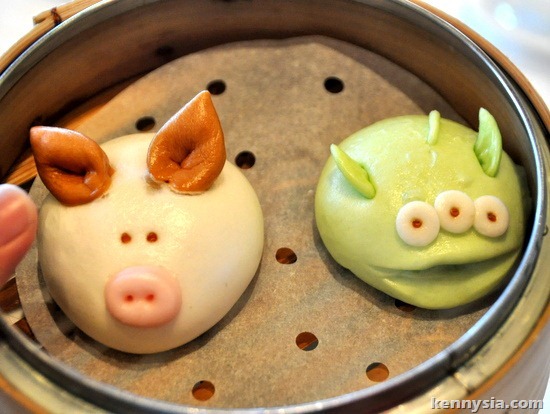 I actually felt kinda bad when I sunk my teeth into the pig-faced BBQ pork bun.
If pigs were to look this cute in real life, I'm gonna feel so guilty that imma curl up in a fetal position, swear off pork for the rest of my life and change my religion to Islam.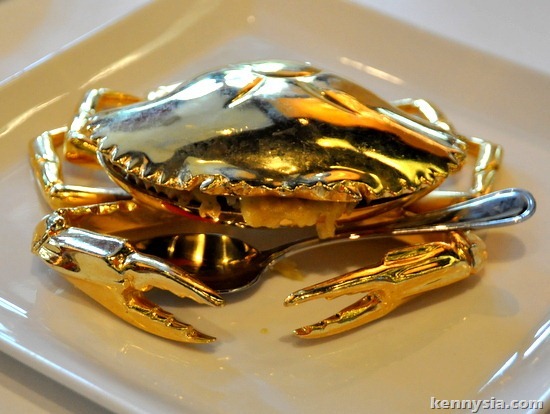 What is this?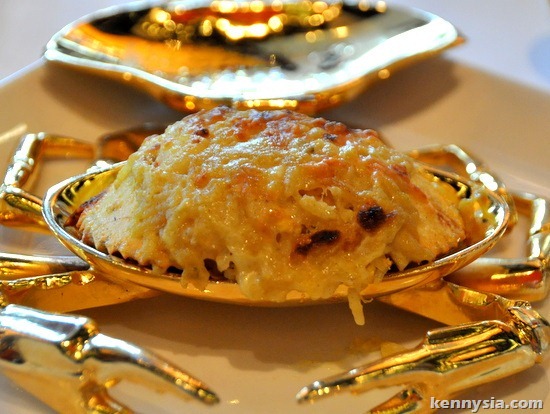 Tasmanian crab meat fried rice stuffed inside a golden crab shell.
Lucky they did not use Sebastian The Crab from The Little Mermaid.
After that (highly emotional) dim sum lunch, we hopped on the shuttle bus once again. This time – to have fun in the Disneyland theme park!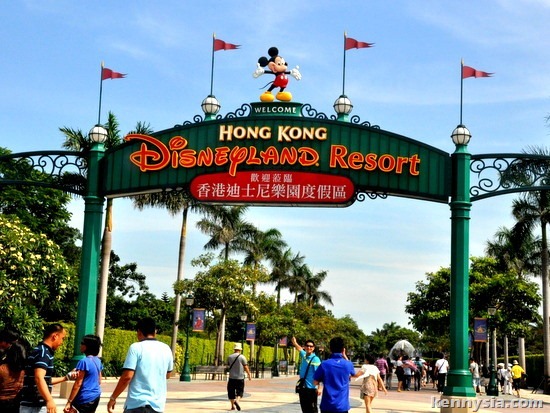 Hong Kong Disneyland isn't too big nor too small. It is the perfect size to explore on foot and the entire park can be done in one day, but ideally two days. Staying at one of the theme park resort hotels overnight is highly recommended to get the full Disney experience!
Immediately after entering the park, we headed off to Main Street U.S.A. to watch the Flights of Fantasy Parade.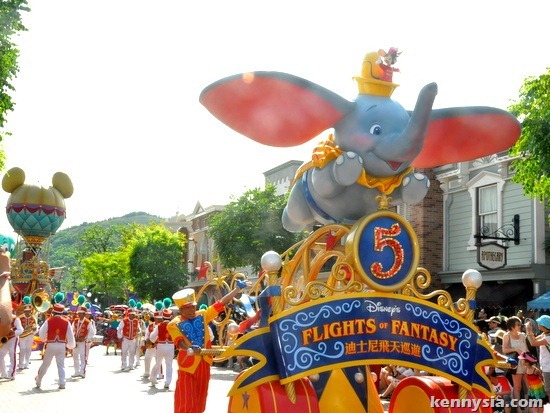 This is a must-see! It is Hong Kong Disneyland's special 5th Anniversary parade and no other Disney theme parks around the whole have it.
All the popular Disney characters are out in their marching band uniforms!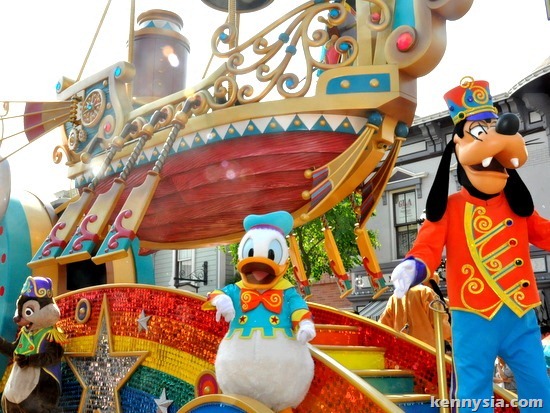 My favourite Disney character – Donald Duck!
I'm always amused by the fact that Donald Duck never wear pants, except when he goes swimming.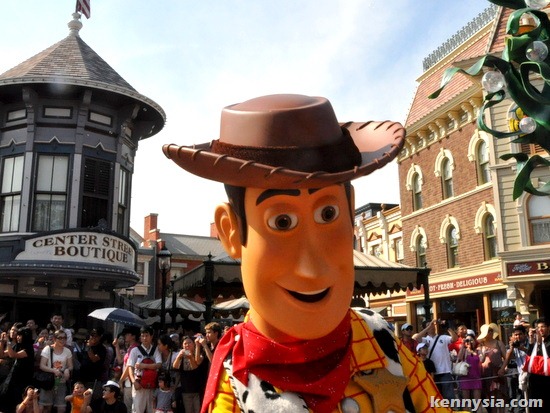 Woody popped by to say hi.
Then I told him I have one of my body parts named "Woody" too.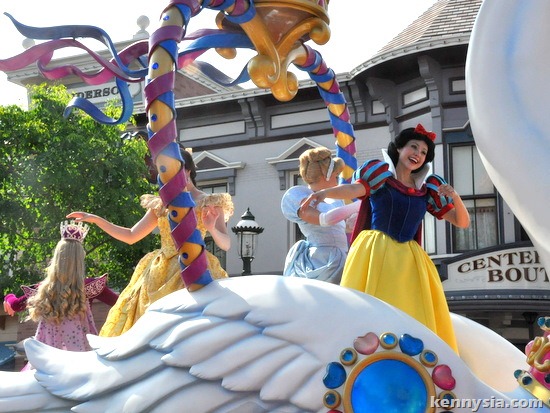 A HUGE swan with all the well-known Disney princesses on top of it floated past us, which HUGE smiles on their faces, arms floating, going all princess-y and stuff.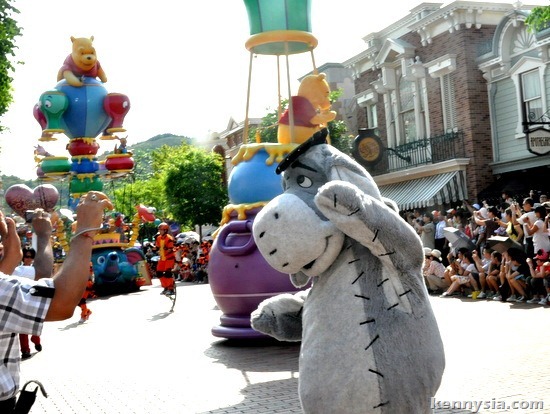 Eeyore – one of the very rare occasions he actually smiles.
It was the middle of summer and the temperature was soaring hot. I think it was close to 35 degrees? All I know is that I was standing on the sidewalk desperately fanning myself.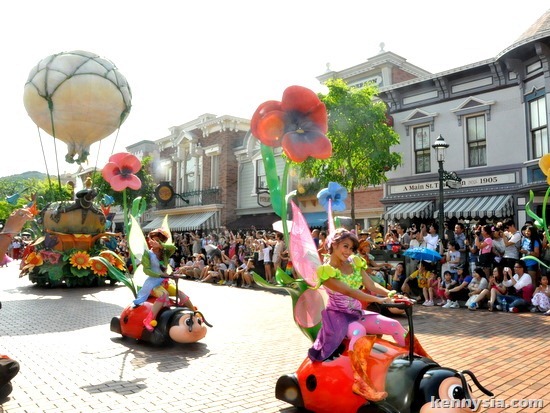 Although I was having fun myself, I felt kinda sorry for the dancing cast members. I hope none of them fainted halfway through the parade.
After the very happy parade of dancers and Disney characters, we went on to explore the rest of theme park.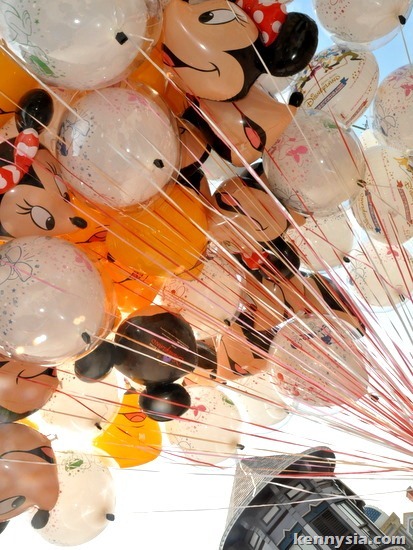 Navigating Hong Kong Disneyland is easy.
As with all other Disneylands throughout the world, the park entrance takes us to Main Street U.S.A. It is where we watched the Parade in the morning, the fireworks at night and also where all the shops are located.
From there, it branches off into the three smaller themed lands.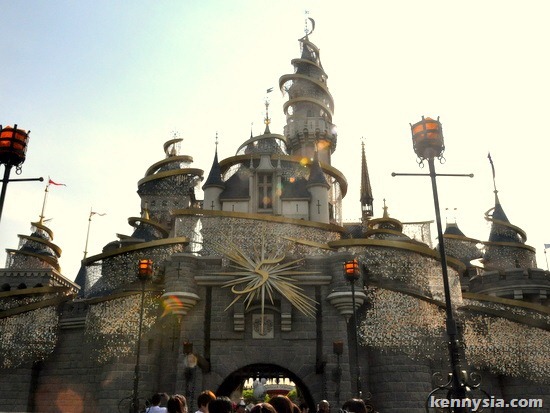 Fantasyland – where rides like the Mad Hatter Tea Cups and Cinderella Carousel are so slow and gentle they are suitable for those who do not come to Disneyland for an adrenaline-induced heart attack.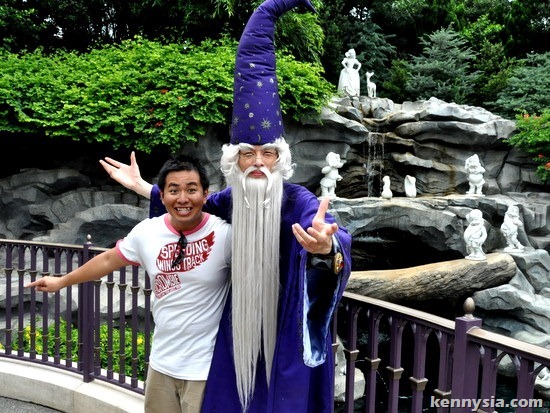 I met Merlin the Magician here!
He was so funny. I jokingly asked, "Merlin! Show me some magic!"
Merlin pondered for a while, then suddenly he shouted "LOOK! OVER THERE!" as he pointed to the opposite direction. While I was momentarily distracted, Merlin pulled some stickers out of his pocket and gave them to me.
"Ta-da! Magic!"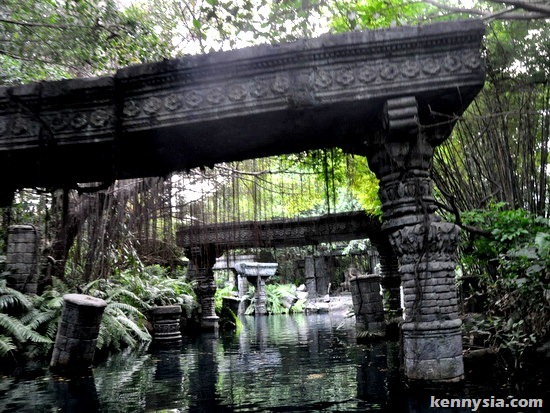 Adventureland – modelled after the lush remote jungles of Asia. As a resident of Borneo, this feels like home to me.
Better not let Taib come here, later he chop the trees and build palm oil plantation all over the place.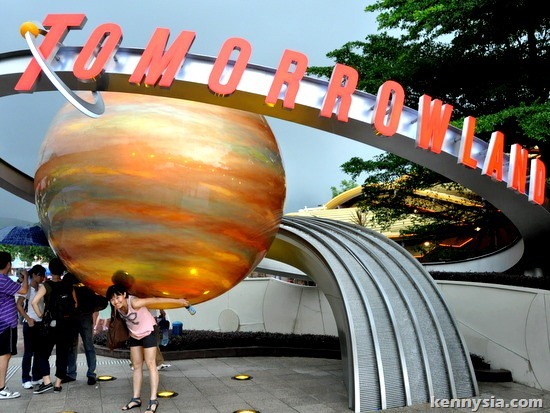 Tomorrowland – a futuristic land where some of the most exhilarating theme park rides can be found!
I'm gonna try to summarize my favourite Hong Kong Disneyland attractions here.
it's a small world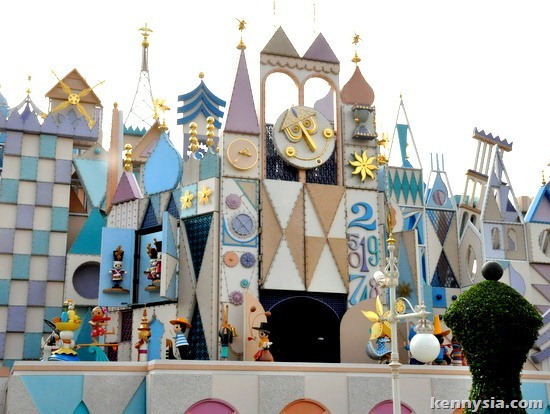 It's a ride around the world on a boat. Most importantly, it is inside an air-conditioned building which makes it perfect on a hot day like this!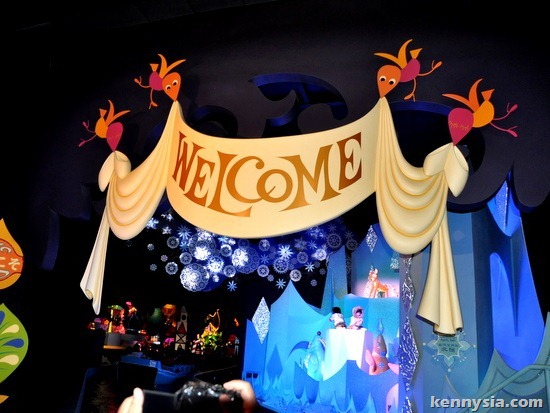 Along the way, hundreds of brightly costumed robot dolls in different cultural costumes of the world sings "it's a small world" in their native languages.
I had fun testing Ming her geographical knowledge.
Me: "Where is this?"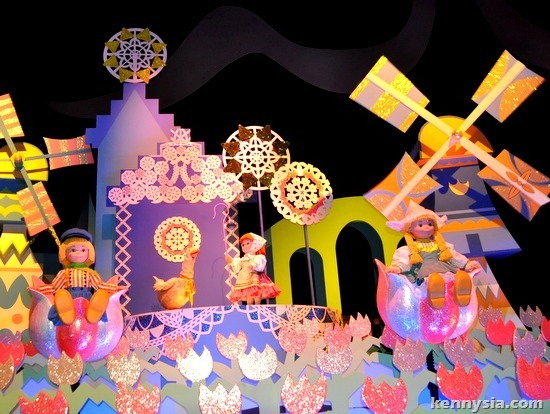 Ming: "Holland!"
Me: "Good! Now, where is this?"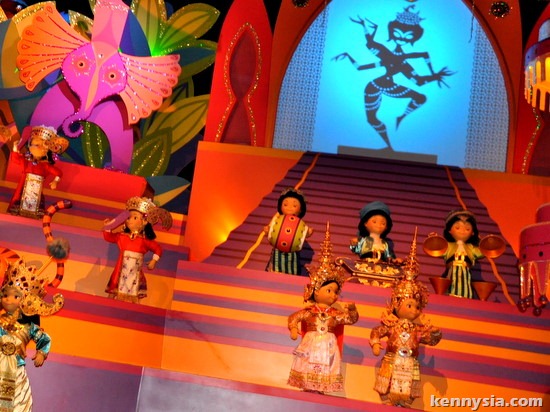 Ming: "Thailand?"
Me: "So smart! Ok, now tell me where is this?"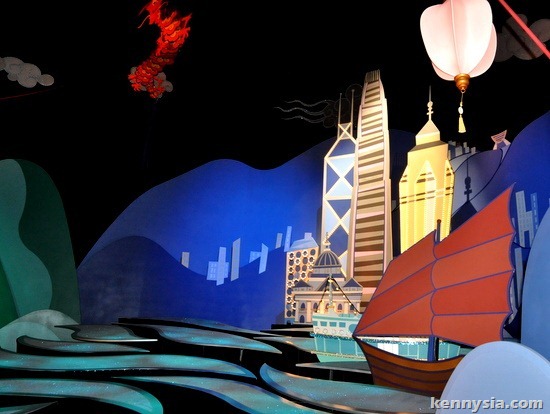 Ming: *excited* "I know! I know! KUALA LUMPUR."
Me: *BIG SWEAT*
The Golden Mickeys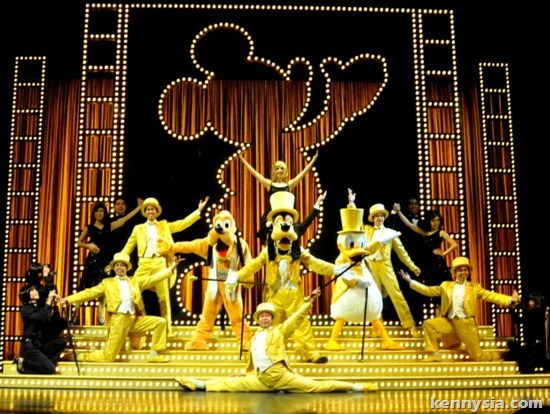 It's a sing and dance stage performance show, exclusive only to Hong Kong Disneyland. There are awards up for grabs like "Best Hero" or "Best Romance".
Just like in actual award shows, a small snippet of the nominees in each of the well-known Disney movies are shown. Unlike in actual award shows, no winners are actually announced in the end!
I remember watching the same show 5 years ago. It still is just as entertaining!
The Many Adventures of Winnie The Pooh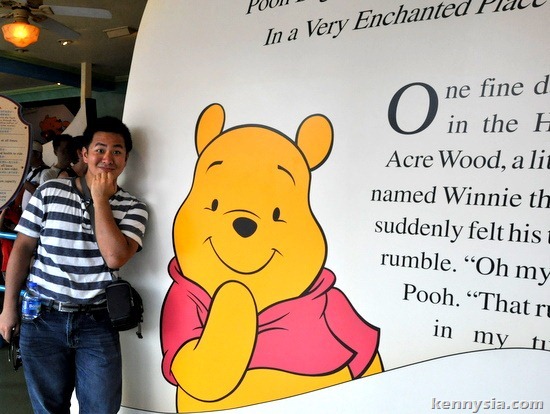 Very similar to it's a small world except it's a ride through the Hundred Acre Woods. Judging by the queues outside, small kids seem to love this place to bits although I personally find nothing earth-shattering about it.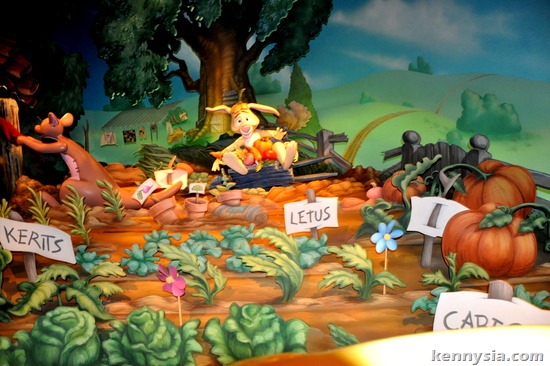 Don't bring your kids here if you want them to spell properly.
Festival of the Lion King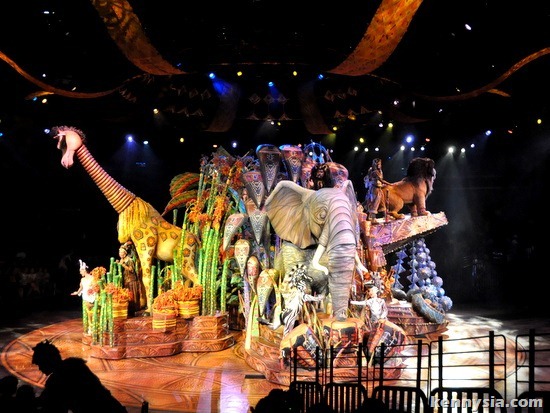 Definitely not to be missed! It's a musical that uses songs from the movie, dance and special effects to re-create an African savannah animated with lions, elephants and giraffes.
Tarzan's Treehouse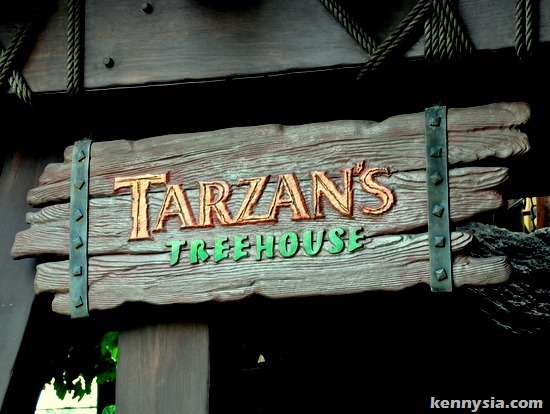 We took a raft across the river to explore this attraction while waiting for The Lion King show to start. The walk through the Treehouse tells the story of Tarzan and Jane. For me, the tree is worth climbing up only for this view.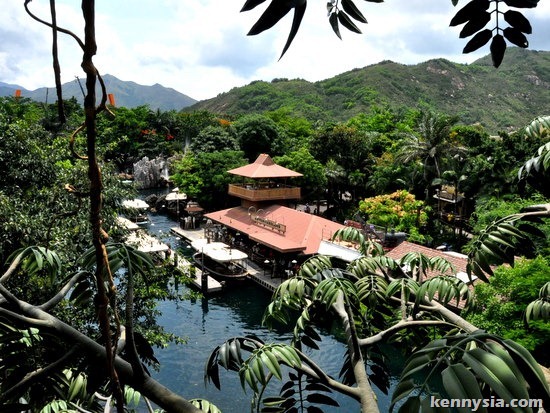 Doesn't feel like Hong Kong, does it?
Buzz Lightyear Astro Blasters
Stich Encounter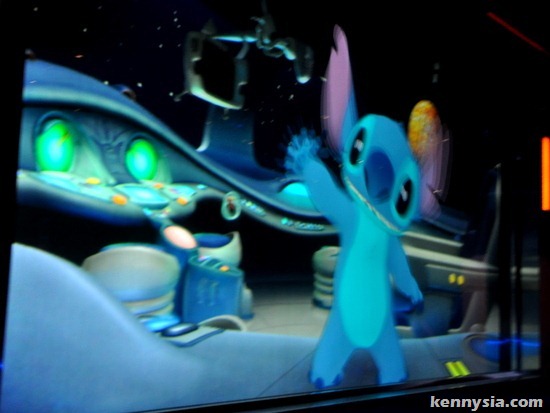 By far the most hilarious show in Disneyland! When we read the description saying "no two shows are alike", I wondered how they were gonna accomplish it. Stitch appears on screen to actually talk and interact with the audience in real time – complete with facial expressions and animation!
The show would have been bland if it weren't for Stitch's mischievous smart-alec responses.
Space Mountain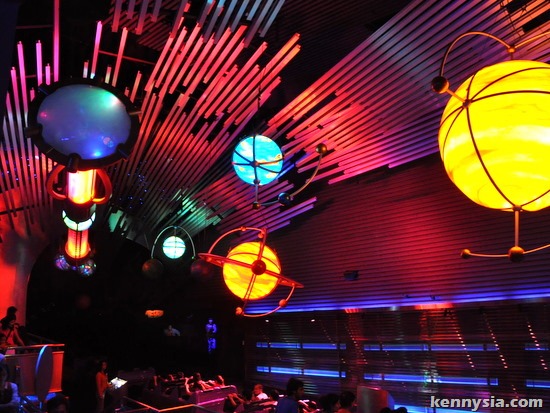 The ultimate thrill-seekers ride of choice. It's a high speed space-themed roller-coaster ride, set completely indoors with hard-hitting music as soundtrack.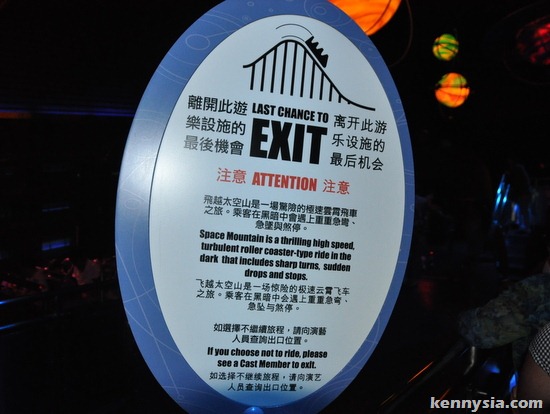 Apparently, it was so scary they had to put this warning notice outside. Personally, I have sat through scarier rides, so this was a walk in the park for me.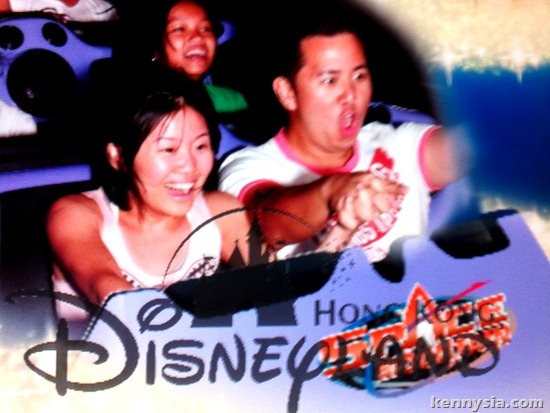 Just look at how calm and collected I was in the picture.
Disney in the Stars Fireworks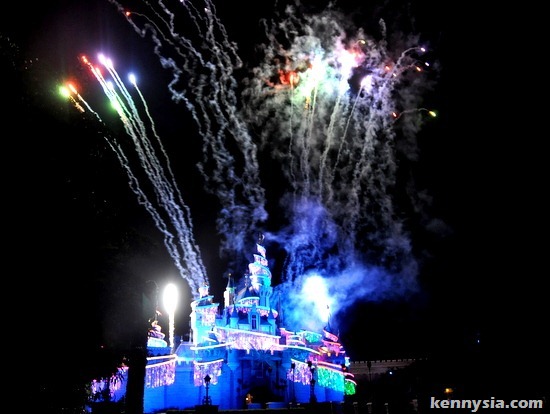 No matter how many times I watched this, I feel like a wide-eyed little boy everytime I watch the fireworks in Disneyland. Something about the sheer magic of colourful lights exploding over the skies set to the soundtrack of Disney movies never fail to send my heartstrings tugging.
I want to go back to Disneyland again.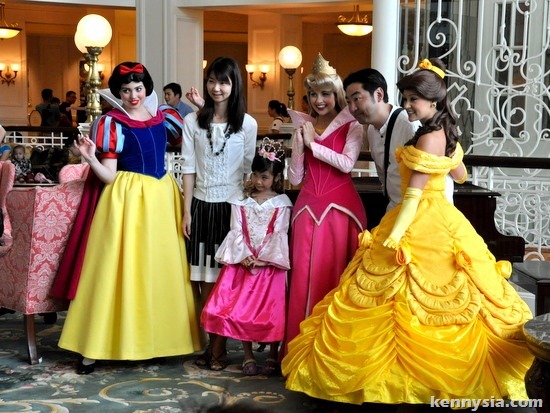 I guess Disneyland does that to you – it makes everyone feel like a kid, living in a plac
e where fairy tales and dreams come true.