So Chelsea F.C. pretty much came, kicked our boys' asses and left.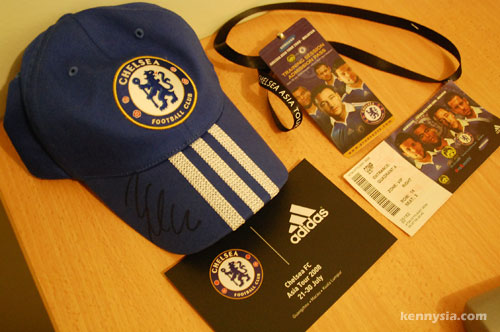 Without boring you with too much text, here's a quick review of their time here in Malaysia.
On Monday, I interviewed Chelsea's reserve goalkeeper Carlo Cudicini.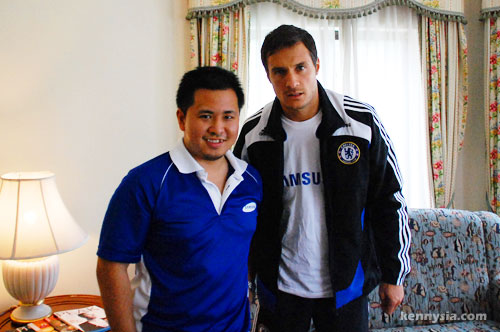 It was an nerve-wrecking experience for me, because I was only told last minute about the interview and didn't have much time to prepare for any questions.
Security was extremely tight. I was shoved into a room together with three journalists from other media.
Carlo's publicist accompanied him and instructed us to take turns asking him one question each.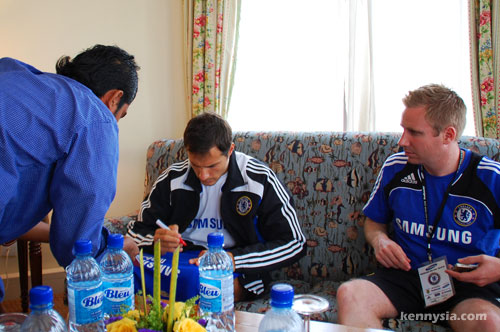 I'm guessing the other journalists present were serious people from serious sports magazines, because throughout the whole interview, they kept asking him boring questions that everybody know the answers to.
Questions like "What are your aims this season?" (to win), or "If given a chance, would you play for other clubs?" (yes, if the money is right)
I was sitting there thinking, "Why so serious?"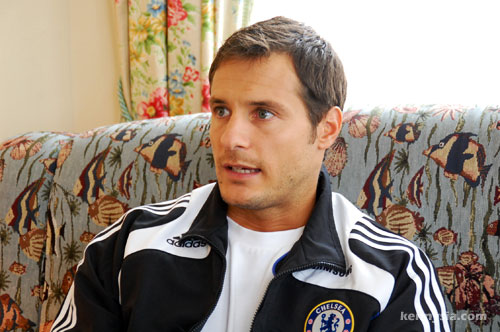 After some initial easy-going questions to warm up, I decided to lighten the mood by asking him a slightly more fun question.
This was given to me by a kennysia.com reader. I asked Carlo, "Is it true that footballers are banned from having sex before a big match?"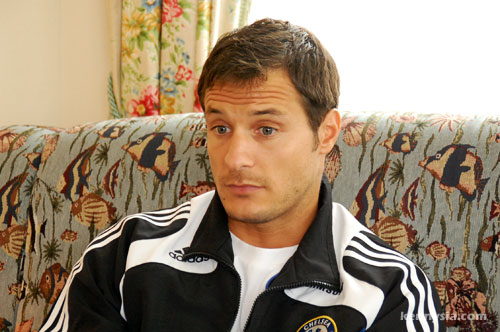 He shook his head and refused to answer.
Carlo Cudicini snubbed me!
Never mind, so I asked him another question. "In your long career, have you ever been offered a bribe to throw away a match?"
SNUBBED. AGAIN.

So that was my lousy interview with Carlo Cudicini.
I suck big time interviewing famous people.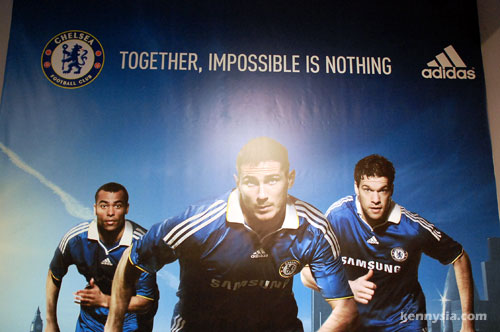 Later in the afternoon, I hopped over to the adidas store in Pavilion where a yet-to-be-known football player was to make an in-store appearance and sign autographs.
It was meant to be an exclusive event reserved for invited guests only. But of course, word got around easily and before you know it, there was CHAOS outside of the adidas store.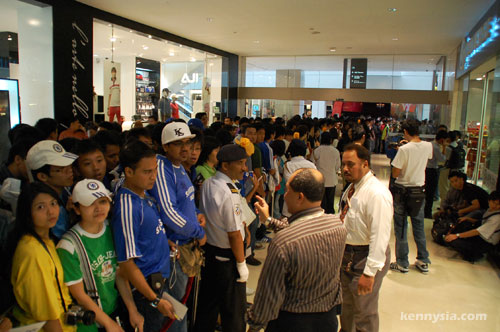 Something funny happened here while I was there.
A kennysia.com reader in the crowd spotted me and asked me to sign him an autograph. I obliged.
Thinking I was some kinda big shot, the girl next to him also asked me for an autograph. Then, just as she was passing her pen to me, I overheard her asking loudly, "Actually who is this Kenny Sia har?"
Before you knew it, close to 20 people who most likely don't even know who the hell Kenny Sia is were shoving their pens in my face, frantically asking me to sign autographs.
I promptly walked away as fast as I could. But it was so nice pretending to be a celebrity for just one second.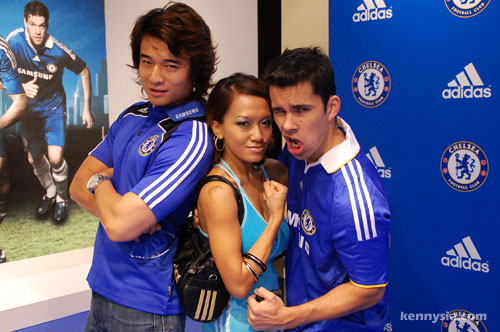 Here are the real local celebs: Christien New, Ninie and Kevin Zahri.
After my initial disappointment with Carlo, I was surprised when the mysterious Chelsea F.C. player who turned up at adidas was none other than…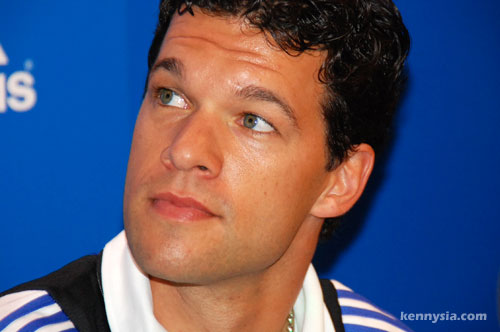 MICHAEL BALLACK!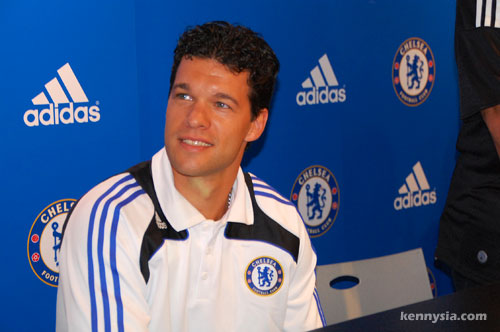 "What's the fuss?"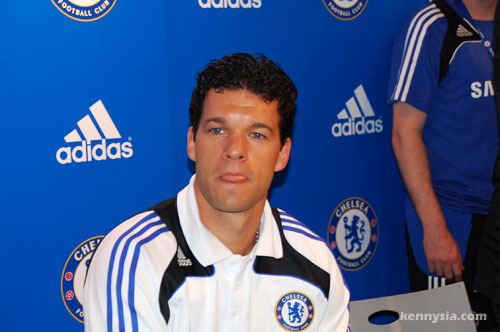 "Blueh."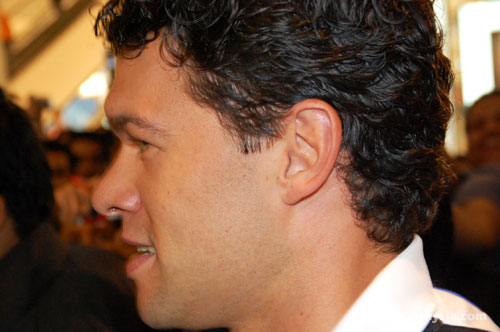 Finally, a superstar footballer!
Too bad, security was once again as tight as a fish's arse. We queued up like schoolchildren, moving quickly and was awarded with Michael Ballack's holy scribbling.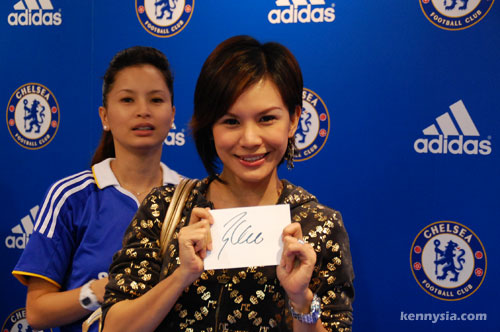 This is Lavin Seow holding up her Ballack autograph. And that is Daphne Iking in the background.
I know they're hot, but don't even think about it guys.
Those two are married moms!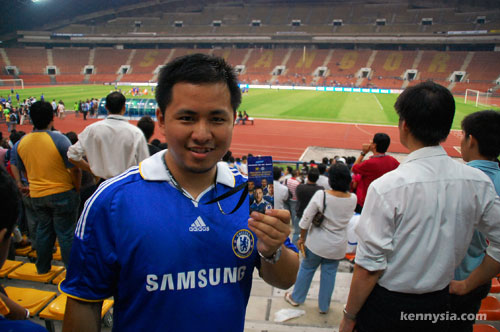 Immediately after Ballack's in-store appearance at adidas, we headed off to the official Chelsea training session.
David drove me from Pavilion in Bukit Bintang to Shah Alam Stadium, which took us nearly TWO freaking hours thanks to KL's peak-hour traffic.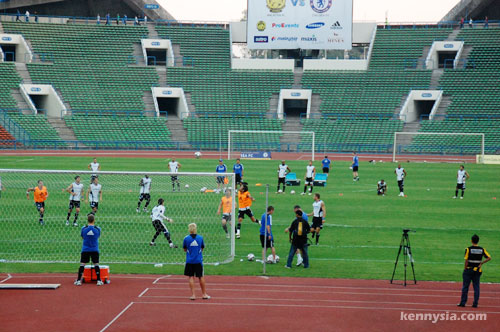 It's interesting to watch the waay professional footballers train. They closed off half the pitch, split into the team into two and played a regular match.
Despite it being just training, them footballers were totally into it.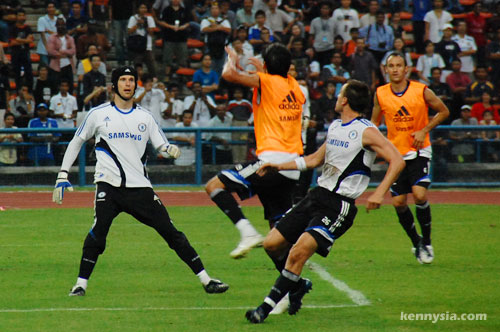 "Where's the ball?"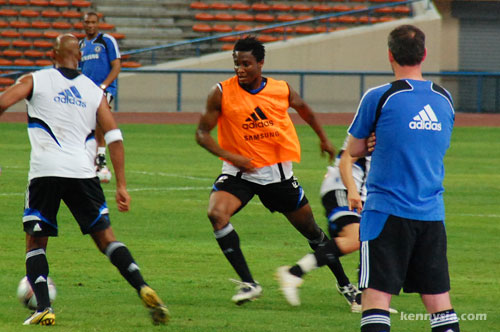 Halfway through Chelsea's football training, suddenly it looks as if they were dancing.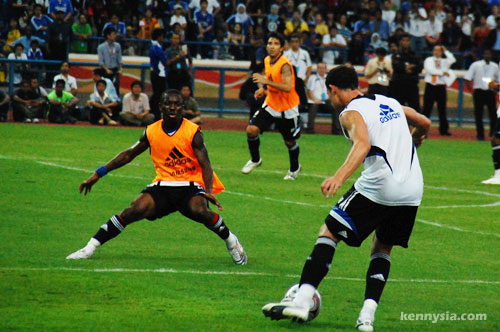 "Yea baby, I think I can dance."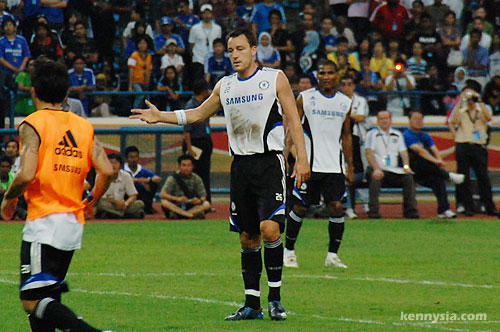 "May I have this dance?"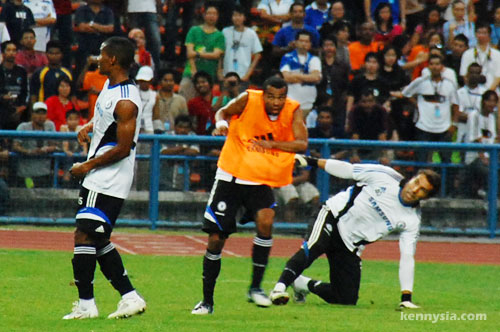 "He hits the floor!"
"Next thing you know!"
"Shawty got low, low… very low."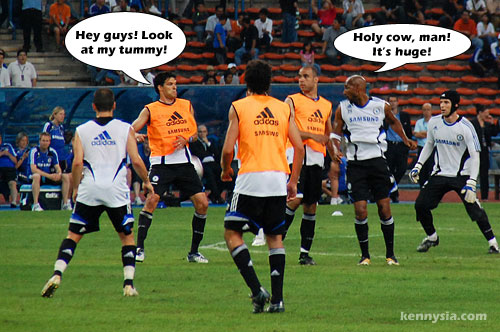 The training session was one of the rare chances I get to take photos of the Chelsea players really close.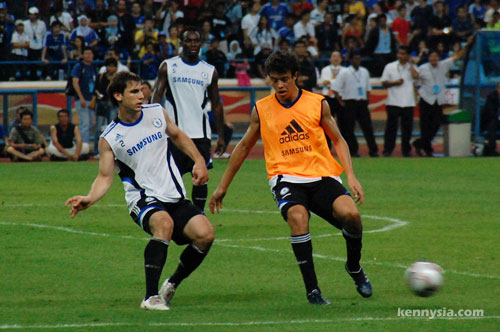 Ivanovic tackles Ben Sahar Di Santo.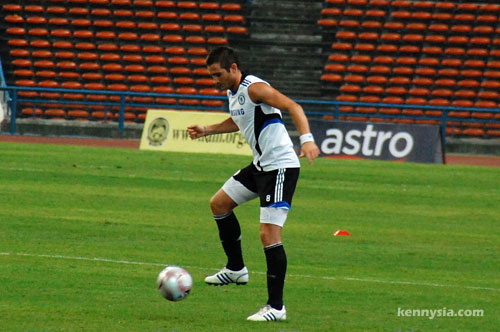 Frank Lampard playing with his ball.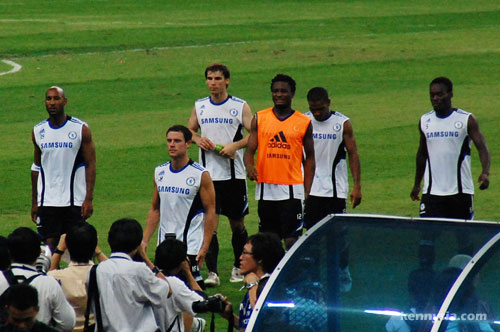 The players after their training.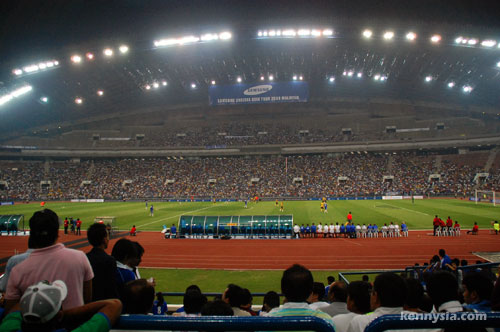 29 July 2008, the main event: Chelsea F.C. vs Malaysian Selection.
It was pretty clear from the start who is gonna win this match.
This is Chelsea Football Club's super-long bench.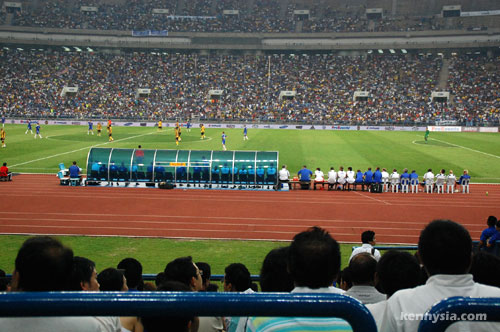 And this, is Malaysia's bench.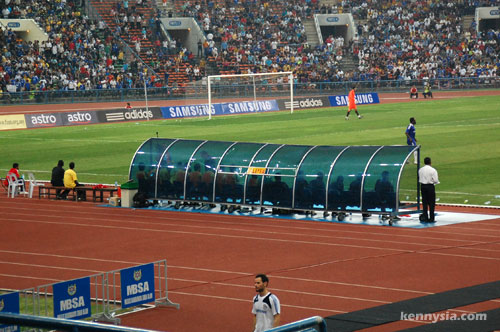 *cues cricket sounds*
Where the hell is everyone? What ever happened to Malaysia Boleh!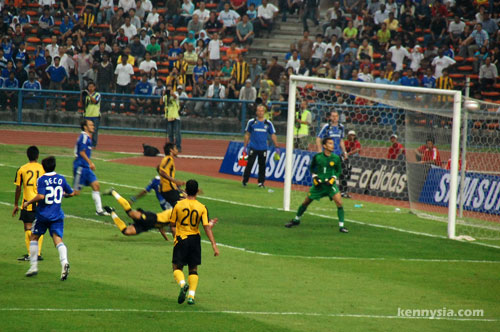 The match was not quite the walkover everyone had expected.
Considering Chelsea's previous matches in the Asian tour was 4-0 and 7-0, I think our boys put up a damn good fight against The Blues.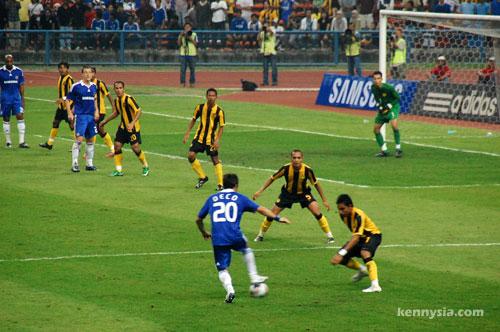 Deco trying to find an opening in Malaysia's strong defence.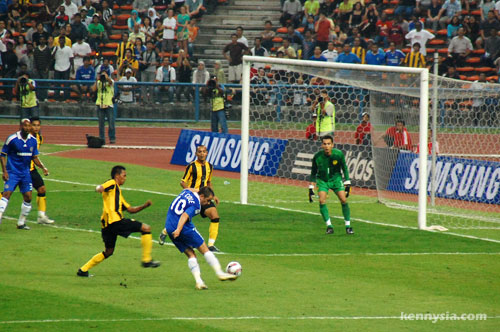 Joe Cole attempting a goal for Chelsea.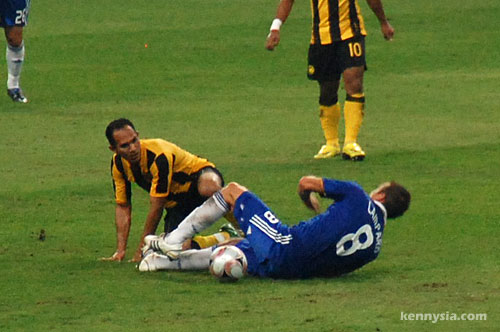 Our boy shocked at the size of Lampard's Lam Pa.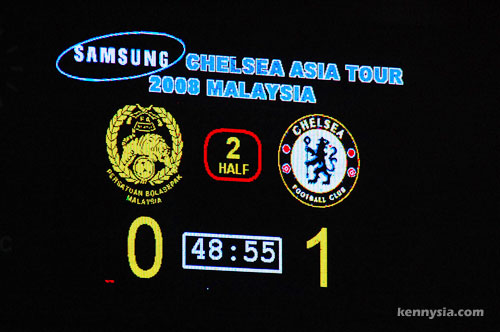 At the end of the first half, the score was Chelsea 1 – Malaysia 0.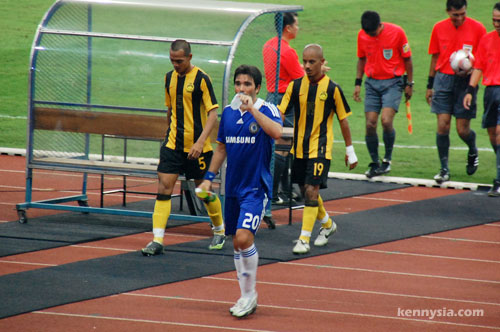 Deco heading back to the locker room during half-time.
Luckily Deco is not from Kuching. In Hokkien, "Deco" means "underwear".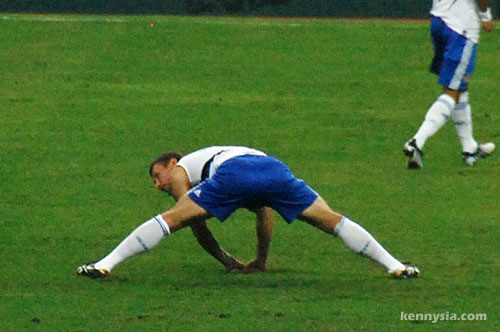 It was half-time. Unfortunately, we did not have sexy cheerleaders or Justin Timberlake and Janet Jackson entertaining us during this interval.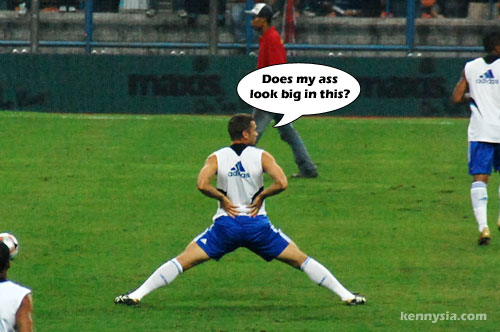 Instead, we were treated to the beautiful views of footballers doing their stretching.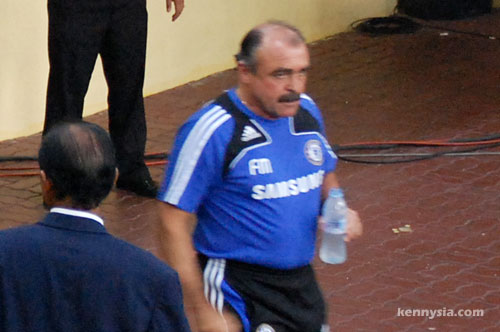 Holy cow, that's Super Mario!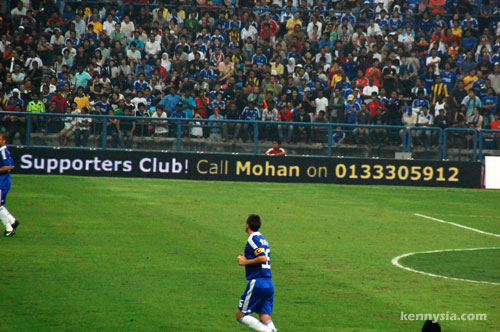 Have you called Mohan yet?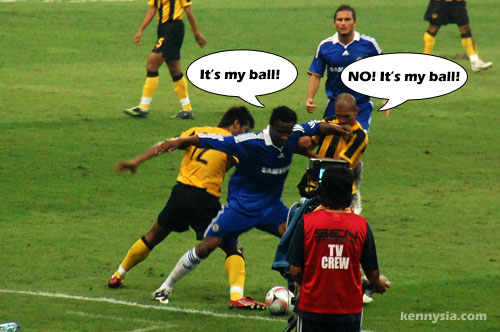 At the opening of the second-half of the match, things started to get pretty rough.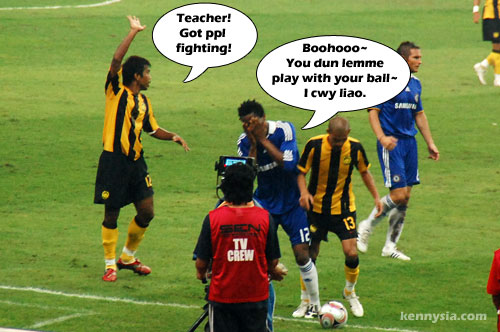 There were a lot of aggressive tackling, shirt-tugging, "accidental" punchs in the face and various other fouls committed.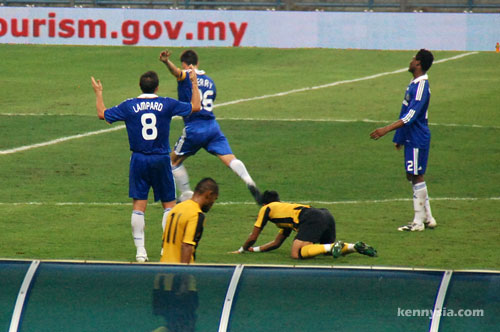 All in all, I must say my first live football match was an entertaining one.
The energy being part of over 55,000 screaming fans was just unbelievable. As one, we collectively cheered when someone scored a goal, and drew a heavy sigh when someone narrowly missed. It was definitely an experience not to forget.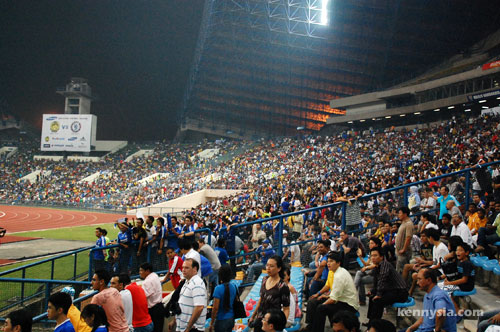 Sadly, at the end of the 90th minute, our team has to face the reality of losing 2-0 to Chelsea.
I shall conclude this photo essay with a topless photo of captain John Terry.
This, my friend, is the difference between someone who plays football.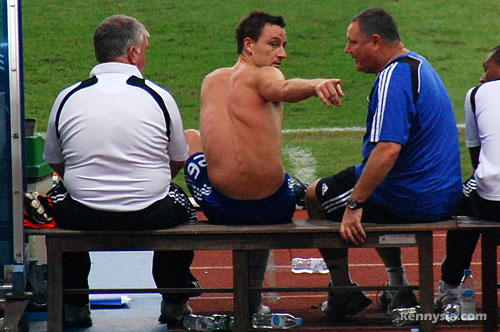 And two people who don't.