There's this bad habit I have that I'm trying very hard to shake off.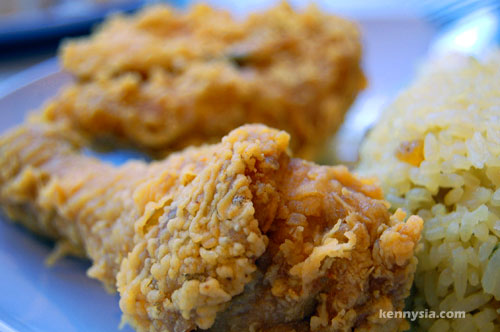 I know I have a weight issue. The only thing more painful about my performance on Deal Or No Deal, is watching my ownself on TV with love handles all spilled out from the side of my pants.
I cringed everytime I see myself on TV. Whoever said "being on TV adds ten pounds on you" is a bloody liar because it's not ten pounds, mate. It's A GAZILLION POUNDS.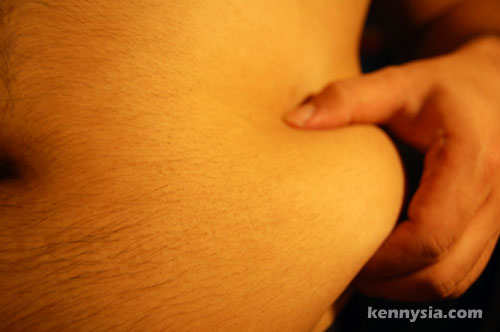 It's not like I have problems losing weight either. I know I can lose weight. After strict dieting and training for the Penang Bridge marathon last year, almost 5kg of disgusting fat melted right off my waist. At 80kg, I was feeling good about myself.
But the trouble I have is keeping that WEIGHT OFF.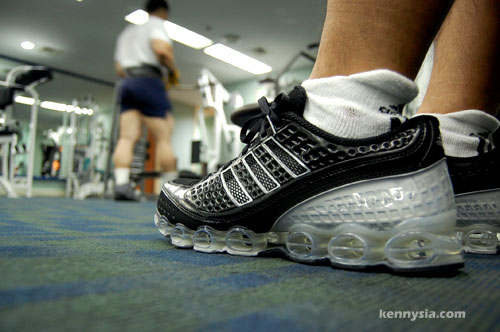 Exercising regularly is no problems for me. What I am guilty of is bad dieting.
Living in a place like Kuching where all the delicious, yummy, fat, oily food are all just a minute and 5 bucks away, eating a good healthy meal is the most difficult part of my weight loss plan.
Try going into any foodcourt in Kuching and ask for something that is not meat, not rice, not noodles, not fried and not oily. I guarantee they'll look back at you weird like your zipper is undone.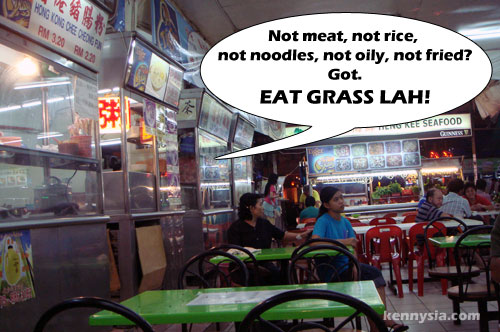 The bad habit I have is this.
Because it's so hard not to give in to the temptations of Kuching food, I sometimes practise The Cancellation Methodâ"¢ of dieting. What that means is that I reward myself with food based on how hard I worked out.
Ran 30 minutes at Reservoir Park? Have a bowl of laksa.
Spent an hour in the gym? Reward yourself some fried chicken wings.
Did 42km at the Penang Marathon? Go eat the whole freakin' Expert Food Court!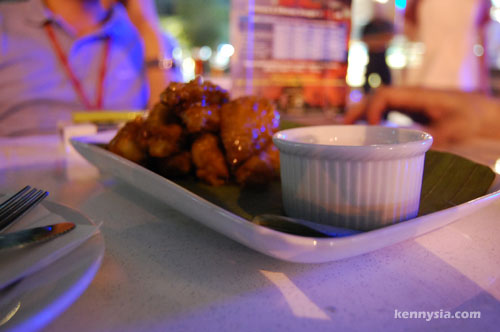 Needless to say, I gained back all the weight I lost. AND THEN SOME.
To make matters worse, it seems like I had a bit too much "joy to the world" and yuletide over last Christmas. I stepped on the scales this morning.
To my horror, this is what I saw.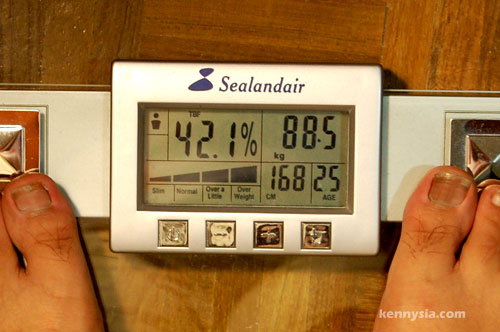 Holy mother of… 88.5KG!??!
How did I gained 8.5kg so suddenly?
What the hell did I eat over Christmas? SANTA CLAUS?!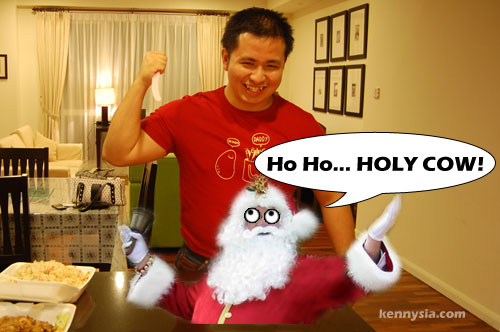 This does not bode well for me. We're filming Malaysian Dreamgirl in two weeks, and I'd hate to look like an elephant sitting next to Elaine Daly.
Because of this and other undisclosed reasons (hint: trouble fitting into my pants), I hereby announce that as the first act of my belated Chinese new year's resolution, I, Kenny Sia, will be embarking on a detox diet.
This is what it's gonna entail:
– 5 days non-stop detoxing
– cup of detox tea every morning
– only fresh organic fruits and vegies for meals after that
– eat only when hunger sets in, none at other times
– no meat, no rice, no oil, no bread, no alcohol, no coffee
– of course, drink BUCKET LOADS of water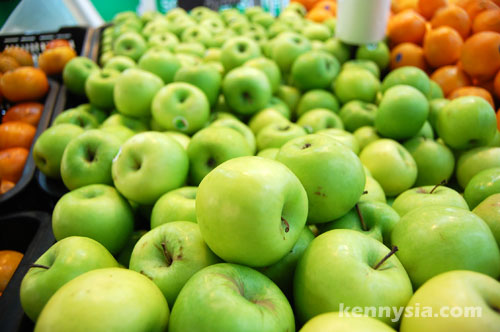 Detox is a good part to any weight loss plan. The purpose of detox is to allow the toxins in the body to be cleansed off thoroughly. Cleaner intenstines means better absorption of nutrients, and hopefully that translates to a healthier body.
I really should be doing this more often, to "clean the pipes" so to speak. I have a feeling the "passageways are blocked" and the garbage ain't getting out the system as often as I like them to.
Besides, I've been partying too much and eating quite unhealthily as of late. My pimples are already breaking out like mad, so it definitely looks like I'm in desperate need of a detoxification.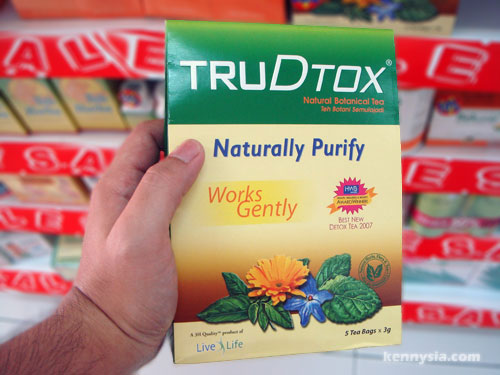 To make it work better, I'm gonna be taking this detox tea called TruDtox.
There are heaps of detox supplements out there and a lot of them are quite expensive. Thankfully this one is quite alright, costing just RM27 for a 5-day plan at Watson's after discount. Florence recommended it to me after having good experience with it, saying that it doesn't give the "explosive diarrhoea" effect that most other supplements would.
That is always a good thing. The last thing I want happening during this time of the year is for my boss to call me in to review my salary, only to see me cringe my face badly because I'm holding my poop in.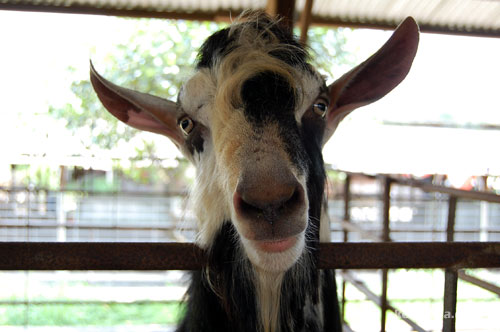 Yes, one unfortunate side effect of detox is that you are gonna fart and poop a lot. And they're gonna stink bad.
Real bad.
Like worse than fish market + rotten eggs + ANTHRAX + Steven Lim kinda bad.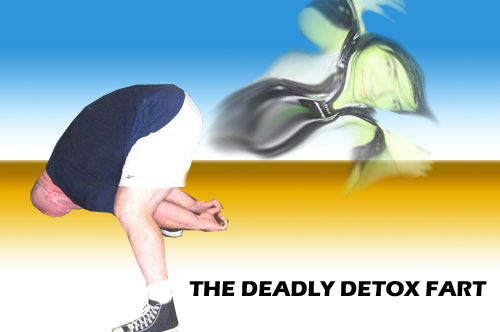 It's unfortunate that detoxing your body will cause your fart to smell fishier than VK Lingam's testimonies. I mean, how else are the toxins gonna come out from your body right?
After all, detoxing is like giving the wardrobe a bit of spring cleaning before every Chinese New Year to clear out all the unwanted crap.
Except with detoxing, you don't literally put your "crap" inside a cardboard box, seal it off and send it to charity.
That wouldn't be too nice, would it?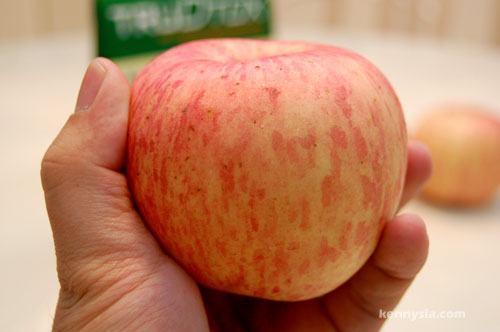 Anyway, I'm gonna try this out and publish my results here when I'm done.
Over the next five days do not tempt me with kolo mee, laksa or fast food joints. I mean it.
Else I shall unleash my deadly "detox fart" in your face.