People are so desperate to look good nowadays, they are willing to believe absolutely anything.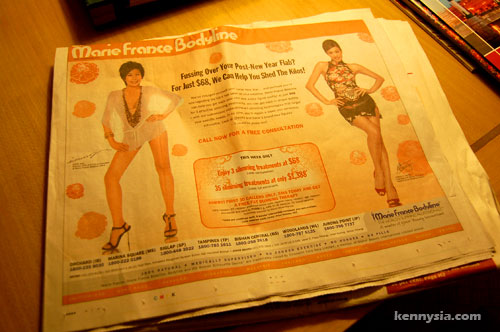 A simple flip through local newspapers post-Chinese New Year shows that almost HALF the advertisement spaces are taken up by companies like Mrs Marie France, Miss Bella, Mr Svenson and the likes.
I am so touched. I don't even know these people but they are so concerned about me that they wanna help me look younger, lose weight and grow hair. So caring!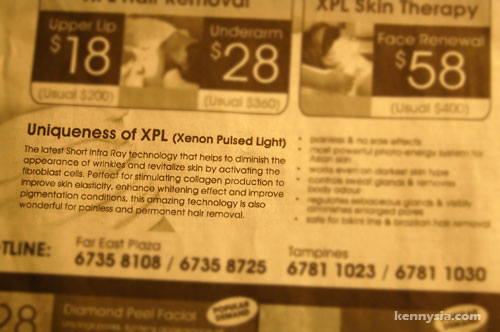 Of course, the beauty industry is not stupid. They are happily taking advantage of the situation, cleverly turning people's insecurities into a multimillion dollar business. They also boast some of the most ridiculous technology I have ever seen.
I mean, Xenon Pulsed Light that'll diminish wrinkles by activating fibroblast cells with Short Infra Rays? WHAT THE HELL IS THAT SUPPOSED TO MEAN?
Give me a break! If the words of these companies are anything to go by, then wrapping your body with aluminium foil is gonna make you lose fat and zapping your face with lasers is gonna make your wrinkles go away.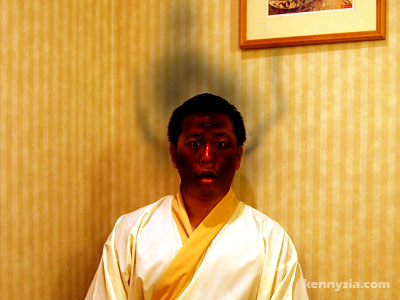 And now, after skin care, weight loss and hair growth, the latest innovation to come out from the beauty industry is the boob-growing industry.
I'm not joking.
Take a look at this ad, taken from Singapore's Straits Times newspaper.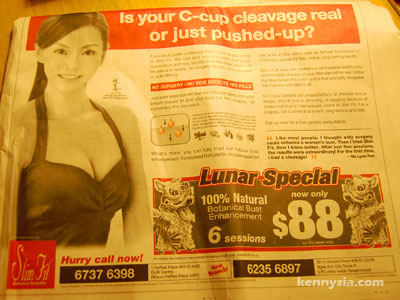 With an ad like that, I am almost convinced to wanna grow boobies too.
Oh wait, I already have man boobs. 🙁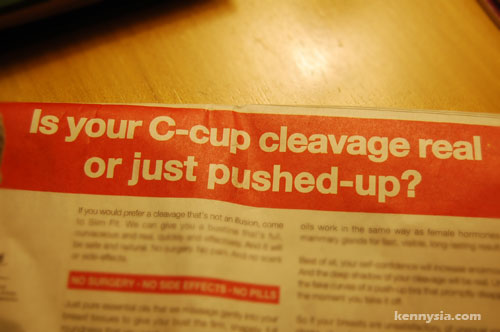 Just look at it. In big bold font, the advertisement asks, "IS YOUR C-CUP CLEAVAGE REAL OR JUST PUSHED-UP?"
I'd like to add, "IS YOUR C-CUP CLEAVAGE REAL OR JUST PUSHED-UP, OR IS IT JUST PHOTOSHOP?"
But here's the kicker.
When this company tries to describe the way they use to make boobies grow rounder, this is what they say.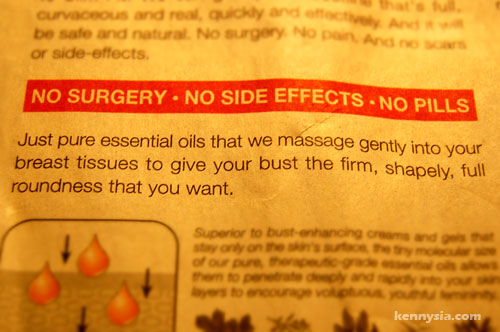 Really?
Massaging your boobs with essential oils is gonna make them rounder and firmer? Seriously, who's gonna believe that crock of bullshit?
If it were really that simple, I might as well just quit my job and open up a one of those beauty salons.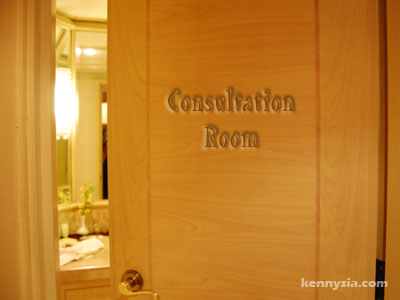 Then I'll tell those women I can help them get bigger rounder boobs by massaging them with my essential oils, and I'm gonna charge them a lot of money just to see me.
And when they step through the door at my consultation room, this is what they're gonna see.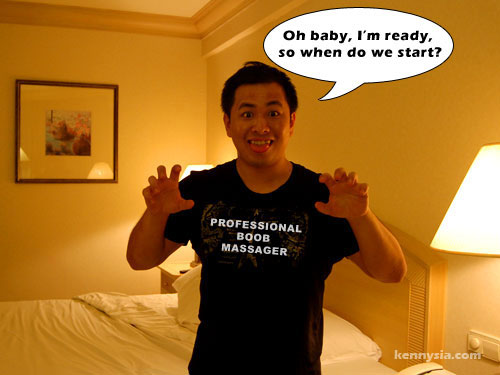 I can make money, I make women feel good about themselves and I get to massage their boobies.
Who wouldn't want this job?