One of the best places in Singapore to hang out at night is Wala Wala.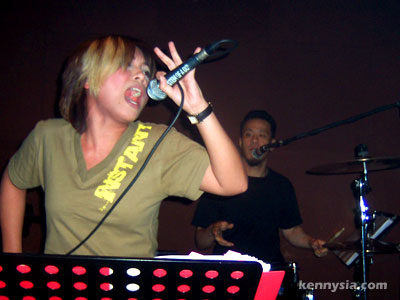 They're one of the very few pubs that seems to get the formula right.
Hot pizzas freshly made – check.
Hoegaarden on tap – check.
Live rock music by the hottest local indie bands – check.
It's no wonder their crampy 2nd floor gets filled up night after night.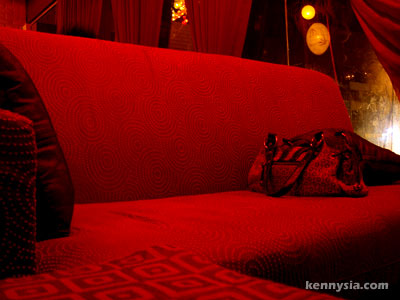 Since then I've been trying to find a decent pub in my hometown that can match up to the same standards. Sadly, live music in Kuching is either crappy cover bands or dangdut pubs.
It left me wondering where all the creative juices in Kuching have flowed to. Surely Kuching-nites have more talent than just sitting in coffee shops complaining about the government.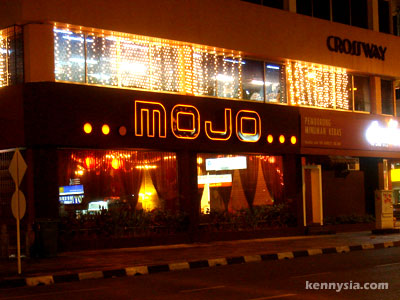 I was told of a Songwriters' Round held at Mojo one evening and decided to turn up with much skeptism, thinking it's gonna be more torture than enjoyment.
Mojo is this small but cosy lounge bar located beside Denise the wine shop in Abell Road. They don't serve Hoegaarden here. What they do have are fancy cocktails like IvannaHumpalot and Creamy Punani, which much to my dismay, is not served inside a real punani. 🙁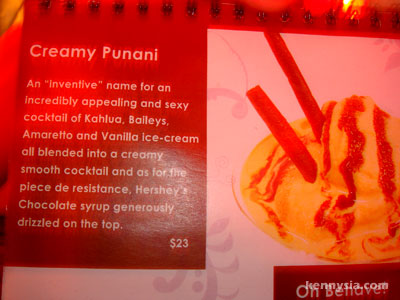 Tickets to the Songwriters' Round cost RM20 and include one standard drink. The line-up was all local indie bands most of whom I've never heard of. Mojo was filled up when I got there. Not bad, considering the only promotion Gerald the owner did was by word of mouth.
Rock music wasn't the only thing on the agenda that night.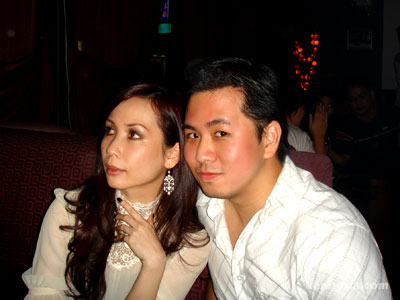 One band made a good effort shaking things up a little. Until this petite little girl came out with a red-feather boa, brought out her friend dressed like Emperor Palpatine from Star Wars then proceeded to recite an eerie poem that sent chills down everyone's spines.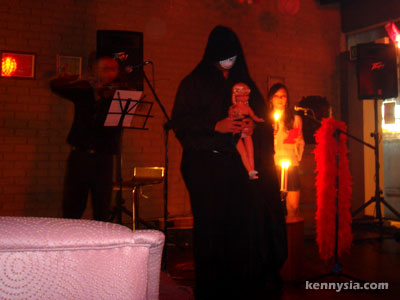 Man, I seriously hope he's paid to do this.
Also on the card was KL band One Buck Short. Why 'One Buck Short' instead of 'One Ringgit Not Enough'? It's a cool name for a band, but made them look like they're always in financial troubles liddat.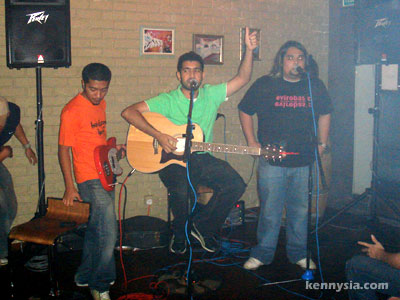 The idea for Songwriters' Round was for patrons to enjoy casual, live, acoustic and unplugged local music in the comfortable setting of a typical lounge room. It's a nice deviation from rock concerts where it's often loud, sticky and noisy. Best part is, you can always interact with the performers and tell them how much you love their music after their performance.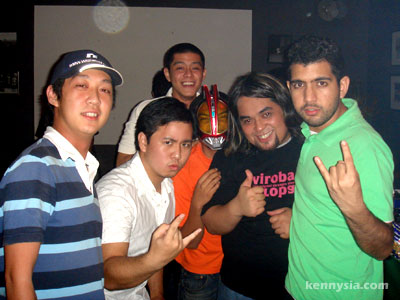 How does a punk rock band sound on acoustic guitars and no drums? Pretty darn good, I must say. One Buck Short rocked the house.
But it was Kuching's own Tempered Mental who stole the show that night.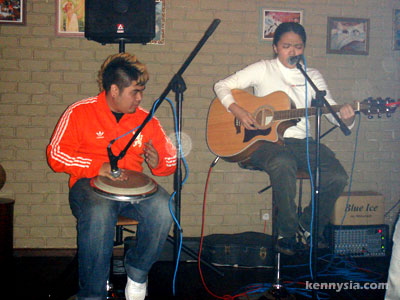 Lead singer Melina worked the mic like a pro and the crowd loved it. Even I find myself rocking ermm… shaking to their songs. Now, THAT'S the kind of band I'd like to see playing regularly at a pub in Kuching.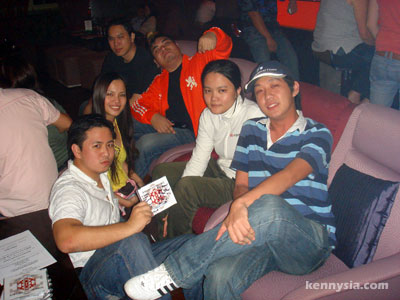 Tempered Mental will be playing at gigs in major cities like KL and Singapore over the next few months. If you're in the area, be sure to check out our Kuching's finest export.

That was the first Songwriters Round I attended and unexpectedly, I thoroughly enjoyed myself. This certainly won't be my last. Gerald is still looking for performers for the next Songwriters Round, so if you have a passion for singing, performing or anything else, drop into Mojo and let him know.
One thing for sure, I'll be at their next event.