London, home of the English Premier League, Spice Girls and Nuff Nang (the slang, not the blog advertising company).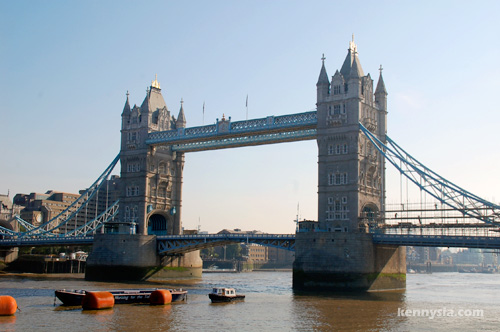 London has certainly got a lot going for it.
The Queen lives in it. Leona Lewis lives in it. Mr Bean lives in it.
Not to mention four years from now, the city will host the 30th Olympic Games.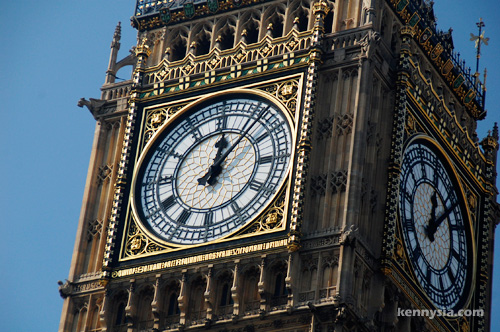 It's undeniable that London is a city people hold with high regard.
As a status symbol, fashion labels often list London as one of the cities where their presence are felt. More often than not, you see big labels proclaiming themselves such as "Topman – London, Paris, New York"
Very rarely do you see them go "Topman – London, Paris, New York, Kuching"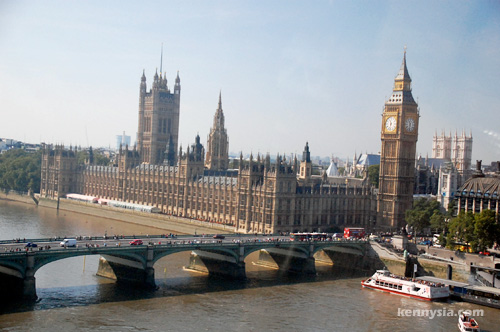 If I had any regrets about my trip to London, it is that I didn't managed to spend enough time there.
Of course, I went to visit the few must-see famous tourist landmarks.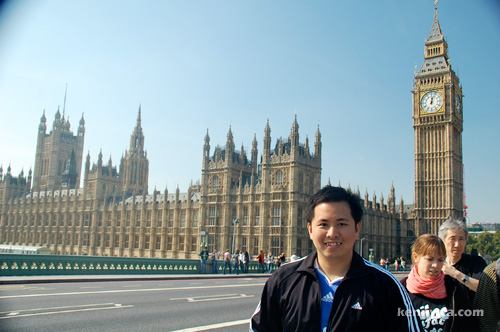 Like the Big Ben and the Westminster Palace, where the British parliament presides.
All I could think about is that it blew up in the movie V for Vendetta.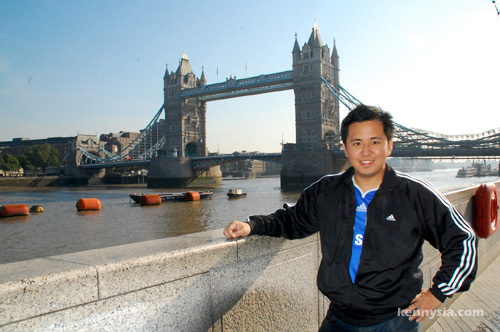 Saw the Tower Bridge, also mistakenly known around the world as the London Bridge.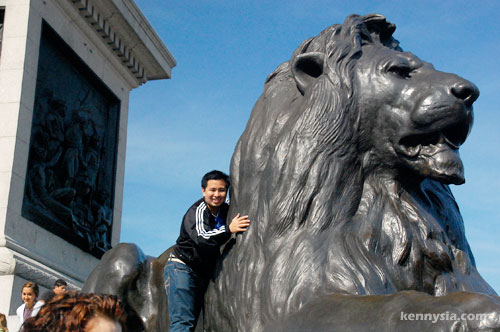 Went to Trafalgar Square and molested the lions.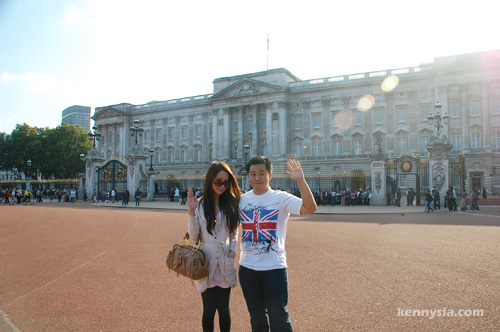 Visited Buckingham Palace, where The Queen lives.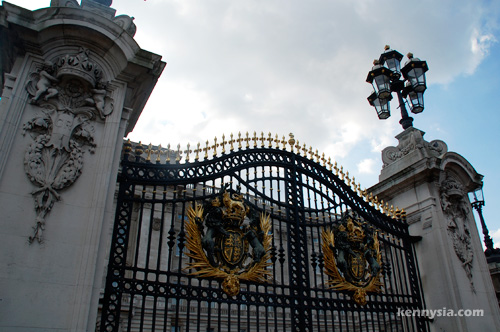 Well, actually I only went as far as the palace gates.
Tickets into the palace are 15 pounds (RM100) and we could've gone in if we wanted to, provided we booked in advance. But we didn't, so all we did was look at the 'toy soldiers' standing outside.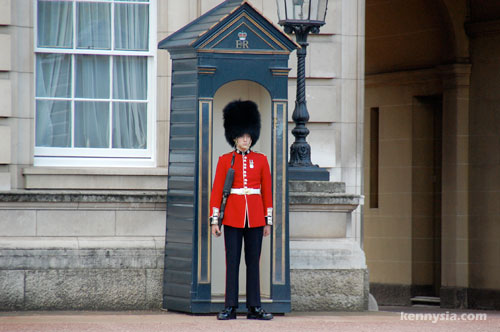 These royal guards used to stand at the outside of the fence where mischevious tourists could make funny faces in front of them. Supposedly, they are so well disciplined that they will not move, laugh, bat an eyelid or get an erection no matter what you do to them.
Then again, some tourists are also a bit too much lah. I heard stories about the soldiers having to put up with tourists blowing cigarette smoke in their face, placing banana skins on the ground, or even sticking an orange inside the gun's barrel.
Eventually they smartened up and moved the guards into the palace grounds out of reach from the tourists.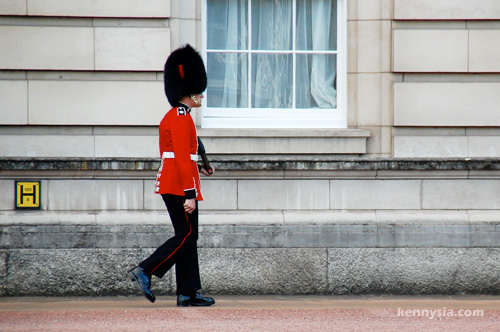 Gotta wonder what's up with the furry black hat though.
Not sure if it's meant to intimidate, but if I was the enemy I'd surely die laughing.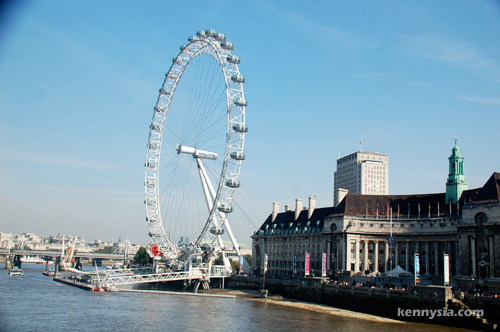 The London Eye is one of the newer London attractions.
I paid 15 pounds (RM100) for a 30 minute ride up the bicycle wheel to get a bird's eye view of the city. I tried getting the girls to come with me as well but they were like, "What's so special? Singapore also have what!"
Well, it's different lah! In London, you can see lots of old church. In Singapore, you can only see Orchard.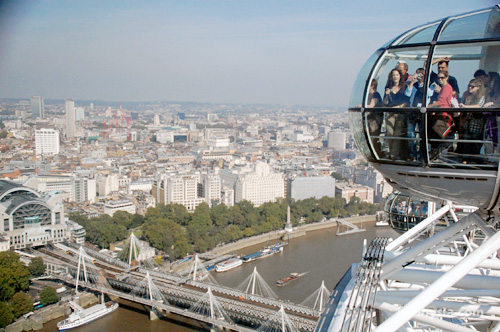 Admittedly, it's a kinda overpriced.
To be honest it was terribly unexciting as well. Pretty much, the only reason I went was because our Olympic cyclist Josiah Ng proposed to his fiance Kim Ong and I thought it was awfully romantic.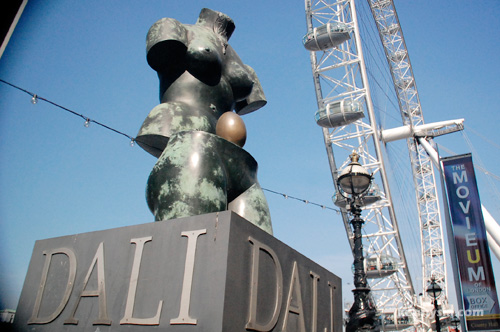 Salvador Dali sculptures can be spotted outside the Dali museum next to the London Eye.
Now, I never really understood much of Dali's artworks. Like, what's up with the headless armless naked girl with the golden egg in the middle?
But then I noticed something about the sculpture that amused me to no end.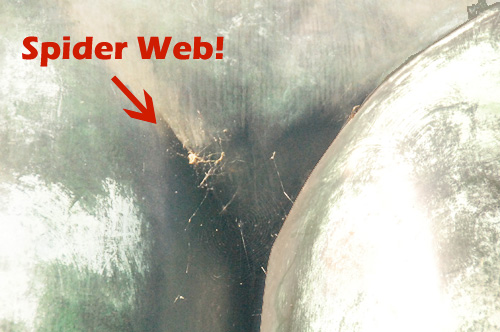 Some stupid spider went and built a web around her crotch!
Poor girl must be not having "it" for a long time.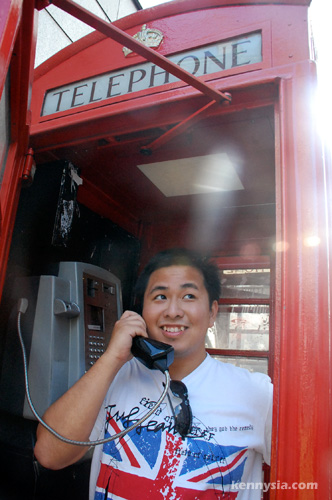 I like how London has its own trademark identity. The Tube, the red double-decker bus and the red-coloured telephone booth are just few of the things that are distinctively London.
The phone booths aren't as innocent as it seems though. Inside almost every single one of them, there are stickers promoting "services" catering to all kinds of fetish.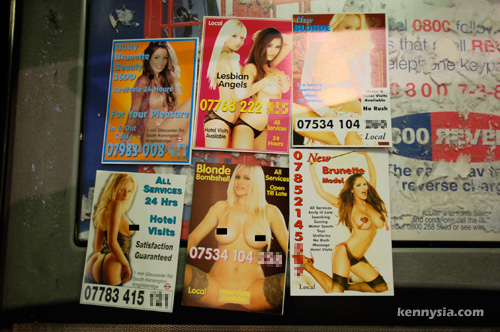 Blonde, brunette, lesbians.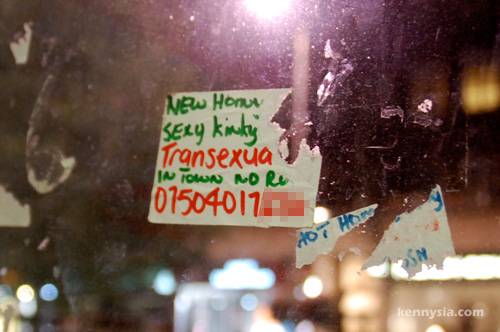 Or even trannies if that's the kinda stuff that rocks your boat. 😉
One thing I really liked about London is that some of the best museums and art galleries in the world are located here, and they're all free of charge.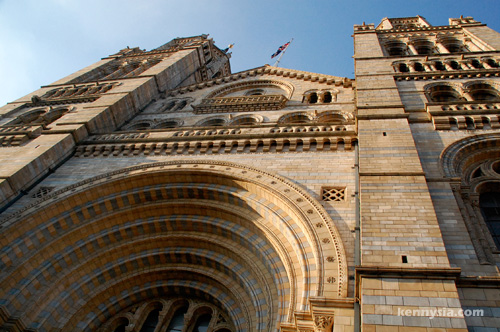 While the girls went off shopping at Primark, I popped by the Natural History Museum to visit some…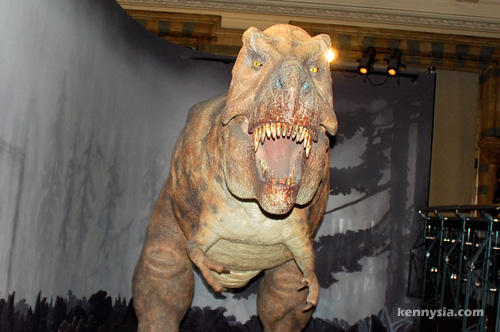 DINOSAURS!
The museum is really quite exciting, if you're a nerd. Never in my life have I seen such an extensive collection of dinosaur skeletons. They have almost all the species from Jurassic Park on display, and more.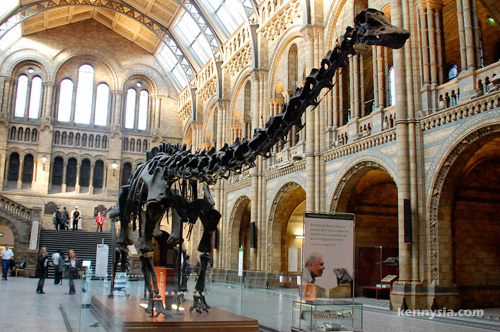 The only dinosaur they don't have is the Dickonosaurus. Too bad, because the only person in possession of that is me. Hehe.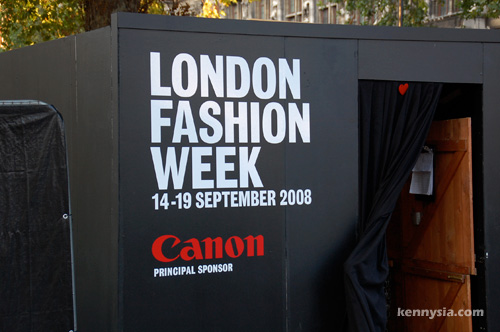 Coincidentally, while I was there, the London Fashion Week was happening right outside the Natural History Museum.
Security stopped anyone from coming anywhere close to the action, but I heard Baywatch star Pamela Anderson was there too which I found very funny.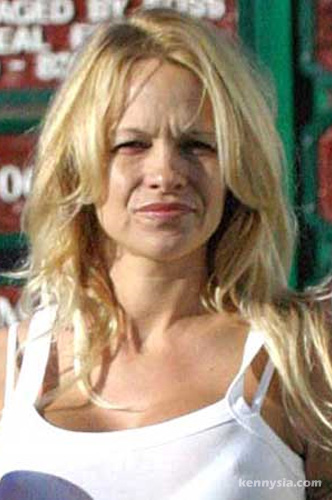 Apprently the museum has so much dinosaurs that it's even attracting living dinosaurs.
Anyway, the Natural History Museum is a great educational fun place for kids. Apart from dinosaurs, it also has an interesting section on human biology.
There, Little Johnny can find answers to all the difficult questions bugging him in life. Questions such as, "Where do babies come from?"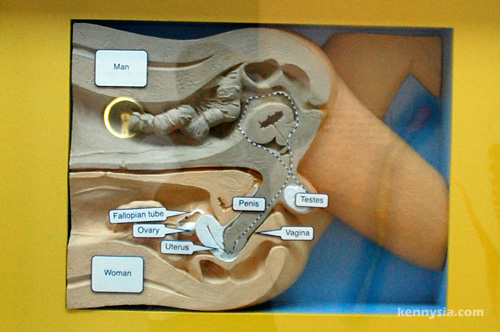 The answer Little Johnny is looking for comes in "zombie porn".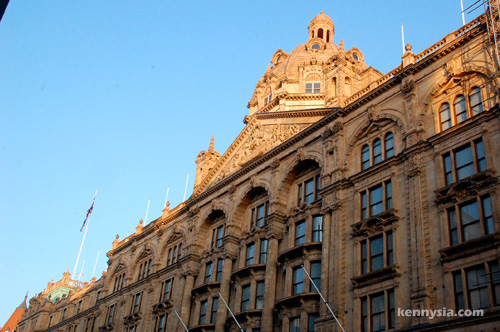 Harrod's in Knightsbridge is another place I highly recommended going.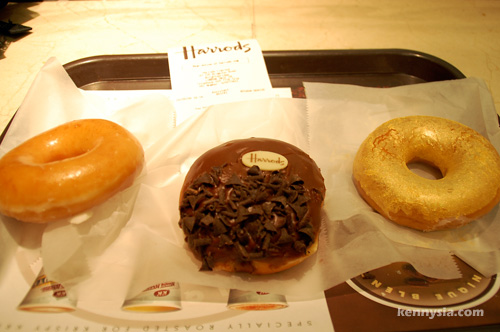 Here's the thing. You don't go to Harrod's for shopping though because everything there is too bloody hell expensive.
Like I bought three donuts from the Krispy Kreme instore and the bill came up to 3.60 pounds (RM 23)! Sweet Jesus Mohammed Al-Fayed! For that price, I'd expect somebody to feed me and wipe my mouth.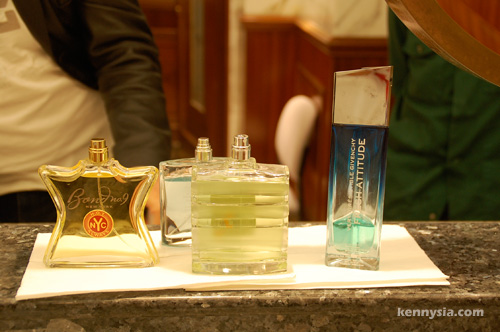 Instead, head over to the luxury washrooms on the 1st floor and help yourself to some designer perfumes, free of charge.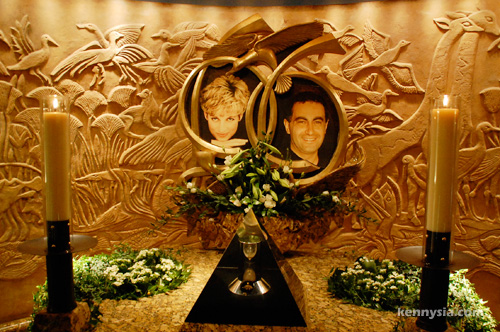 On a more sombre note, the basement of Harrod's has an Egyptian-themed shrine dedicated to Princess Diana and her boyfriend Dodi Al-Fayed, the son of the chairman of Harrod's.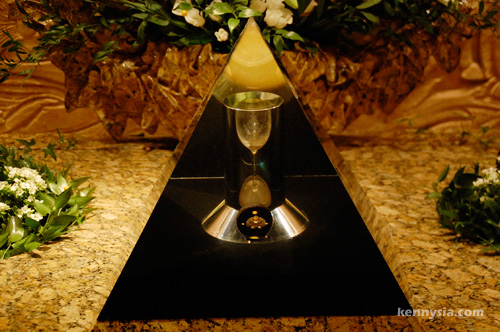 Encased inside a glass pyramid in front is a wine glass, still smudged with Diana's lipstick from the couple's last dinner.
Also in it, is an engagement ring. Dodi purchased the ring just a day before they died in that tragic car accident.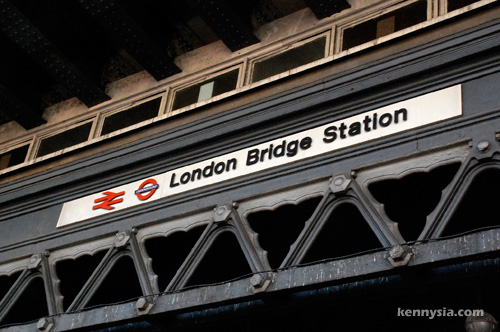 A city as large as London has so much to offer that I can't help but to feel that I'm missing out if I only stuck to the tourist route.
At night when the shops are closed, I went out with the Tiger Beer people to check out Shoreditch's infamous nightlife.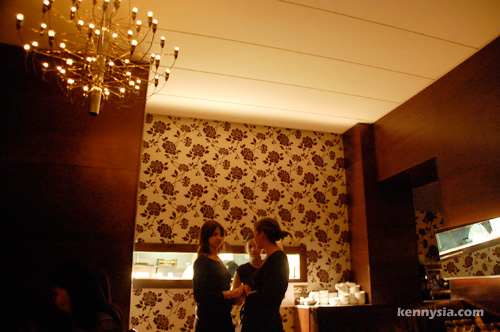 First stop, the Great Eastern Dining Room.
This restaurant serves Asian food catered to western palates.
Normally I find angmoh serving Asian food a bit suspicious, but dinner here was easily the best we have had throughout our time in London. I love it so much that when I came back for it the next day, it's already fully booked out.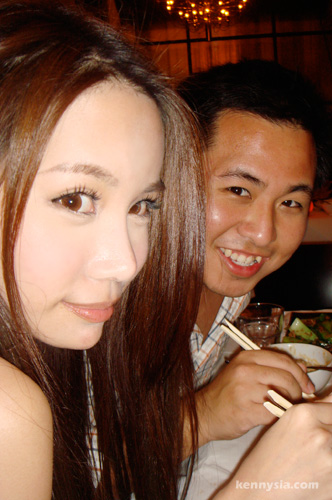 Over dinner, I learnt the truth about Dawn Yang, my travel partner for one week.
You may have heard those nasty rumours circulating about her on the Internet. Well, I witnessed it first hand.
And yes, I can confirm that the rumours are true…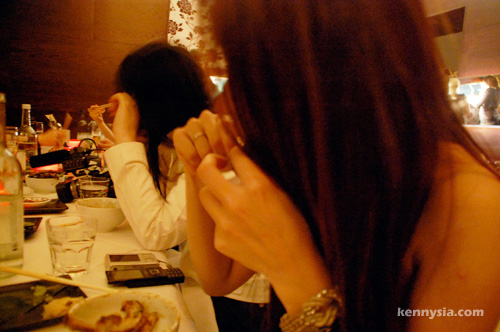 Dawn eats. A LOT.
She eats so much even I got scared.
Whoever said models starve themselves has certainly not met Dawn Yang. While everyone was satiated after just eating one pork rib, our girl polished off at least EIGHT of those in one go!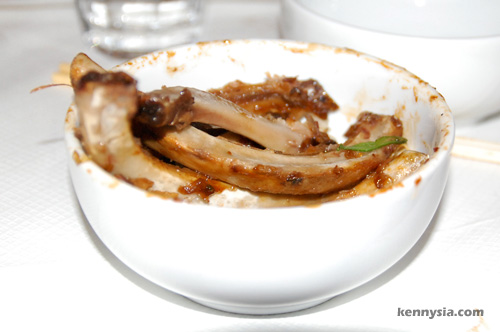 How she managed to maintain her slim figure I have no idea. I am twice her weight and only ate half as much as she did that evening! Bravo, girl.
After dinner, we crossed the road to Shoreditch's finest Cantaloupe bar.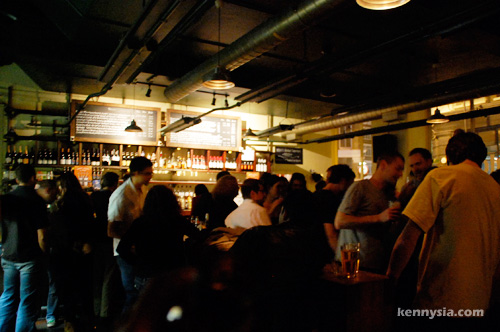 This shabby yet chic bar has proved popular with the young professionals working around the area. It's a Friday night and the clientele is a strange mix of jeans, heels and people in their work clothes. In a corner, the DJs spinned up kickass chillhouse music to complement the lively chatty atmosphere.
The only bummer about Cantaloupe is that you gotta walk damn far to reach the toilets, only to find this sign.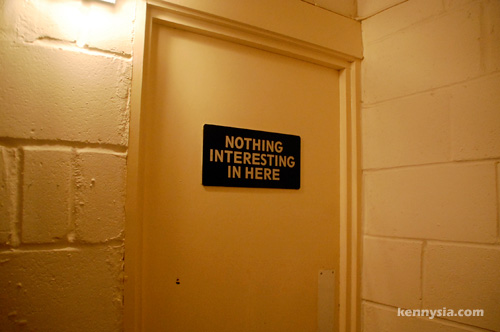 Question.
What drink do you order when you're out in pub with a bunch of people who works Tiger Beer?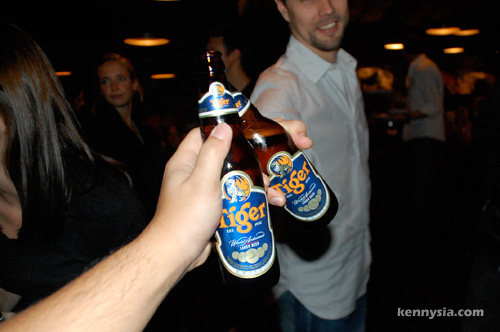 Why, Tiger beer of course! 😉
Asian beers like Tiger are actually considered premium brands over here. While it's common to buy four bottles for RM20 here in Kuching, poor Londoners are paying something like 3 pounds (RM20) for just ONE bottle. How lucky we are.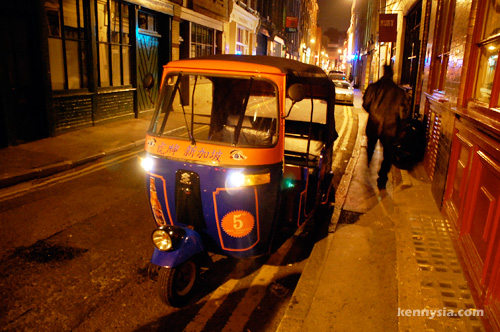 To get us to the next destination, Tiger Beer arranged for us a tuk tuk!
Fancy riding a tuk tuk in London? Hell yeah!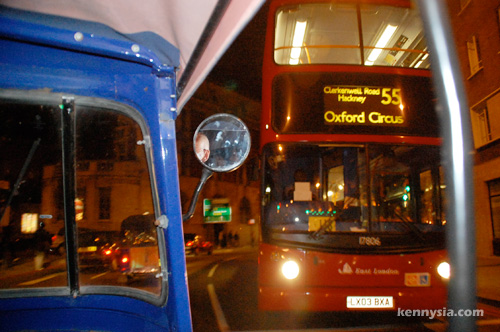 It's incredibly bizarre sitting in a tuk tuk, cruising down the streets of LONDON as red double-decker bus and black cabs whizzed past by.
When we arrived at our destination, instead of saying "Sawadeekap! You want buy suit? Massage? I give you good price!", our driver simply went " 'ere ya go mate, 'ave a good evening!" in full-on Bri'ish accent.
Something doesn't quite match over here.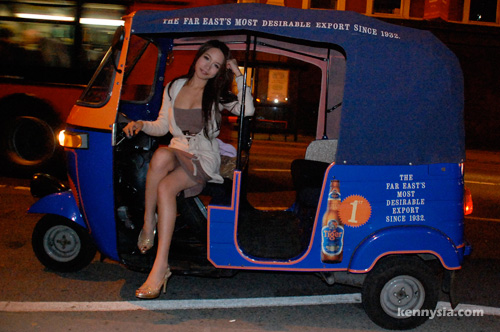 This is Dawn Yang – The Far East's most desirable export since 1932.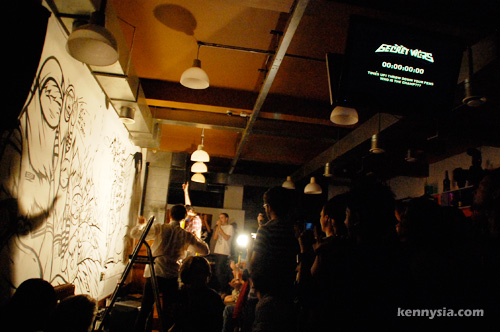 Our next stop is Juno, where Tiger Translate artists Monorex did their Secret Wars live graffiti art battle.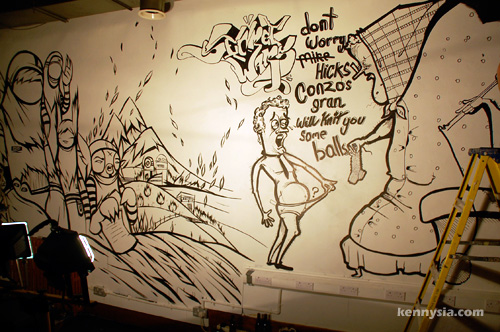 Again, although I personally preferred the right hand side's sarcastic artwork, the crowd cheered louder for left and he won.
Next stop, Koko!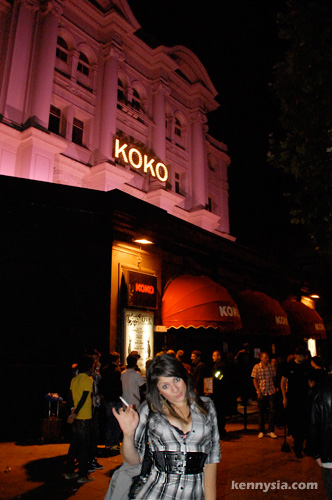 This is one of the most awesome and popular clubs in London.
Koko is housed inside a century-old theatre that used to host shows by Charlie Chalpin and Madonna.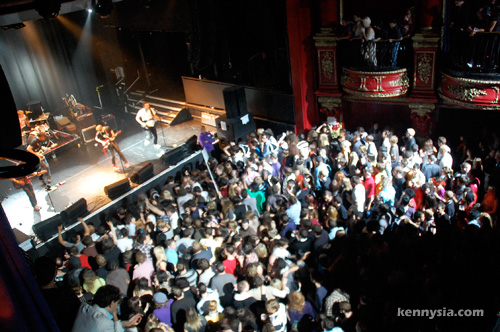 It has since been converted into a party venue where, when big names like Coldplay and Mika aren't holding concerts, independent UK bands rock the live audience crazy with their original gigs.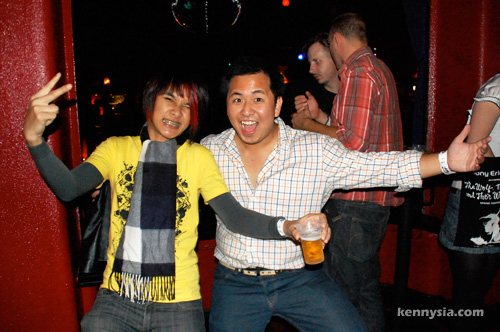 Our time in London was short, but at least I've experienced both the tourist and local sides of London. Still, I reckon there is so much more of London left to explore. 13-hour plane rides aside, I'm not gonna hesitate coming back here again if the opportunity arises.
To finish off this entry, I must relate to you this conversation I had with a Leonado diCaprio look-a-like French dude outside Cantaloupe bar.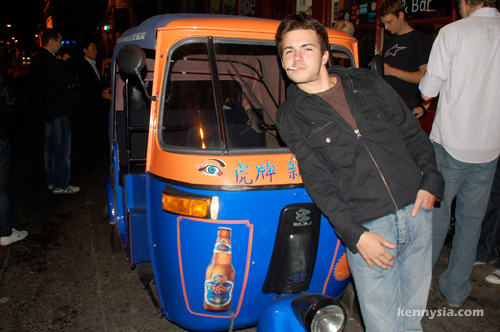 Leonardo: Hey man, where are you from?
Kenny: I'm from Malaysia.
Leonardo: Malaysia? Where's that?
Kenny: Well, you know where Singapore is?
Leonardo: Yeah, I know Singapore. I've been there.
Kenny: And do you know where Thailand is?
Leonardo: Yeah, of course! I've been to Phuket and Bangkok before.
Kenny: Well, Malaysia is sorta between Thailand and Singapore.
Leonardo: Oh, ok. I've never heard of Malaysia.
Kenny: But that's only part of Malaysia though. I'm from Sarawak, which is on a whole different island.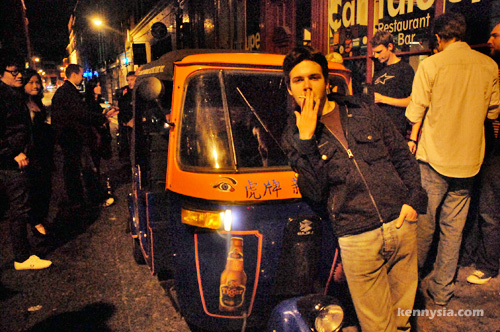 Leonardo: Really? Sarawak!?
Leonardo: I know where Sarawak is. That's on Borneo Island, right?