The first time I stepped into a Club Med was Phuket in 2006.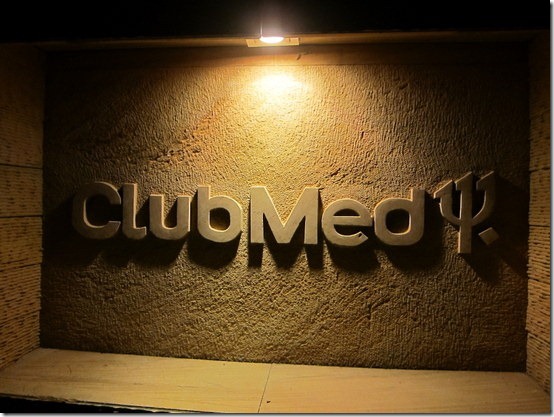 Back then, I was a young 24-year-old – poor and travelling solo. Due to budgetary constraints, I remembered staying at one of Karon Beach's many cheap guesthouses surrounded by monstrous high-end luxury resorts.
The largest of these resorts sits right smack on the Karon beach front. I remembered sneaking in past security – just to see how other holidaymakers spent their time. One peek, and immediately knew that it was something different.
It was unlike anything I have ever seen before.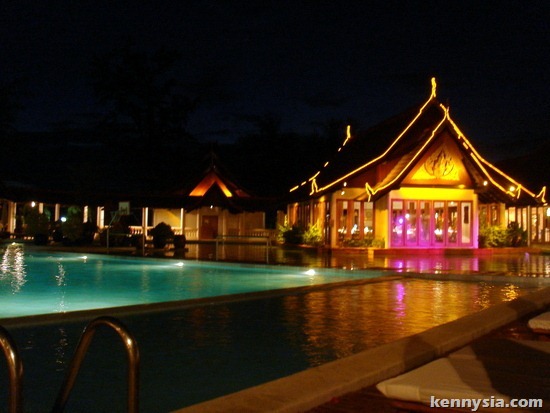 I saw resort staff not only just serving guests – but dancing, playing, drinking together with them. I saw hotel guests wear identical wristbands, as if they all belong to the same tribe, from the same village.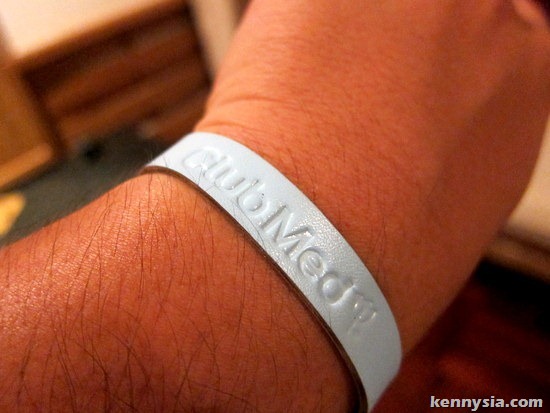 Most significantly, I saw everyone looked so, so happy.
Happiness. Genuine, unadulterated, pure happiness. Such an elusive concept really. But isn't that what we all seek when we're on holidays?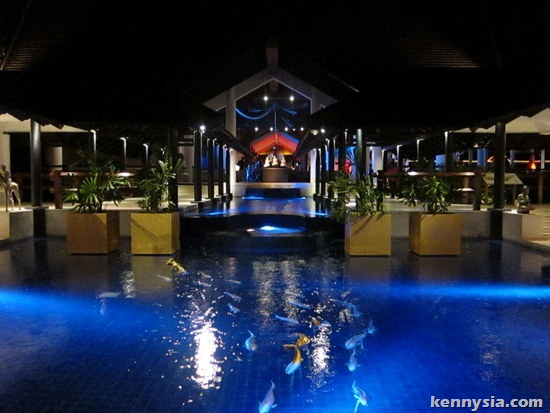 There I stood, wide-eyed and stunned by the realization that I was in some kind of a tropical utopia… before a big burly security guard tapped me on my shoulder and chased me away.
Since that incident, I vowed that one day, I would return to Phuket to experience for myself what it's like to stay in Club Med Phuket.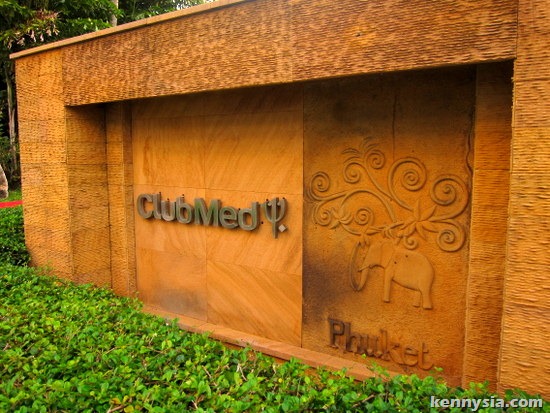 Fast forward to February 2012, I received an e-mail from Club Med's office Malaysia. Club Med Phuket had undergone a revamp and was set to unveil its new looks. For the inauguration, they're inviting media from all over the world to experience it for themselves.
Nothing, except the birth of my first born, would make me miss that opportunity.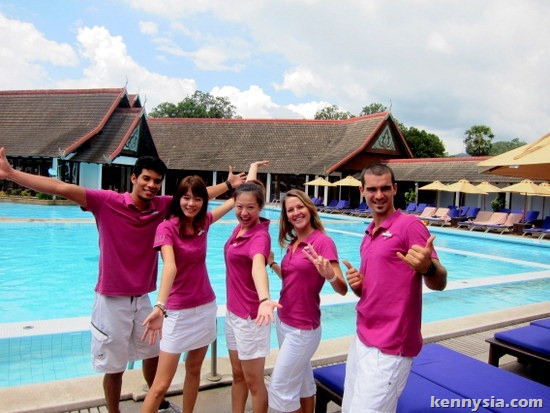 I arrived at Club Med Phuket early. The rest of the Malaysian team was delayed 'cos their flight can't land due to heavy rain, so I took the opportunity to explore the extensive resort ground – legally this time!
I was pleasantly surprised. Since I last came to Phuket, Club Med has undergone extensive aesthetic improvements in many areas.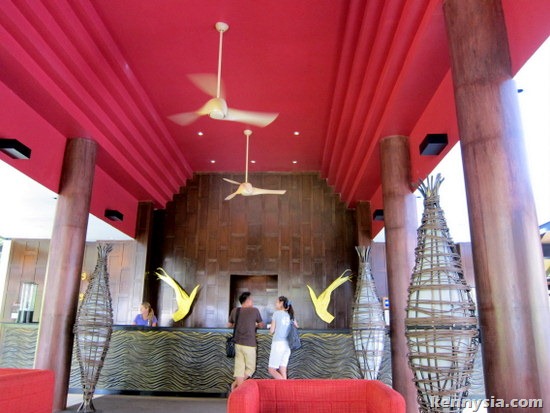 From the moment I stepped into the lobby, I was welcomed by antiquated Zen statues, bright Jim Thompson silk cushions and other contemporary Thai elements in their comfortable lobby area.
In an instant, I was transported from the busy Phuket streets into a place of relaxation and indulgence.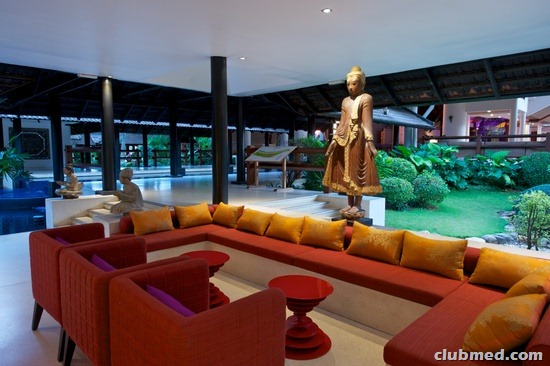 Good job to Club Med for ditching those ubiquitous sleepy dark wooden panels in favour of a more airy and colourful vibe.
I love the juxtaposition between darkness and light, raw and sophistication, eastern and western. I later learnt that this design concepts is repeated many times throughout the 61-acre resort.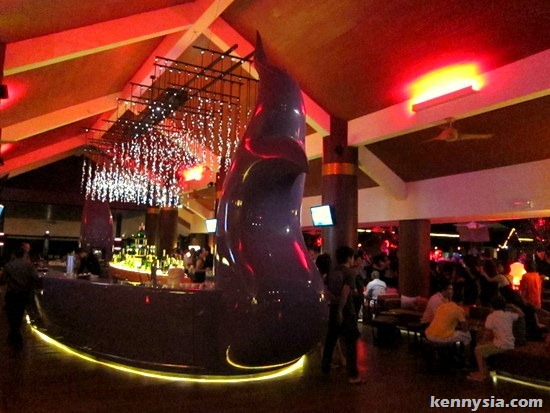 Adjacent to the lobby is the main lounge, completely re-designed from ground-up. Gone are the crampy little bar on the side against the wall.
In its place is a HUGE island bar, fashioned into a purple mythical swan-like bird in Thai folklore called the Hong. At night, the clever lighting effect makes it look as if the Hong bird is floating in the air.
The lounge is the centrepiece of the resort, overlooking the pool on one side, and the circus trapeze on the other.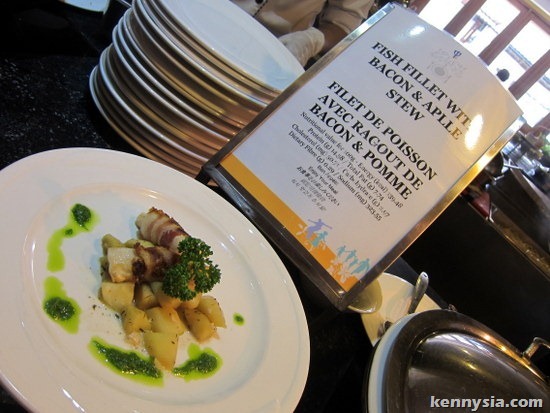 Food at Club Med is always an international gourmet experience. Over 90 new Asian-inspired dishes are introduced along with a new dinner buffet, many of them cooked and plated expertly in front of my eyes.
Now, not only are we spoilt for choice when it comes to food, we too have a choice as to which pavilions to enjoy our meals.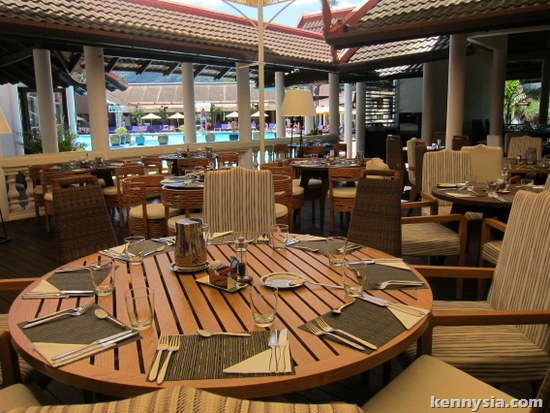 Club Med did well by partitioning the main dining area into five distinct pavilions – each evoking one of five human senses – Tastes, Fragrances, Music, Colors and Material. These themes are developed into order to follow the Thai art of living.
The Fragrances pavilion, would feature deco inspired by droplets of essential oil on sticks, for example – while the Music pavilion would feature lamps and tables fashioned after traditional Thai bells and cymbals respectively.
Parents with small children would be happy to chuck their kids at Club Med Phuket's dedicated Kid's Palace. This is where children as young as 4 months to 17 years can have access to facilities and activities specially arranged for.
Extra big kids NOT ALLOWED!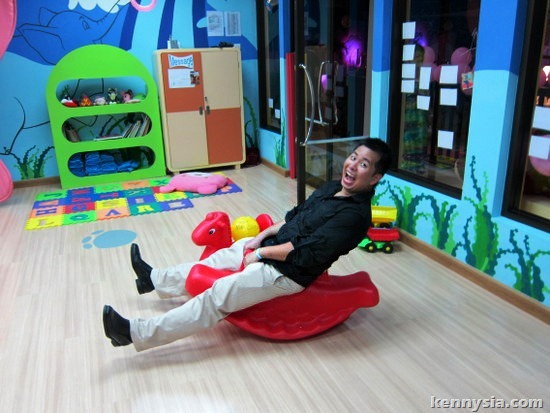 The Kid's Palace is humungous! Bigger than any other kids club in any other resorts I can remember. They even have super shallow swimming pools for them little babies.
Kids would love it here. I can't say for sure, 'cos I don't have kids!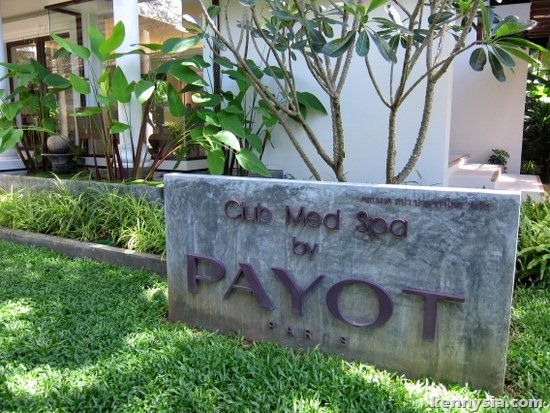 I'm more of a holiday spa person. When I go on holidays, I make an extra effort to check out their resort spa.
The Club Med Spa in Phuket is operated by luxury French brand Payot. Set in a Zen garden, the revamped Club Med Spa features 12 treatment rooms, 2 Turkish baths and a relaxing Jacuzzi.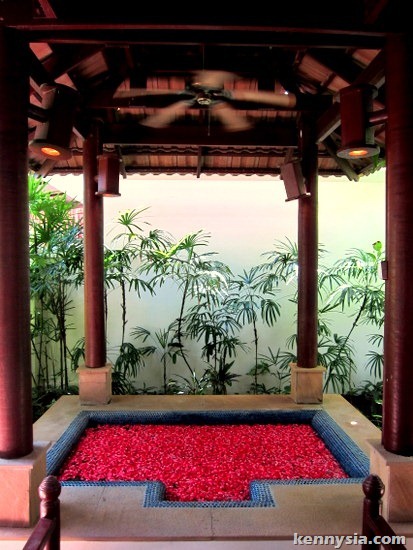 It's all very nice, and very romantic. They even have private yoga lessons for those who want an extra level of wellness.
Unlike the rest of the resort though, spa treatments are not included in the all-inclusive formula of Club Med. I mean, if massages are free, I'm gonna tie myself to them massage beds 24 freakin' hours a day!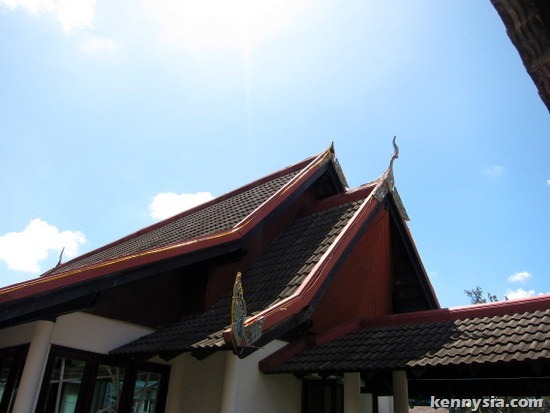 By now, I have waited a good 6 hours already and the Malaysian team still have yet to arrive!
Good thing my bedroom was ready.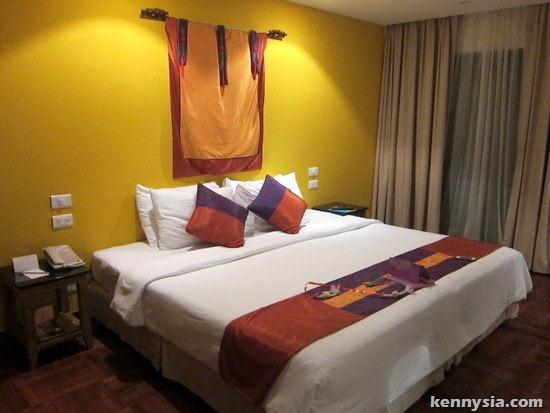 Admittedly, Club Med don't usually pay much attention to their bedrooms below the Honeymoon Suite level, but I was pleasantly surprised at how comfortable and spacious my Deluxe Room is.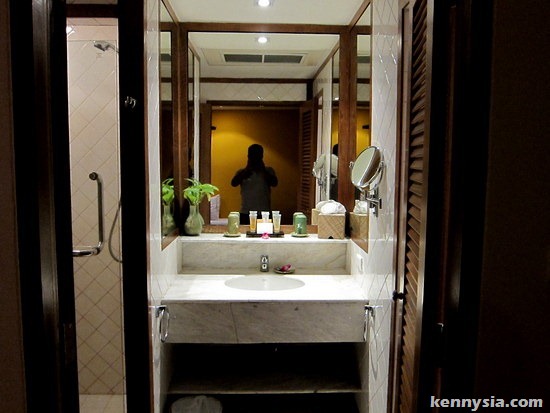 Plush pillows, soft linens, full minibar and a TV. Why would anyone watch TV in Club Med anyway when there's so much to do outside?
I had the opportunity to glimpse at their Honeymoon Suite.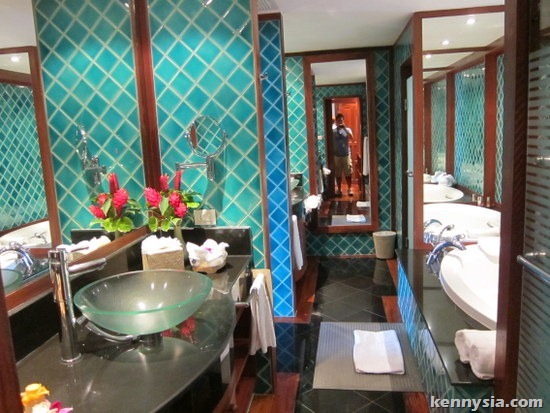 It's obviously a lot bigger. Comes with its own bathtub, four-poster bed, coffee machine, fruit basket and a bottle of Moet. So while the standard rooms are sufficient, those who opt for an extra level of indulgence have a choice too.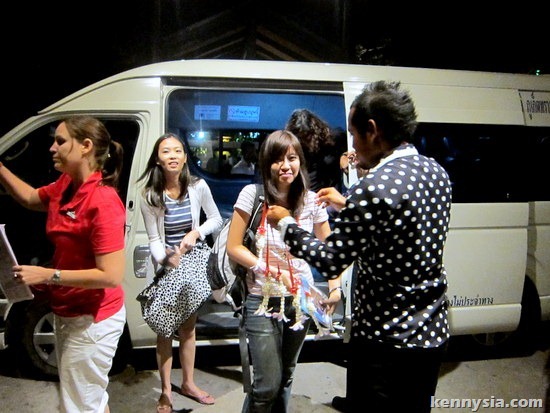 The Malaysian team finally made their grand arrival at 8:30pm – a four hour delay!
By then I had already explored almost every corner of the newly renovated Club Med Phuket resort on my own.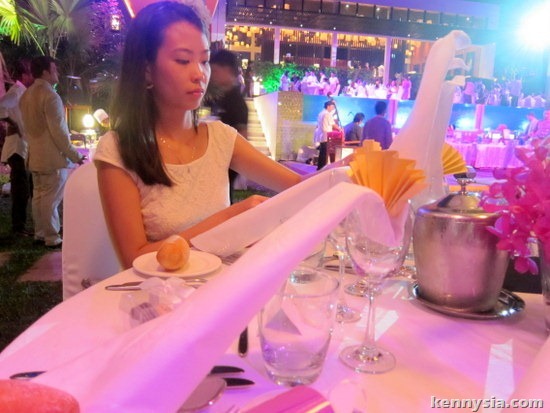 This is Ji-San, our assigned Gentle Officer (G.O.) from Club Med Malaysia. I kept teasing her that she's not a real G.O. because all Club Med G.O.s I know are sunshine and happy and can sing and dance, and Ji-San… can do all those, but not very often!
Anyway, Ji-San assured me that if what I had seen so far was impressive, the next 3 days of my stay at Club Med Phuket is gonna blow my socks off.
Well, I can say for sure that I was not disappointed. My socks were blown eight ways to China.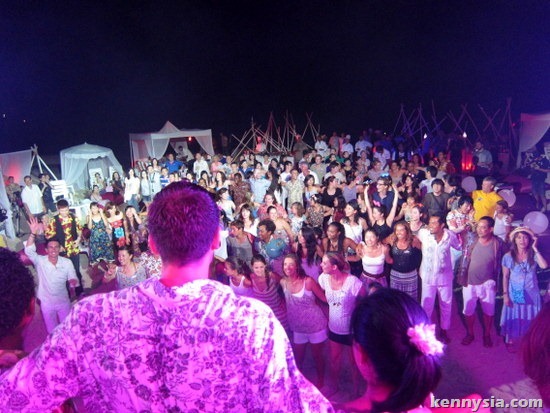 I will write about those 3 amazing days in Club Med Phuket, next!