To get to Milford Sound in New Zealand…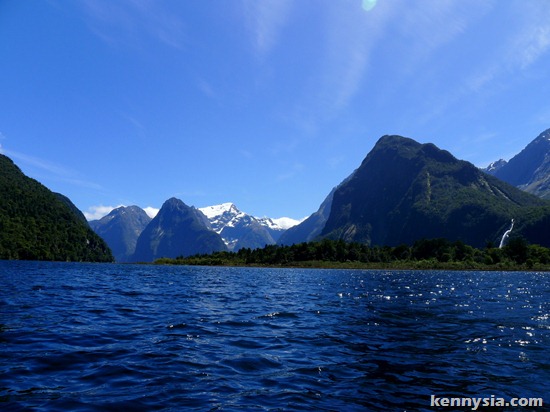 First I took a 9 hour international flight into Christchurch Airport…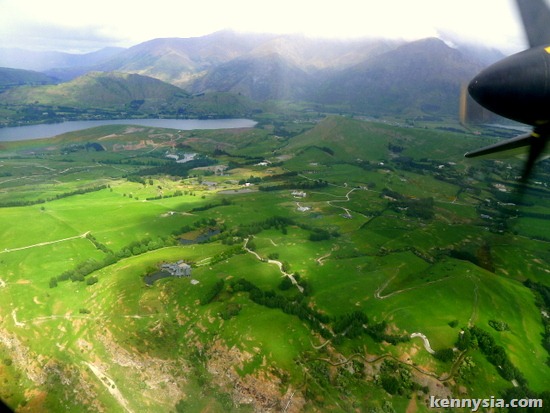 Then I hopped on a turbo-prop domestic flight to NZ's tourist mecca – Queenstown…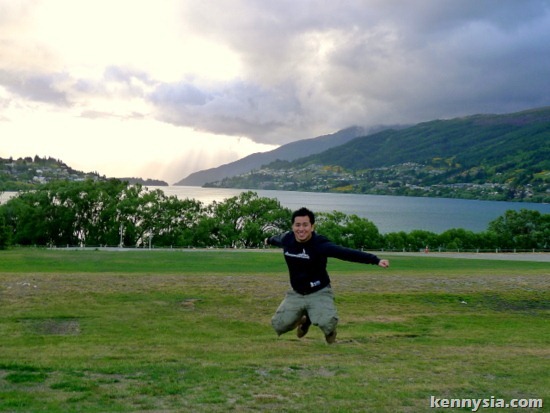 From there, I rented a car and drove 3 hours to a tiny town called Te Anau to sleep…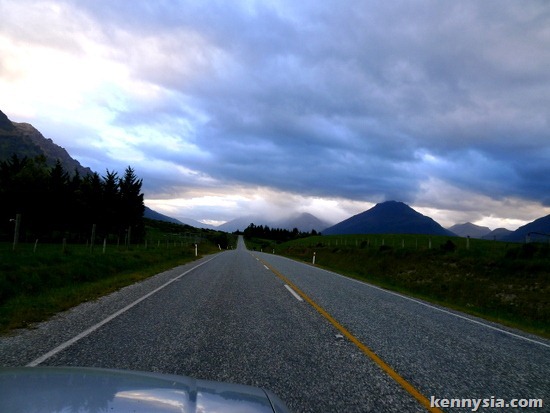 Finally, I woke up at 6am continued to drive another 3 hours to my destination – Milford Sound.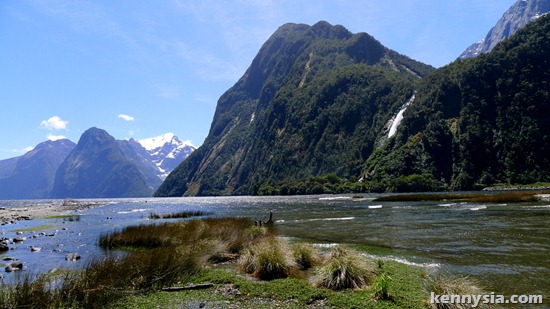 You must be wondering why I am so determined, travelling 10 hours by flight and 6 hours by car to this isolated location in New Zealand's South Island.
It's all because I read once on TripAdvisor.com that Milford Sound is voted the "Best Travel Destination in the World". If all the travellers from around the world decided that Milford Sound is the best they've seen, I have no reason to doubt that the distance is worth it.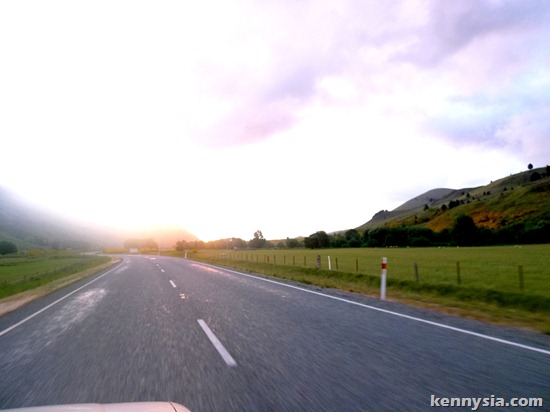 I have done plenty of self-driven road trips throughout my travels, but the drive I did from Queenstown to Milford Sound is best described in one word: BREATHTAKING.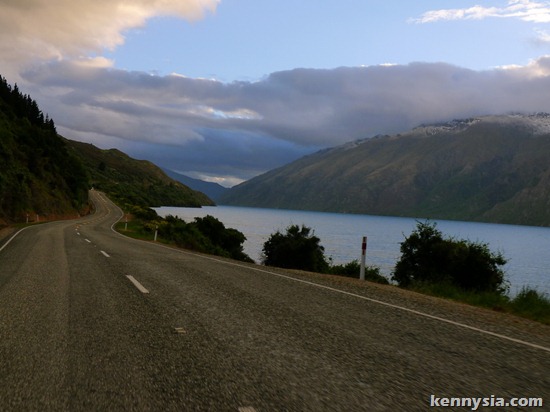 The 300km journey passes through snow-capped mountains, rivers and nature in its most unspoilt and pure form. There are no traffic, no lights, no mobile phone signals. Just me and the nature.
The best part is that the further I drive, the more amazing and dramatic the scenery changes.
The first part of the journey, I passed through vast farmlands and saw COWS. Lots and lots of moo-moo cows!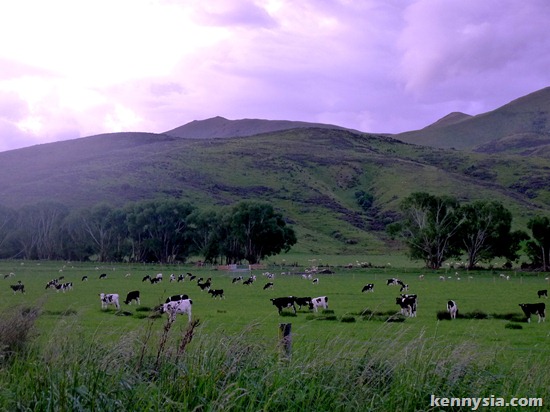 At 9pm, the sun was setting in summertime NZ, creating a skyline that's neither blue nor red – but mystical purple.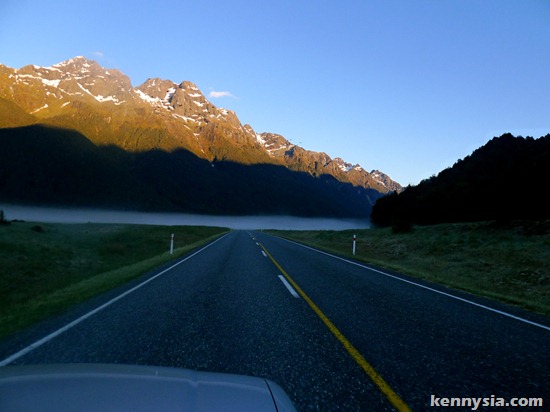 An example of how close I am to nature happened as early as the next morning.
I woke up at 6am and continued on my journey. As soon as I set out on the highway, a wild deer leaped up from behind the bush and stood in the middle of my way.
There she was staring at me in a manner only the proverbial deer-in-the-headlights can, as I swerved my vehicle to avoid hitting the clueless animal.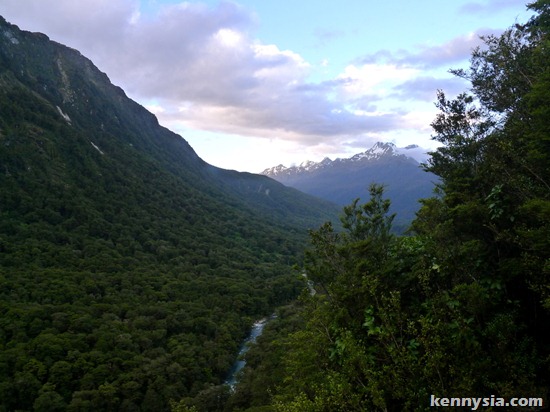 So I continued driving uphill. Before long, the farmlands disappears and the landscape changes again. This time I'm high in the skies, towering over virgin forests and turquoise rivers.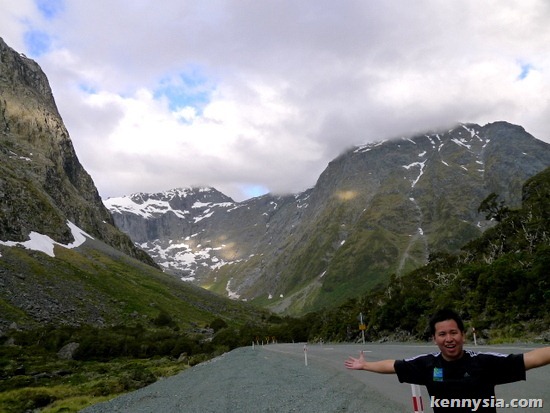 The more I increase in elevation, the more the evidence of life thins. Soon afterwards, the forests are gone, replaced by snow on granite rocks and scant vegetation on a lunar landscape.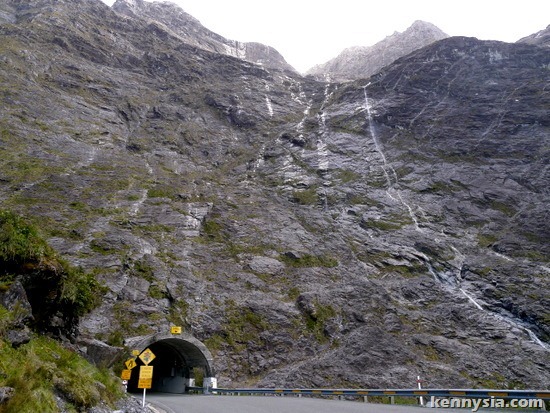 Finally I arrived Milford Sound at 8:30am, just in time for my appointment with a local kayaking operator.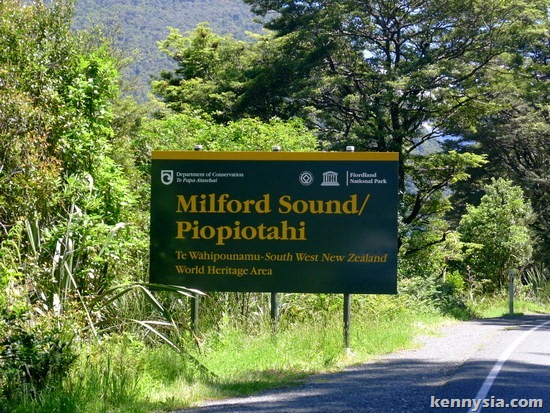 I had booked a 6 hour kayaking trip earlier. Milford Sound is an area carved out by glaciers and one of the most awe-inspiring way to see it from the water-level itself.
While most travellers would have chosen to explore the area on a crowded cruise ship, I opted to get up close and  personal with nature on a kayak. Also to squeeze some exercise in.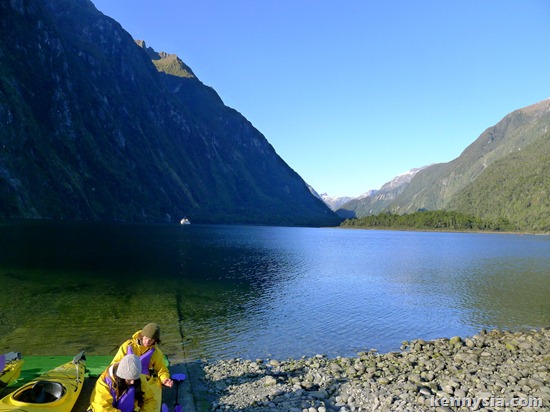 Kayaking is more expensive than taking the cruise (NZD$
130 for a 5 hour trip), but it's great if I want to make the most out of Milford Sound.
After all, I'm in an isolated and remote location. The last thing I wanna hear is engine noises when I'm exploring a place of natural beauty.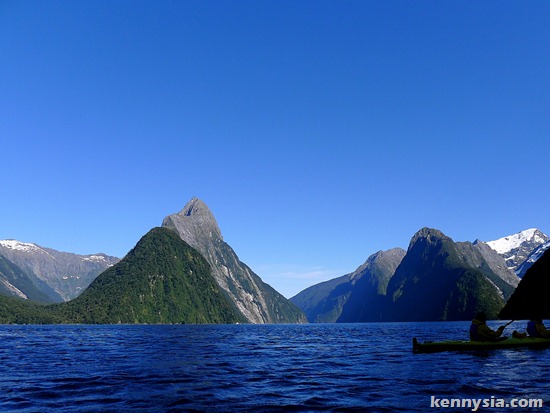 There's another advantage to seeing Milford Sound on a kayak.
You actually get to see the local wildlife a lot closer. Sometimes, unexpectedly.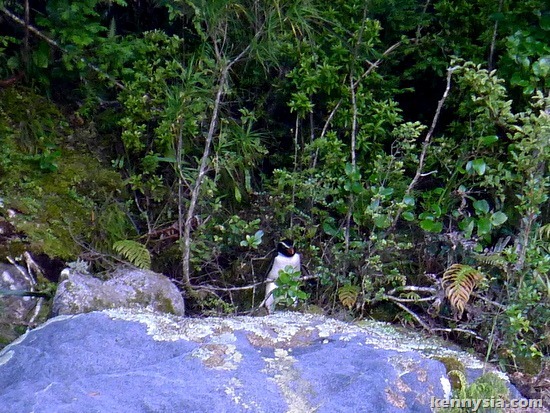 Ever seen a penguin that lives in the rainforests?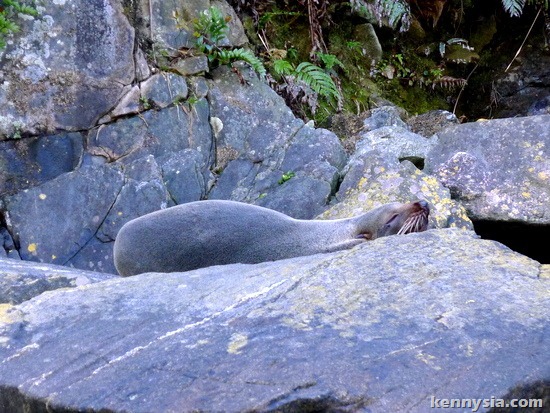 How about a lazy seal taking his afternoon nap?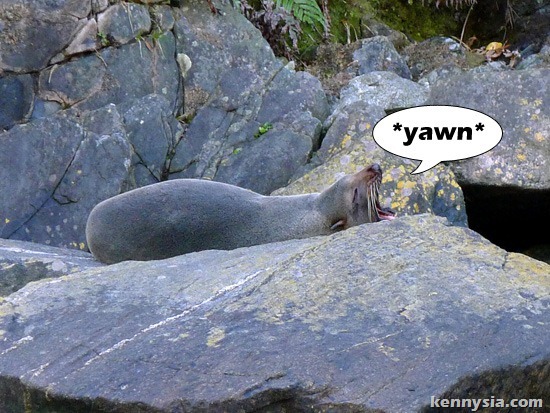 "Awww!"
Anyway, I had the chance to stop and do a bit of trekking along a section of The Milford Track. They call it the "Finest Walk in the World" and the locals would take 4 days to complete this entire thing.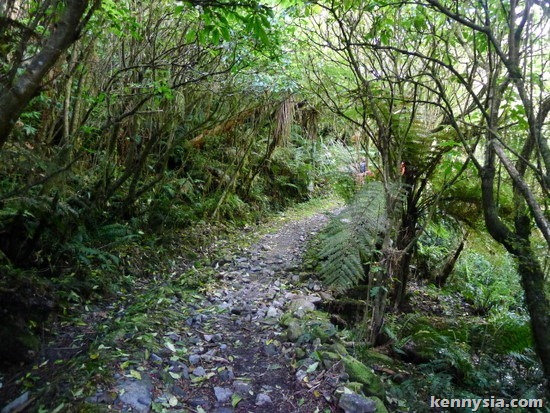 I did 3 hours on the track, and bloody hell I cannot tahan already!
Milford Sound is absolutely beautiful and I would love to have stayed longer, but I got a flight to catch. So it's another 6-hour drive back for me to where my journey started – Queenstown.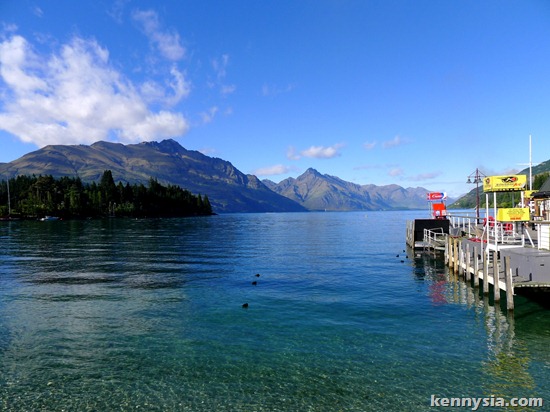 Queenstown is nicknamed the "Adventure Capital of the World" and not without reason. This is, after all, the birthplace of commercial bungee jumping.
There are no less than 3 bungee sites in tiny Queenstown, and the most spectacular one is high up on the hilltop overlooking the town.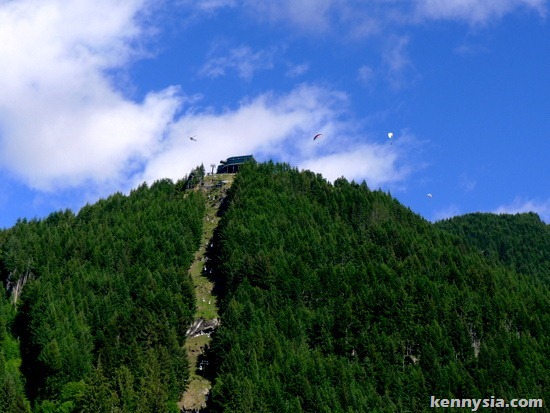 To get to the jump site, I had to take a gondola ride up the hill.
Kinda didn't help that there's a cemetery right at the entrance.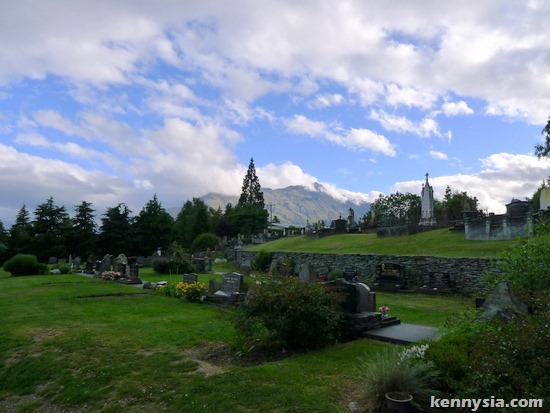 Once I'm up there, the views is spectacular.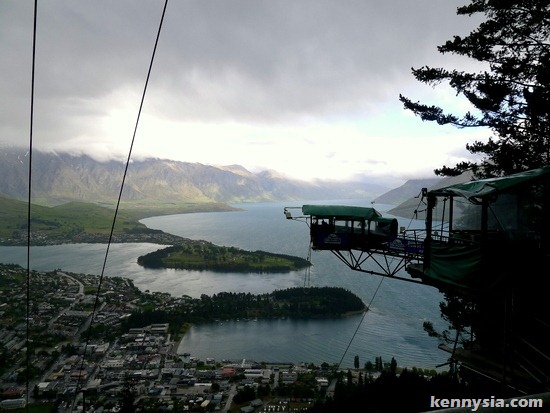 But things don't look so pretty when I'm standing on the edge, harness around my waist, ready to jump on the count of 3…
2……
1……….
AirAsiaX now flies direct from KL to Christchurch, and all-in fares start from only RM499 one way.
Even better, there's a contest out there that can win you and 2 friends a 7-DAY TRIP to New Zealand's South Island.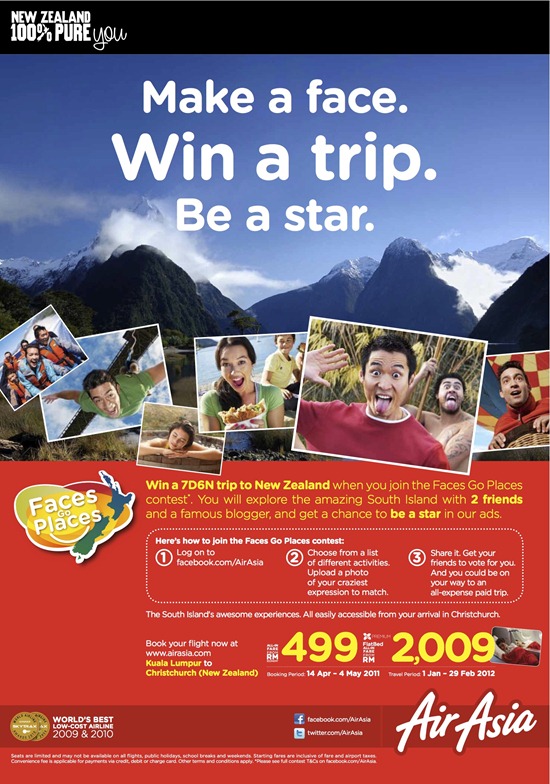 7-DAY TRIP LEH. Don't say I didn't tell you guys.
On top of an all-expense trip for you, 2 friends and "a famous blogger" (dunno who), you also get to star in their ads. How cool is that?
All these just by uploading a photo of YOUR FACE on their Facebook.
Maybe you too will get to bungee jump off the top of Queenstown.
Christchurch is a big Kiwi city the perfect starting point for the adventure around NZ's South Island, including Queenstown and Milford Sound. My advice is to rent a car and drive yourself around. You'll see a lot more that way!
My father once said New Zealand is so beautiful, every photo you take will turn out like postcards.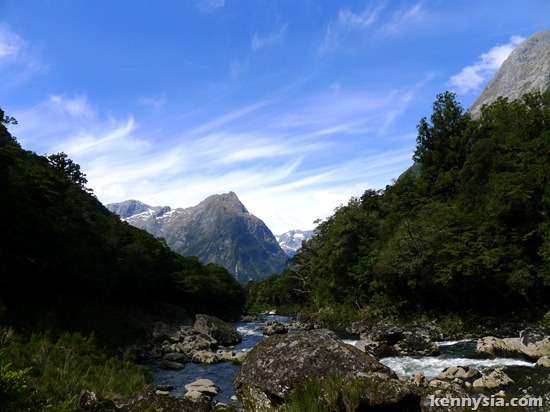 I think he's absolutely right.