Do you have an autograph book?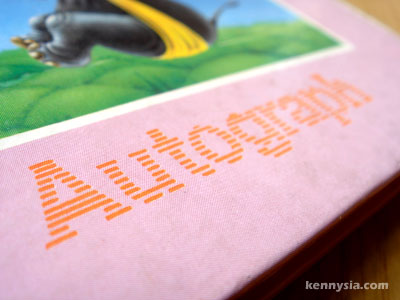 A rare occassion happened today. I was cleaning up my room and I came across my autograph books from ages ago.
These autograph books are from my late primary school years, back when writing pointless well-wishing messages for your classmates were still considered cool.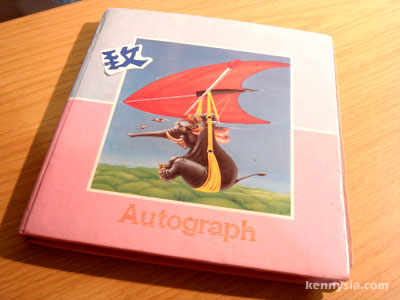 Looking through them brought back a lot of nostalgic memories. Not sure if kids these days still keep something like that. I suppose with Friendster or Multiply these days, it's a lot easier to keep in touch with your old schoolmates. There's no point keeping an autograph book now.
But before all these online social-networking sites were invented, this was what we do. Each one of us kept these fancy little notebooks with fancy little covers, and we passed them around among our classmates and wrote messages in them.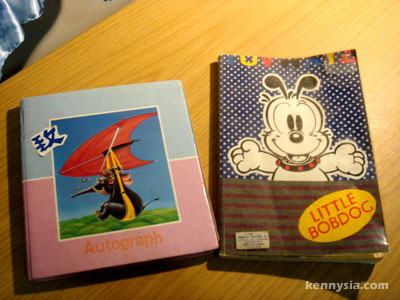 My autograph book has a Little Bobdog cover on it.
If I carry something around like that with me today, someone would report me for commiting a crime against humanity.
Having a Little Bobdog notebook is about as bad as me wearing Hello Kitty underpants to go out. Litte Bobdog! Can you believe it? What the hell was I smoking?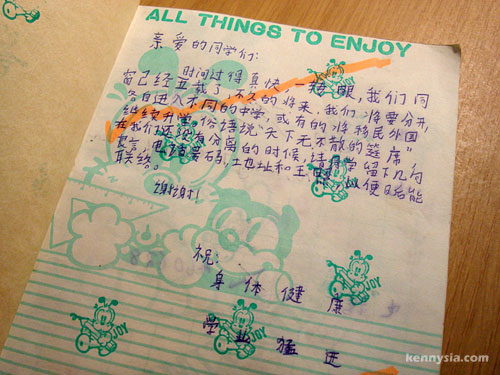 Normally on the first page of our autograph books, we would write some sentimental crap about how we're all leaving school soon and how we should treasure our friendship together.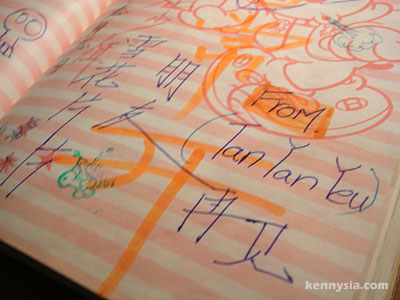 It's very ironic, because I don't even remember half the people who left messages. in my autograph book. Who the heck is Tan Yen Yeu? I don't remember knowing anyone called Tan Yen Yeu!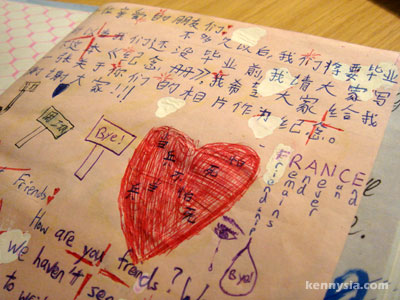 You gotta cut my cheesiness some slack because these were written WAY back in 1991.
Thank goodness I don't write like that now. FRANCE no longer stands for Friendship Remains And Never Can End. France in 2006 stands for Our Football Captain Likes To Headbutt Foulmouthed Italians And Gets Himself Sent Off.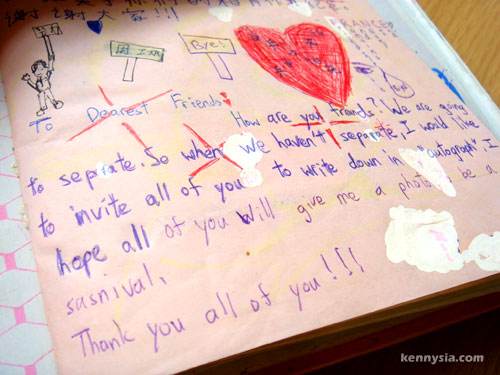 In 1991, I was a young and stupid 9-year-old who doesn't know how to spell "friends" and wrote "souvenir" as "sasnival". What kinda word is "sasnival"? I must be writing in German.
It felt a bit strange to see people referring to me by my Chinese name. Most of my friends call me Kenny. I'm still not used to people calling me Tze Foo.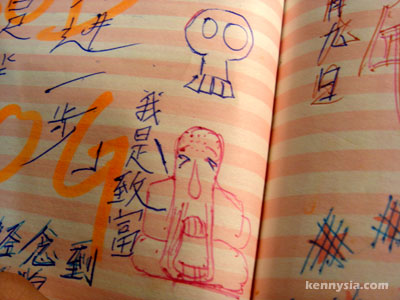 A friend of mine suggested that I might as well drop the "Tze Foo" and replace it with "Dot Com". That way my full name will become "Kenny Sia Dot Com"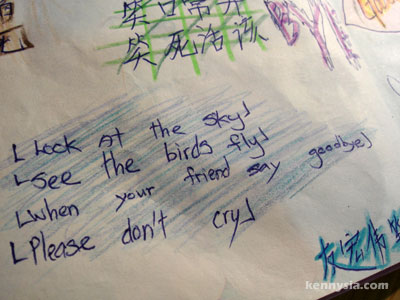 By this point, you must be wondering how much vocabulary a 9-year-old has to be able to fill up the pages of an autograph book. The answer is: not much.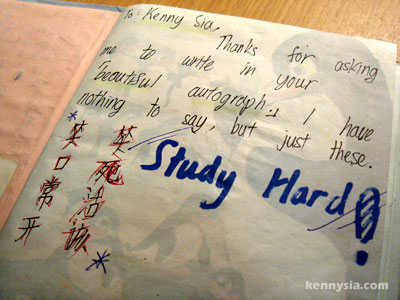 Almost all the well-wishing messages written were tacky poems copied from somewhere, like this one.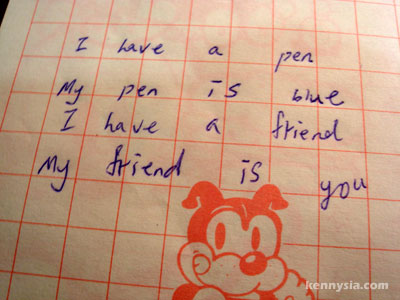 Sometimes, I don't even know if what they've written were meant to be well wishes. If it's a joke it's not funny at all.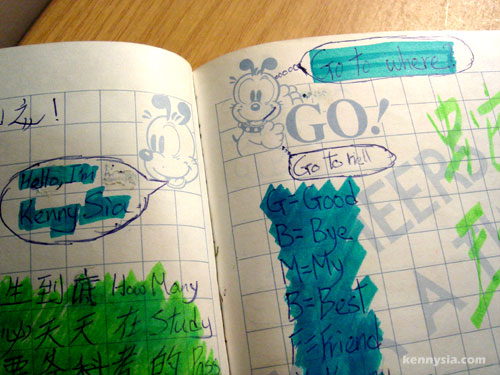 In fact, I was so disappointed with the quality of messages left for me, that I myself wrote in my own autograph book.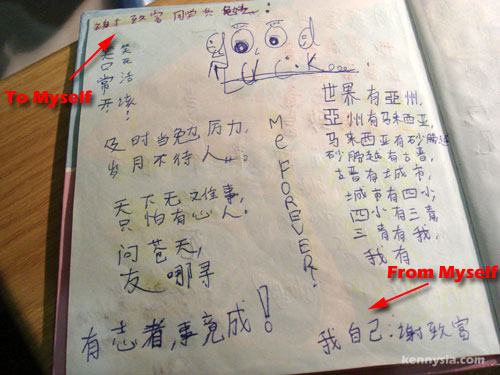 I know, how pathetic right.
At least some of the poems still have potential give me a chuckle after so many years.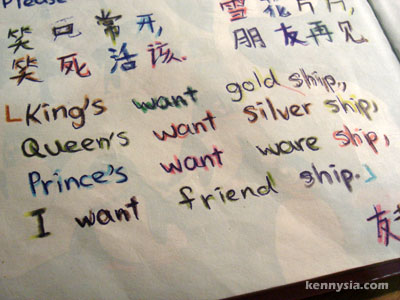 My favourite poem in my whole two books though, was this one. I saw this poem repeated several times. Seems like my classmates seem to have a penchant of wanting to marry me with a giant hairy ape.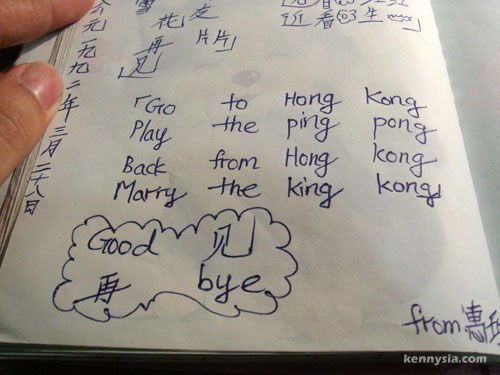 Coincidentally I just came back from Hong Kong. But it's 2006 now, so I've taken the liberty to "update" the poem a little bit.
Here's how it should go:

Go To Hong Kong
Eat Until Song Song
Come Back Hong Kong
Become King Kong


Missing Person: Does anyone know where Michelle Kirsten Tai Sue Ping from Cheras is at? She has been reported missing since last Friday. Michelle Tai has been found. She's now safe and sound.
*~*~*~*~*~*~*~*~*
It sure has been a very long time since I last saw blue skies in Kuching. No thank you, haze.