When I think Japanese fashion, a few things immediately come to mind.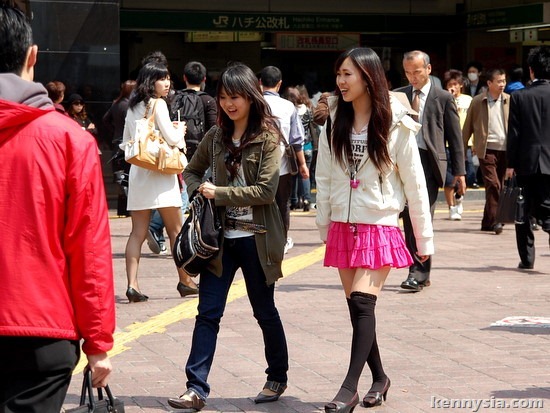 Cute girls in kawaii short skirts…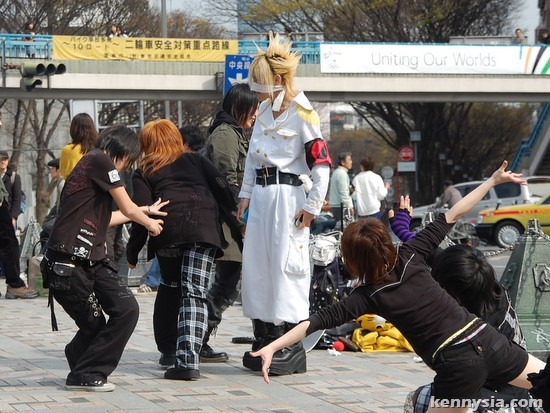 Harajuku teenagers in outrageous cosplay outfits…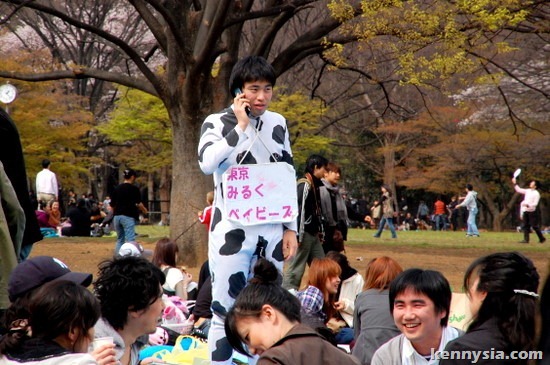 A man in a cow suit talking on his handphone…
Oh wait.
Okay, maybe not the last one.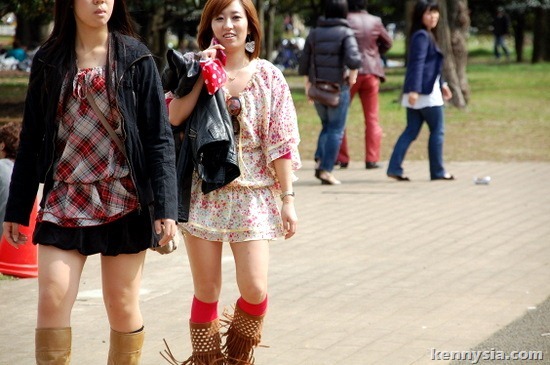 One thing I know for sure about Japanese fashion is that it's always unique, always attention-grabbing, and also always very very expensive.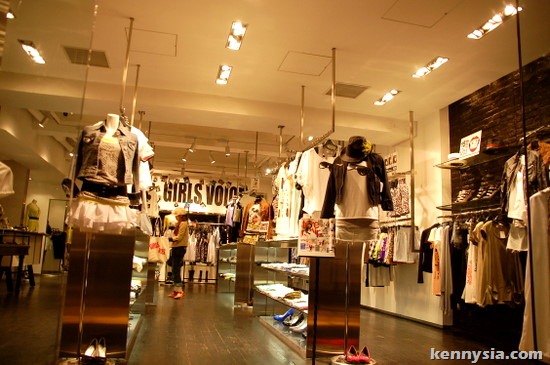 When I was in Japan early last year, one of the things I enjoyed most was visiting the boutiques there. Not only are their store displays creative, I like it that their shop assistants go an extra mile to make you feel welcome. These Japanese girls have the chirpiness of a canary. Everytime someone walks in, they are greeted a "HELLO WELCOME!" and a smile that never seems to fade.
Heck, some of the bigger stores even hire a "greeter" whose full-time job is nothing but to smile and bow at customers as soon as they walk in.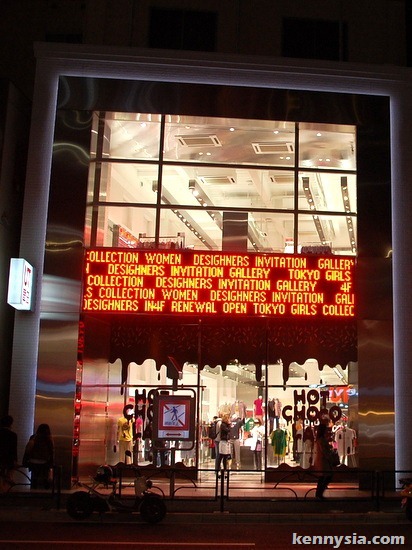 Being a sucker for good service, normally I would flip out my credit card immediately when someone do that to me. The problem is… the cheapest T-shirt in a typical Shibuya boutique costs at least RM300! It's way more than the amount I'm willing to spend on a simple piece of fabric.
After all that window-shopping in Tokyo, I finally stumbled across is one boutique store that offers everything chic and stylish, yet easy on the wallet.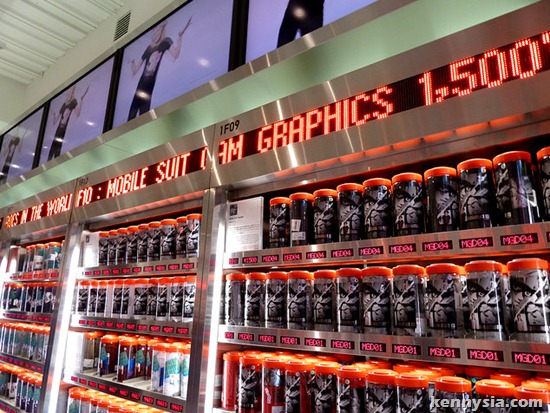 They are called UNIQLO – one of the largest clothing retailer in Japan. It's my favourite store in Japan – think Topshop stuff at Cotton On prices.
I stocked up on a whole bunch of T-shirts and fleece. My favourite stuff in their store is their video game inspired UTs – creatively packaged inside a cylindrical jar!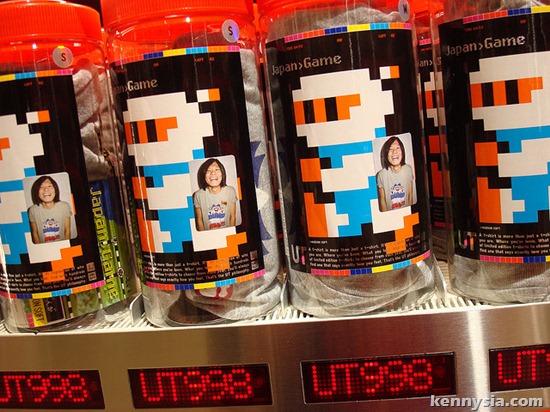 I totally bought it. And they aren't too expensive either. Only RM30!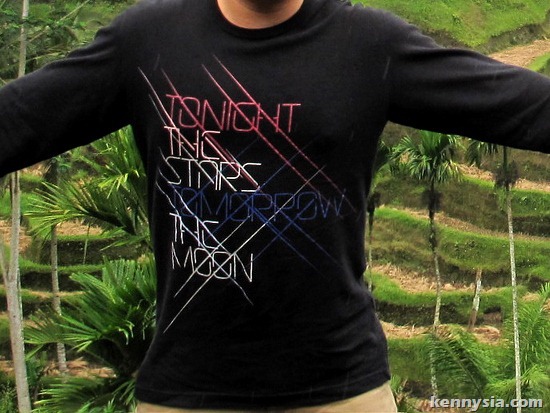 "Tonight the stars. Tomorrow the Moon." That's some kick-ass philosophy to live by.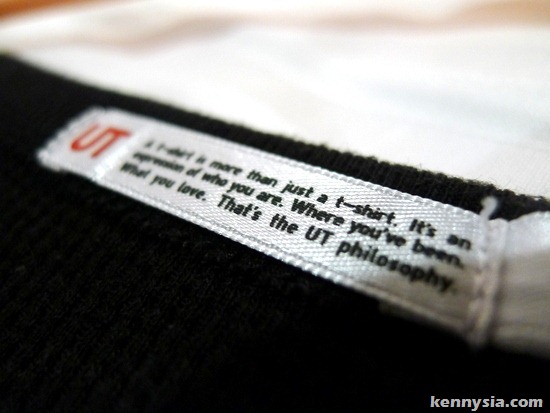 "A T-shirt is more than just a T-shirt. It's an expression of who you are. Where you've been. What you love. That's the UT philosophy."
Deep, very deep.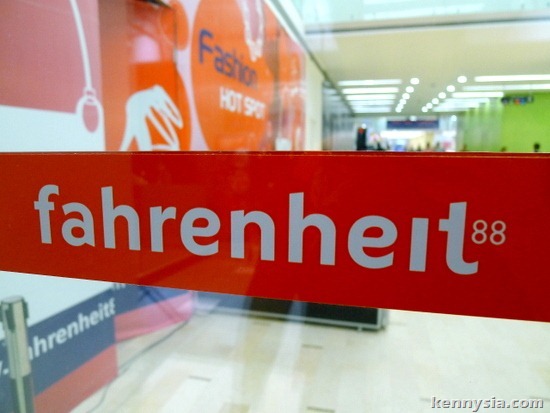 The point of this whole story is this.
I haven't been back to KL city for nearly 2 months. When I finally returned to KL again last weekend, I was shocked to see that KL Plaza has received a complete make-over and is now called Farenheit 88.
Then I received an even bigger shock.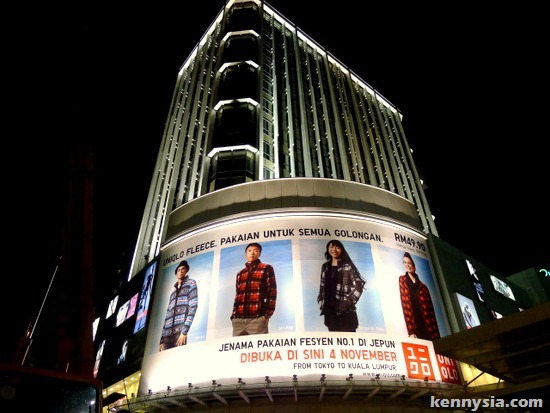 UNIQLO is coming to Malaysia this 4th November.
I just about died from fashion orgasm.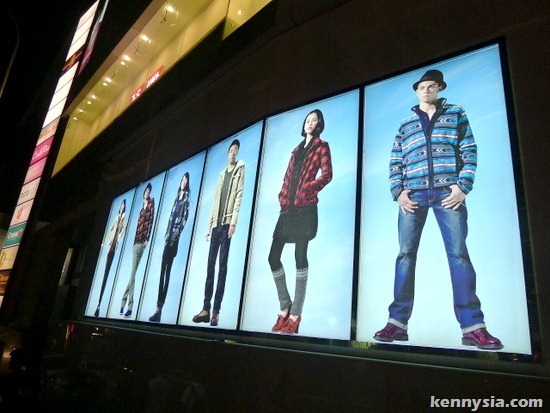 UNIQLO's selection of fleece wear.
Don't think you'll be wearing a lot of that in hot and humid Malaysian weather.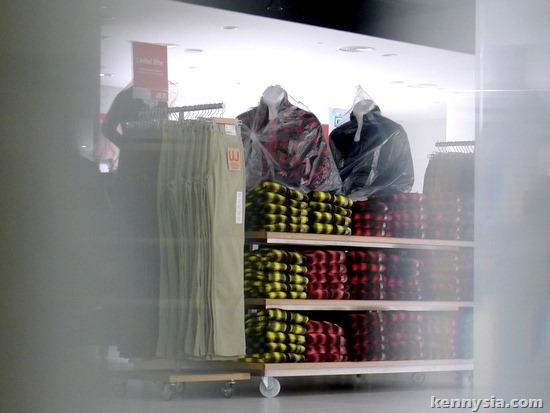 A sneak peek inside what goes on behind the doors. I already saw a pair of khaki pants I wanna buy, and it's only RM49.90!
A quick search online yielded some interesting prizes they have in conjunction with their grand opening.
The first 500 kiasu customers who queue on on their opening day will get 1 in 100 chance of winning an all-expense paid holiday to Tokyo, Japan.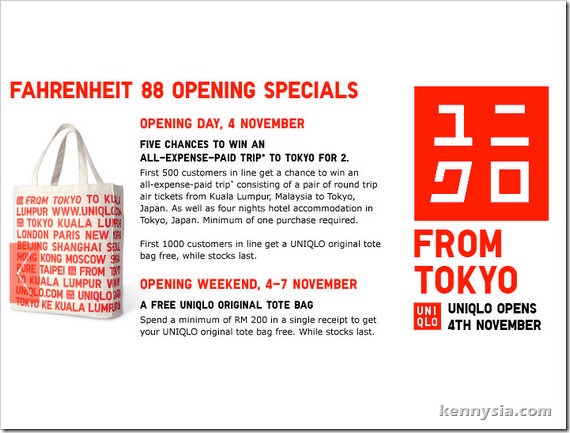 For those who are a little bit less kiasu, there are online games on both their Facebook page and www.go-uniqlo.com you can play to also win a free trip to Tokyo, Japan.
There Go Uniqlo website was particularly an interesting one. The website asked for my location. So I input my Kuching address and the website showed me a "clothing trail" all the way from Kuching to Farenheit 88 in KL.
Gee, thanks!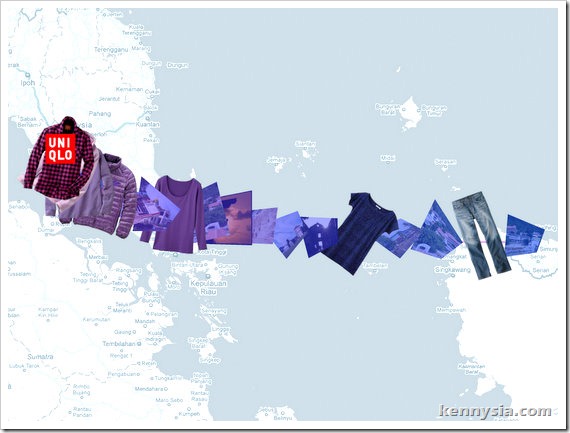 Trust me, if I could swim across the South China Sea, I would!
But hey, a free RM20 UNIQLO voucher ain't that bad.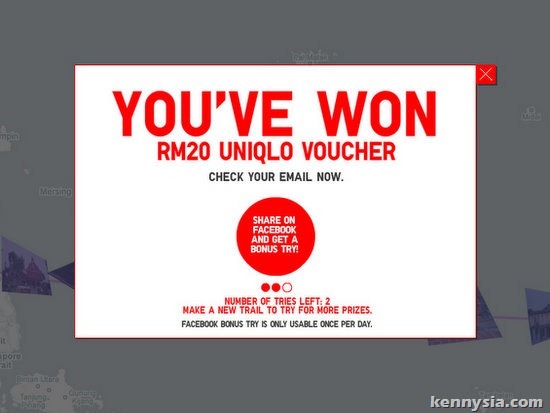 So now the khaki pants I wanted is only RM29.90! If that ain't a bargain I don't know what is!