In New Zealand, if you want to eat pizzas, you can go to Hell.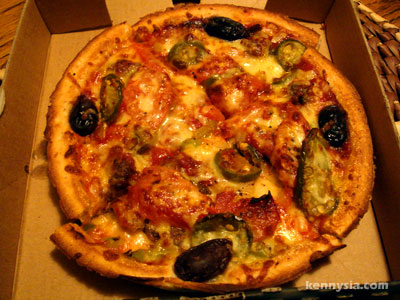 No wait! Don't shut down this window! I wasn't scolding you!
What I mean is… there's this very popular pizza chain store in New Zealand. And it's called Hell.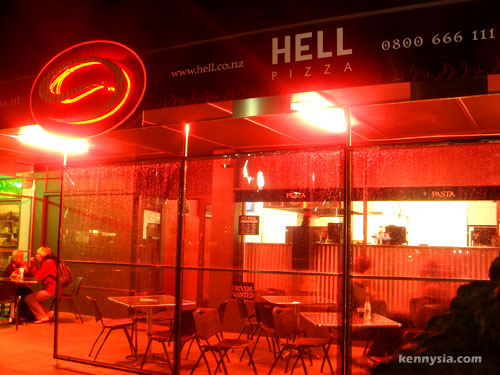 The pizza business is very competitive in NZ. With the dominating Pizza Hut, Pizza Haven and Domino's all vying for the slice of the pie pizza in the market, the consumers are literally spoilt for choice.
Already, pizza prices are as low as they can get due to hellacious competition. Newcomers can only dream of making ends meet. To get themselves noticed, someone gotta come up with something different.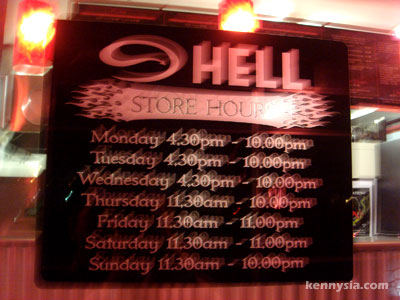 Along comes Hell Pizzas with a pretty interesting concept that sets itself apart from the rest.
I paid a visit to Hell when I was in New Zealand.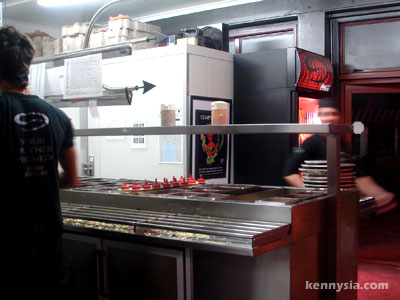 This is what Hell looks like.
What the hell? Looks pretty normal to me leh. A far cry from the underworld of pain and suffering Haw Par Villa wants me to believe. Cheh, bluff people one.
But then I got a chuckle out of the brochure they handed out.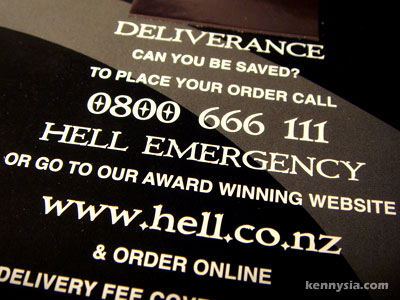 Instead of "Delivery", they have "Deliverance".
Instead of "All Rights Reserved", they have "All Wrongs Reserved".
Their hotline number is 0800 666 111, and they call it Hell Emergency. ("666" is the biblical number of the Anti-Christ and "111" is the number to dial for emergency in New Zealand.)
Hell, even their pizzas are wickedly named.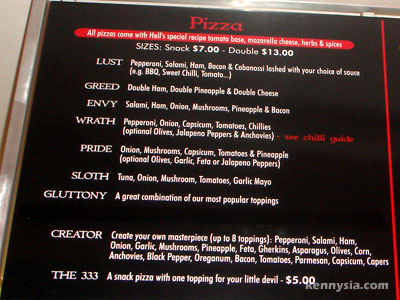 You don't get Hawaiian Supreme or stuff like that here. Instead, Hell has got a wide selection of pizzas, including a series named after the 7 deadly sins.
In Hell, you can walk in and ask for Trouble and no one's gonna laugh at you. But if you do that in Malaysia, you're gonna leave the shop with a set of broken teeth.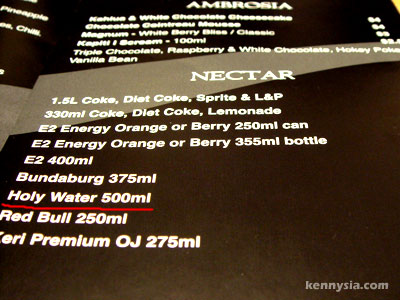 I ordered a "Wrath" just for the hell of it, and it came in this kind of pizza box.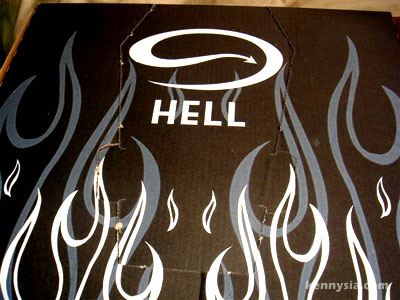 Hypersensitive people will look at it and go "WHOA! SUAY AH! GOT COFFIN ONE!" Actually, I find it very humourous.
Their pizza tastes pretty yummy too.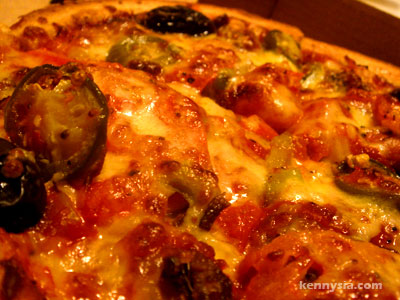 Best of all, when I finished the delicious pizza, the side of the box asked me to "dispose of the evidence". Hehe.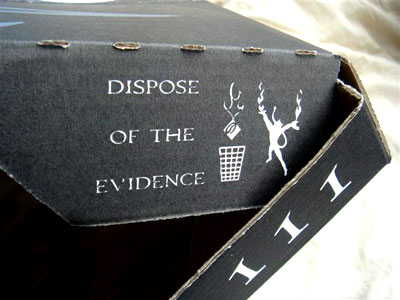 Props up to the Kiwis for coming up with something so creative and funny. It makes me wonder if a similar concept can be brought over to Malaysia.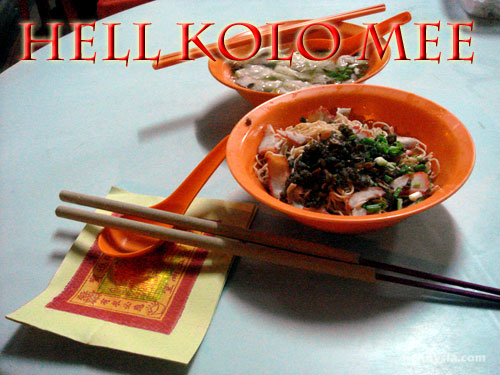 Hmmm… probably not. 😛
Happy Halloween, everybody!