The Singapore River Festival was awesomely fun!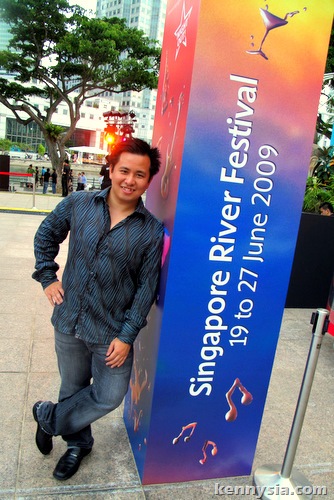 Singapore has always been my favourite big city in this part of the world, only because Singaporeans have always treated me very well and that there always seems to be endless things to do in such a small place.
Taking advantage of the fact that it's the Great Singapore Sales, I went to Singapore with the returning Pinkpau (fresh from her summer holidays in the States and certified free from swine flu) to also attend the launch of the River Festival.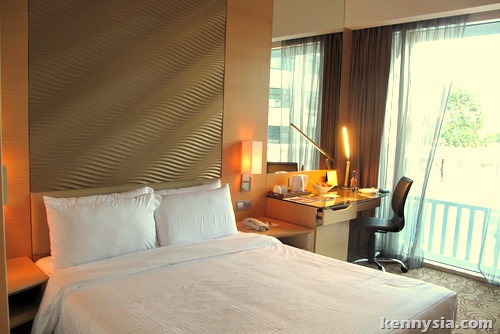 We were put up at the Park Hotel Clarke Quay. The rooms here are approx S$200 per night, is completely brand new and located smack in the middle of the night entertainment district of Clarke Quay.
I like it that the general manager of the hotel handwritten me a note to welcome my stay.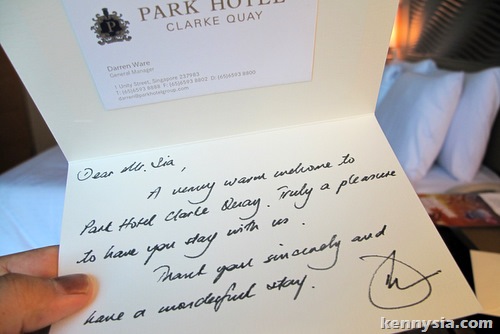 Nice touch.
Another nice touch was that all non-alcoholic drinks in my room's minibar was complimentary.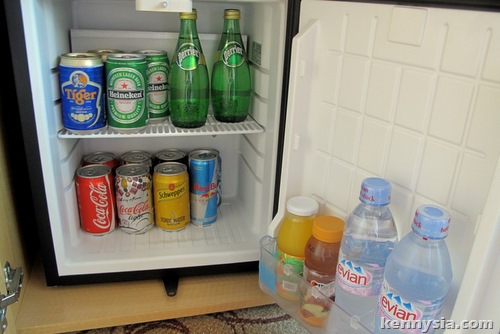 Perfect for inviting unsuspecting girls back from the bar with the pickup line, "Are you thirsty? I have drinks in my room's minibar." Unfortunately for me, Singaporean girls are too smart to fall for that. 🙁
I thought my room was very tastefully decorated. However, I ain't seen nothing yet. When I popped over to Pinkpau's room to have a look, I was gobsmacked.
Pinkpau's room is… special.
So special that the only word I can use to describe it is SCANDALOUS.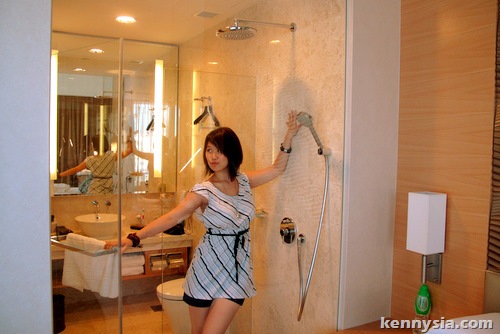 You see, Pinkpau's room is one of only three in Park Hotel that features a see-through shower. What that means is that from the bed, you can have full view of your partner washing her armpits or scrubbing her ass crack.
Obviously this type of room is meant for loving couples.
Or zoo animals.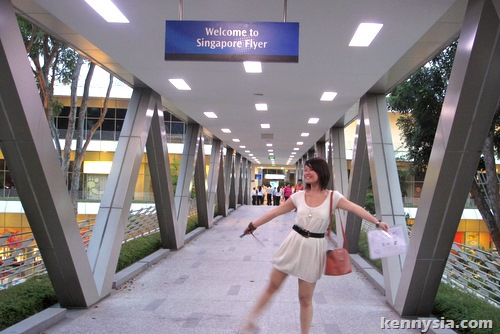 One of the attractions I finally did in Singapore was the Singapore Flyer.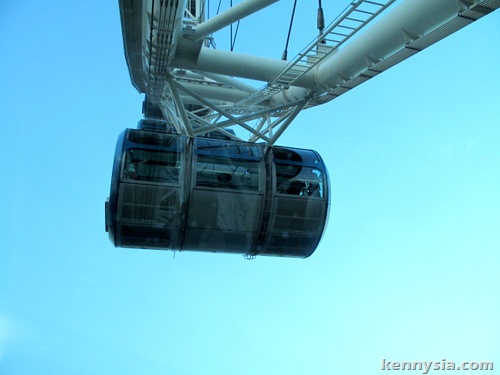 I've been wanting to get on the Flyer since the Jurassic Era. Somehow I've always put it off because The Largest Ferris Wheel In The World has always attracted The Longest Queue In Singapore.
When I finally managed to get on the Flyer, I realised why it's so damn popular.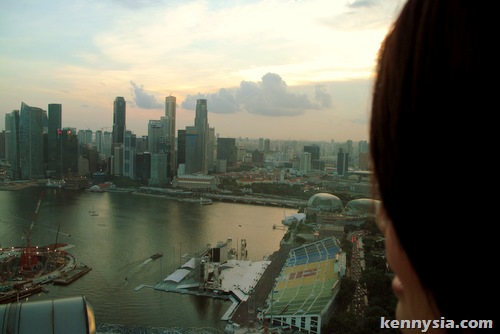 The flight up to the top was nothing short of breathtaking. So breathtaking that our friend Boss Ming had to take a seat and stablize himself with a few deep breaths when we're nearing the top.
The dude is scared of heights.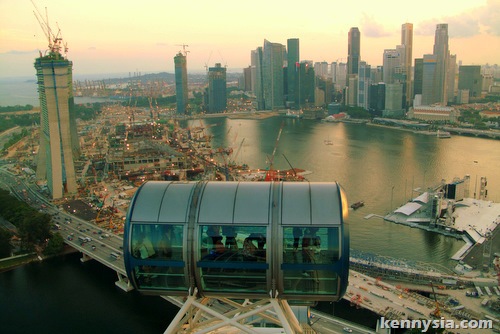 Pinkpau and I, on the other hand, were having a ball.
It's impressive to see Singapore's skyline constantly changing. The construction on the left is the new Marina Bay Sands casino, also known as The Most Expensive Casino In The World.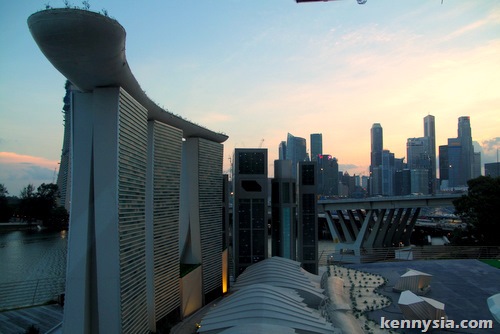 When completed by the end of this year, it'll cost Singaporeans S$100 to get in. For foreigners, it's FREE. It's Singapore's odd but effective way to limit the negative social impact of gambling.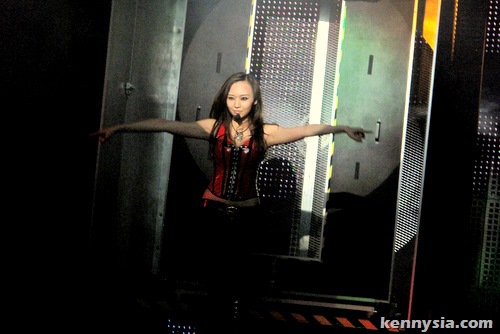 One of the main highlights of the Singapore River Festival is an appearance by master illusionists 'Magic Babe' Ning and JC Sum. The two will attempt to put Singapore in the record books by achieving the World Record for Most Number Of Illusions Performed In Five Minutes.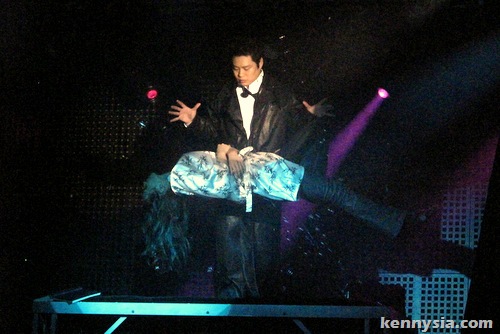 We were given a preview of what they were capable of during one of their stage shows, where they showed us how they can float in the air, walk through metal, make money appear out of thin air and solve the global economic crisis.
Okay maybe not solve the economic crisis, but they really can make money appear out of thin air one. Don't play play, but dunno why they still need to charge ppl for entrance!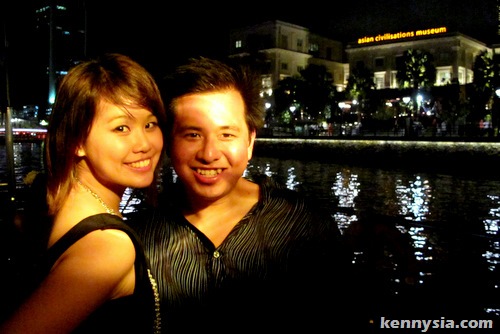 The opening ceremony of the Singapore River Festival was a VIP event that took place in front of the Asian Civilizations Museum.
Coincidentally on that day, the museum was holding a free exhibitio
n by photographer Steve McCurry, famous for taking this haunting image of The Afghan Girl.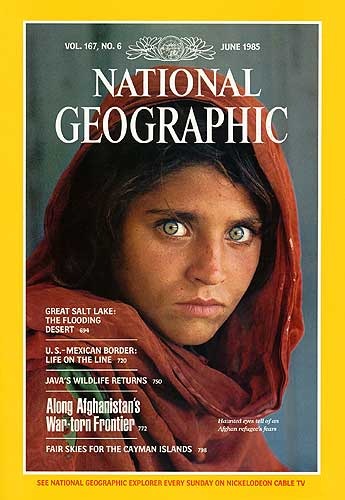 This is Kenny Sia, The Afghan Boy.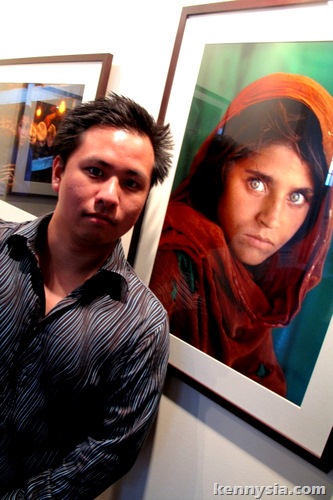 FAIL.
The grass lawn in front of the Asian Civilizations Museum were laid out with mats and pillows.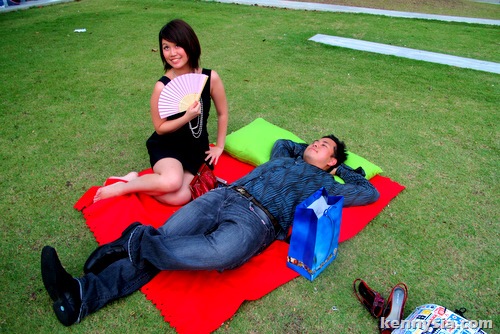 There's something amazingly unique about lying on the ground, looking up towards this amazing backdrop of blue skies and towering skyscrapers.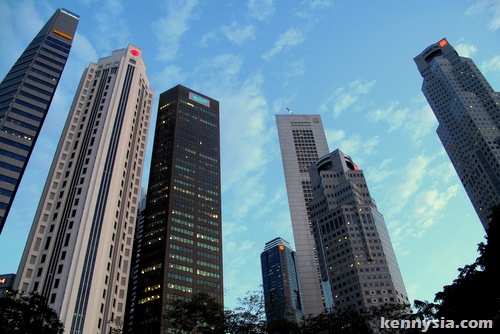 The Singapore River comes alive this entire week with an array of free events, activities, parades and parties. During the opening ceremony, we were treated to a variety of 'modern interpretive' dances.
Otherwise known as 'siao lang' dance. Interpretive dances are always like that. No one knew what those dancers were trying to portray except themselves.
So we made up our own meanings.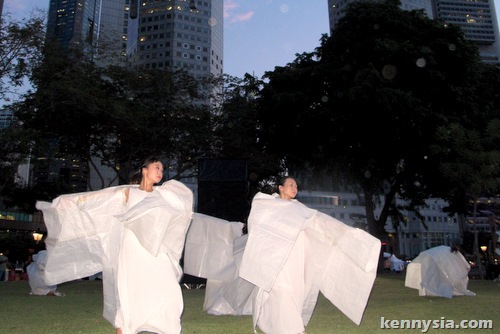 Xiaxue: "Wah! Look like Ku Klux Klan."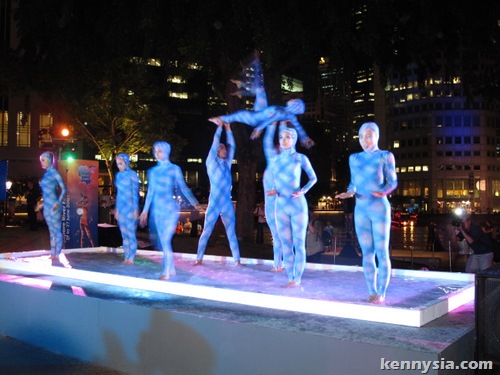 Kenny: "Singapore army's underwater unit, preparing to attack Johor."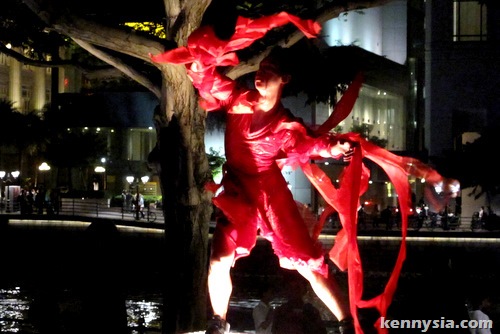 Kenny: "Poor fella kena mobbed during Great Singapore Sale."
Something substantially more entertaining than those modern interpretive dances though, was the Singapore River Festival's bumboat parade.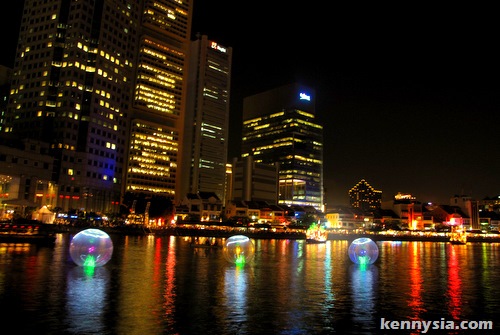 The bumboat parade starts 7:30pm every night from now till this Saturday. I highly recommend having a look at this unique light and musical showcase of traditional boats and dancers in giant bubbles.
For a list of free events and activities during the Singapore River Festival, be sure to click on singaporeriverfestival.com
We found out the River Taxi Ride is free of charge during the Festival. After the show Pinkpau and I hopped onto one of the boats.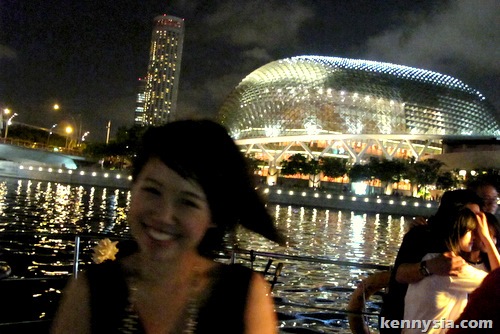 As you can see, Pinkpau absolutely enjoyed it!
Both of us have been to Singapore multiple times, but to see the architecture of the country from the waters while enjoying the breeze blowing in our face was truly an unforgettable experience.
The river at night is amazingly beautiful.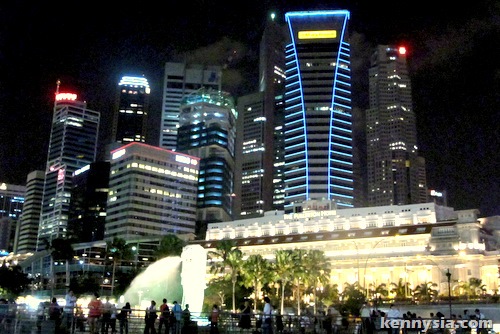 I still find it difficult to imagine that as little as 40 years ago, Singapore was a fishing village no bigger than Kuching. Yet today it's sprouted into such a beautiful modern city.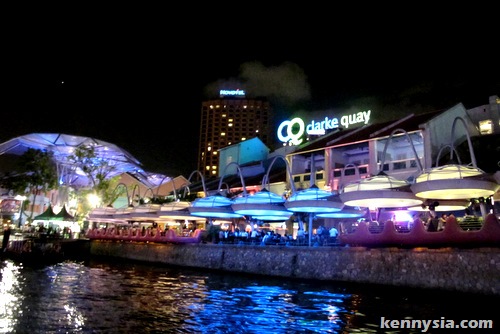 The taxi ride took us back to Clarke Quay.
Here, we joined the rest of our friends and partied the night away at The Arena.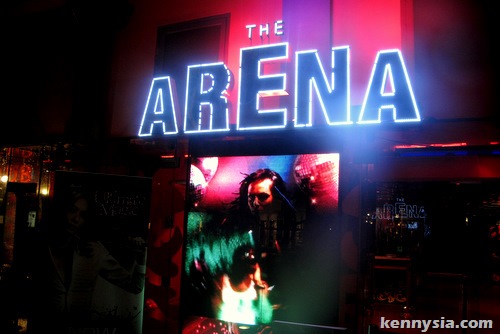 Now, here's the problem.
The party we were going to was a pajama party and the dress code was obviously, pajamas.
The problem is, I don't wear pajamas to sleep. I have no pajamas in my wardrobe, so I went to Singapore without any form of sleepwear tucked in my suitcase.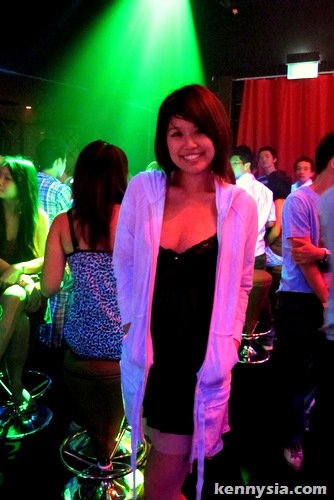 Naively, I thought since it's the Great Singapore Sale, I should be able to easily grab a set at one of Singapore's many many many many many shopping centres.
So earlier during the day, I asked Stickgal to follow me pajama-shopping at Vivo City.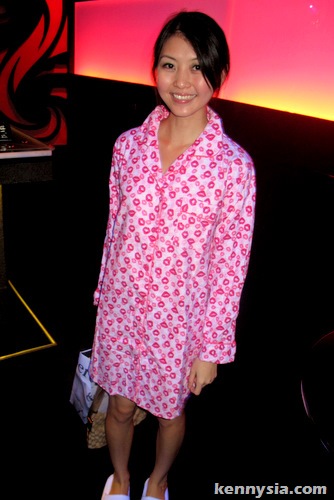 This is Stickgal. For those who not know, Stickgal is the now-retired comic blogger who inspired this entry.
Vivo City is one of the biggest shopping malls in Singapore, but even after scouring every corner of it, we found no signs of pajamas on sale at all.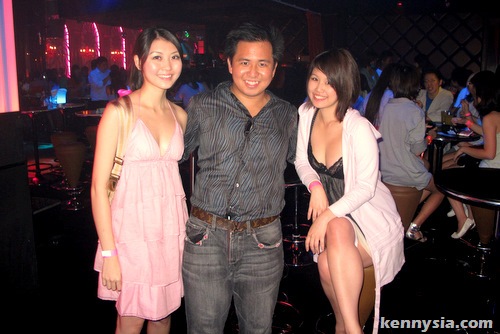 Not for men's anyway.
It wasn't until we p
opped into La Senza that I finally picked up my attire for the Pajama Party for 70% off.
Yes, LA SENZA. The lingerie shop.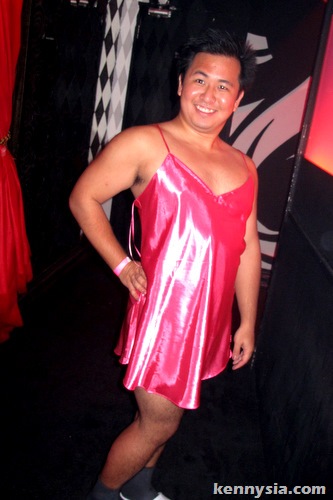 Can't help it, satin felt soo good.
(My reputation has evaporated.)