14 December 2009 was the last day I've worn my glasses.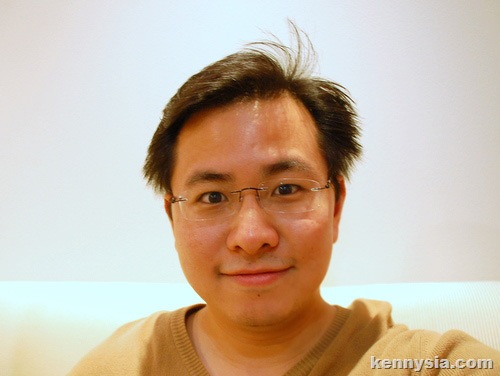 It was the day I'm finally going to receive my laser eye surgery, and be free from the constraints of contact lens and prescription glasses forever.
I happened to be in KL for another engagement, so I requested Optimax to pen me down for my laser eye surgery at their headquarters at Wisma AHP, T.T.D.I.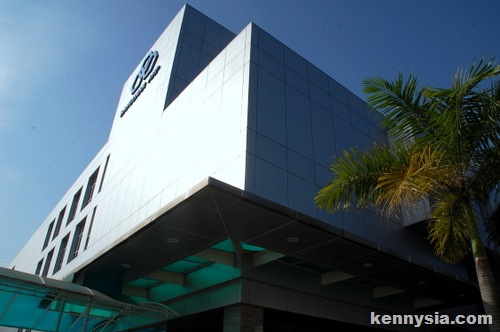 My surgeon was Dr Stephen Chung. Dr Chung is one of the pioneering laser eye surgeon not just at Optimax, but in the whole of Malaysia. When opting for a procedure to be performed on something as vital as my pair of eyes, obviously I wanted the best of the best.
With Dr Chung, I knew I was in good hands.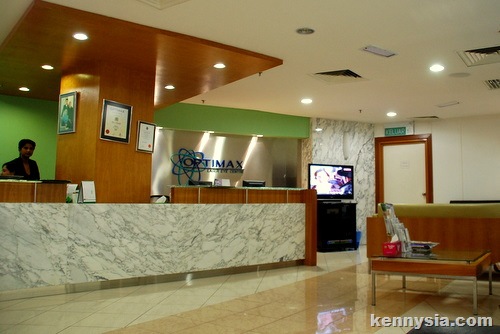 I would be lying if I said I wasn't nervous.
The truth is – I was a complete nervous wreck!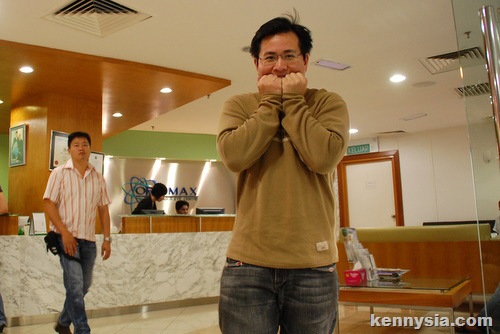 *scared*
I was so scared I didn't even sleep a wink the night before. All night long I was tossing and turning in my bed while a million thoughts went through my head.
What if something went wrong? What if I couldn't hold still during the surgery? What if the doctor made a blunder? What if I go blind and never get to see again?
WHAT IF, WHAT IF, WHAT IF.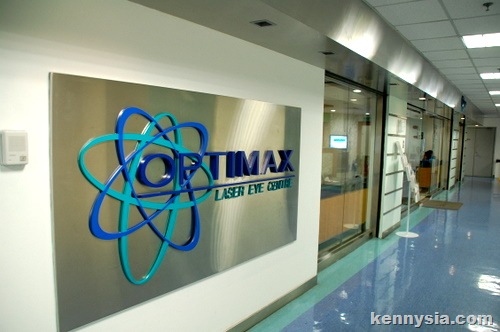 The morning of the surgery, JacJac was nice enough to take time off her extremely busy schedule (doing absolutely nothing) to accompany me to Optimax.
I wouldn't be able to see properly afterwards – just so I don't have to spend the night sleeping on the streets of TTDI, I thought it's a good idea to bribe a friend to become my personal driver + tongkat for the day.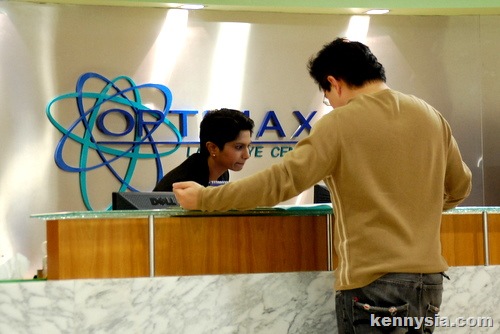 That's me wearing a sweater to Optimax.
One thing I was afraid the MOST is if I suddenly sneezed while the laser surgery is still in progress.
Later I end up with laser burn marks all over my face, how?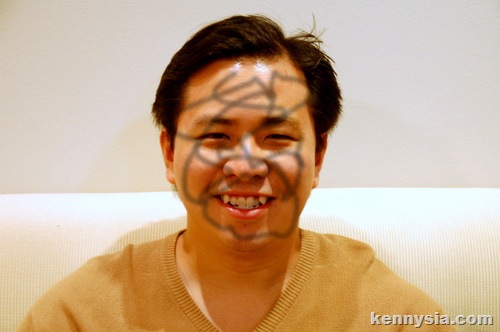 Anyway, the nurses at Optimax are experts at calming people down. Obviously, they dealt with patients a lot more nervous than I was.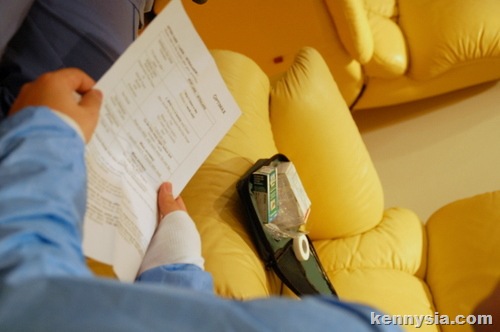 No, they did not tie me up in a straight-jacket. But they did try their best to tell me in advance what to expect, and how to take care of my eyes later on.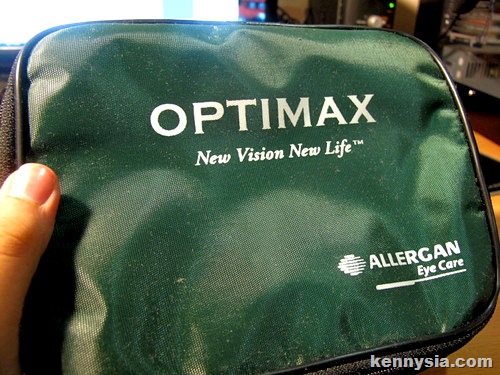 I was given this gift pack which includes detailed instructions of do's and don'ts, as well as a collection of anti-biotics, painkillers and heaps of eye drops for post-surgery care.
The centre also booked me in for a series of eye check-ups 1 day, 1 week, 1 month and 6 months after the surgery, all free of charge.
(I mean, it's gotta be free of charge after you paid so much money for surgery, right?)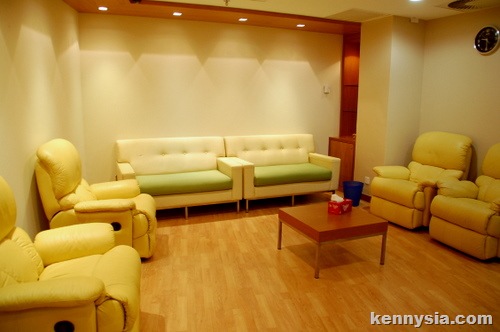 After some last minute eye check-ups, I was led to the waiting room.
This was when they put me inside this blue-coloured protective suit.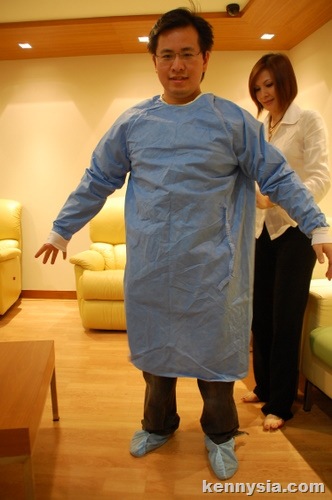 And a white-coloured cap over my head.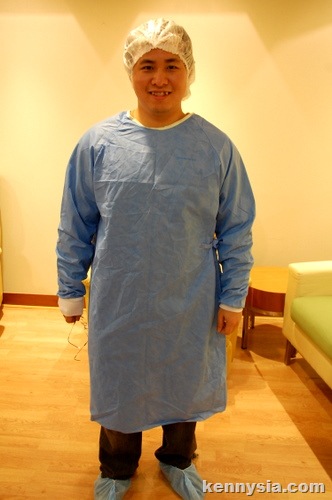 I think essentially, they tried to convert me into a smurf.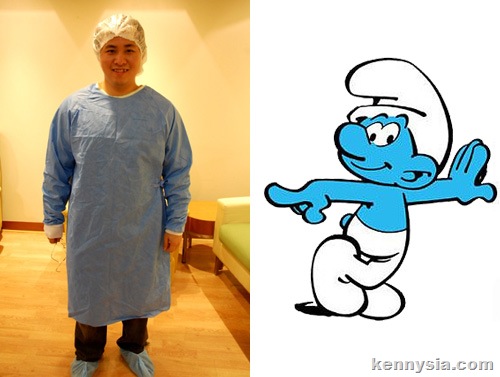 I handed my glasses to JacJac after that. It was the last time I ever had to put them on.
Dr Chung came out to meet me shortly afterwards. He was also dressed in his smurf outfit.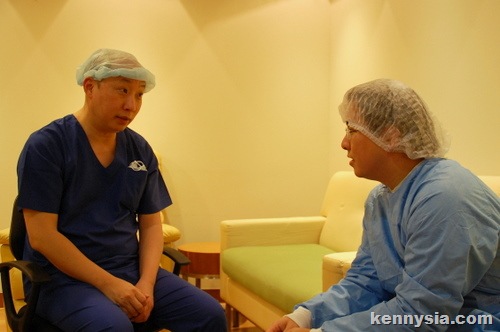 From this point onwards I was not allowed to take photos, so I'll try my best to use words to describe what happened.
Dr Chung led me onto a machine and did a final round of checks on my eyes. After that, he dropped some anaesthetics to numb my eyes. Then it's time to enter the operating theatre.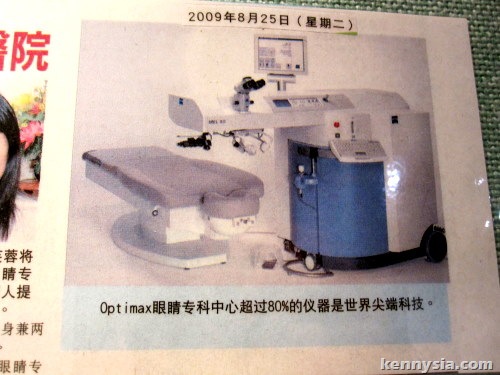 I was asked to lie down on the operating bed that looks like this.
I was still very nervous. My eyes were open and I was conscious at all times. To make sure that I do not blink, Dr Chung taped my eyelids open then use a "cup" to secure my eyeball. It was weird seeing a foreign object coming down to my eyeball. It was an uncomfortable yet bearable sensation. I could somewhat feel the cup gripping into my eyeball but I couldn't feel much pain because my eyes were numb.
Moments later, Dr Chung pl
aced a LASIK machine over my head. This time, I was told to focus on a ring of white light and that I should not move my eyeballs under any circumstances.
I did as I was told.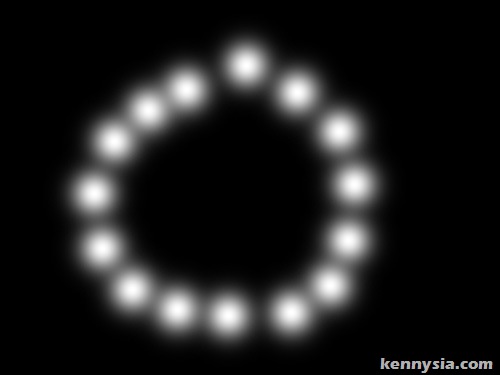 When the ring of white light appeared over my eye, I suddenly felt a sensation of vacuum suction in my eye. I could hear Dr Chung talking and buzzing noises in the background. Gradually, the ring of white light comes closer and closer towards my eyeball, until all I can see was total darkness. For 30 seconds, I could see absolutely nothing while the LASIK machine did its wonders. At times, my eyeballs flinched slightly, but it wasn't that bad.
He did my other eye. Before I knew it, it was all over. As Dr Chung lifted the machine away from my head, all I could see was blurry images of the surroundings. Dr Chung said the first step was a success, and I was led to an adjacent operating theatre nearby.

The first step was to create a flap in my eye. The second step was to re-shape the cornea. The procedure was similar to the first one – extremely fast and virtually painless.
Dr Chung said I might smell something burning at this point of the surgery. I guess I was too relaxed to smell anything.
I was so relaxed that if someone passed gas in the operating theatre, I still wouldn't be able to smell it.
20 minutes after I entered the surgery, it was all done.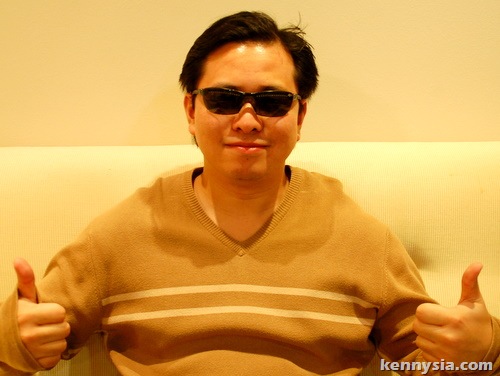 As I slowly made my way out to the waiting room, I saw a blurred vision of JacJac in the corner. I asked for my sunglasses because the lights were glaring.
I also heard the nervous voice of a patient talking to me.
Patient: HOW WAS IT?! PAINFUL OR NOT!!!
Kenny: Not really. On the scale of 1 to 10, probably only 1.
Patient: REALLY AH?
Kenny: Yeah. I've sat through dentists a lot more painful than that.
The truth of the matter is, I was all smiles. It was done! I don't have to wear my glasses or contact lens ever again!
My vision at this point after the surgery was blurry. It's like wearing a fogged up glasses when you exited from an air-conditioned car into the hot weather. I could still see, but only the vague shape of things.
JacJac dropped me back to my place, and I had the longest sleep ever.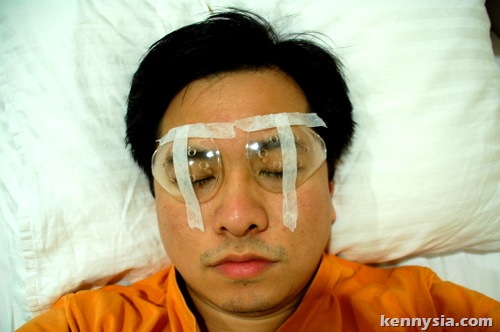 T.T
When I finally woke up after 6 hours, I instinctively reached for my glasses. That's when I realised… NO, I DO NOT NEED MY GLASSES. Because I could see my room so clearly without the need for glasses!
I was ecstatic. Alone in my bed, I screamed for joy like a little boy. I was excited because finally, after 15 long years of wearing glasses – Dr Stephen Chung cured my eyes!
The moment I opened my eyes and saw the surroundings of my room so clearly was definitely one of the most magical, miracle experiences in my life.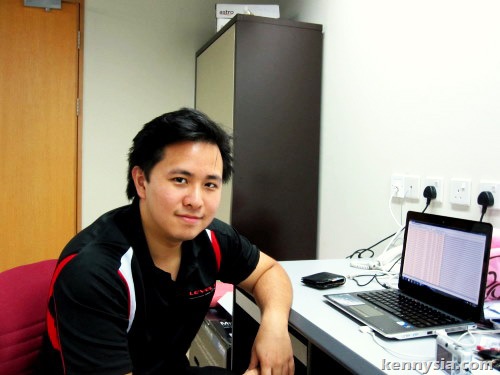 It has been 2 months since my LASIK surgery at Optimax. My vision is now officially 20/20.
Aside from the usual dryness during the first couple of weeks, I was doing great. The periodic check-up at the Optimax branch in Kuching reassured me that I was recovering fine.
I'm enjoying my new lease of life.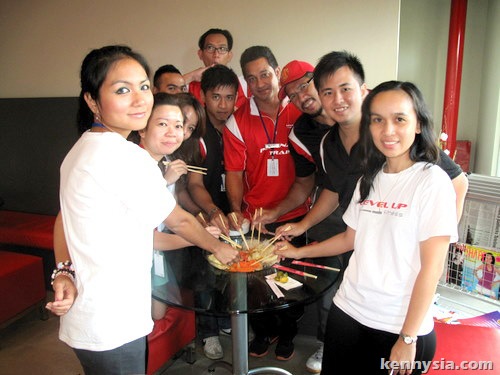 Life is so much easier without glasses or contact lenses. Nowadays I can wake up without the ritual of putting on contacts in the morning; don't have to carry along a bottle of solution all the time; can do sports without glasses and swim without worrying about the water washing away my contacts.
I had absolutely no regrets. Going for LASIK was definitely one of the best decisions I have ever made in my entire life.
And it's all thanks to this man.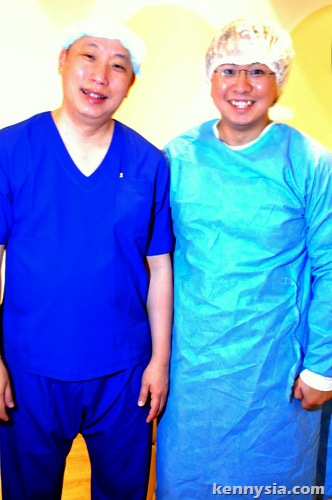 Thank you Papa Smurf.