Most people who knows me well enough knows that I like gadgets. Convince me how useful some expensive gadget is, and you can be sure I'll be showing you my wallet. The addiction first started with tech gadgets, and more recently I've been exploring kitchen gadgets. A section of the kitchen in my house is dedicated to my gadgets. Screw pots and pans! In my kitchen, among other things, you can find a George Foreman Lean Mean Fat Reducing Grilling Machine™, a George Foreman Lean Mean Contact Roasting Machine™ that's gathering dust, my second baby the Sunbeam Cafe Barista Espresso Machine™, and the latest addition to Kenny's Waste-of-Money Kitchen Gadget Family® – the Kambrook Omelette Maker™!
Why do I need an omelette maker? Well, good question. I love omelettes, and my sweet girlfriend Nicole makes some of the best omelettes I've ever had. One romantic evening, I asked her if she could make some omelettes for me for breakfast the next morning. "Ok lah!" she said "I'll wake up early tomorrow morning to make some omelettes for you woh!" Well, morning came. I woke up expecting to smell the sweet aroma of freshly cooked omelettes – but there was none. Nicole was still sleeping in her room. "Where's my omelette?" I cried. Nicole covered her head with her soft toy moose and groaned "I'm so tired… you make yourself lah! I'll make it for you tomorrow morning instead ok?". Even until today, I yearned that elusive piece of omelette. *sniff*
Anyway, that's not the main topic. You may put away your tissue box now.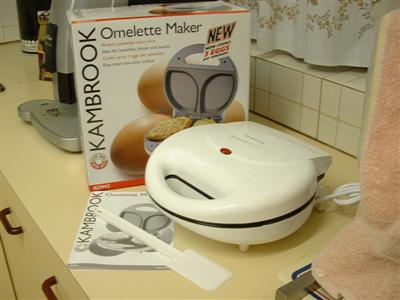 The Kambrook Omelette Maker retails for AUD49.95. I got it from Megamart right before Christmas for AUD39.95. It has a very simple packaging and comes with an instruction booklet and a plastic spatula.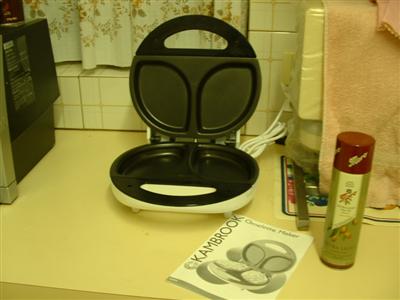 The Omelette Maker has two deep non-stick oil wells. Kambrook claims that each well can cook up to 3 eggs (slightly less if fillings are used). It will take 8 minutes to fully cook the omelettes. Thanks to its temperature control mechanism, you can never over-cook your omelettes. Apart from omelettes, it can do sunny-side-ups, as I will demonstrate later.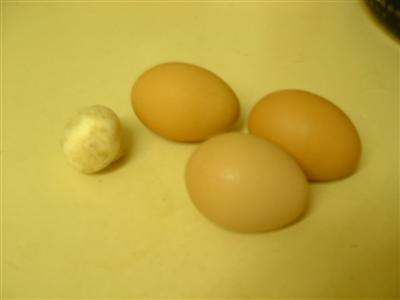 Kenny shall now show you how to make an omelette. First, you need 3 eggs and any filling of choice. Here, I chose one fresh WA mushroom.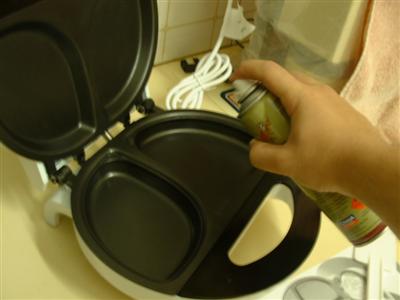 Spray or coat the omelette maker lightly with oil. Then preheat the omelette maker.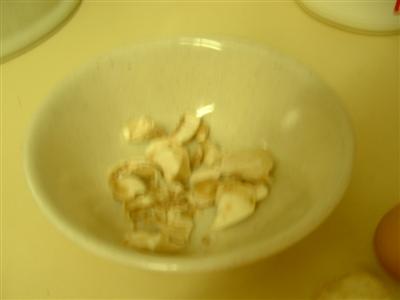 Whilst preheating, chop the mushroom into tiny bits…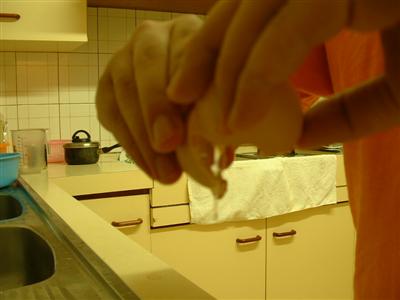 …and break 3 eggs into it.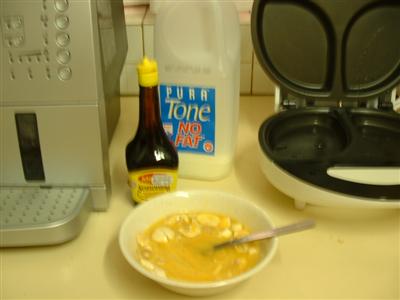 Add soy sauce, milk, salt or pepper into it if you wish for extra flavour. Then just whisk the combination with a spoon until frisky. Here's one prepared earlier!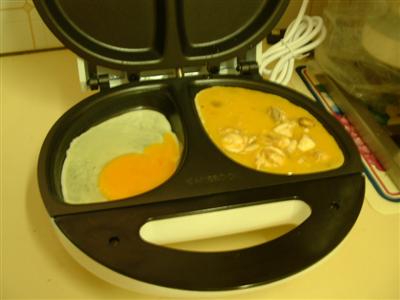 To make an omelette, pour the contents into the preheated omelette maker. To make a sunny-side-up, just pop an egg into one of the wells. And that's it! I took a shower, brushed my teeth, washed my face and breakfast should be ready by then! Let's see what we have…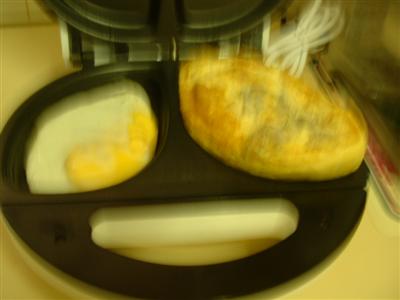 Tada! Apologies for the blur image. I was so excited my hands were shaking.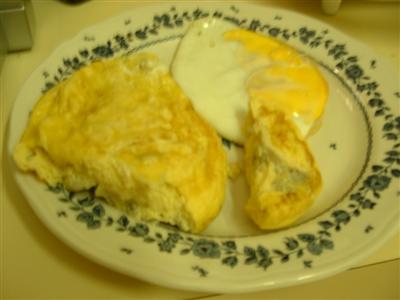 So here's my breakfast. Admittedly it didn't look too pretty, but as any failed chef would tell you "Food doesn't have to be too pretty, because in the end it still goes into your tummy."