You know what I find annoying?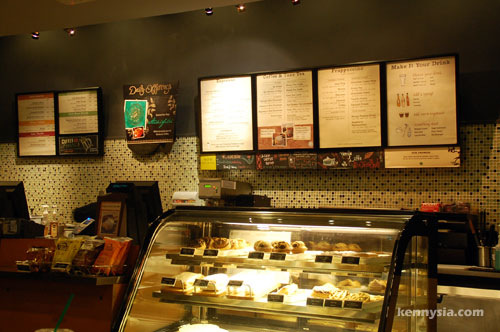 You know how when you walk into your favourite cafe like say, Starbucks, and you see them advertising on their blackboard – Grande Green Tea Frappucinno RM 14.50.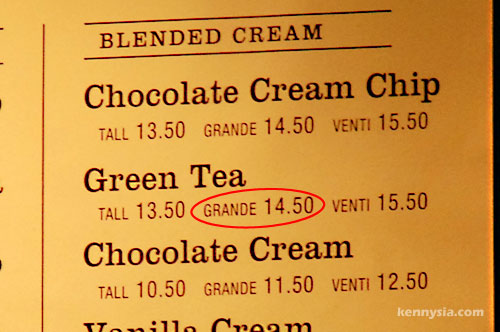 Fine. So you diligently pull out the exact change for RM 14.50 from your wallet – one RM 10 note, four RM 1 notes and 50 sen in coins.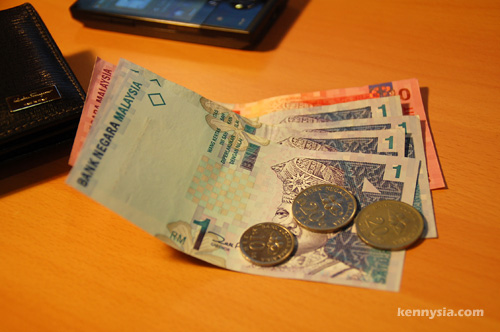 The Starbucks cashier keys in your order and the bill came up to… RM 15.25.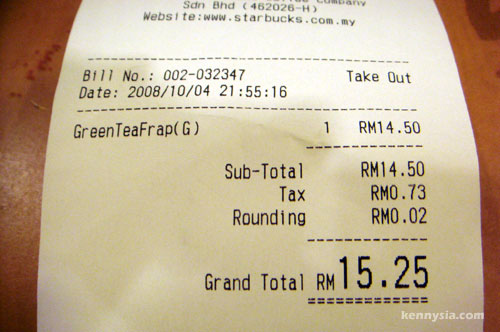 Hang on, wait a minute. How did RM 15.25 came about? I thought the menu said RM 14.50. What's up with the extra 75 sen, man?
You take a look at the bill, and there it is.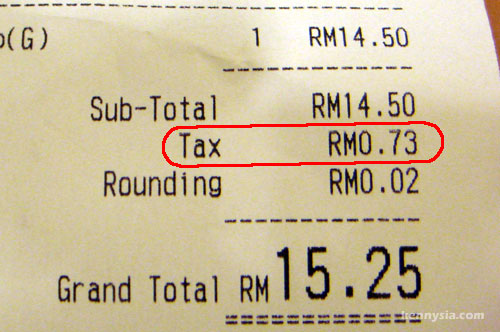 What the hell? Why do I have to pay an extra 5% on top of the RM 14.50 that you advertised on your menu?
Did you give me 5% more milk?
Did you sprinkle 5% more green tea on my frappucinno?
Did the lady on the Starbucks logo show 5% more cleavage?
NO?
Then tell me Starbucks, why the buck do I have to pay an extra 5% on my RM 14.50?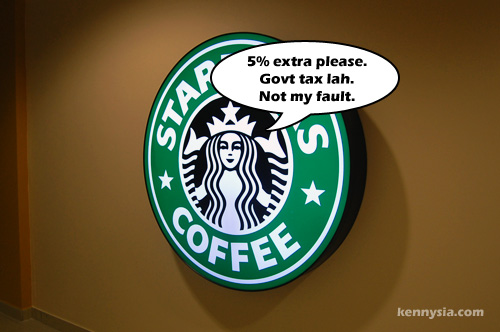 If it's an option I that I ask to add on to my drink, like a syrup maybe, then fine I understand.
But if the 5% is something fixed that I cannot escape from, why don't you just bucking include that into your menu prices then!? It makes it virtually impossible to prepare for an exact change when you pay for your drink. You ALWAYS have to wait for the cashier to ring up your order on the till before you can find out exactly how much you need to pay.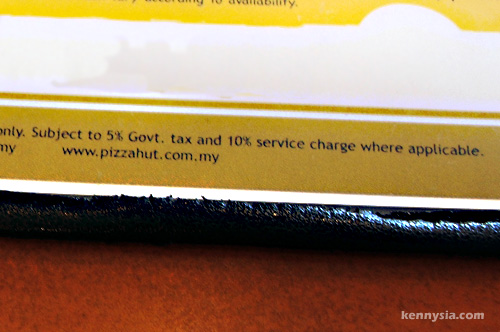 The worst is when you visit a restaurant like Pizza Hut, where on top of the 5% government tax that you must pay, you also have to pay the 10% service charge.
So a simple meal that's advertised as RM 12.80 on the menu, after 10% service charge, 5% government tax and minus 2 sen rounding, ended up costing RM 14.70.
HELLO? Like, how the Hut am I supposed to know that?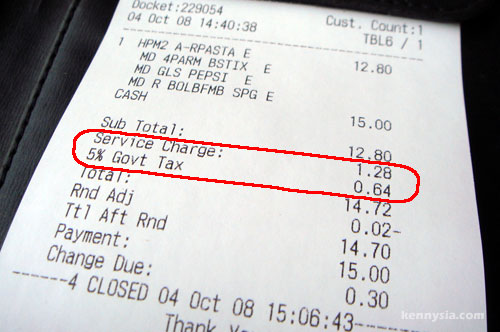 If you want me to pay RM 14.70 for your pasta meal, then freaking put RM 14.70 on your freaking menu! Don't put RM 12.80, then say "subject to 10% service charge and 5% tax"!
What do you think we are? Calculus graduates from Harvard? We just wanna eat at Pizza Hut man, we don't wanna calculate how much each meal is gonna cost before we enter your restaurant.
If I have exactly RM12.80 in my pocket, I wanna freaking go to Pizza Hut and buy that freaking meal for RM12.80. I don't wanna go to your restaurant with RM12.80, order a meal that says RM12.80 on your menu, then have to bloody fork out RM14.70 for it!
BECAUSE RM 12.80 AND RM 14.70 ARE VERY DIFFERENT OK?
Dammit, why do you have to make it so difficult for us to give you money?!
The worst is when you go out in a group of say 10 friends.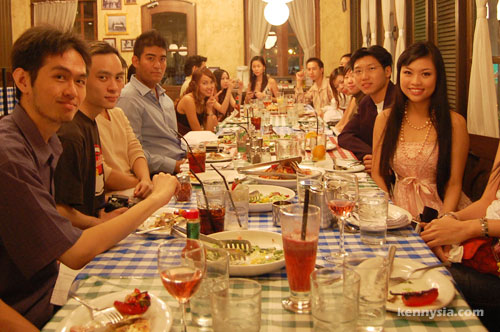 Some people order a RM40 steak, others just want a RM5 drink and everyone else orders different things. At the end of the night when you try to split the bill, you're never gonna know who should be paying how much!
WHY? Because the guy ordering the RM40 steak should be paying RM46 and the girl ordering the RM5 drink should be paying RM5.75!
Seriously, this habit of advertising half-arsed prices has gotta stop. Cafes, restaurants and hotels are the most frequent offenders in this category.
But do you know who are the worst offenders?
Airline companies.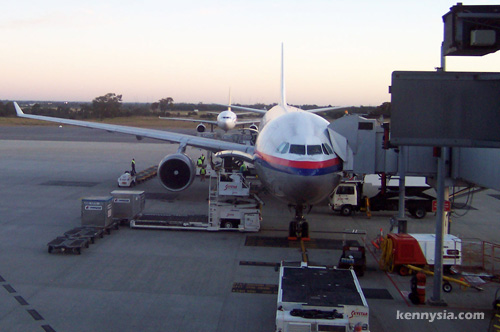 We've heard all the catchphrases they used in marketing.
LOW FARES!
RM9 One Way!
And my personal favourite: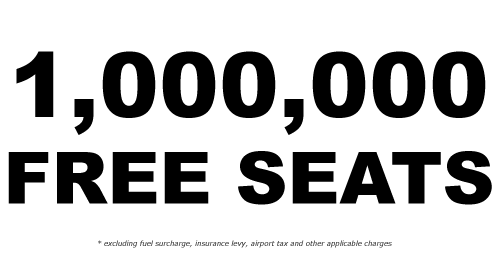 How lah like that?
Anybody who's travelled on our airlines before would know that unless you're sleeping with the top management, it's impossible to be paying nothing and still get on those airplanes. Those airport taxes, fuel surcharges, etc all add up to a lot. These are compulsary fixed charges that every passenger MUST pay. There's no escape of it. But unlike Starbucks, it's no longer just an additional 5% on top of the actual cost of the ticket.
For a Kuching – KL flight, the advertised airfares could be RM 0, but all the other compulsary airport taxes and fuel surcharges could easily add up to over RM 170. But of course, they never advertise it as RM 170. They would advertise it as ZERO FARE!
Only when you log onto their website, waste your time clicking through all the menus, THEN you'll find out you have to fork out RM 170 in bloody surcharges.
So essentially, you're paying RM 170 for a free ticket!
Imagine if you enter a restaurant, and the menu reads this.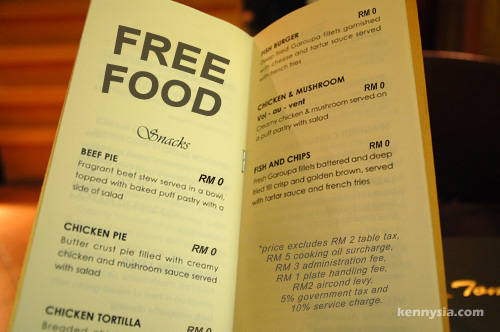 It makes no sense right? Imagine if every restaurant does that, how would you feel?
Obviously if one restaurant is advertising FREE FOOD and attracting all the customers, his competitors aren't gonna just sit around and do nothing. They're gonna advertise ZERO COST MEALS as well to try to compete. Next thing you know, everyone is offering free food (excluding surchages) and no one would tell you their nett all-in prices.
Ridiculous.
The stupidity has gotta stop.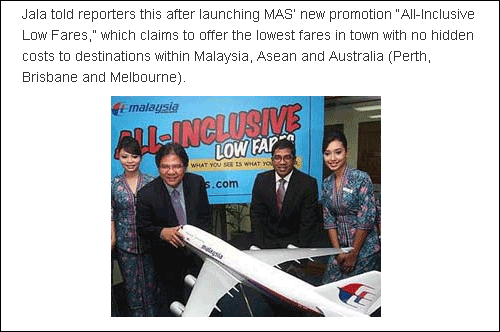 Thankfully, somebody is doing something about it.
Malaysia Airlines has taken the first step launching their "All Inclusive Low Fares" campaign. They now advertised their prices as all-in. None of those zero fares marketing gimmicks anymore
I say it's about time.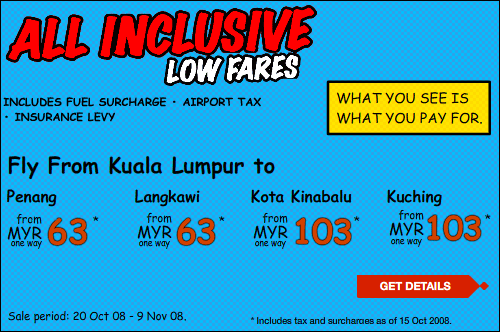 A lot of people assumed Malaysia Airlines is more expensive, but that's not always the case!
MAS flights from Kuching to KL now costs RM103, including meals and check-in luggages. It's good value for money and the cheapest in town. Besides, flying MAS is more comfortable since the seats are wider and more spacious. And it's a lot easier going through KLIA instead of LCCT.
But you know what's the best thing about flying with MAS?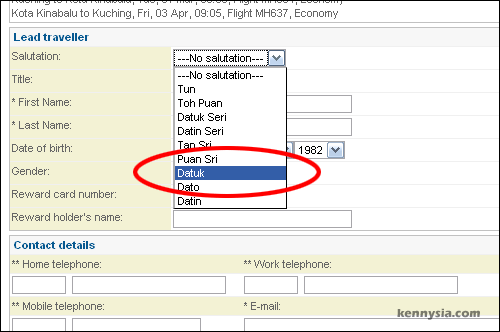 When you book your flights, you can call yourself a "Datuk"…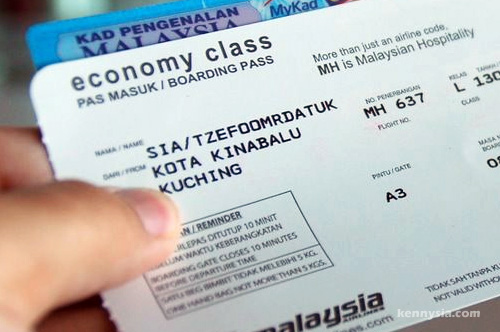 Even when you're not really a Datuk!