Alright, this is gonna be one of those what-I-had-for-lunch kinda post. Feel free to ignore if you wanna.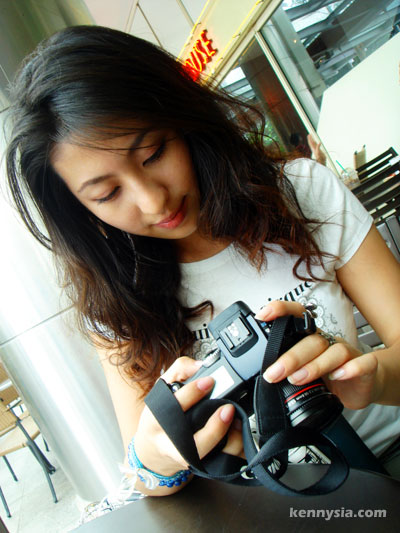 One of the best things about having a blog is that it does a lot of good to your stagnant social life.
Moving back to Malaysia from Perth after 8 years was a big turning point for me, because that meant losing a lot of friends and networks that I've built up over the years. But ever since I got readers coming to this site, I've been meeting new people from all over the place non-stop. And I love every moment of it.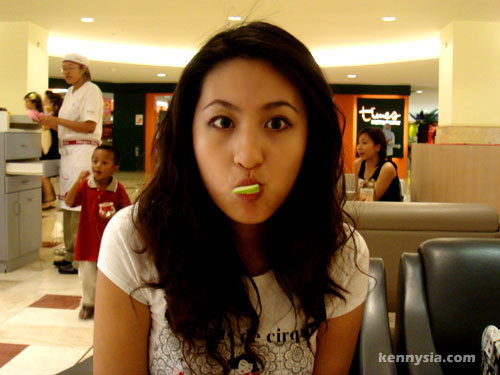 Jasiminne the Penguin is one of the more interesting ones I met recently. At just 19, this quirky graphic design student is showing a lot of talent in photography and photo-editting. You gotta be impressed with some of her creative artwork.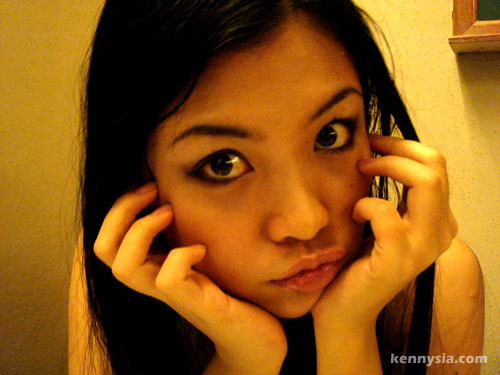 Cheesie is another one. When I first mentioned her in my entry about The Stellars , she didn't take the avalanche of insults too well and ended up feeling distraught for several days.
Who'd have thought just 30 days later, a lot of positives came out as a consequence of that entry. I shan't divulge too much. Suffice to say, Kenny Sia here indirectly played the role of a matchmaker and *cough* found her a special someone after being featured on kennysia.com. How cool is that?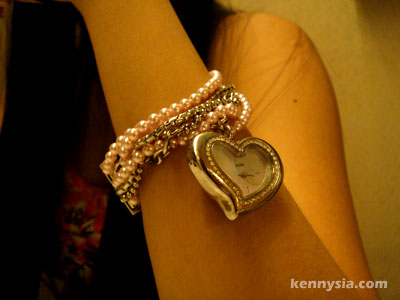 So anyway, I was in KL over the weekend and made plans to meet up with the two girls. Couldn't get hold of Cheesie initially because she had more important things to do like attending a play.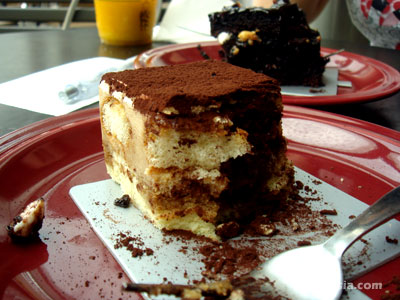 Jasiminne and I had Starbucks and Haagen Dazs at KLCC. Camwhored a bit. It's damn difficult to control myself everytime I meet up with a hot chick ok. It's even worse when mildly suggestive sexual connotations are all over the place.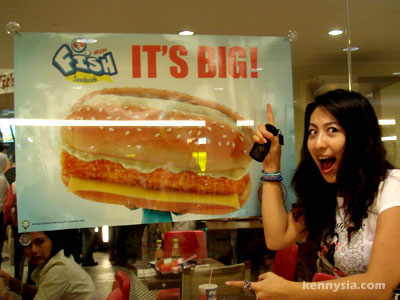 We had this phallic-looking bowl of ice-cream from Haagen Dazs.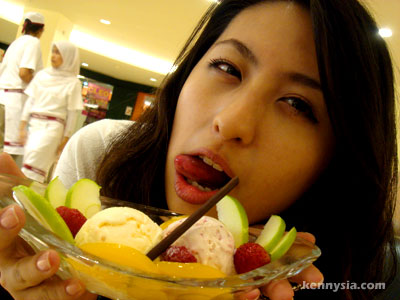 And discovered there's this new menu item called the Melon Milkshake. Seriously, wtf?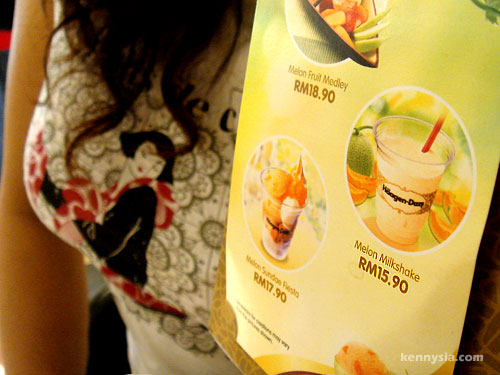 "Hi, can I have some of your Melon Milkshake please?"
"!!!" *SLAP* *PUNCH* *DRAGON UPPERCUT*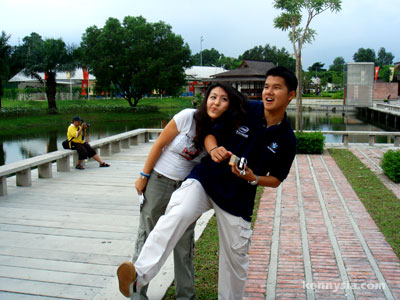 We're waiting for Cheesie but she didn't pick up our calls.
Jasiminne's pal Leonard was nice enough to pick us up from KLCC after work and ferry us around. We stopped by the KLPac (performing arts centre), which is a absolutely gorgeous. It's tucked inside a park hidden away from the hustle and bustle of central KL.
Then it's down to more camwhoring.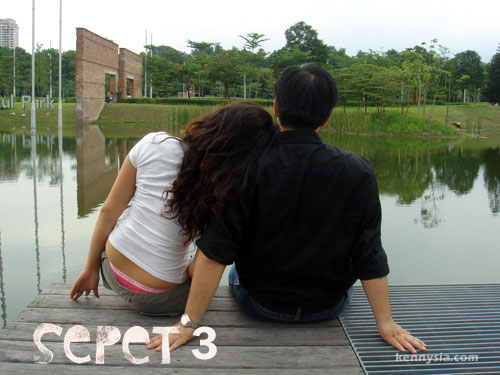 It wasn't until much much later that evening that Cheesie FINALLY called us. By then we'd already left for dinner at The Curve.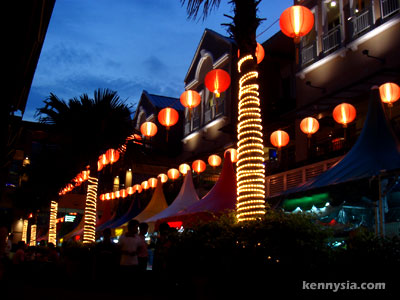 When I was in KL, I had the pleasure pressure of staying at Imperial Hotel. Despite the regal-sounding name, it's actually a dodgy-looking hotel located in the dirtier seedier side of the glitzy Bukit Bintang.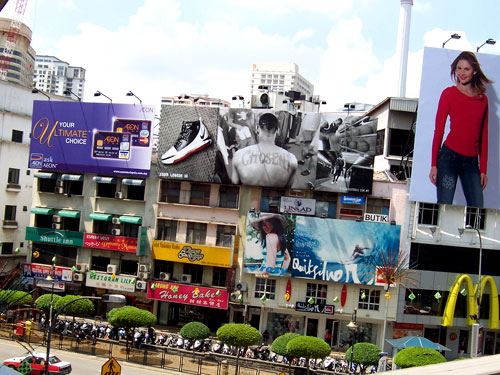 As I took the lift up onto the 3rd floor, I noticed the cleaners were sleeping on old newspapers on the floor.
It was quite a sight. I've stayed in worse hotels before (in Saratok), but to witness the hotel staff giving you a warm welcome by sleeping on the floor – now that's definitely a first.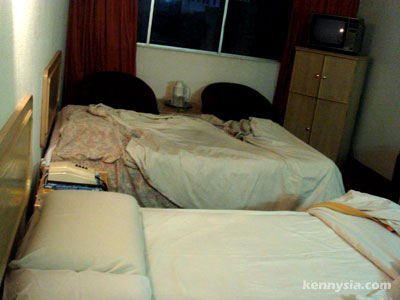 I paid for a Deluxe Room at a rate of RM81 per night. "Deluxe" being a relative term. Anything better than a rubbish dump is considered deluxe when compared to the other rooms of that hotel.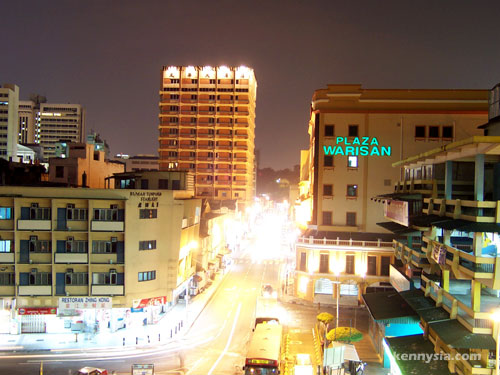 Of course lah, I was being damn stingy. Money is hard to come by these days ya know?
Stupid petrol price increase. And I thought AirAsia moving to the Low Cost Terminal is gonna help make flights cheaper. Why the heck is it called LOW COST terminal if you're gonna charge us HIGHER airport taxes? Brainless idiots.
Didn't wanna pay for better hotel since my flight was at 5:30am the following morning and I'd only planned to get a few hours of shut eye before I had to head out to the airport.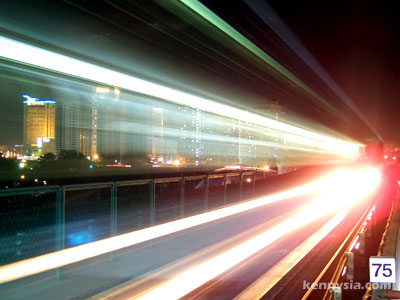 As it turns out, my night was spent catching up with naeboo at the mamak stalls in Bangsar till the wee hours of the morning. I ended up spending not more than a grand total 5 glorious minutes in my RM81-a-night hotel room.
What a way to waste your hard-earned money, Kenny. Well done. At least I don't have to worry about burly transexuals knocking on my hotel room door at 3 in the morning to gimme a "Welcome to KL" from my backside.
One bizarre thing I did encounter in the hotel room though, was this.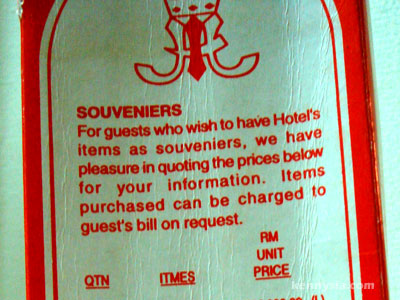 I know it's not uncommon for hotels to offer items from their hotel room as mementoes their guests can purchase. But seriously though, it baffles me why ANYONE would wanna buy second-hand crap from a dodgy budget hotel at prices that'll make Ikea look like Petaling Street?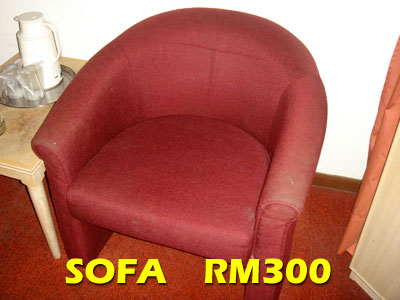 Do they expect tourists to carry a dusty torn sofa (semen stains complimentary) all the way back to Germany or something?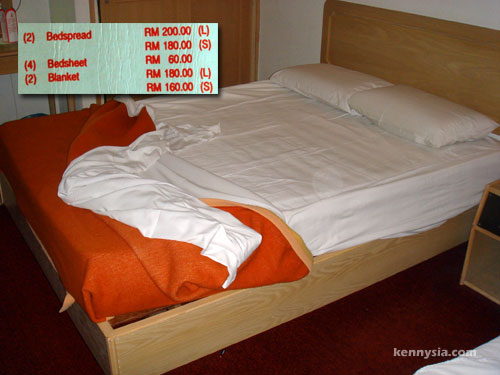 Bed spread for RM200. Bed sheet for RM60. Blanket for RM180…



MATTERS PROTECTOR for RM40! What the heck is a MATTERS PROTECTOR? Protect your "matter" one is it? I thought condoms cost like RM1 only leh.
I think this condom must be special one – have LV prints all over it.
I wouldn't put this up on kennysia.com if it weren't for those "questionable" items they are selling. Among them…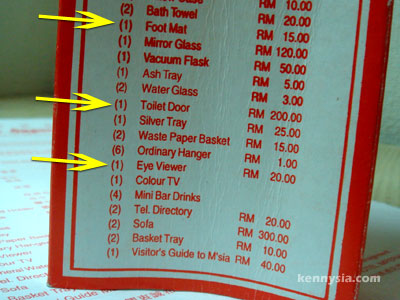 Fancy a used Foot Mat for RM15? Take a whiff.
Or how about a Toilet Door for RM200?
"Hey Dear, look what I've got for you from my trip to Malaysia? It's a TOILET DOOR! Happy?"
These hotel people are nuts I tell you.