THE TIME… Sunday, 24th April 2005.
THE PLACE… outside Hock Lee Centre.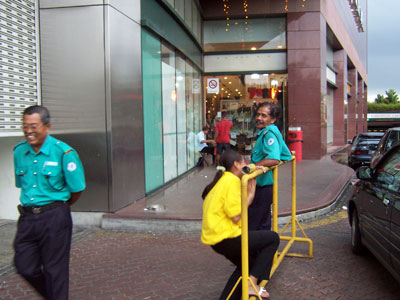 Something was amiss.
Something wasn't right.
A grand total of THREE security guards have set up a yellow barricade outside the shopping mall. Normally they'd be scratching their balls waiting for the time to go home. This was not normal. Something big must be happening. What's going on?
My heart was thumping. My hands were shaking. Beads of sweat were forming on my forehead as I approached them slowly in anticipation.
And then I saw it.
I saw…
The Man…
The Machine…
The Phenomenal…
THE KUCHING SHUFFLER!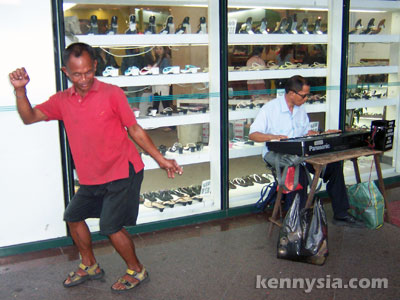 Yes that's right all you Melbourne Shuffling freaks out there. You can take your fancy pants and talcum powder and shove it up your ass. If you think you've revolutionalized the clubbing scene, THINK AGAIN. Yeah, yeah, you may have your big-ass dance clubs and your world famous DJs. But I'm telling you, its prime time you FEAR the Kuching Shuffle because dammit we're taking the world by storm!
What's this Zouk thing you're talking about? We don't need that. All we need is our cheap red shirt, cheap short pants and the cheapest sandals we can find from Bata. Grab the nearest visually-impaired busker with his electronic keyboard, and baby, we're ready to SHUFFLE.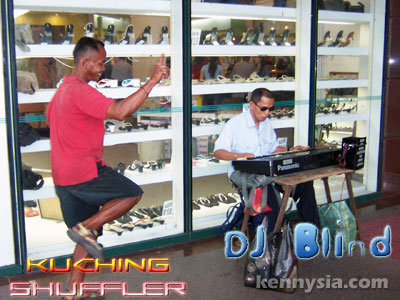 This is a momentous occasion for clubbers of Kuching and around the world. Which is why kennysia.com is introducing all new 'maotee-media' content in the form of downloadable videos!
(You do require Windows Media Player 9 or above to view WMV-format videos. If you haven't got them installed, get them here. Do let me know if nothing is working.)
What are you waiting for?
Click to watch the ORIGINAL Kuching Shuffle video. (1.56 MB)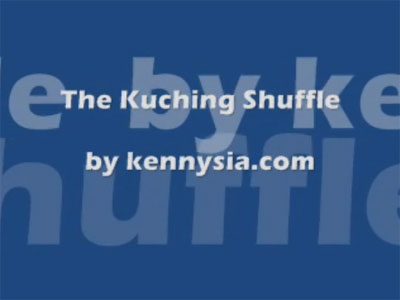 For a limited time only…
The Kuching Shuffle kennysia.com Remix. (2.07 MB)
and
The Kuching Shuffle kennysia.com Remix (Extended Edition). (6.88 MB)
Cower in fear now stupid Melbourne Shufflers.