Some of you may have noticed that kennysia.com was down the whole night last night. That's my fault. Apparently after upgrading my bandwidth allowance to 3GB last week, I managed to blow it once again. No worries, I'll move my host soon.
To add insult to injury, I scratched the surface of my 2-week old LCD monitor just 5 minutes ago. Now my baby has an unsightly and permanent gash left on it. Good job, Kenny, good job.
In times like these, there's only one thing that can cheer me up. Three words: Made in China.
I tell you, those products made in China are a gold mine for Engrish. I don't know what these people are thinking hiring primary school dropouts to design their product packaging exported to the world. One thing for sure, their proficiency of the language makes mrkiasu look like an English teacher.
Take for example, this box of toy balls I spotted at a local supermarket. The name of the product is a creatively named Sunny Cat 99 Balls and 1 Gift.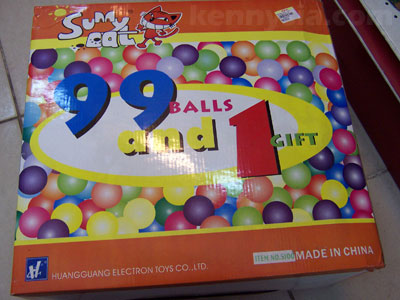 On the back of the box, I learnt that the 'Gift' in question is actually a netted basket.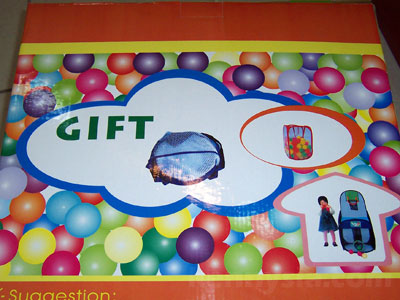 Somehow I get the feeling that they don't know what 'basket' is in English. So they cleverly replaced it with the word 'gift' instead.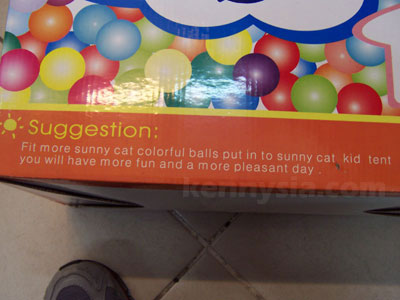 My suspicion was confirmed when they call a 'basket' a 'kid tent'.
Their suggestion seems quite useful. Considering what a shit day I've been having, I think I'm just gonna put colourful balls into a 'kid tent' just to cheer myself up.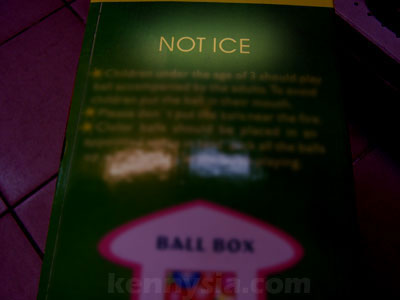 The side of the box kindly informs me that this box is "not ice". Like duh, of course I know its not ice, 'cos otherwise you'd have to put it into a freezer.
Here's the kicker.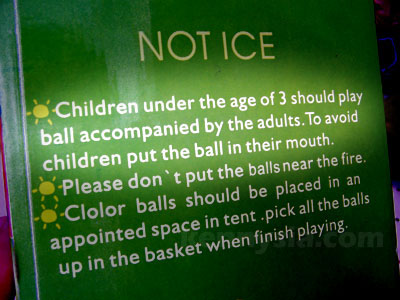 I don't know about you, but I have a strong urge to buy a box of these balls just so that I can stuff them into the mouths of those annoying kids with Heely shoes.