I inherited a lot of qualities from my late father.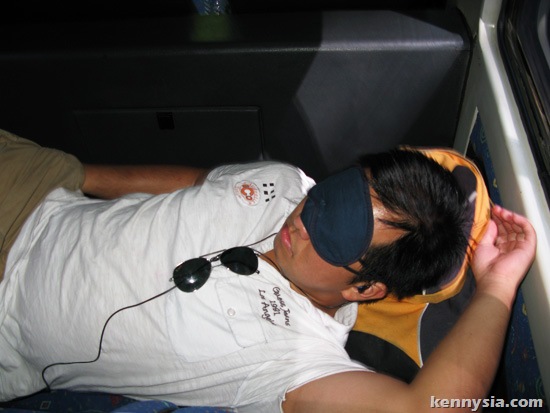 Ofs all the things I got from him, I also inherited his snoring.
It's a Sia family thing. Every single person in my family snore when they sleep. It's something we're born with, and it's something our partners have to live with.
My mother practically lived with it throughout her marriage with my father. After a while, she just got used to it.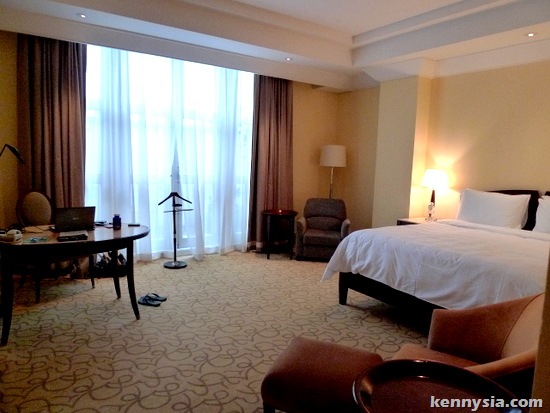 For me, things are a little bit more difficult.
My ex used to pinch my nose whenever I snore. If it got worse, I'll get a whack on the arm. I could never get a good night's rest with her.
But it's not just with girls. I travel frequently, and sometimes I share rooms with friends. They would be all cool with me at first, until the following morning.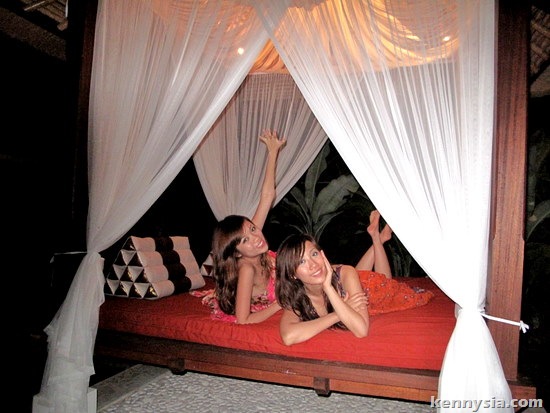 The first thing they said to me when they wake up is not "Good morning!", but "KENNY LAST NIGHT YOU SNORED SO LOUD AH!"
Hearing stuff like that hurt my feelings. Then again, I also realised it's selfish of me to disturb other people's sleep.
But it's not like I can help it! If I can find a way to stop snoring, of course I would.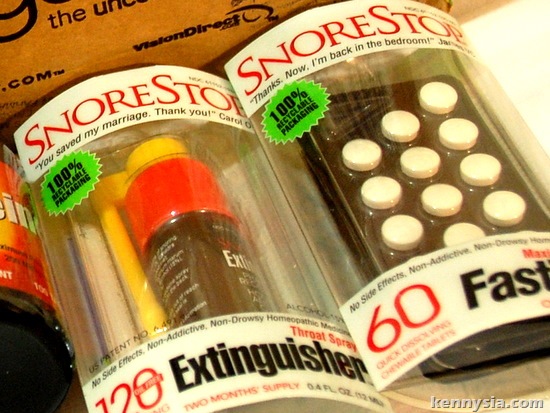 The problem is, I just about tried every solution there and nothing helped. Tablets, nasal sprays, tapes that cover my mouth when I sleep, tapes than open up my nose when I sleep, oxygen machines. You named it, I've done it.
Nothing works. In the end, I decided to seek professional help.
I went to see a doctor.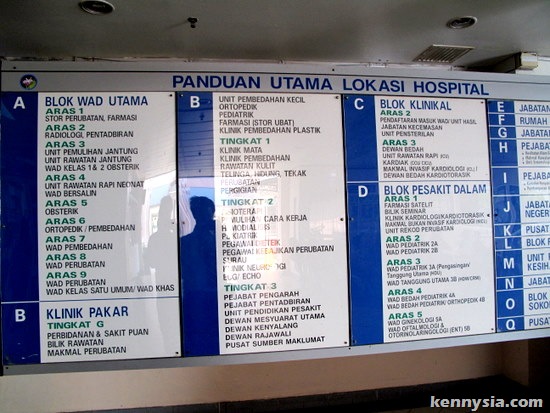 The first doctor I saw was an Ear Nose & Throat ENT Specialist at Sarawak General Hospital. I don't know how to say this diplomatically, but it was possibly the biggest waste of time I ever had.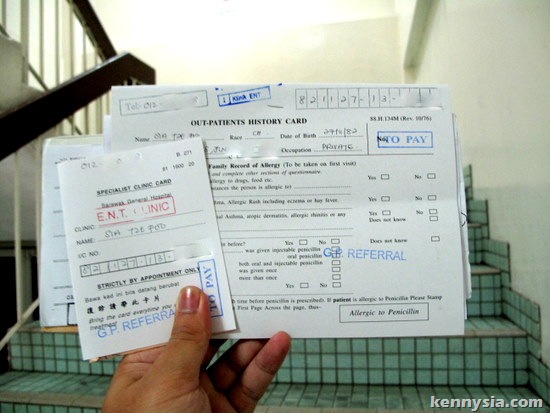 Firstly, just to see the doctor, I had to get a recommendation letter from my GP. Next, I need to make an appointment with the receptionist and put on a waiting list for 1 month before I can actually see him.
That's okay – it's a government hospital after all.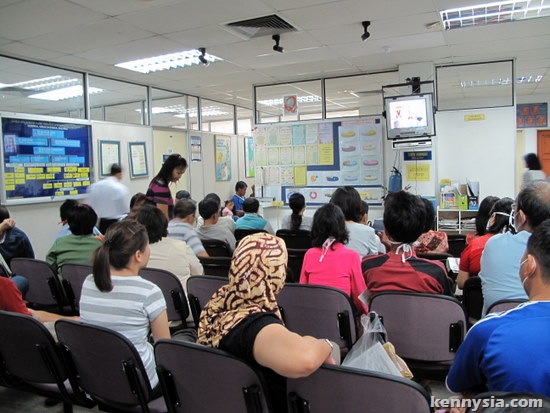 One month later, when I turned up for my appointment, I was asked to enter into a crowded waiting area. There, I waited for ONE HOUR for my turn – even when I had an appointment booked a month in advance.
When I finally got to see my doctor, he was clearly looking overworked and exasperated. After telling him my problems, the first thing he did was stick a camera through my nose – all the way down my throat.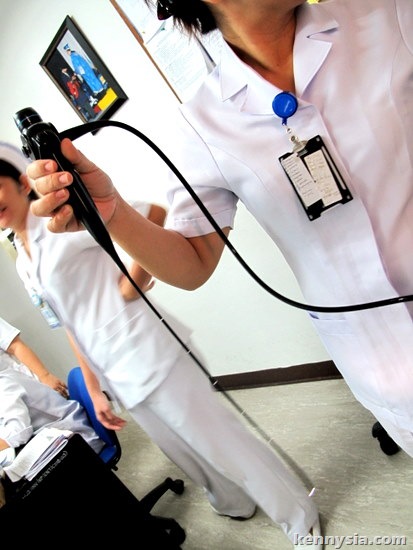 It was really as disgusting as it sounds. I could smell the lingering odour of KY Jelly after he took the device out.
The doctor saw nothing wrong with my breathing passage. He asked me again what I wanted to do. I said I want to cure my snoring.
His response? Go for surgery.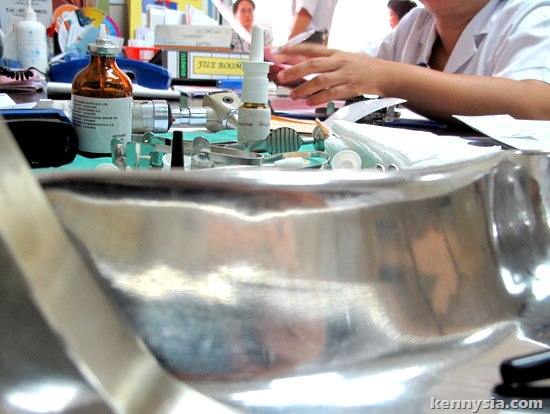 "Would surgery cure my snoring completely?" I asked.
"Not necessarily… There's still a risk you would be snoring after surgery."
Obviously I wasn't ready for something so risky, expensive and invasive. Some more there's no guarantee of me curing my snoring problem. So I asked if there's anything else he could do.
All I got was a very confused doctor looking at me quizzically.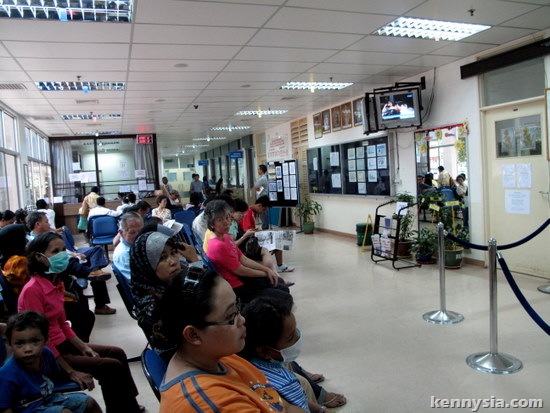 I was rushed out as soon as I rushed in. In the end, I decided to forget about seeking a Kuching doctor for help.
I did some research of my own on how to cure my snoring, and came across a new cure for snoring of called "The Pillar Procedure".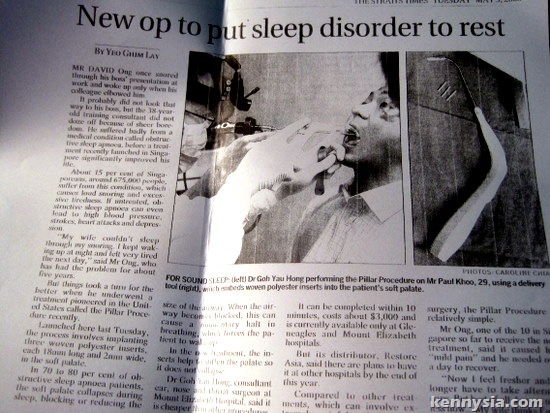 It works by inserting plastic implants into the back of your throat to stop it from vibrating. In Asia, one of the doctors who pioneered this procedure is Dr Goh Yau Hong from Mount Elizabeth Hospital, in Singapore.
It might sound like a ridiculous idea to fly to Singapore to see a doctor. Thing is, I really wanted to end my snoring once and for all – without invasive surgery if possible.
Earlier this year (after some arrangements with ParkwayHealth's PR team) I made the decision.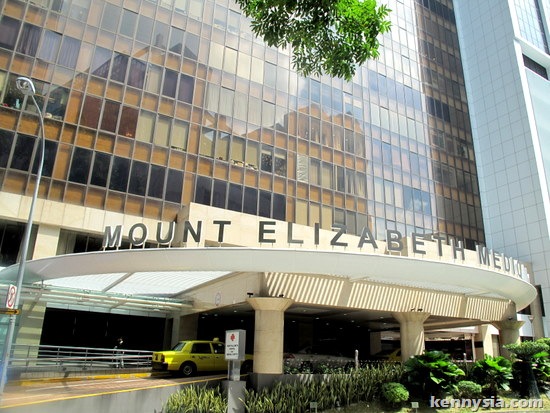 I made the trip to Mount Elizabeth Hospital for my initial consultation with Dr Goh.
It was the best decision I have ever made. Believe it or not, seeing Dr Goh in Singapore was 1000 times easier than than making an appointment to see the ENT doctor at the General Hospital in Kuching.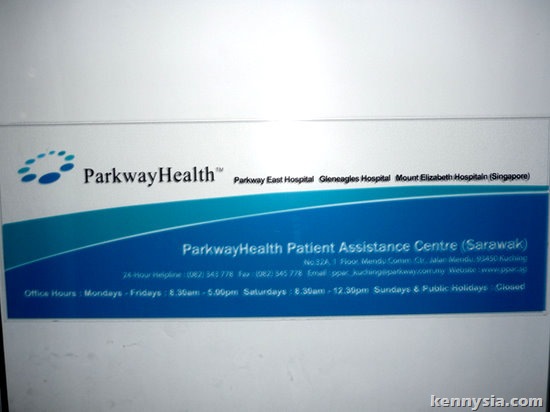 Mou
nt Elizabeth Hospital is under the Parkway Health Group, Singapore. In Kuching (and other cities like JB, KK and KL), they got a Patient Assistance Centre that handles patient enquiries, appointments, doctor bookings and trip arrangements for their hospitals.
The hospital is widely regarded as the best private hospital in the region. Many people from outside Singapore, including our Sultans, travel here to seek treatment for critical illnesses like cancer, heart, vascular and brain tumour diseases.
Having somebody do the logistics for them locally makes it very convenient for the patients. And their Kuching office provides this service at no extra charge.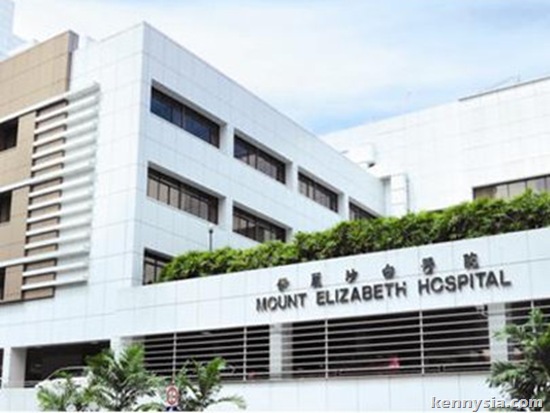 Anyway, I arrived for my appointment that morning. After waiting not more than 10 minutes, I was called in to see Dr Goh.
All I can say, it was completely unlike my experience at Sarawak General Hospital.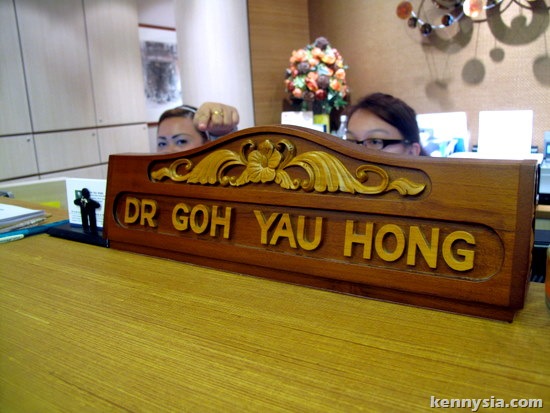 Unlike my previous experience where I was rushed in and out because the doctor had no time for me, Dr Goh was amazingly patient and considerate.
So patient that he didn't even administer me any treatment during my first visit!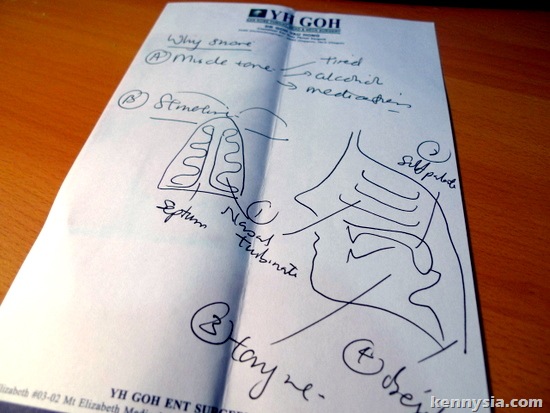 Instead Dr Goh examined my nose and palate to determine what exactly causes my snoring.
In the end, he said to me three things.
First, although I came to see him for the Pillar Procedure, it would not cure my snoring. The procedure works if my throat muscles were too relaxed, but I don't have that problem. My throat is strong! 😀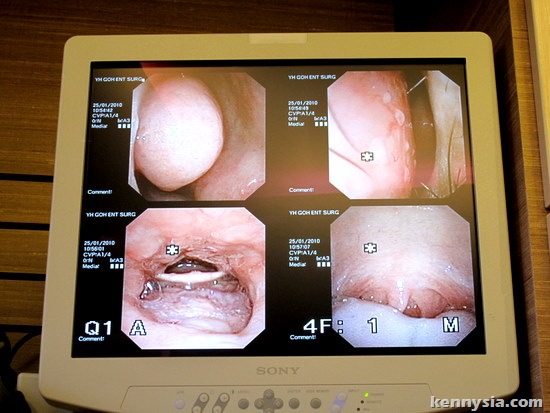 The reason I snore was because I wasn't breathing through my nose. I'm born in such a way that my nose was always blocked. All my life I had been breathing mostly through my mouth – and that is what causes my snoring.
Second, my snoring could indicate a more serious health problem called sleep apnea. It is when I completely stop breathing during my sleep – risky because it would cause a lot of health problems if not treated early.
And then there's the weight issue.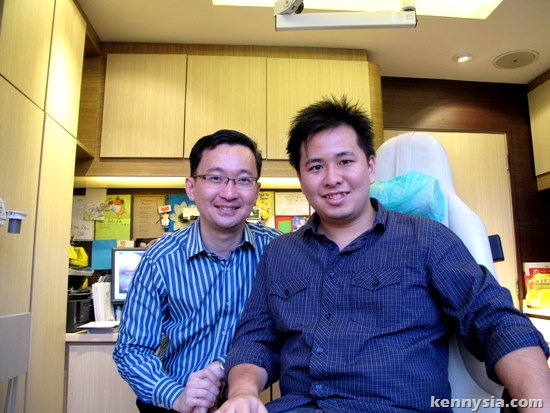 This was me and Dr Goh, circa January this year.
I was weighing in close to 90kg, grossly overweight no thanks to my over-indulgence over the New Year. Dr Goh was blunt – if I want to stop snoring, I need to lose some weight.
He asked to come back to Singapore again.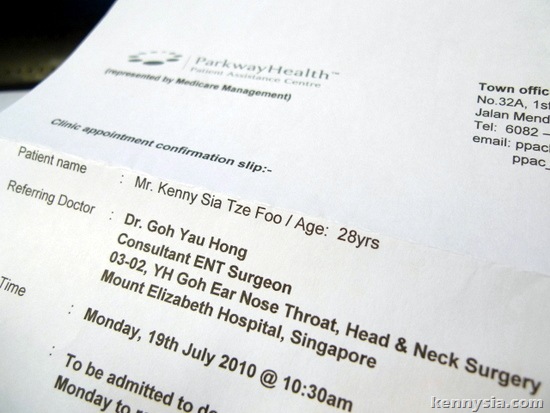 I have to do a "Sleep Test" to determine if I have sleep apnea. Inreturn he promised to make my nose breathe better.
How?
By using a procedure called "Turbinate Reduction", Dr Goh will COOK the piece of flesh that has been blocking my nose all my life.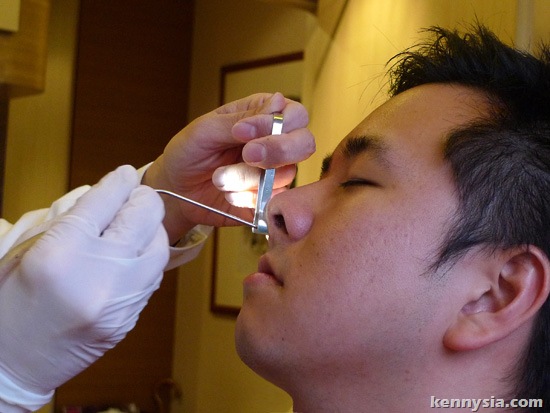 Literally, he's gonna microwave my nose!