Shanghai's Xiang Yang Fashion Market is an interesting place of attraction worth anyone's time.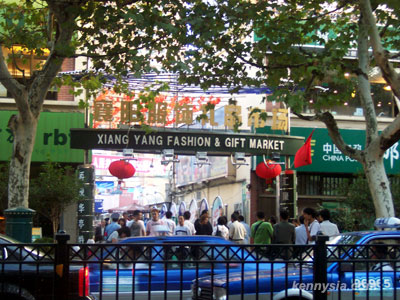 It is a flea market very much like KL's Petaling Street. What makes it stands out is that Xiang Yang Market is located on Huai Hai Road, an Orchard Road-like high end fashion street housing some of the most famous international brands including Rolex, Davidoff and Louis Vuitton.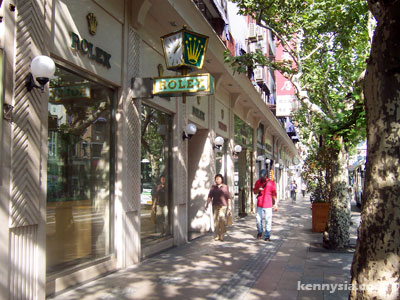 Over at Xiang Yang Market, pushy street vendors show total disregard of international copyright laws by shamelessly selling fake copies of their neighbours' line of luxury goods.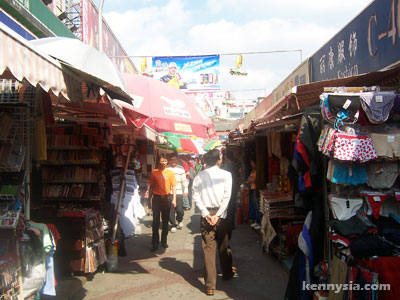 I managed to find some quality stuff here at pretty good bargains. Brand names or not, you gotta admit the workmanship is top-notch and the attention to detail put into these products are impeccable. This set of decorative chopsticks could cost up to RM80 outside, and I snagged them for only RMB30 (RM14).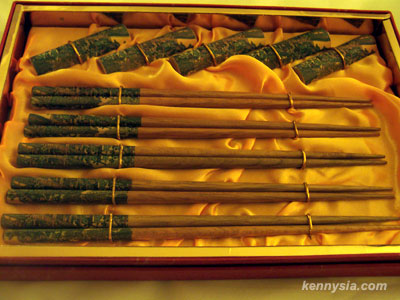 It's great as gifts! Ummm… just pretend it's really expensive if you happen to receive this set of chopsticks from me. 😉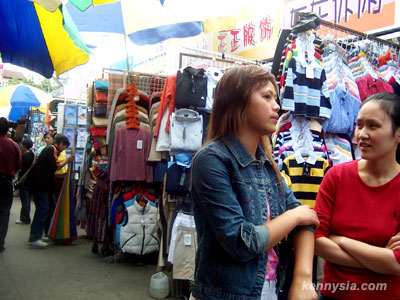 The process of bargaining is pretty much standard.
(1) You spot the item you fancy, and you ask the vendor for the price.
(2) The vendor quote you a price, usually a figure ridiculously expensive for a counterfeit product.
(3) You mentally divide the price he gave you by 6, and suggest that price to him.
(4) He'll then proceed to give you this face like you insulted his grandmother's cooking. Smile as you admire his distorted facial expression.
(5) The vendor will give you 20% off his original price. This is your cue to reject him and tell him the final price you're willing to pay.
(6) Once again he'll kao peh kao bu and give you a lesson on cost price, selling price and the mechanics of retail. At this point, you walk away telling him you no longer want the product.
(7) Quietly count to ten and chances are, he'll chase you down giving you the product you want at the price you suggested at (5).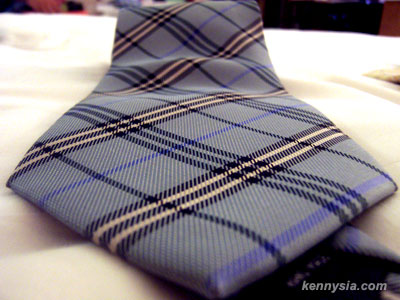 Quality neckties at only RMB20 (RM10) each!
This one says Burberry on the back, but the look and feel of it is as good if not better than the RM80 Emilio Valentino ones I've been wearing.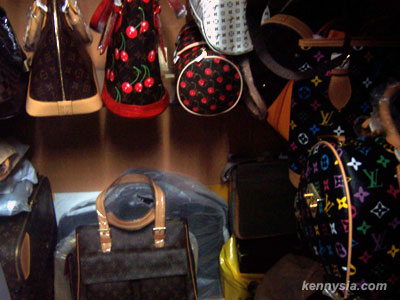 Xiang Yang Market is notorious for this group of people who call themselves Huang Niu (Yellow Cow). These people usually have A-class counterfeit goods stashed away in a hidden showroom nearby – goods that look so authentic, the vendors would get into trouble if they were to put them out for sale in the open. It's the Huang Niu's job to pull potential customers into these secret showrooms.
Trusting these Huang Nius is a great risk to cash-loaded tourists because SOMETIMES these people might take you to a back alley, lock you up and extort money out from you. The local police seems to recognise this problem and signboards like these can be seen everywhere in Xiang Yang Market.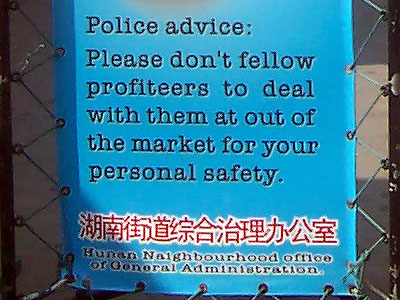 I went to one of their showrooms because my balls were feeling pretty huge that day. And sure enough, they have fake branded goods that look SO MUCH like the real thing not even Mr Louis Vuitton himself can tell the difference.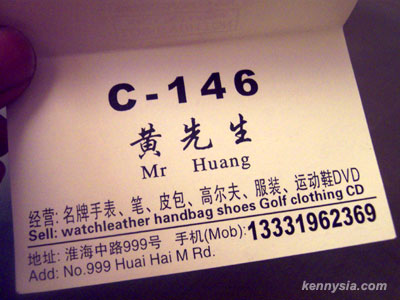 As a matter of fact I'm pretty sure Mr Huang himself is actually selling authentic Louis Vuitton handbags.
Why would I know?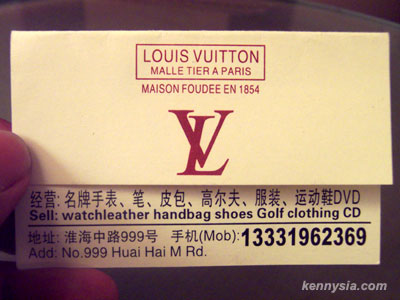 'COS HIS NAMECARD SAYS HE'S FROM LOUIS VUITTON THAT'S WHY.
If that's not real you tell me what's real.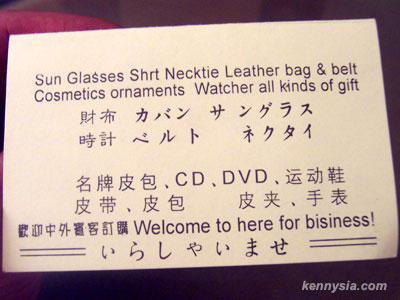 I reckon we should all welcome to there for BISINESS!
Believe it or not, Huang Nius are not just unique to Xiang Yang Market. I was approached by no less than 8 of them whilst walking along Nan Jing Lu, all of them trying to sell me goods of a different kind – Shanghai girls.
These are the kind of people whom you should never trust when you're out travelling. They'll promise you Heaven and Earth, but if you follow them they'll take you to an empty warehouse, beat you up and take all your money from you. Kinda like how suicide bombers were promised 80 virgins in Heaven if they bombed up Bali, but when they blew themselves up they ended up going to Hell watching Hitler, Uday & Qusay Hussein in bikinis.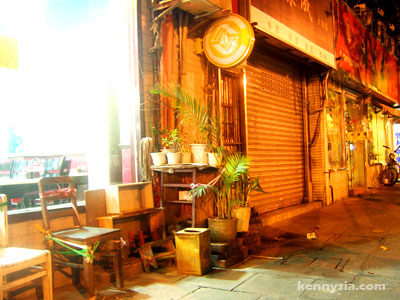 I was taking photos on the Bund during my last night in Shanghai when I was approached by a middle-aged man offering me fair-skinned Shanghai University students working as prostitutes. I'm not interested. I knew the dangers if I were to trust him. Besides, I'm a good boy. 🙂
Instinctively, I turned the dial on my digital camera and recorded the following interesting piece of conversation.
Watch Kenny Sia being approached by a pimp. (Alternate link for IE users) (WMV format, 5MB, 2mins. In Mandarin with English subtitles.)
Excerpt:
Huang Niu: Come have a look! You can have her for 4 hours at 250 yuan only!
Kenny Sia: HA! Are you kidding me? She should be paying ME for sleeping with her.
Damn I wish I'd said that.