The whole of yesterday was disastrous.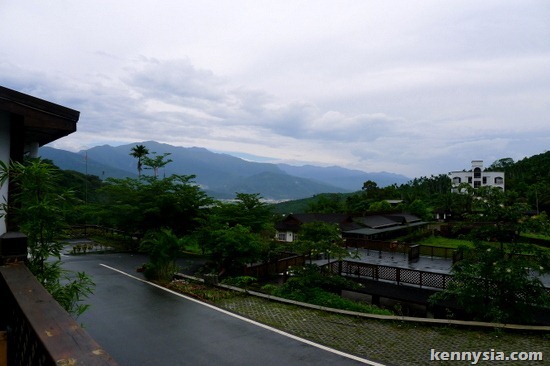 With the last 24 hours being fraught with rain, flat tyres and various mishaps, I was yearning for a better journey ahead.
Its a sign of good things to come when I see the sun shining at 7:30am.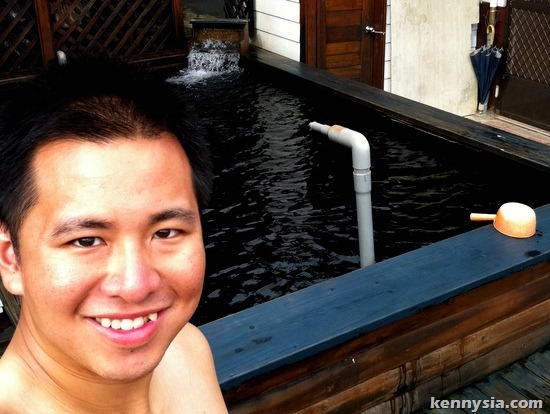 After a morning soak in the outdoor hot spring bath, I was ready to set off!
I bade goodbye to the hot spring hotel owner, who was nice enough to send me off with a free cup of hot coffee.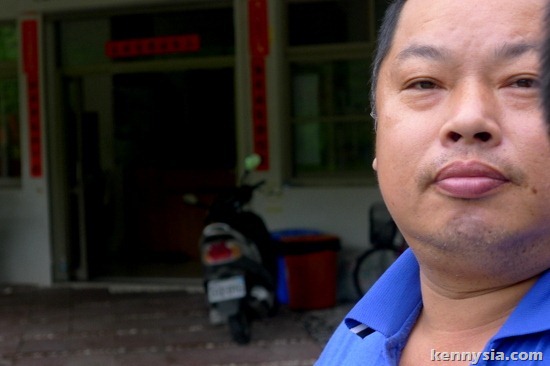 The owner said he don't receive have much visitors since other major resorts opened up around the area. He was surprised that I was doing this bicycle trip alone.
I was glad I made his day.
As it turned out, that hotel owner was just one of the many interesting characters I would meet on my journey to Hualien.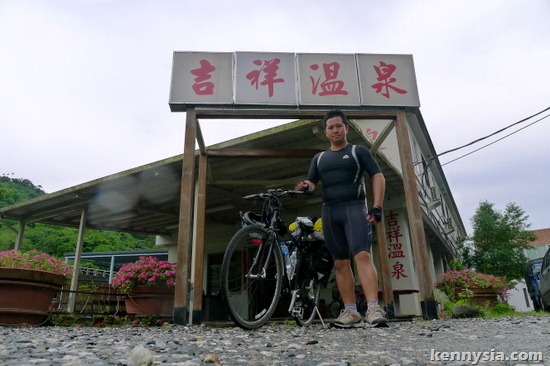 From YuLi to Hualien is 95km and there are two paths I could take.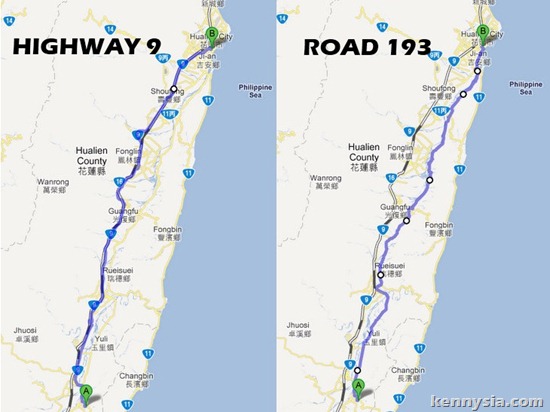 Highway 9 is what my guidebook and what the Giant bike shop lady suggested. Highway 9 hugs the train line, has a dedicated bike path, is straightforward, appears a lot quicker but being a highway, it has loads of trucks and various traffic passing through it.
On the other hand, Route 193 is a single-lane road running more or less roughly parallel to Highway 9. It wasn't recommended in the guidebooks I have read, but just by looking at the maps, I knew it would take me to my destination with a lot less road traffic compared to Highway 9.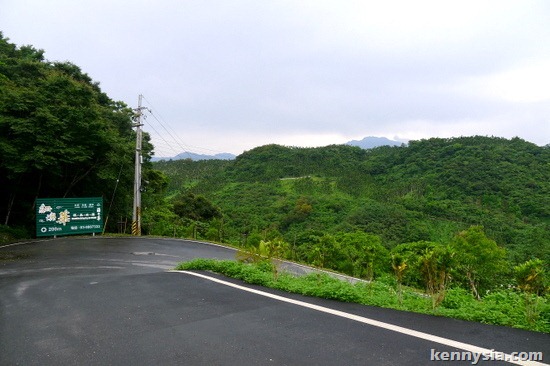 Which path did I choose?
To me, it's a no brainer – I ain't coming all the way to Taiwan to ride on a freakin' highway!
So I took a risk, and off to Route 193 I went!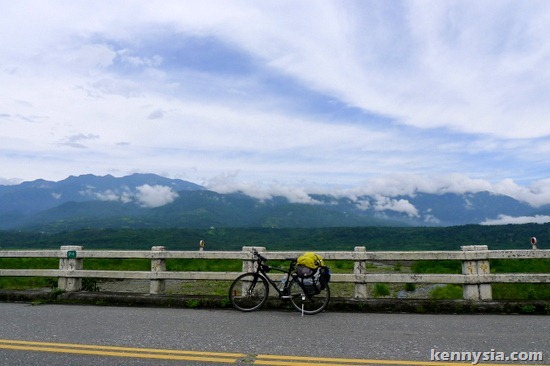 Guess what? I didn't regret it. Route 193 wasn't recommended by many, but it was easily one of the most beautiful stretch of road I have ever witnessed thoughout my journey in Taiwan.
The scenery is green, the traffic is minimal, the path is easy to ride and did I mention the scenery is greener than the Incredible Hulk?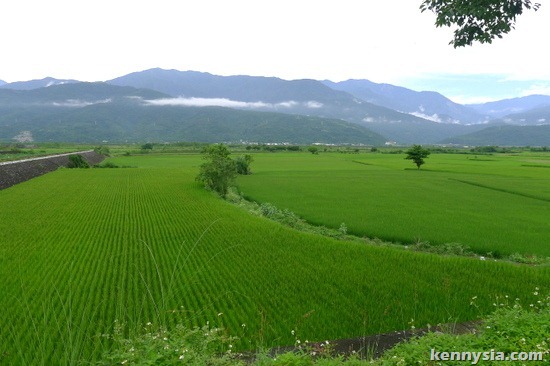 Ahhhhhh… so green and peaceful.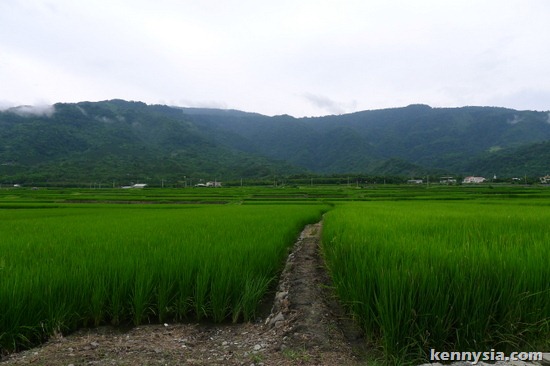 The best thing about Route 193 is that the greenery goes on for miles and miles. It was such a welcoming contrast compared to the road and weather I experienced on Highway 11 the day before.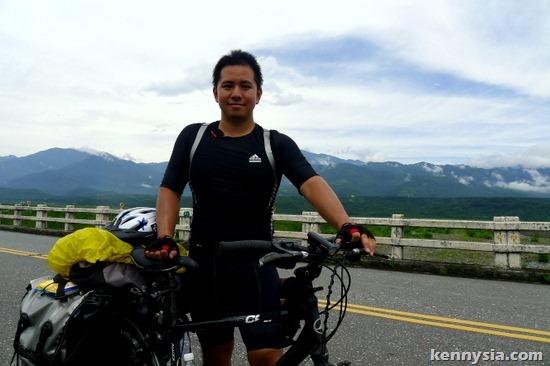 This is the bicycle trip I was looking forward to!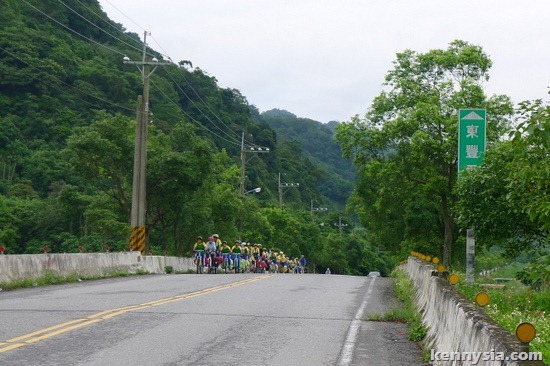 Route 193 must be a hidden treasure only local Taiwanese cyclists seem to know.
There were no other foreigners in sight. The more I pedal, the more cyclists I encounter. Some were riding just a stretch of the road, others were doing a 14-day round-the-island bicycle trips.
All of them have one thing to say when they see me: ???(keep it up!)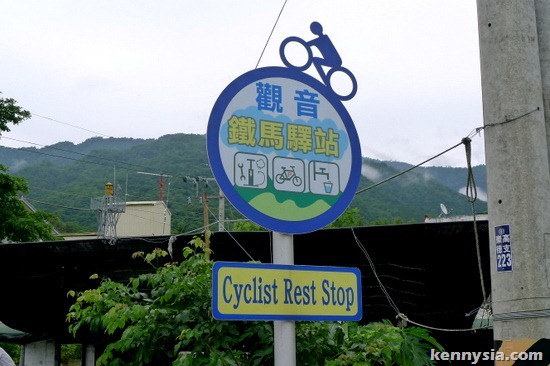 10:40am.
Somewhere along the journey I passed by a Cyclist Rest Stop in the town of ??GuanYin, named after the Buddhist Goddess of Mercy.
(Ironically, there are more churches than temples in the town of GuanYin.)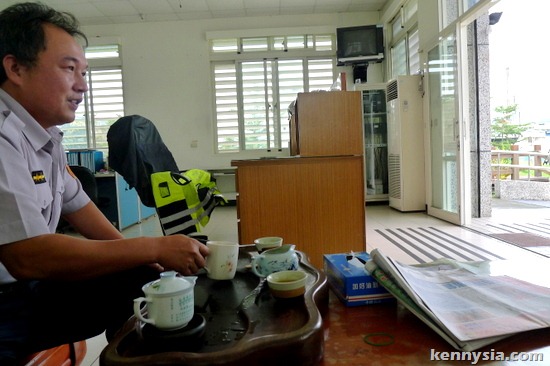 The "Cyclist Rest Stop" is actually just the local police station. There are dozens of these along the way.
The local policemen can help with filling up your bicycle tyre pressure, provide drinking water and so on – all free of charge.
When I entered the Cyclist Rest Stop / Police Station, the only policeman there very warmly invited me to take a seat inside while he made me a cup of tea!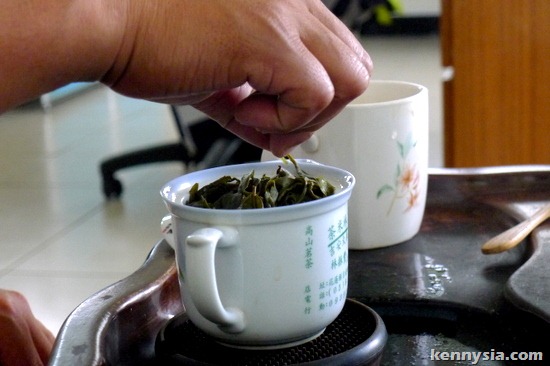 It was like, he was more happy to see me than I was to see him.
Don't get me wrong, I was ecstatic to be drinking tea with the local policeman in a police station! Back in Malaysia, the only times I have ever visited a police station were to pay a traffic summon or report a crime. This is the first time I have such a casual and friendly encounter with a policemen anywhere in the world.
To have the local policemen treating me so warmly is such a refreshing experience.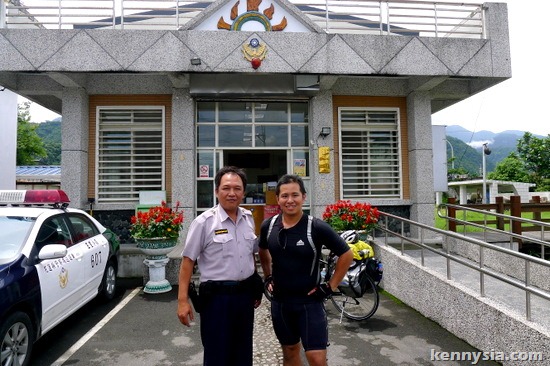 I left the police station fully recharged as I continue on from GuanYin, cycling past the Tropic of Cancer, right into another hot spring town called ?? RueiSuei.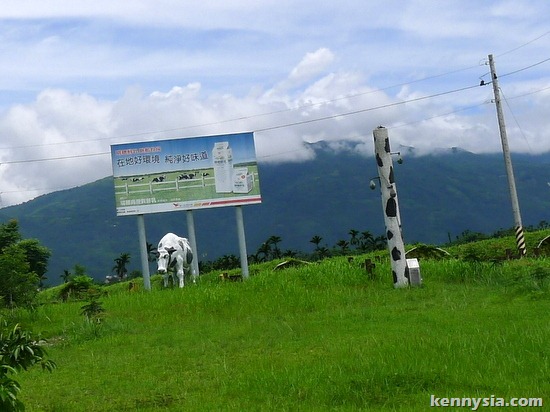 I couldn't miss the sight of a billboard and a giant cow sitting at the entrance to RueiSuei. Curious, I steered towards the sign to further explore.
Apparently, RueiSuei is famous for three things: hot springs, kayaking and the freshest milk in the whole of Taiwan.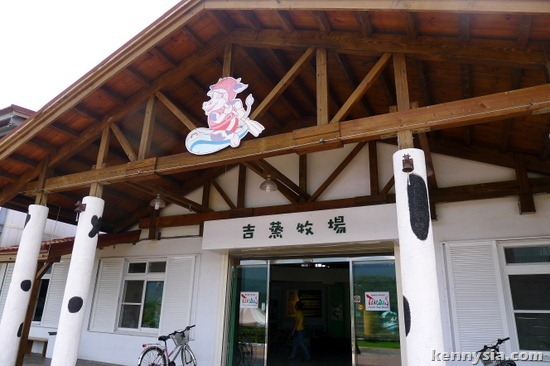 ?? JiZheng Paddock is the producer of the freshest organic milk I have ever tasted.
There's a gift shop and restaurant in there where they sell everything cow and milk.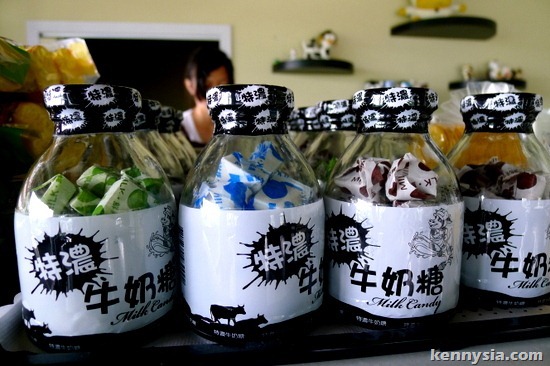 We're talking milk candies.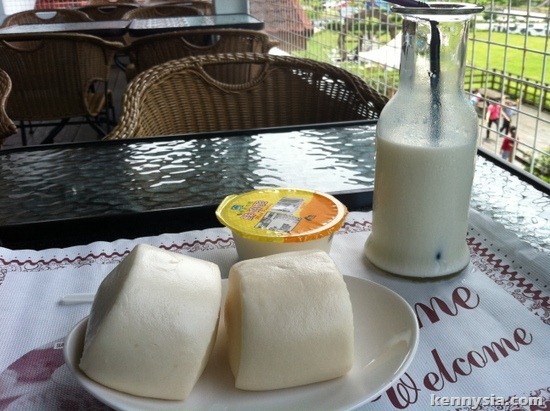 Milk pudding and the fluffiest milk steamed buns you'll ever sink your teeth in. Just thinking about makes my saliva drip. It is THAT good.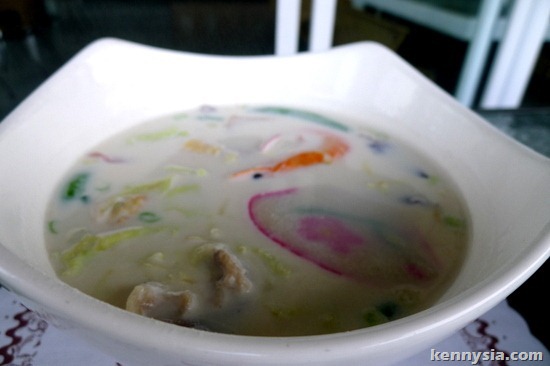 I've heard of fresh seafood noodles, but have you ever head of fresh MILK seafood noodles? Unique yes, and quite tasty too.
If only I weren't so full from stuffing my face with their yummy steamed buns.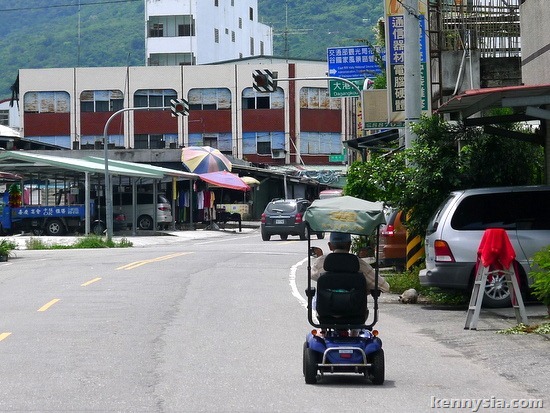 Cycling on the road means sometimes sharing the path with the most unexpected of road users – like this old uncle driving a golf buggy in the middle of the road.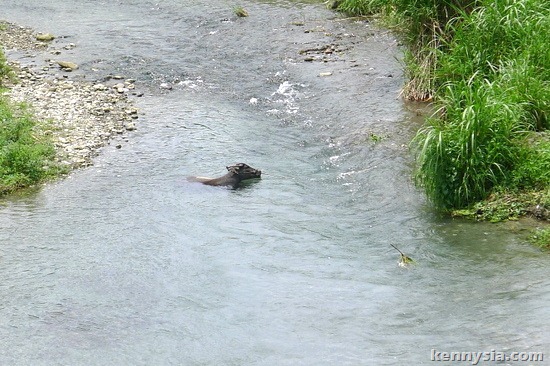 A water buffalo taking a bath in RueiSuei River.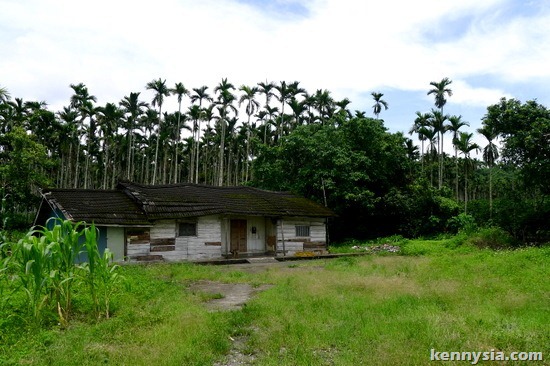 More greenery.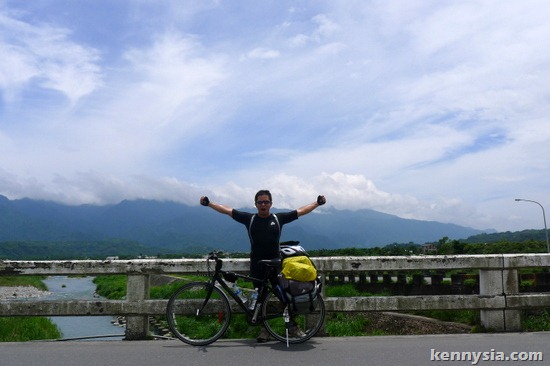 12:30noon.
69km left to HuaLien!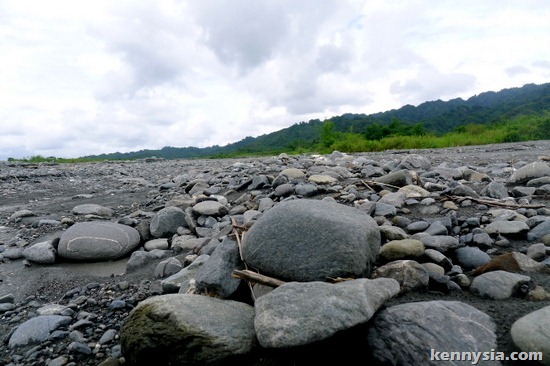 Like life, the road to Hualien is not always smooth sailing.
At times, I have a nice flat road all to myself.
Other times I have to carry my bike, luggage and all across a dried up riverbed to continue on my journey on the other side.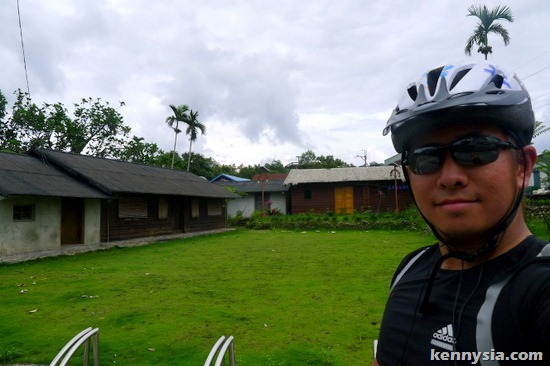 Without realising, I have entered the village of ?? FuXing.
FuXing has a quite a sizable population of Taiwanese Aboriginals. It is said that the ancestors of the Malays in Malaysia and Javanese from Indonesia came from Taiwan hundreds of years ago.
I do see the resemblance. Taiwanese Aboriginals have very similar facial features as the Malays. The only difference is that they speak fluent Chinese.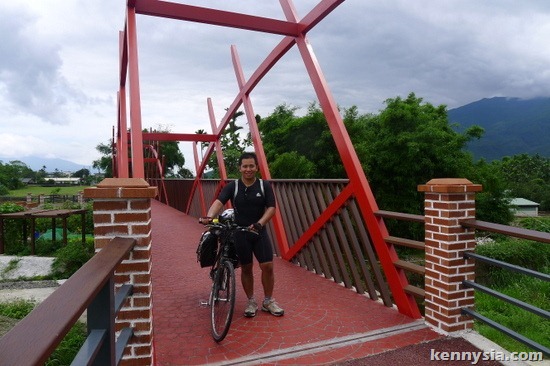 Apart from being an aboriginal village, FuXing also have a very eye-catching bicycle path. Recently there was a campaign by the Taiwanese government to upgrade these little villages to make it more attractive for tourists, and well-paved bicycle path and the red bridge is the result of it.
How did I know all these?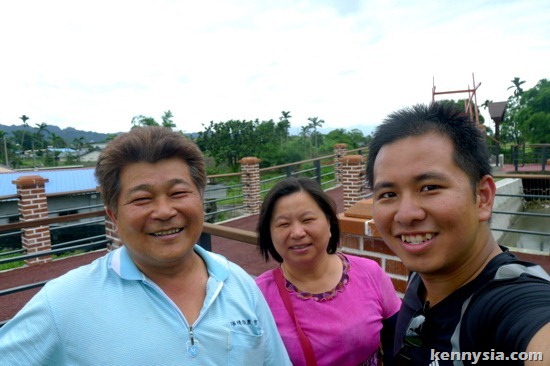 From the village chief himself.
The chief was so excited to see a foreigner visiting his village because normally they only receive domestic tourists.
I must be the fir
st Malaysian he saw. At first, he was surprised that I was travelling alone. Later, he was kind enough to give me his name card and kept telling me to stay in FuXing on my next trip here.
Before I left, the village chief gave me a tip.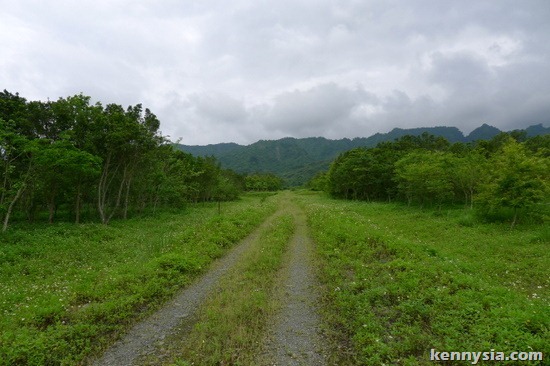 I told the village chief that I wanna avoid cycling on the highway, so he pointed to the gravel road to the north of the village.
He said that if I continue down the gravel road, I would reach a brand new stretch of road. As a matter of fact, this road was so new, they were still constructing it.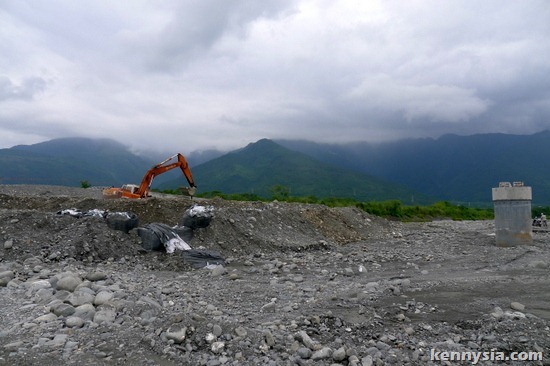 I would have to ignore the construction, and press on.
He promised me that there will be greenery on both sides and not a car in sight. As a bonus, an interesting sight awaits me on the other end of the road.
He would not even tell me what the surprise is.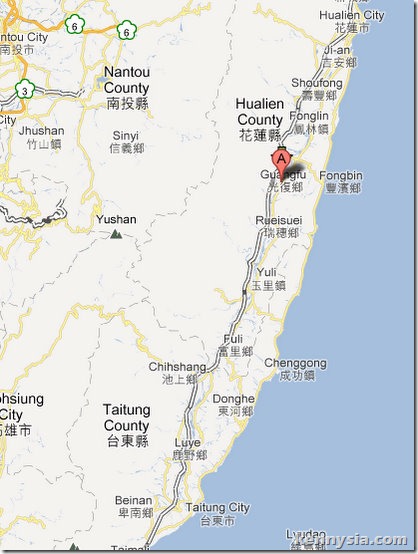 Neither my guidebook nor Google Maps have this stretch of road mentioned. But hey, what do they know?
Once again, I took a chance and never looked back.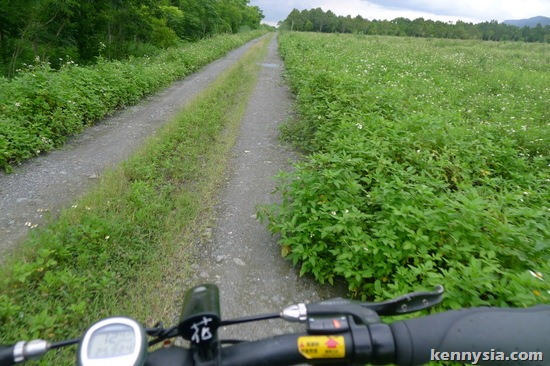 The village chief was right.
I had a good 5km road all to myself without a car in sight. With my bike being the only vehicle on the road, I had music in my ears at full volume, without a single worry in the world!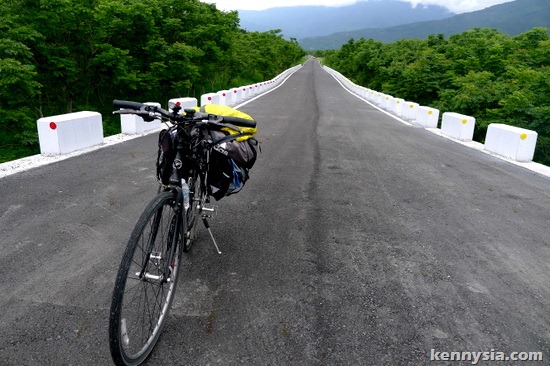 It was the most liberating feeling ever. I felt like I am king!
3:00pm
At the end of this new road, a very well-hidden but manicured park awaits me.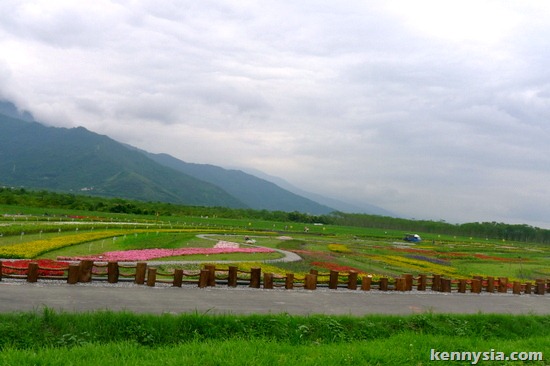 It is called the Flatland Forest Park – a colourful and interesting park hidden in the middle of MaFou Aboriginal Village, near the township of GuangFu.
The Flatland Forest Park have fields painted with flowers into art, weird-looking art installations and plenty of flat bicycle paths to ride on.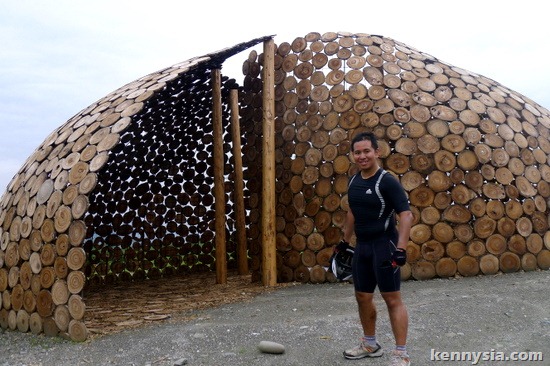 Despite being such a pretty park, I was the only person there apart from the gardeners.
I felt compelled to take a moment off my bicycle to take in the views in solitude.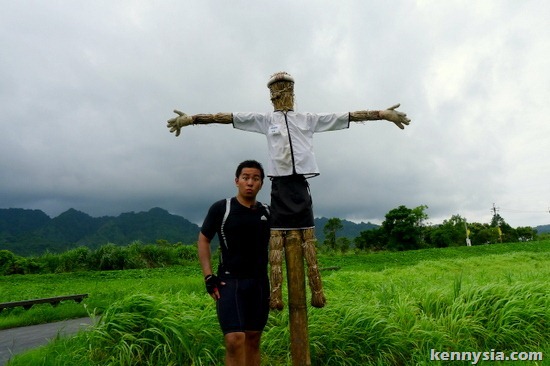 Flatland Forest Park is filled with Taiwanese aboriginal flair. Even their scarecrows were dressed in traditional aboriginal outfits.
I love it, I really do.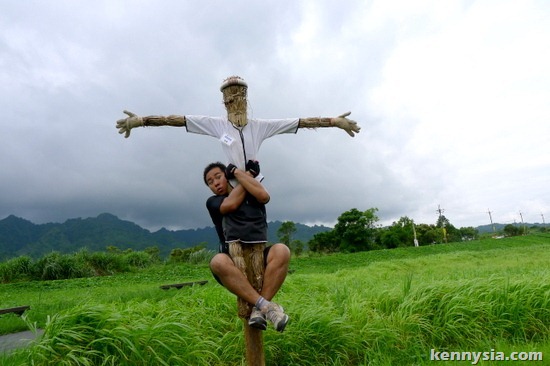 Really really do.
MaFou Aboriginal village lies not far from Flatland Forest Park. This picturesque little village is punctuated by mountains, rivers, tall coconut trees and wooden houses set amongst large expanses of greenery.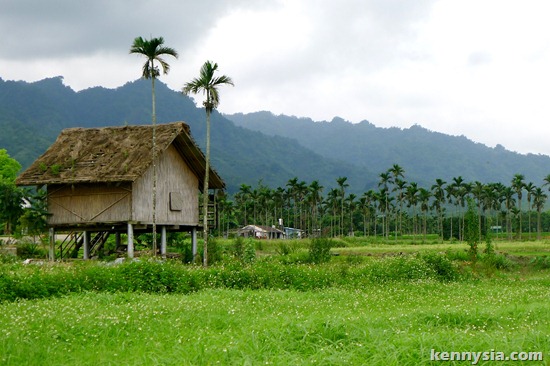 I had this picture as my desktop wallpaper for an entire month.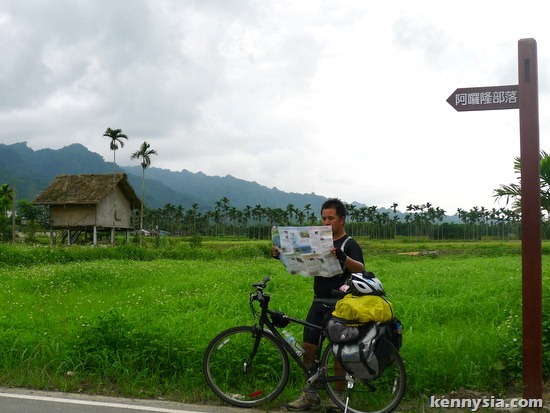 Posing for a compulsory "looking at the map" photo of a wannabe adventurer.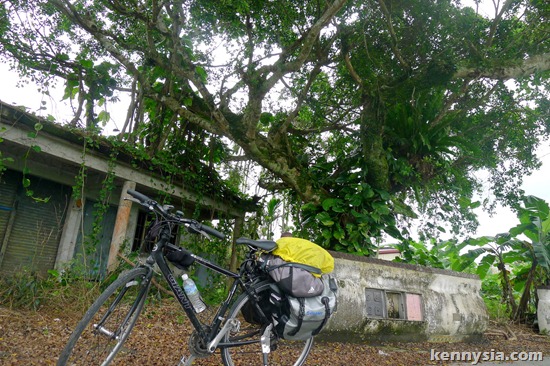 An overgrown Banyan tree devouring an abandoned house.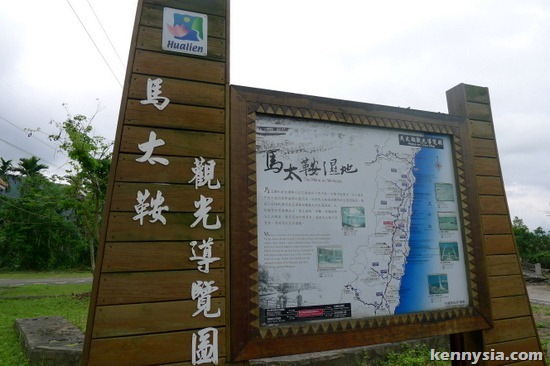 4:30pm
Compared to MaFou, the Mataian Wetlands is a better-known tourist attraction. It is located just off Highway 9.
Janet Hsieh from Fun Taiwan had recommended a unique restaurant in this area before and I was keen to try out.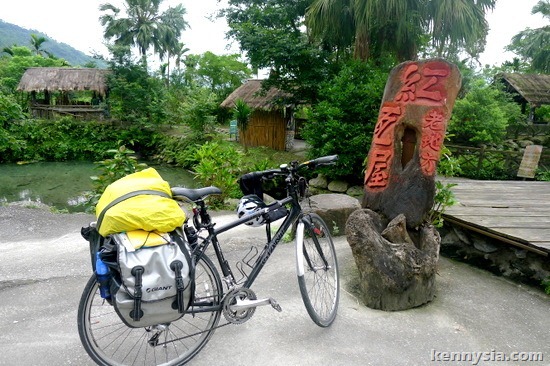 Cifadahan Cafe is run by a talented Ami artist who carved all the sculptures in and around his very pretty restaurant.
One of their most famous specialties is called ???? – literally, hot stone steamboat.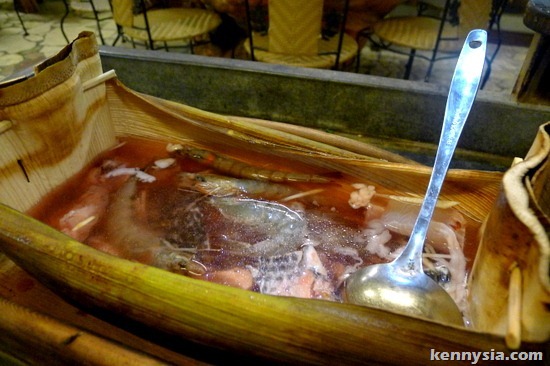 What they do, is take a large betel-nut leaf and fold it into a bowl. Inside are raw fish, prawns and some local veg I couldn't recognize.
Next, the chef took out some hot stones that were pre-heated to 1000 Celsius and dropped them right into the betel-nut leaf bowl.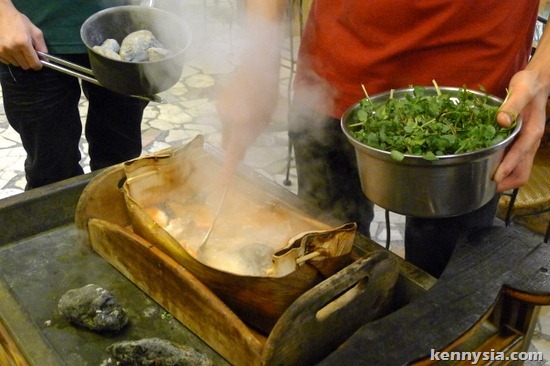 As you can expect, the water began to sizzle and produced quite a lot of steam. It was almost like a flambé – Taiwanese aboriginal style. Meanwhile, the food inside the betel-nut leaf bowl was cooked almost immediately.
The stones were used only once because the minerals are no longer present after they were released into the soup. The chef said cooking this way keep the natural flavours of the prawn and fish locked in.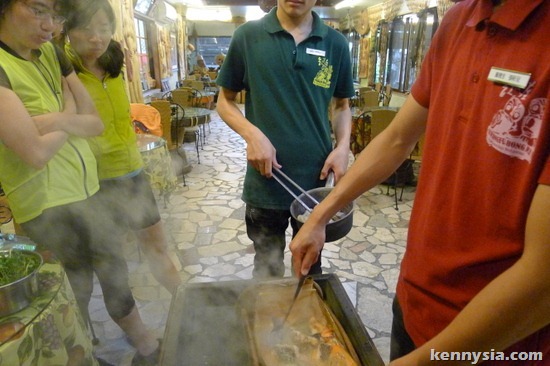 I met two Taipei girls in cycling gear while I was at the restaurant. Since we were the only patrons of the restaurant, we naturally struck up a conversation.
Turns out they were also doing the Taitung-to-Hualien cycling trip, except they took Highway 9 whilst I took the scenic route.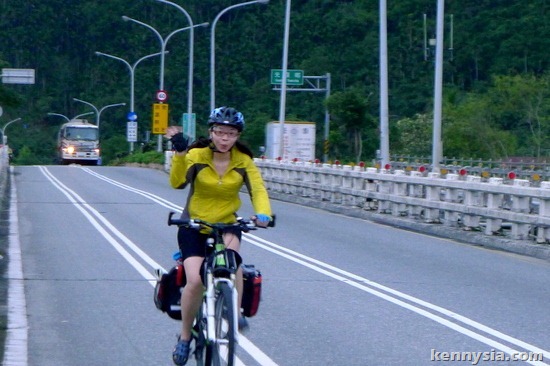 We shared our cycling stories and once again, the two of them expressed shock that I was cycling all alone. By this time, I'm beginning to wonder if Taiwanese have heard of the term "solo travelling" or not.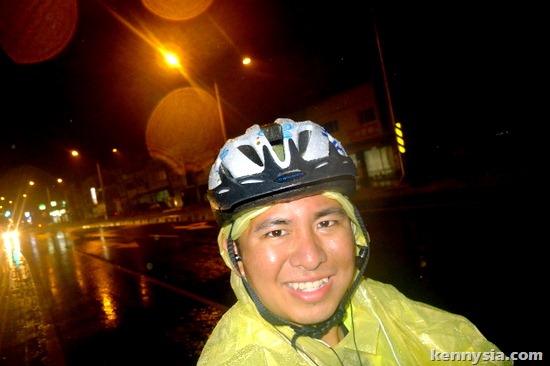 6:30pm
Dusk fell when we left the restaurant. By this time, my good friend – the rain – returned to visit me once again.
It was great to have some company for a short stretch of road, but the two girls stopped at ShouFong Township to spend the night.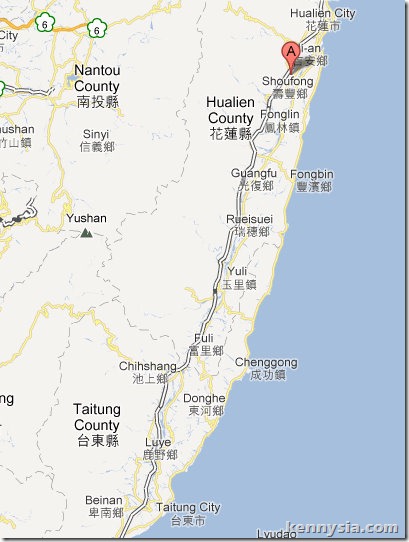 As darkness, temperature and rain all descended upon me, I put my earphones on. For the next 30km, I wanna cycle without distraction.
It was cold. It was rainy. At times, I even wondered why the hell am I doing this.
But at 10:30pm, I finally made it.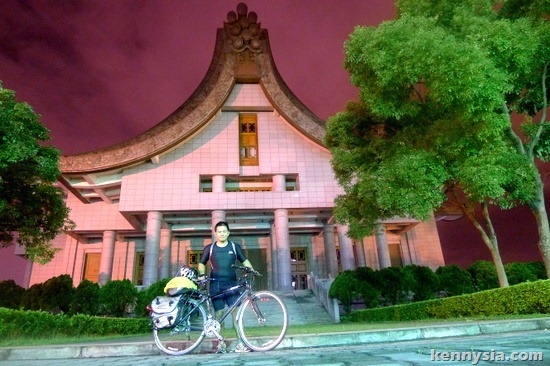 This is ?? HuaLien – gateway city to Taroko Gorge and birthplace of the veritable Tzu-Chi Buddhist Foundation.
Stayed in a quirky hotel called "Your Majesty B&B". Costs me RM150 and is hands-down the most gawdy and over-the-top accommodation I have stayed at throughout my entire Taiwan trip.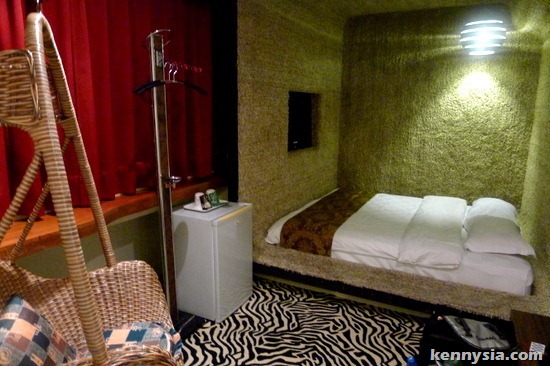 Some more got zebra-print carpet. Don't play play.
I was glad I found a place to sleep in time. Most hotels here closed at 11pm. I needed a place to rest before cycling up the Taroko Gorge the next day.
Gotta appreciate the deep bath-tubs in my room the soothe the sore muscles.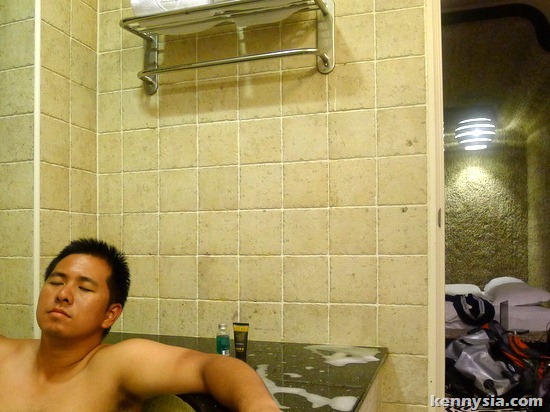 After riding 100km in one day, I think my butt can make do with some pampering. 🙂