I tell you ah. Last time, chocolates cost only RM1 for one whole bar. Today, Chocolates cost thousand ringgit over and is so advanced that you can use it to make phone calls.
Technology sure has come a long way.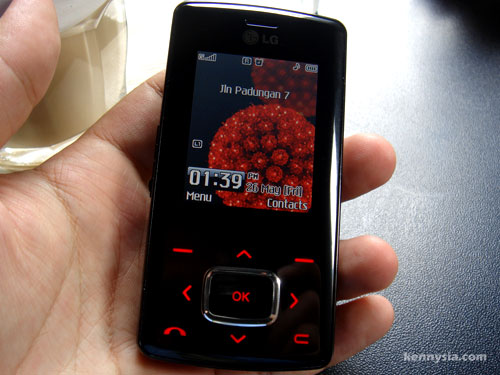 I'm of course talking about LG's latest foray into the sleek and stylish fashion phone market – the LG Black Temptation Series 'Chocolate' Phone.
Like most people I tend to favour European-made phones, preferring Nokia, Sony Ericsson and Motorola over Samsung and LG.
This however, is different. If you haven't yet caught on to the hype, the LG Chocolate (also known as LG KG800) is dubbed as the latest mobile sensation set to take on the world by storm.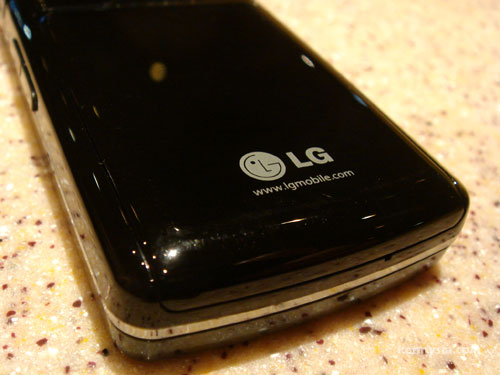 That is no exaggeration. Already 400,000 units have been sold in Korea since its launch. If all indications are true, the Chocolate's signature red glowing keypads will soon be illuminating clubs and restaurants across Singapore and Malaysia.
Make no mistake about it. This is one helluva sexy phone. It is arguably the best-looking phone in the market today and you would WANT to show it off to your friends – something I've been doing since the moment I got it. This review unit is courtesy of LG Mobile Malaysia.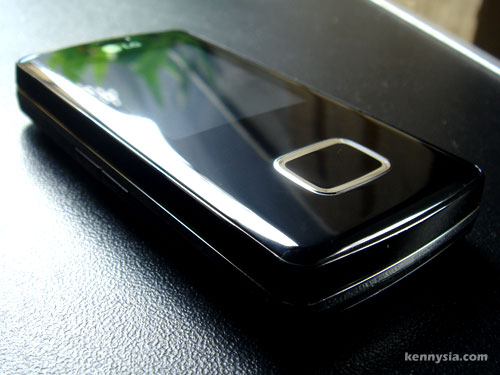 With its elegant black exterior, you'd be forgiven if you mistake this as an MP3 player on first glance.
There isn't any protruding buttons visible on the front; even the LCD screen blends unsuspiciously and seamlessly into the face of the phone. The end result is a minimalistic, PSP-inspired design, accentuated only by the silver rim on the centre of the phone.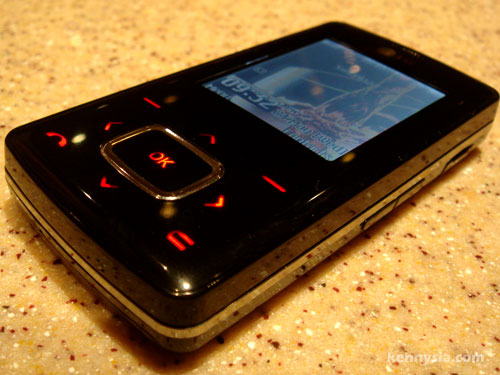 Press a side button or slide the keypad open and the phone comes alive.
The 2″ 256K colour LCD screen on the LG Chocolate is crisp clear and the smouldering red touch-sensitive keypad is the epitome of the phone's cool factor. To use, just give it an effortless touch. It does take some getting used to at first, but I can't get enough of it after a while.
This is the first time a heat-sensitive keypad is incorporated into the design on the phone, and I'm sure this has set a precedence in phone design that will be repeated many times in the future.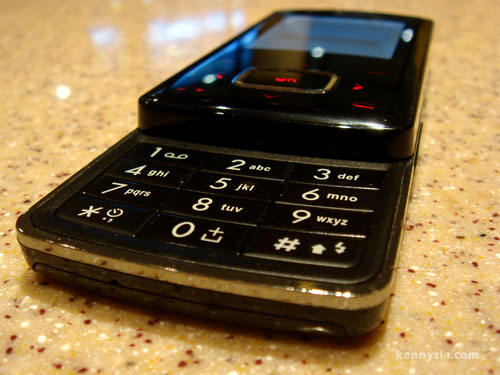 Slider phones seem to be the trend these days and LG has implemented it flawlessly. Opening and closing the keypad is one smooth motion. I like how the sliding mechanism satisfyingly "snaps" into place when activated, a feeling that can only be described as… orgasmic. 😉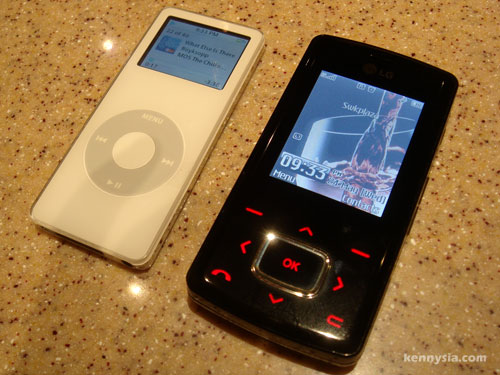 The size of the Chocolate is only slightly bigger than two iPod nanos, making it extremely small and forgettably light at 83g.
Slim, sexy yet solidly built, which makes it the closest thing next to Jessica Alba.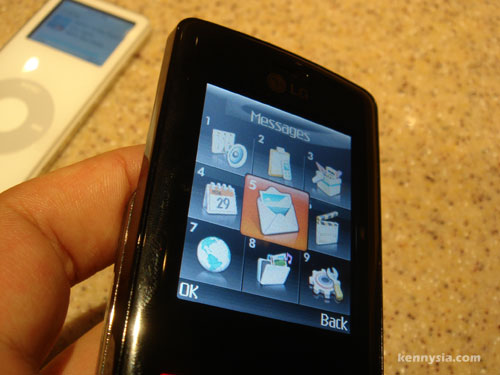 Feature-wise it isn't as jam-packed as its rivals though all the basics are there. Call quality is excellent and texting is fairly intuitive. Battery life is 2 to 3 days on moderate usage, less if you're using power applications like the camera or MP3 player. Then there's GPRS and Bluetooth for connectivity, and a Java backbone to run your fancy little games and apps.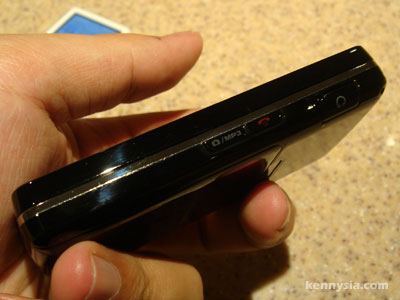 The MP3 player, camera and video camera features are activated by a button on the side of the phone. The 'hang up' button is relocated here instead of on the touch keypad to prevent accidental hang-ups when answering phone calls. There's a flap covering a multi-purpose port for charging, headphones and USB connection to the computer.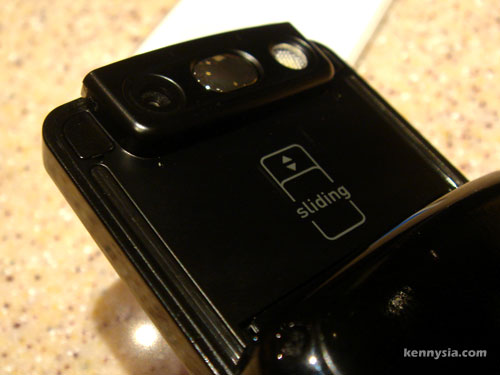 The embedded 1.3 megapixel camera works like a charm. It even comes with an inbuilt LED lamp to illuminate your subject at night. 128MB of onboard memory should be more than enough for the vast majority of people.
Personally, I'm surprised at how good the pictures turn out.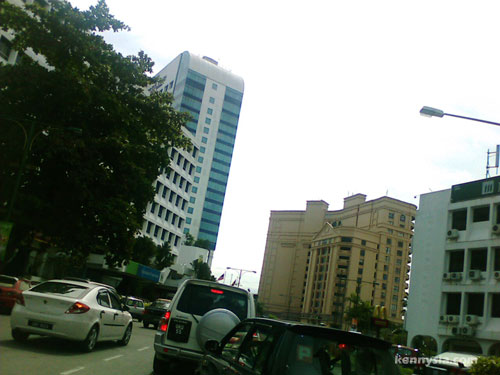 All in all, love it!
If you're looking a swanky phone with a decent multimedia package, then the LG Chocolate is definitely one desirable candy that's guaranteed to turn heads. It's black, red, very shiny and one sexy-looking phone to crave for.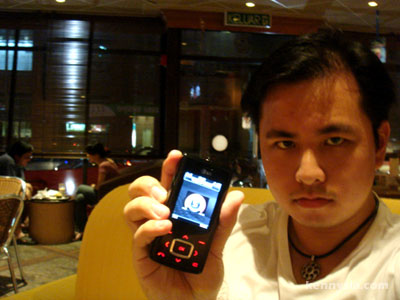 The only downside is that this droolworthy Chocolate not edible. Just thought you might wanna know in case you took a bite at it and got disappointed at the taste.
LG Chocolate will burst into the market in a nationwide launch covering 9 cities from May 29 at KL, and is expected to fetch a price tag of around RM1,500. Sweet.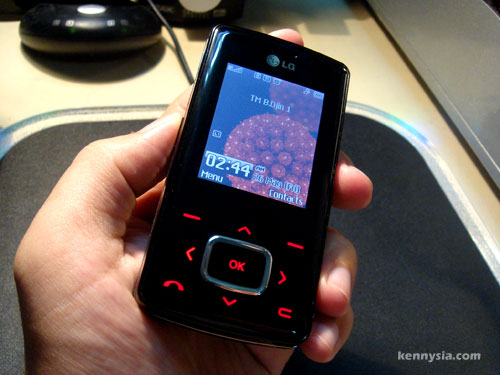 Mmmm… Chocolate. 🙂