Update #1: Curtis replied.
Update #2: 'Su Ku Kia' in my language means 'Silly Boy'. Nothing malicious. Something 8-year-old kids would use to insult each other.
Curtis Gropp has been following my blog for quite some time now. He's always faithfully leaving comments eventhough he's one of those who falls outside the category of "kennysia.com's expected audience".
I used to be naive enough to believe that the average kennysia.com reader is likely to from Malaysia, Chinese, and somewhere between 15 to 35 years old. But after learning that even my stupid blog was routinely mentioned in Harvard University's Global Voices Online, I think I'll believe in just about anything.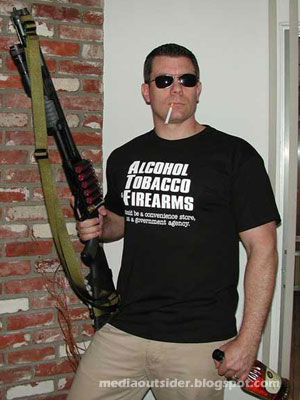 Curtis is nothing like my stereotypical kennysia.com reader. He is 39 years old, an ang moh, hails from Huntington Beach, California, a proud and patriotic American, a former marine, and apparently a Hong-Kong action movie aficionado.
A few weeks ago, Curtis left a comment in one my entries.
I'd like to have a Chinese name. How do you say "8-inch penis"?

Posted by: Curtis G. at June 9, 2005 12:54 AM
To which I replied:
Curtis G, hey I enjoy giving out Chinese names! Anyway in Chinese, "8-inch penis" is called "Su Ku Kia". But I doubt you can pick up any Chinese girls when you go "Hi! My name is Su Ku Kia." Chinese girls aren't used to that kind of straight forwardness you know?

Posted by: Kenny at June 9, 2005 03:25 AM
Fast forward a few days later. I completely forgotten about what I said to him, and I was puzzled as to why he signed off differently nowadays.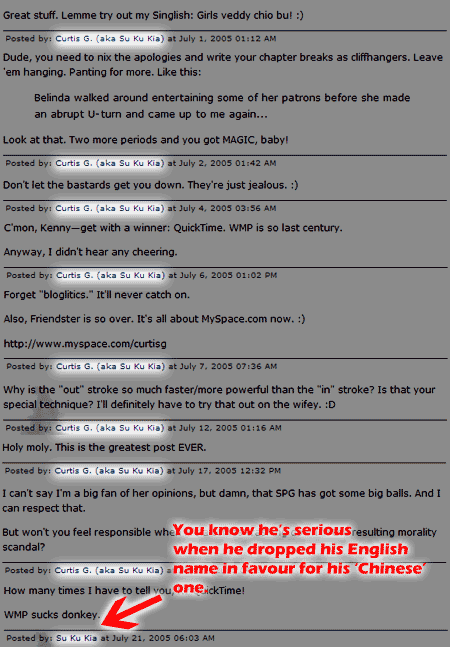 He even went as far as to use his newfound Chinese name to comment on other blogs.


Oh dear. What have I done?
Should we tell him or should we just let him suffer in silence?