Shal Sagan is an independent music artist homegrown in Kuching, Sarawak.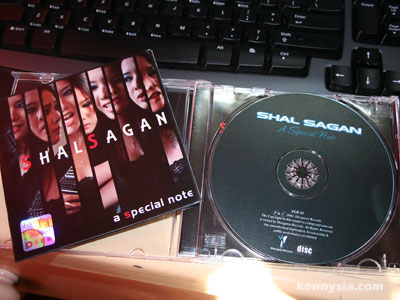 I wrote about meeting her and her mate Brandon Juan at the Rainforest World Music Festival some time ago when JoyceTheFairy was in town. Prior to this I have heard of her though I never had the chance to listen to her music. Coincidentally, I bumped into them again at Bing the Coffee House last week. Brandon invited me to come to her gig on Sunday, so I figured why not.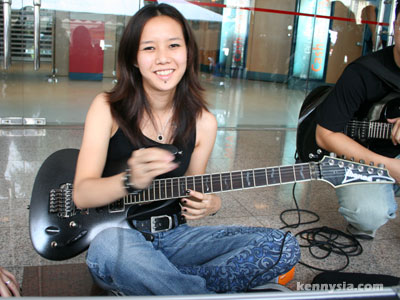 For a 22-year-old, this fair-skinned beauty sure has accomplished a lot for herself. Shal Sagan has got some serious talent and I mean that in every sense of the word.
Get this – Shal doesn't just sing. She wrote all her songs, composed all her songs, plays lead guitar, co-produced them, and on top of all that, started her own record label Shzogawa Records to distribute her music. And she did all these when she was just 21 years old.
When I was 21, I was still sitting in front of my computer play The Sims.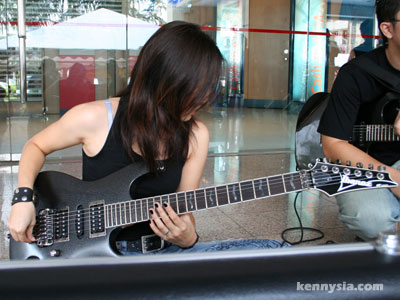 The gig was held at Somerset Gateway as part of a charity carnival. The bands performing that day were great but too bad the event was poorly organised. For some silly reason the organisers put the stage right in front of entrance to the condomnium, which means every now and then you get residents walking behind the performers to get to their suite, as you'll see in the video clips later. Its very annoying.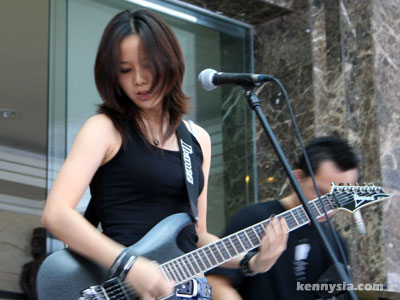 It's then Shal Sagan's turn to go up there and do her thing as I readied my digital cameras and did my thing.
Halfway through her performance, I encountered a Freaky Fan Incident. Yes, I encountered it, not her.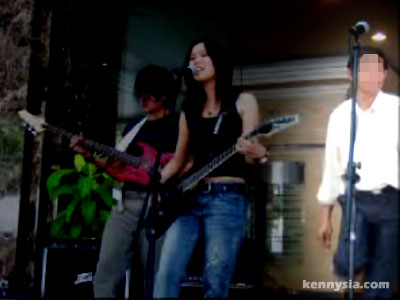 A middle-aged man in his 40s or so (shown in this picture here) emerged from inside the building, walked past the stage and handed me a small folded note.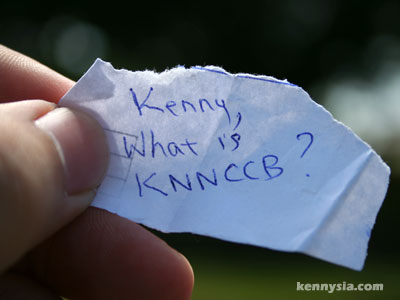 I looked at him quizzically and he smiled at me before walking away.
Now I don't know if he's the one reading my blog, or if he's just playing messenger and passed me the note from someone else. But, guys! If you do happen to bump into me, there are less freaky ways to let me know you're kennysia.com reader you know? Like, for example, "Hi Kenny, I read your blog. Nice to meet you!"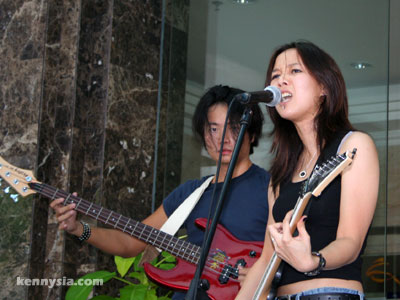 Anyway, back to Shal Sagan.
Shal and band performed 4 songs from her debut album. They opened with Death's Fatal Kiss and finished with a Green Day/Good Charlotte-inspired Newsflash, both of them uptempo rock tracks. In between, she sang a slow alternative track Message in a Bottle (think Smashing Pumpkins) and ballad track Just Fine, my favourite song from her album.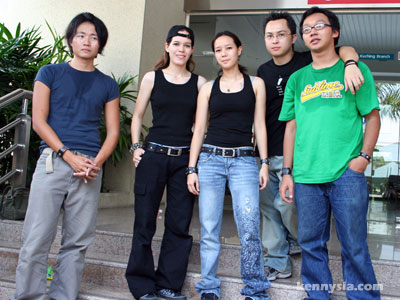 Shal Sagan sounds a lot better live than my camera can apperciate, but here are the videos anyway (in MOV format, Quicktime Player required).
– Death's Fatal Kiss video
– Just Fine video
– Message in a Bottle video
– Newsflash video
Samples of her songs can be downloaded from CD Baby. Pay attention and reflect on the lyrics as they are often the best parts to her songs.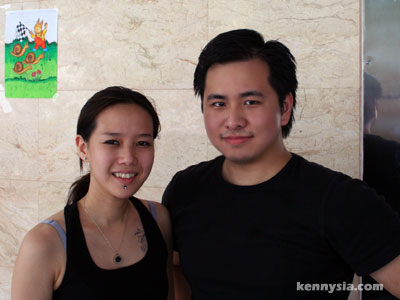 Shal Sagan was nice enough to give me a copy of her CD. To show her my appreciation, I created for her a music video of her song 'Just Fine'. Try to spot my Freaky Fan in there.
Download music video of Just Fine, crappily produced by kennysia.com
– Low Res (17MB, WMV)
– Hi Res (33MB, WMV)
– Hi Res (alternate link) (33MB, WMV)
If you like what you hear, you can purchase her album from Tower Records if you're in Malaysia, buy online through CD Baby, or just e-mail Shzogawa Records directly at orders@shalsagan.net.
Support our local indie music industry. 🙂