The Kuching Festival Fair is a month-long food, trade and cultural fair held annually at the Dewan Masyarakat (Civic Hall).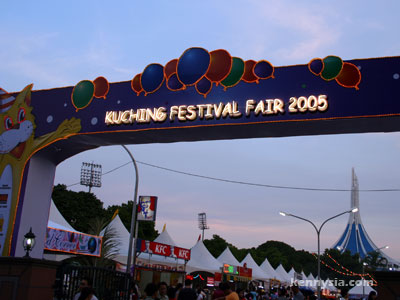 The event has been going on 17 years now. I remember I used to attend the event as a kid together with my late grandmother. I vaguely recall the dimly lit footpath, the wide range of local food, the hustle and bustle of the crowd that's so characteristic of the Festival.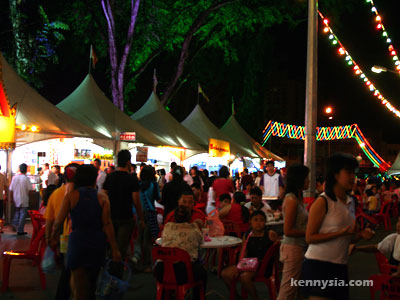 But that was 10 years ago. For 8 of those years I've been attending the very boring and expensive Perth Royal Show instead, so when I heard about the Kuching Festival happening I dragged my saliva-soaked ass there as soon as I could.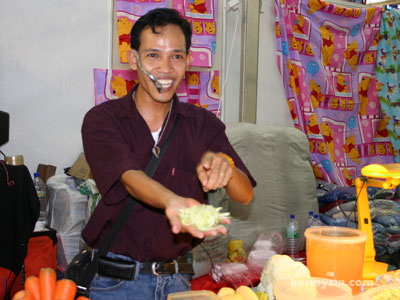 The fair at the Dewan Masyarakat comprised of a food fair, a trade fair and a forgettable garden show. There's also a stage for performances, but those performances are more like visual and aural torture for me.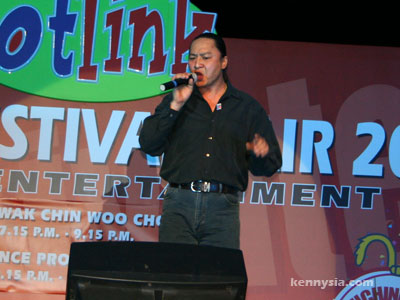 They actually introduced this guy as Kuching's Dong Li Huo Che aka Kuching Train Station. Hopeless!
The trade show is very typical. Blenders, cleaning agents, blenders, knives, blenders, CD repairer kits, blenders, blenders, more blenders… However, I did notice a few interesting items on display, such as the most kiasu hi-fi system in the whole world…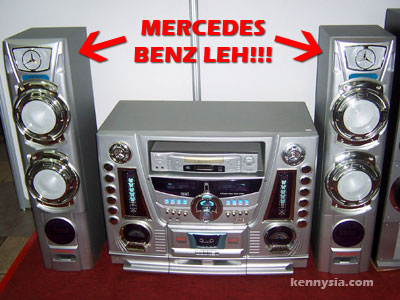 A model recruitment agency…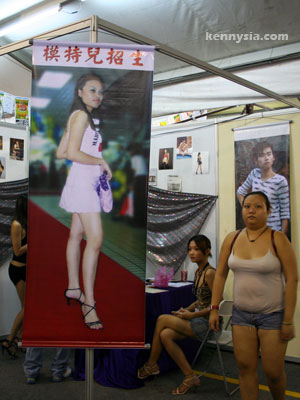 Ah Lian fashion at its best…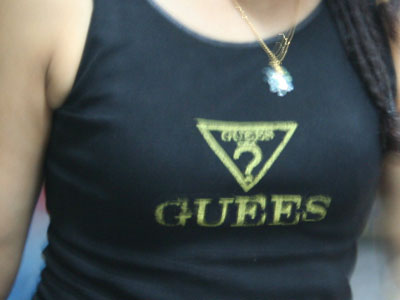 There's a lot of stalls whoring credit cards, all offering free annual fee, free gifts, free entries to competitions and so on.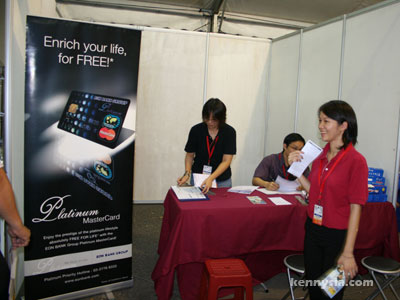 I signed up with all of them and bagged their free gifts just for fun. Let's see how many credit cards I'll have after 3 weeks.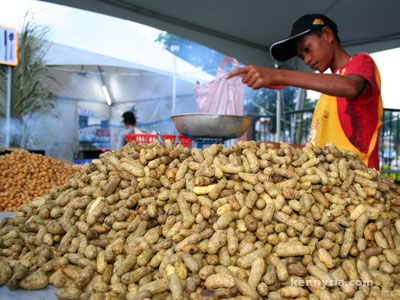 The main attraction of the event is obviously, the food. I wasn't disappointed. By my estimation there's probably about 200 food stalls and 1,000 different menu items, all at very reasonable prices.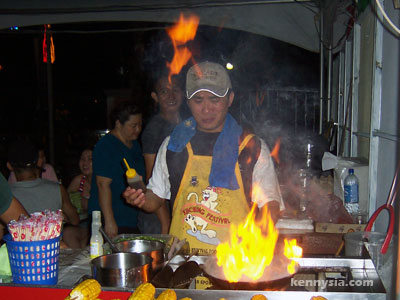 Let's take a tour and look at what's on menu shall we?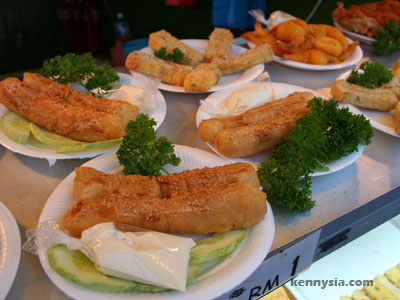 This is salad yew-tiaw. Yew-tiaw is some sort of deep-fried bread that's crispy on the outside and soft on the inside. This version here has sesame seed sprinkled on top and is served with mayonnaise. Its good, though its not the best.
The best one is right here.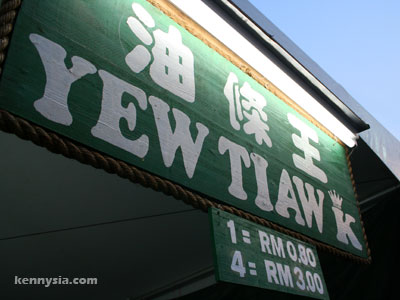 Declaring themselves 'king' in front of 200 other stalls is a pretty bold move. They'd better be able back it up. And lucky for them, they did.
JUST TAKE A LOOK AT THE SIZE OF THAT THING.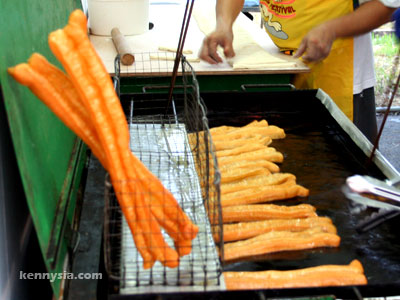 HOLY MOLLY! Those yew tiaw are almost as big as my dickonosaurus! But mine is still bigger okay.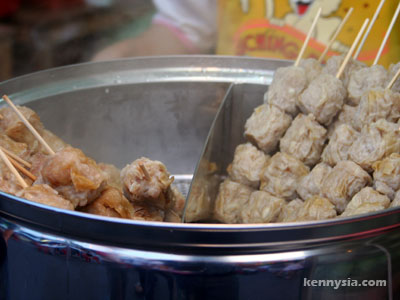 This is sio-bee in Hokkien or siew-mai in Cantonese. Its warm and savoury. Its not unlike the sio-bee you can find in dim sum restaurants all over the world. Personally I think those are a little too soggy for my liking.
I think Kuching's sio-bee is still the best, and Kuching's best sio-bee by de facto is at the Open Air Markets. People here watch them grow from a humble dirty little stall infested with rodents, into a successful franchise they are today selling sio-bee all over Kuching. For them, next stop, THE WORLD.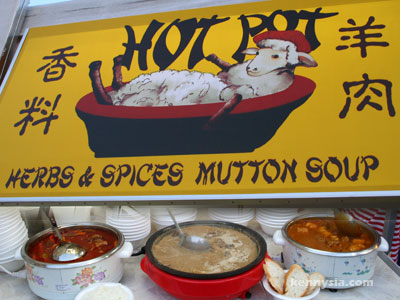 I thought this signboard is a little bit mean. How could they make it look as if the lamb is there enjoying a nice hot bath? So wrong.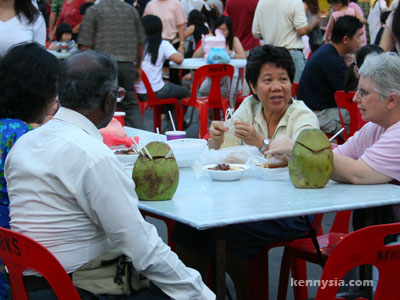 Everybody loves coconuts.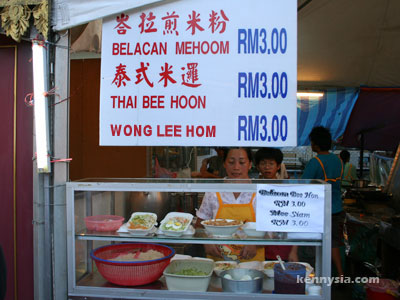 More local favourites. Belacan Bee Hoon (or 'Mehoom' in that picture) is one of my favourite Kuching dish. Its rice vermicelli soaked in a Malaysian prawn-based soup and paste called 'Belacan'. So smelly, yet so tasty.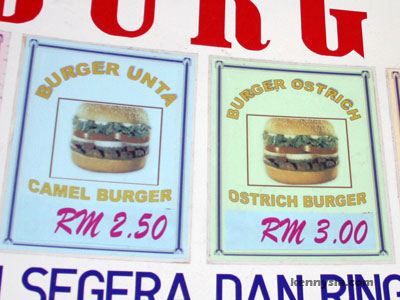 To be honest, I don't know how the hell they could come up with stuff like these. I don't think anyone knows what camel or ostrich meat tastes like anyway, so even if they put bullshit in there can call it ostrich burger, people are still gonna eat it.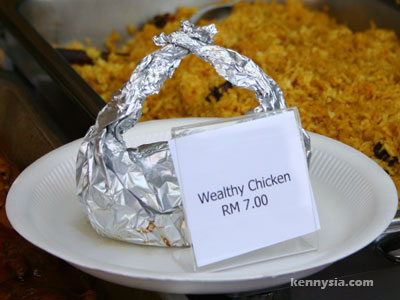 Wealthy chicken. Heh! This proves one thing correct. It doesn't matter how much money you have – if you're chicken, you're dinner, baby.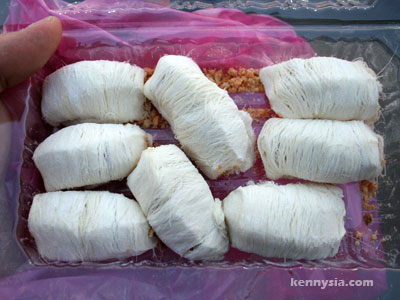 These are actually called 'Emperor Dragon Whisker Sweet'. I swear it sounds a lot more elegant in Chinese (Long Xu Tang). They taste like soft Australian nougats, except there's granules of peanuts in there. Sweet, sticky and delicious.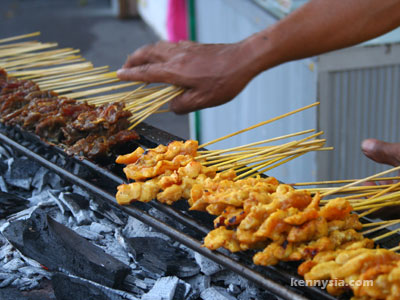 Malaysian satays. An eternal favourite worldwide.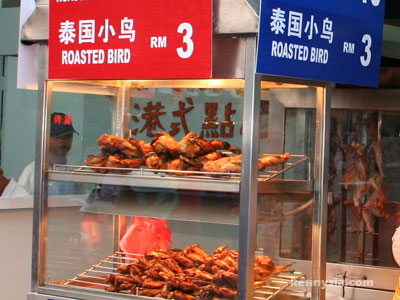 Jeff Ooi's little birds went to Thailand and never came back.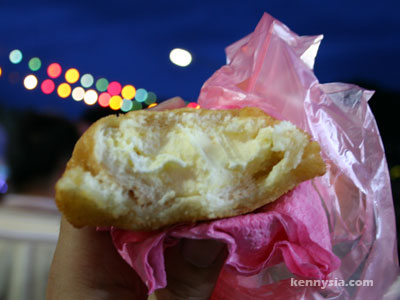 This is fried ice-cream. I have no idea how they did it, but they managed to deep fry a scoop of ice-cream without making it melt. The result is an ice-cream with a warm outercrust and an icy cold inside. Only RM1.50. Its heavenly.
Too bad you cannot print it out and eat it.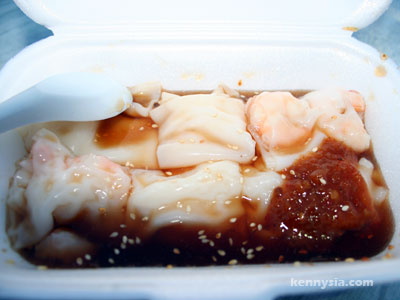 This is a dish with a fun name called Chee Cheong Fun. Chee Cheong in Mandarin means 'Go clubbing'. So this dish sounds like 'Go clubbing very fun'. In reality its just some boring prawns wrapped by very thin steamed skins. Nothing fancy about it.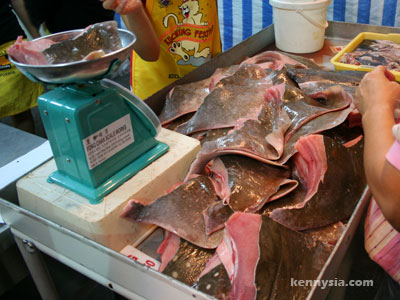 Barbequed sting rays at only RM25 per kilo. You choose the size and portion of the sting ray, they barbeque it, served on a piece of banana leaf over sambal and lime. It'll turn out like this.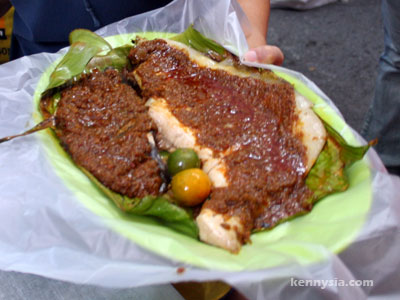 Its spicy and sour at the same time. I had this for dinner.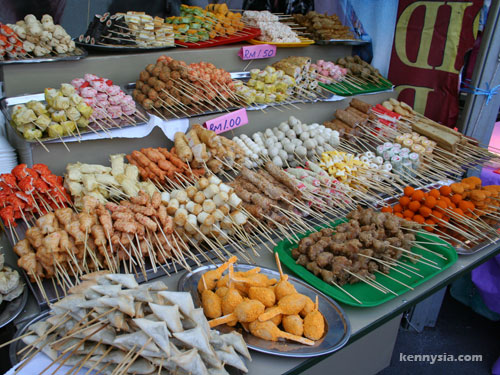 This is lok-lok. They're basically fish balls and other stuff skewed on a satay stick. You can have them cooked in hot water or deep fried, then served with your choice of chilli, oyster, or satay sauce. Its yummy.
Please don't lick your computer screen.

I spent less than RM20 that night and I had such a total feast I need to roll myself back to my own car. There's so much food to try, its truly gonna take one whole month for me to fully sample each and every one of them.
Note to self: Postpone diet plan till end of August.
Alright I'm done. You may wipe your drool off your computer monitor now. 😉

Angel Pet wants her fellow Singaporeans to donate to President's Star Charity. I'm only doing this for her 'cos she's got pretty eyes its the right thing to do.