I suffer from an incurable disease. Its called Datuknametoolongitis.
Datuknametoolongitis is typically characterised by the sufferer's inability to remember people's names in full, especially that of the Datuks. At best the sufferer can absorb the first three syllables of the name. Anything after that becomes pure gibberish.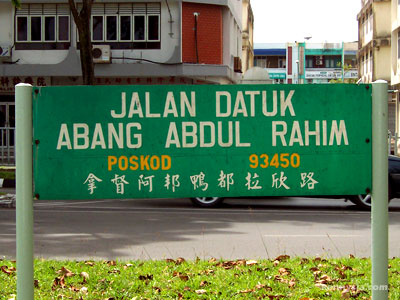 Kuching, my hometown, is a city that discriminates victims of Datuknametoolongitis, like me. I'm saying that because 70% of the roads here are named after famous people, most of whom are Datuks, some of whom have unfortunately very very long names.
Many years ago I remember studying at a Chinese Primary School along Pineapple Road, not too far from Palm Road. I remember a Jalan Keretapi (Train Road) near Wisma Saberkas. There's even a oddly named Jalan Central Barat (Central West Road), which is a strange fusion of Malay and English words.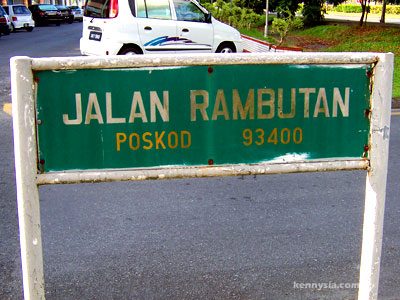 I then travelled to Perth Australia where I stayed for eight years growing accustomed to road names like Hay Street where I do my shopping, and James Street where there's good bubble tea, great coffee and fantastic pubs at night. The longest road name I've came across is probably Sir Charles Court Promenade, which is more of a walkway on campus than a road.
And then I return to Kuching. And I experienced reverse culture shock.
There are some changes with Kuching that I can put up with. Then there are some that I cannot.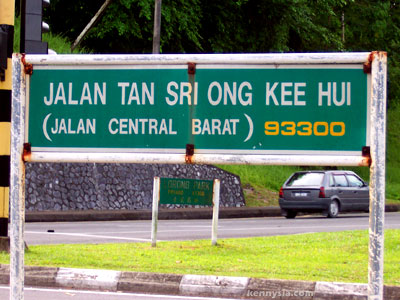 Gone was Jalan Central Barat, its now Jalan Tan Sri Ong Kee Hui. Gone were Palm Road and Jalan Keretapi, its now Jalan Tun Ahmad Zaidi Adruce.
I have nothing against their names. I don't even know who the heck they are. But I'm sure at one point or another probably they did something so magnificient the city council decided to name a road after them. Then another. And another. And one more. Then another…
As if remembering long and complicated names wasn't difficult enough for sufferers of Datuknametoolongitis like me, I was further punished by having to differentiate between two almost similar road names.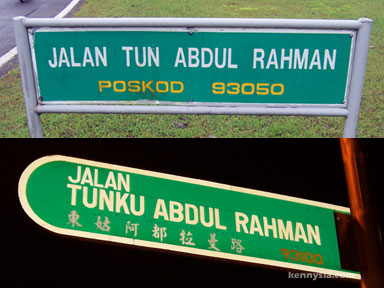 Its not that I didn't try remembering the names. Believe me, I tried. Its very difficult to know the names by heart. One trick I find very useful is to associate the road name with food.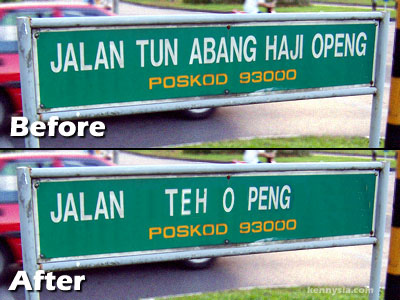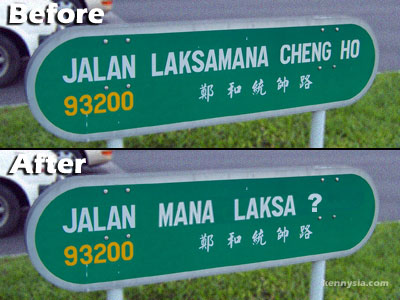 Its too bad some road names are a bit too long for me to use that trick.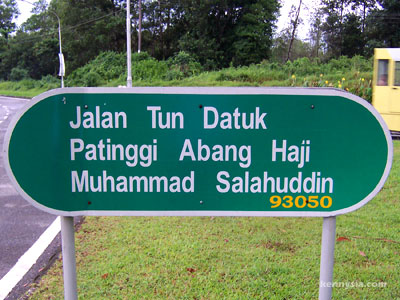 Then they start naming the roundabouts after these famous people.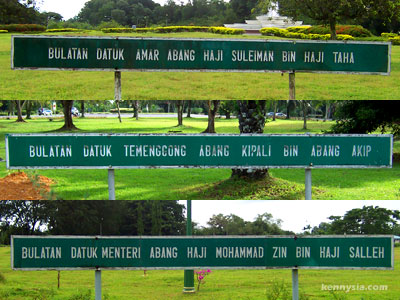 How bad can this get? I thought those were the worst, I have no idea.
Until I came face to face… with The Mother of All Long Roundabout Names.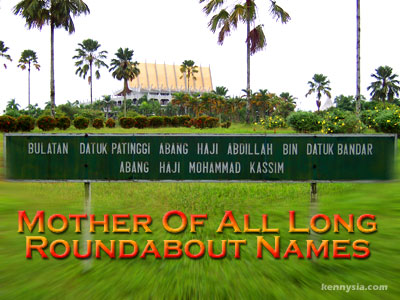 Its not true what they said about Sarawakians living on trees you know. That's not what we're famous for.
We're famous for giving road directions to tourists.
Angmoh tourist: "Excuse me, how do I get to the library?"
Local Sarawakian: "Oh that's easy! From here, go along Jalan Datuk Abang Abdul Rahim, turn right at Jalan Tun Abdul Rahman and drive until you reach Bulatan Datuk Temenggong Abang Kipali Bin Abang Akip. Do a 3 o'clock towards Jalan TunKU Abdul Rahman, make a left at Jalan Tun Ahmad Zaidi Adruce and drive until you reach the roundabout at Bulatan Datuk Amar Abang Haji Suleiman Bin Haji Taha. Exit at Jalan Tun Abang Haji Openg, then turn left at Jalan Laksamana Cheng Ho. Soon you'll reach Bulatan Datuk Menteri Abang Haji Mohammad Zin Bin Haji Salleh, where you should turn into Jalan Tun Datuk Patinggi Abang Haji Muhammad Salahuddin until you arrive Bulatan Datuk Patinggi Abang Haji Abdillah Bin Datuk Bandar Abang Haji Mohammad Kassim.
The library is just on your left. Any questions?"

Angmoh tourist: "Huh?"