If you wanna talk about who's the King of Chinese Pop, you can bring up names like David Tao or Lee Hom.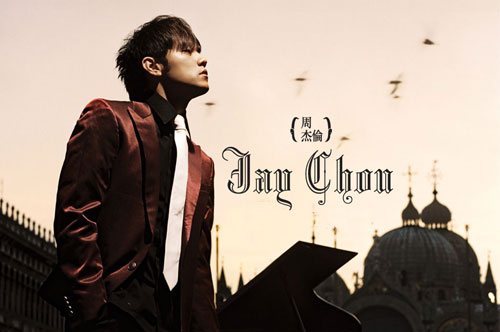 But, love him or hate him, the ONE name that you cannot go past is Jay Chou.
Like many others, Jay Chou's lyrical mumbling goodness has got me hooked since many years ago with his breakout single Ke Ai Nu Ren. Since then, I've been listening to his music frequently and following his album releases with anticipation every year.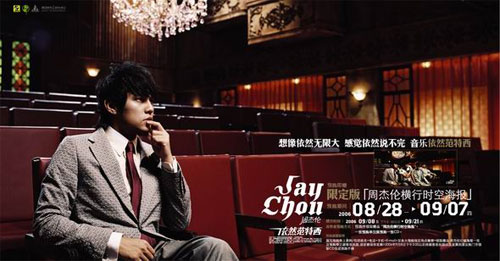 In a climate of commercialised C-Pop where good looks take precedence over musical talent, and where every Chinese artiste is contented just singing translated versions of Western songs, Jay Chou's originality is refreshing. In fact, he's the only Chinese artiste I truly idolize. I like that in every new album of his, he is always ready to explore new themes while staying true to his roots.
His knack of fusing East and West, hip hop and pop, and the sounds of everyday elements like ping-pongs into music is always creative and is gonna stay interesting for many years to come.
It's hard to find fault in this musical genius. Perhaps the only thing I hate about Jay Chou is that the lyrics to his songs are too cheem.
There is absolutely no chance in hell anyone can sing his songs during karaoke sessions.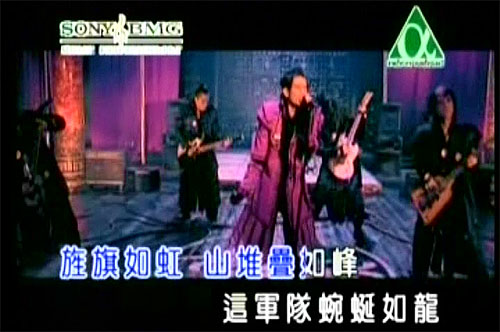 Heck, I need to look up dictionary ten times just to sing his one line.
It wasn't just singing he's good at. The Taiwanese superstar recently ventured into acting and directing, releasing his first self-directed movie Secret to surprisingly critical acclaim. Even after Initially Disappointed with Jay Chou's acting abilities, I have to take my words back after watching Secret. By that time, many guys are already throwing their arms up in air wondering "Is there ANYTHING Jay Chou can't do?!"
But that's not what this blog entry is about today.
My blog entry today is to tell you that Jay Chou is coming to town.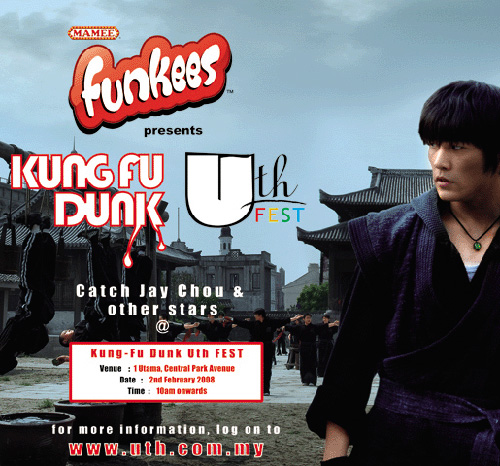 In conjunction with Jay's new CNY movie Kung Fu Dunk, the good guys over at Mamee Funkees are bringing the Chinese King of R&B over for the Kung Fu Dunk Uth FEST.
The event is happening this 2nd February from 10am onwards at the 1Utama Central Park Avenue.
Jay Chou himself will be making a special appearance, and highlights of the Fest will include fashion shows, hair shows, kung fu shows, singing contests, t-shirt design contests, basketball challenges.
What's more? There'll be stage appearances by many well-known local personalities like Karen Kong, Liang and… KENNY SIA.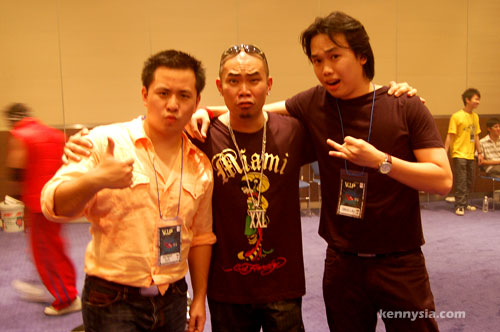 Yes, I'll be down Saturday next week for the Kung Fu Dunk Uth Fest.
Come 2nd February, 1Utama is gonna be more crowded than a Hindraf rally because everyone will be lining up to catch a glimpse of me and my coconuts.
Or more likely, they don't really wanna see me and just wanna meet Jay Chou, like me.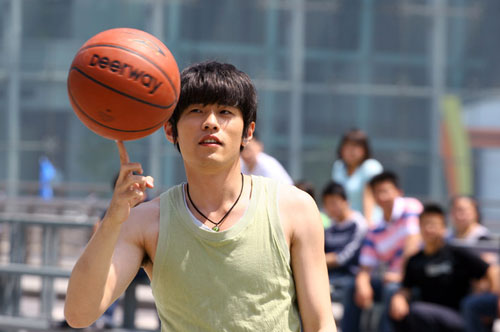 But tell you what.
HOW GOOD WOULD IT BE if you join us backstage chilling out with Jay Chou up close and personal, and avoid the people mountain people sea situation outside 1Utama?
All you gotta do is get those specially-marked packs of the delicious Mamee Funkees and open up to see if you have the winning card. Who knows? You might get lucky, you know? (With the card, not with Jay Chou)
Even if you didn't get to meet the star himself, there's still lots of prizes like LG TVs, Apple iPods and movie passes to drool over.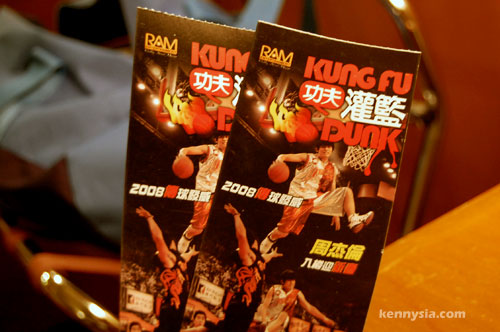 All these is in celebration of the 7th February release of his new movie Kung Fu Dunk.
In this cross between Shaolin Soccer and Slam Dunk, Jay Chou plays a kung fu fighter trying to locate his real family. Instead he was duped by Eric Tsang into joining a basketball team, where he met and fell in love with Half-A-Twin Charlene Choi.
It's an action comedy, which is gonna be interesting because I never saw Jay Chou as a comedian. His role in all his previous movies is this calm, quiet, introverted guy with only ONE facial expression.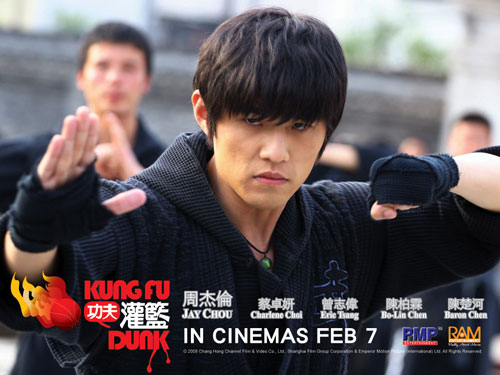 The -_- expression.
We know Jay Chou has got that cool solemn factor nailed down, so let's see if he could do himself proud as a comedian.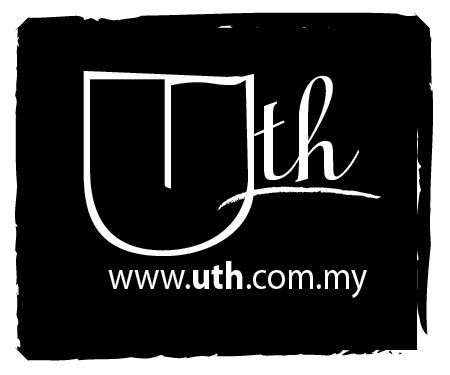 For more info about the Kung Fu Dunk Uth FEST, log on to uth.com.my. You could also join this Be Funky With Funkee contest, and it's wacky fun.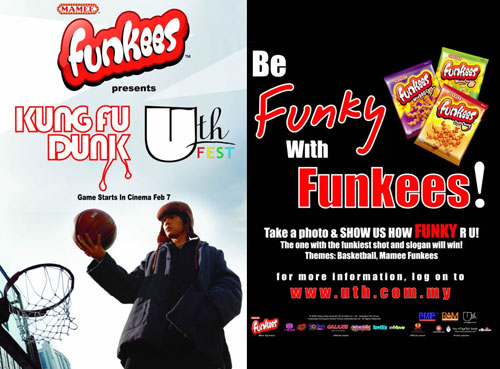 The instruction on the website says to grab a basketball and a pack of yummy Mamee Funkees, then "take a photo and show us how FUNKY you are!"
"The one with the funkiest shot and slogan will win!"
I tried.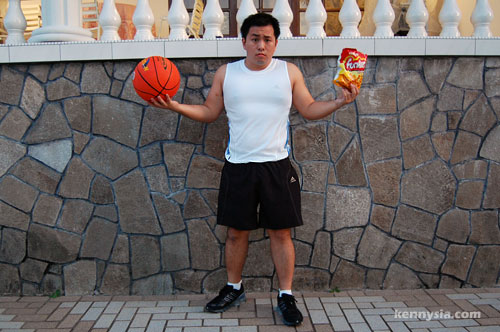 I failed. Miserably.
I think the most difficult part is figuring out what "funky" stuff I could do with a basketball and a packet of Funkees.
What exactly does "funky" mean anyway?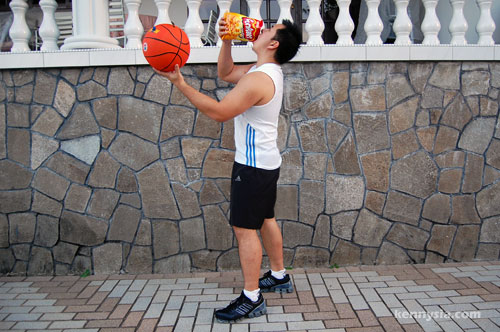 Does this look funky to you?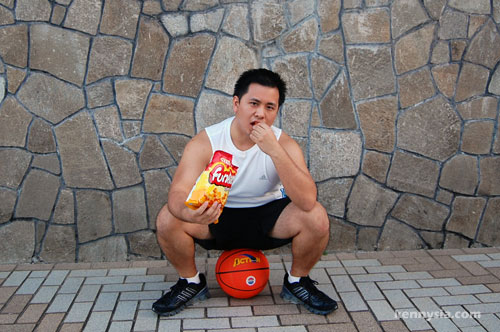 Does this look funky to you?
Wait, I have an idea.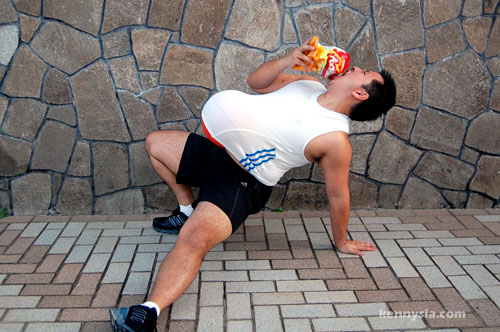 Does THIS look funky to you?

Blog Plug Of The Day: John Mayer (yes, the singer) actually has a pretty interesting blog. You'd think he's just gonna write about music and crap, but he does other funny stuff as well.
This is a parody he did called 2Guys1Cup, obviously influenced by the original video involving 2 girls and 1 cup (which I seriously think you should not watch).