I know I hadn't updated for quite a while.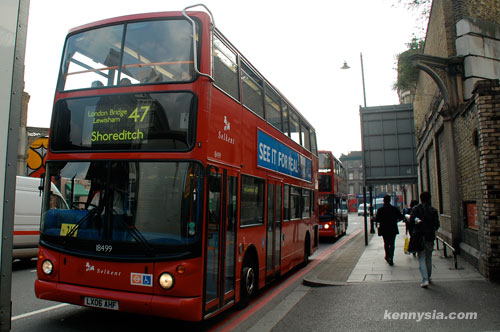 The whole trip to London has been quite a frenetic mix of drama and fun. I'm enjoying every minute of my time over here, although I certainly wished I had a bit more free time to explore the sights of this amazing global city.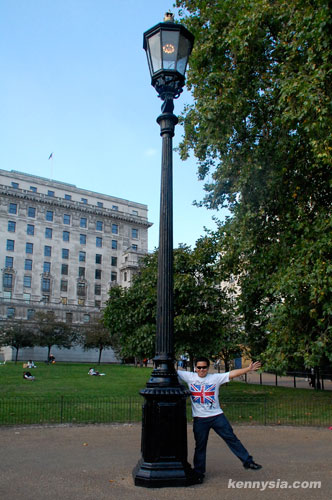 I'm staying in the borough of Islington, north of the city and not far away from Arsenal Football Club's Emirates Stadium. Unfortunately Arsenal is not playing at their home stadium this weekend. Of course, that certainly didn't stop me from wearing my Chelsea jersey around town, although I must say I got a few angry stares from diehard Arsenal fans in the pub.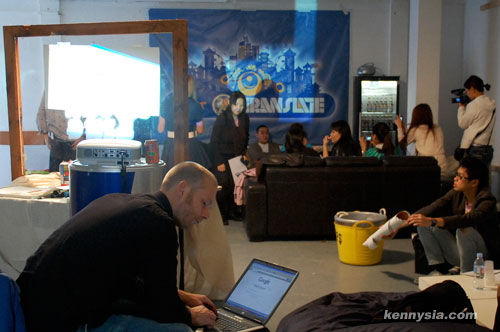 Preparation for Tiger Translate is more or less going well underway. The Eastern and Western artists met each other on Wednesday. For the past two days they have been working hard on their Tiger-themed East-meets-West collaboration.
The up-and-coming artists representing 'The East' are Udisha Kumar from India.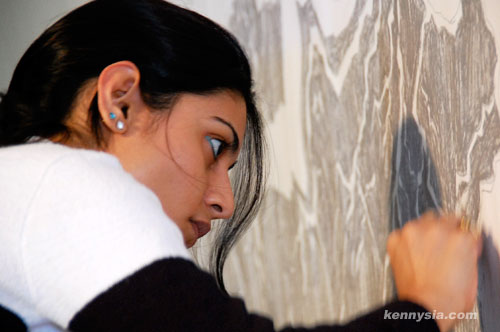 Ben Qwek from Singapore, Mee Wong from China.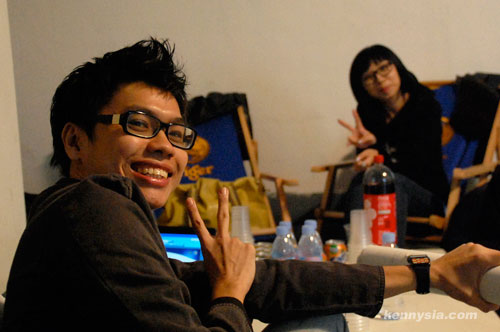 Badral Bold from Mongolia.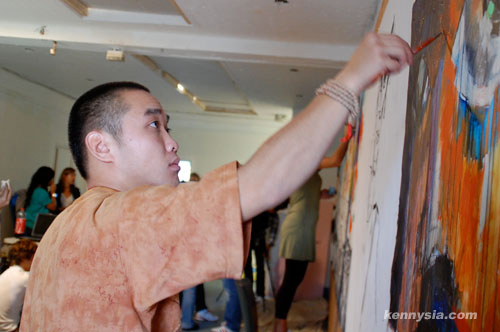 And Andreas Kjaergaard from Denmark.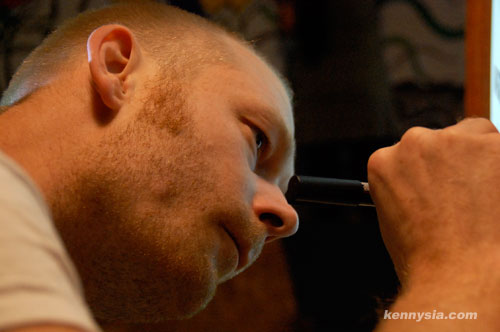 Representing 'The West' are Pure Evil, best known for his dark sarcastic artwork.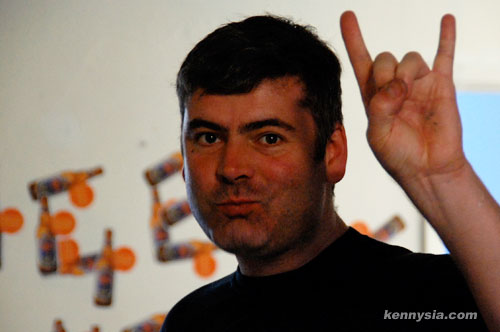 HiCalorie, with his signature cute and cartoonish illustration.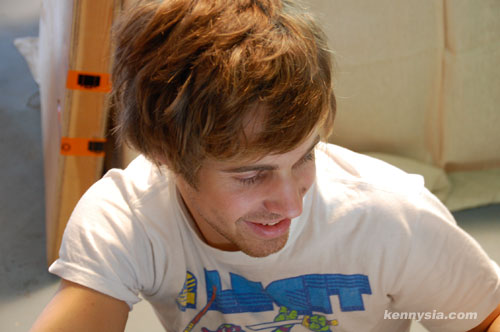 Street graffiti artists EINE and Monorex. all of them high profile underground artists from the UK.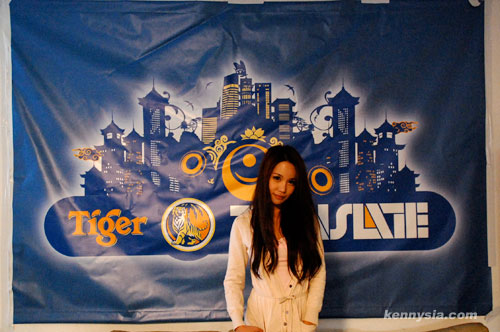 A number of media from Asia has descended onto London for Tiger Translate. Myself and Dawn Yang both specially flown in to blog about the event.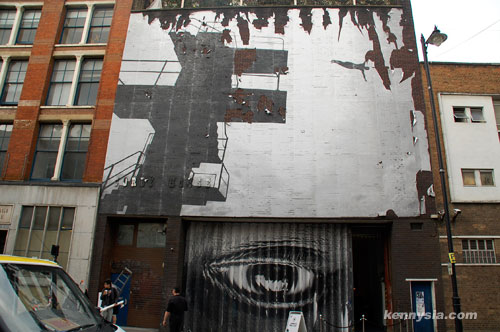 London, in particular the suburb of Shoreditch, seems like the perfect city to host this arts event. The art scene here is simply amazing. Londoners have a great admiration of creativity and people who can think outside the box.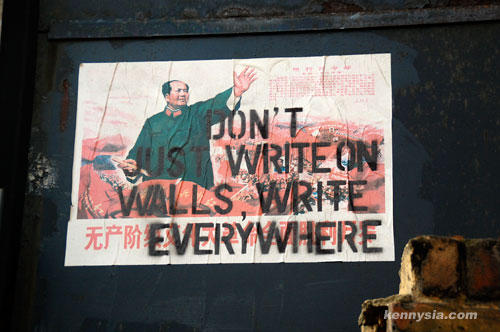 Over here, street art is appreciated, not abhorred. Wall graffiti is seen as a form of beautification, not vandalism. A lot of credit goes to the artists themselves, who spent immense amount of hours and effort creating these images.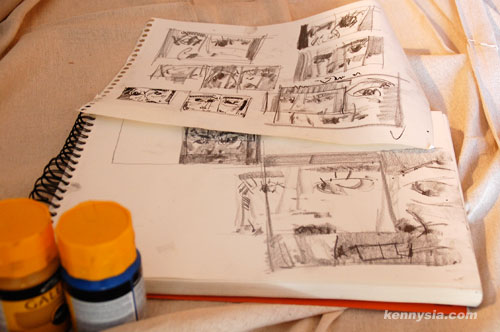 Yesterday, we had a first-hand look of the artists beginning their collaboration work.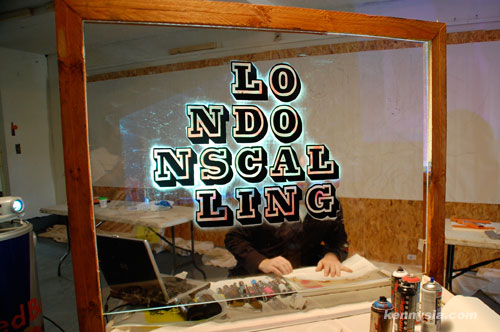 EINE (UK) and Andreas (Denmark) were given a piece of transparent perspex glass. On one side, EINE painted "LONDON'S CALLING" with his signature block letters. On the other side, Andreas contemplated how to respond to that.
"If London is calling, what is it saying?"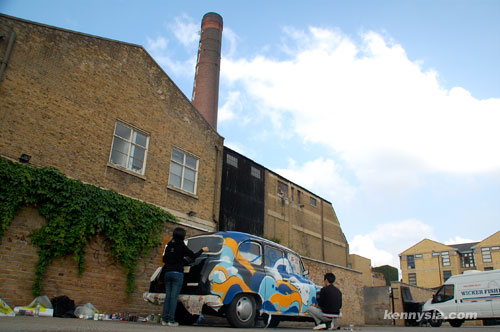 In a carpark not far nearby, Pure Evil (UK), Ben Qwek (Singapore) and Mee Wong (China) began transforming the iconic London black cab into a product of their collective imagination.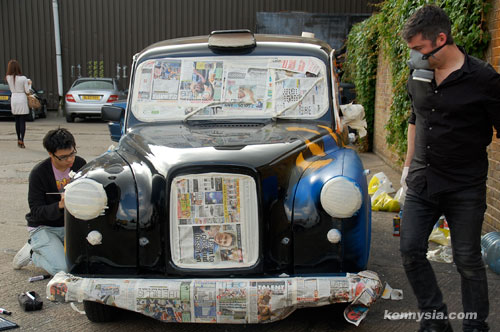 The tree has very different artistic style. Pure Evil style is always sarcastic and sinister. Ben's artwork involves a lot of fairies and mythical females, whereas Mee Wong's style is always somewhat feminine and sexual.
It's gonna be interesting to see what the black London cab is gonna turn into.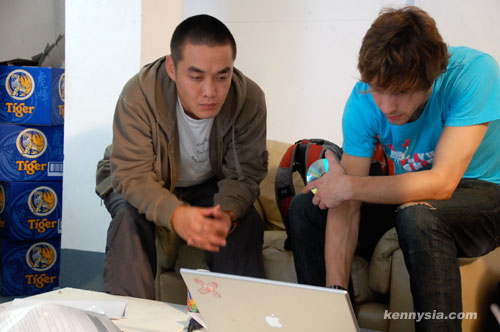 Meanwhile, back in the studio, the clash in artistic differences is becoming even more obvious.
Badrul (Mongolia) and HiCalorie (UK) were showing each other their portfolio. HiCalorie showed Badrul all the cute cute cartoons that he has done.
Badrul on the other hand, showed him this.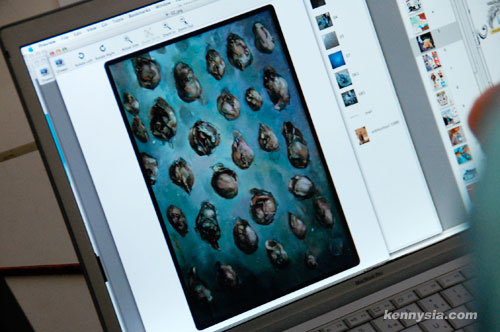 Badrul doesn't speak any English. But through a translator, he explained to HiCalorie that the picture is a collection of female vaginas, which he represented as sea shells!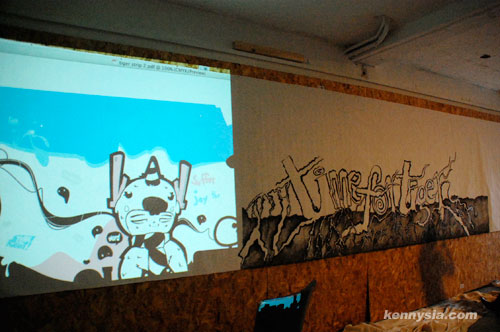 Together with Udisha (India) and Ben (Singapore), this long piece of canvas will eventually be morphed into a work of art.
With four artists from four drastically different background working on it, no one knows for sure what the finished artwork is gonna look like.
Is Badrul gonna draw a vagina on HiCalorie's teddy bear? I dunno. But we shall see tomorrow night at the main event! 😛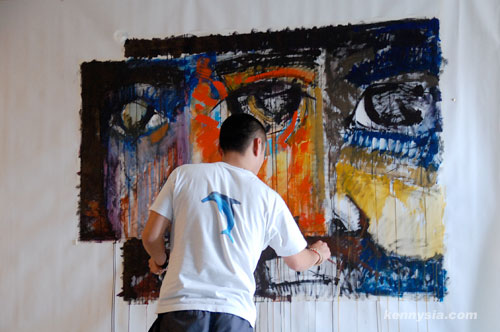 One thing for sure, these artists are incredibly talented. And for unknown artists like Badrul or Mee Wong, Tiger Translate just might be the platform they're looking for, to propel their artwork from hazy obscurity into mainstream acceptance.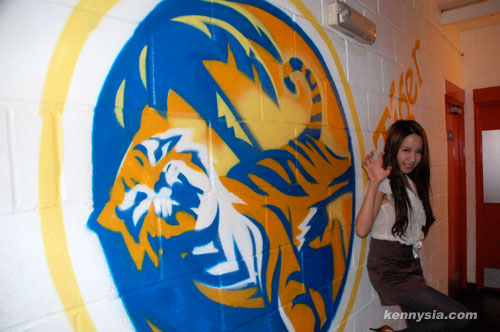 And that's what I call, a good Tiger! 😉

AD: Ever you heard of 88db.com? It's a website that lets you post free ads to sell your stuff online.
Right now, they're running this contest that could win you a Sony PSP weekly if you're their chosen finalists. Even better, if you posted the most creative ad of the lot, the Bali holiday grand prize is yours.
Don't worry if you're stuck for ideas. Just check out how KY sells his koi fish here.