Every inch of my body was lovingly sucked and kissed at Eve Spa.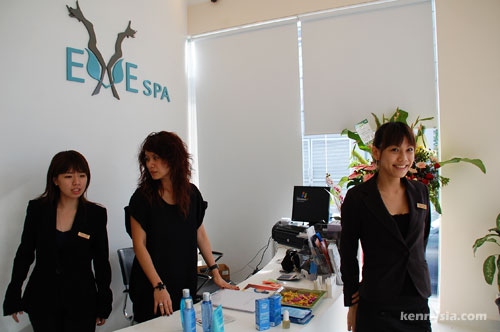 Unfortunately, it's not what you think.
I'm talking about the fish spa phenomenom, which seems to be all the rage these days. Three years ago, if you had told me you paid RM40 to dip your legs in an aquarium for some fish to nibble on your dead skin, I'd say you're crazy.
Other people pay RM40 to go restaurant eat fish, and you pay RM40 to let the fish to eat you?
What is wrong with you?!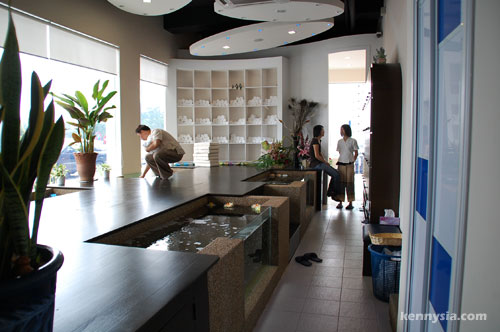 But fish spas have invaded day spas across the country. In fact, they are so common place nowadays that people are no longer satisfied with fish sucking dead skin off their feet. Dead skins are found all over the body, so what about them?
Suddenly, somebody came up with the idea of having a full body fish spa.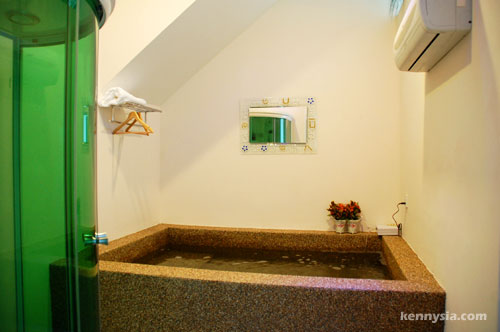 Eve Spa in Solaris, Mont Kiara is one of the better places in KL offering full body fish spa. It was a hot afternoon and since I had the whole day to myself, I also signed up for their interestingly named Thalgo Seaweed Wrap, which costs RM298 per session.
Ordering a "seaweed wrap" sounded like I'm asking to be made into a sushi. But from what I know, it's a luxurious spa treatment that normally costs quite a lot in 5-star hotels.
First, for my full body fish spa, I was ushered me into this private bathroom by a lovely attendant named Selena. Inside this room, is a bath tub filled with a bunch hungry Ching Ching fish.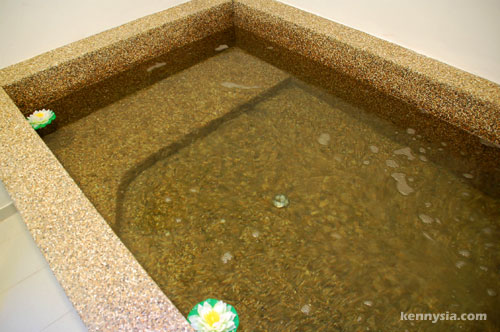 The fish were all extremely happy to see me.
And why not? It is not everyday they get somebody my size entering their bathtub. If I listened closely, I bet I could hear them cheer, "Yay! The buffet is coming!"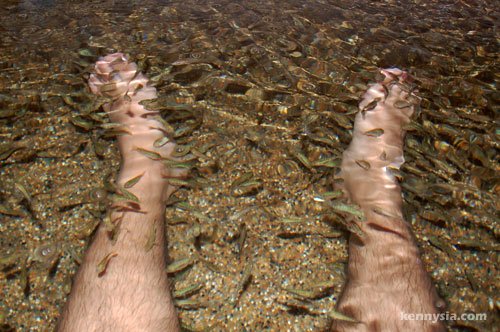 Before this, I had only done fish spa for my feet, so I didn't quite know what to expect. Apparently, or so I thought, I was supposed to strip naked and enter the bathtub. But then, I'm not sure if entering the bathtub naked might bring about some unforeseen issues.
Like, are the fish gonna bite my dick off?
Will I get pregnant if the fish enter my butthole?
And if I fart inside the bathtub, will the fish DIE?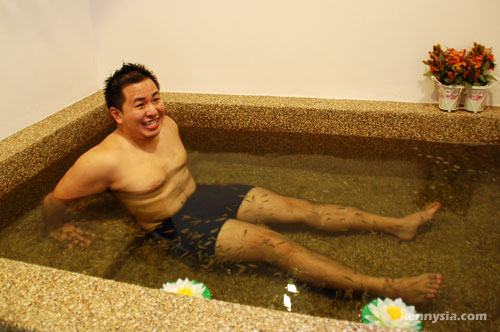 Luckily, all my worries immediately evaporated when I heard Selena said, "Must wear your swimming trunks ok!"
I think my facial expression in the picture above sums up how it felt when I entered the bath tub.
Yes, it was very ticklish. And if you thought having fish sucking on your legs was hard to bear, imagine hundreds of them nibbling ALL OVER your body.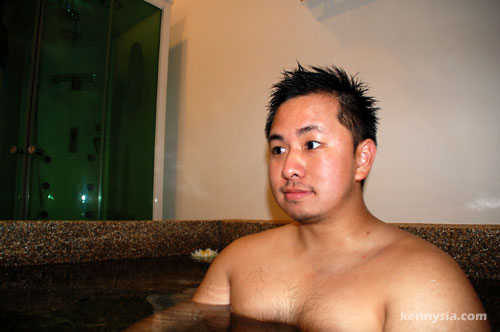 I must have yelled and laughed and screamed so much I lost my all my senses and became numb.
But it was a great feeling. For someone like me who's prone to mild cases of psoriasis (where my skin gets flaky easily), clearing the dead skin once every few months helps my condition.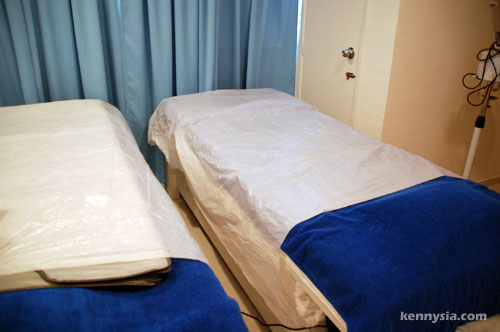 With my body fully exfoliated by the fish from head to toe (except the part covered by my swimming trunk), I showered and put on a bathrobe. I was then led by Selena to the treatment room for my Thalgo Seaweed Wrap.
Again, this was my first time doing a "Seaweed Wrap" so I had no idea what to expect. They said it's for detox and skin-tightening, and God knows I need both of those desperately.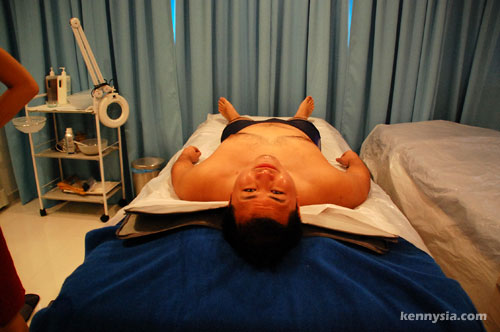 As I lied there on the bed, I wondered if they're gonna bring in big-ass sheets of seaweed and wrap me up like a sushi.
Thankfully, the reality was more merciful.
A LOT more merciful.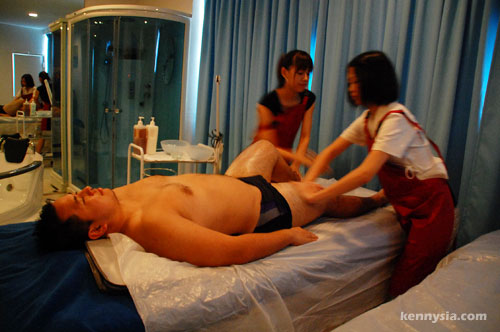 The process started with not just one, but TWO girls simultaneously rubbing some kinda cooling lotion all over my legs, my thighs, my chest, my back. I was in heaven.
Now, most guys in my position would've got really excited at this point and umm… starts singing Negaraku. With their head. Downstairs.
Trust me, it was very hard to control myself, but luckily I maintained myself without any incidences.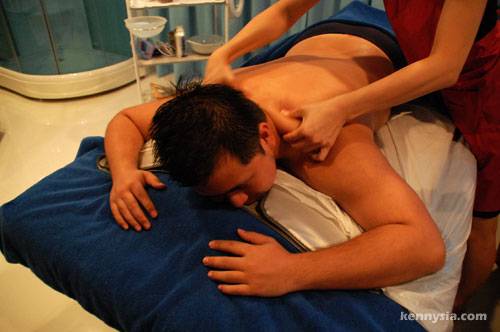 With four soft hands molesting my rotund body , Selena flipped me over and gave me a back massage so soothing that I literally knocked myself out and dozed off into la-la-land. And I slept.
AND SNORED LIKE A PIG.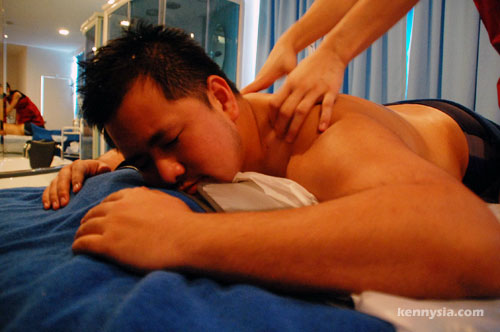 Now, for all you dirty-minded folks out there, sorry to disappoint you but there was no "happy ending" in this massage.
What followed, however, was a pretty weird ending.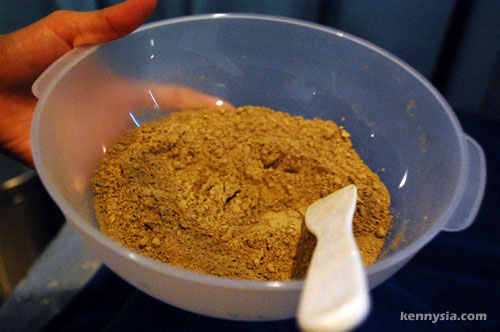 You see, after the massage, Selena disappeared through the door and came back with a bowl of powdery mixture.
"It's the Thalgo seaweed powder," she said.
Of course, it didn't look anything like the seaweed that I had imagined. But after she added hot water, this is what it looked like.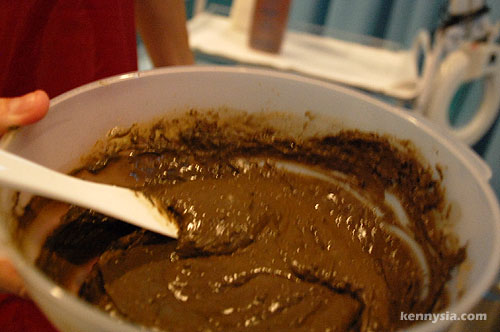 I know, that muddy green substance does not look very appealing. Then again, it is made out of marine algae you see.
To clear up any doubts that the mixture is made from real seaweed, I took a whiff at the bowl and yes, that strong funky smell tells me it can only come from the sea.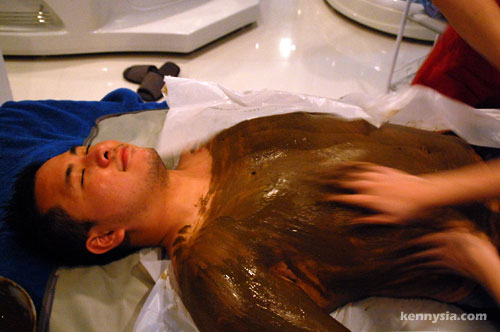 I was told to lie down and Selena proceeded to paint the muddy seaweed liquid all over me.
It was the weirdest thing I had ever done at a spa.
At first I thought I looked like a giant sushi. Then I saw I had so much green stuff on my body that I felt like I was The Incredible Hulk.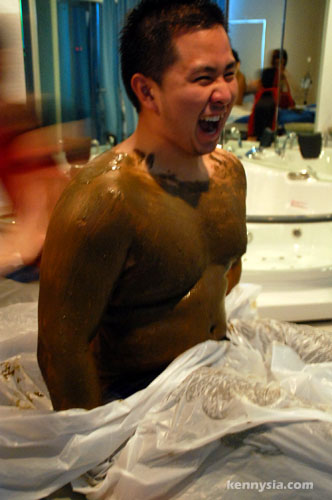 But that was not all.
As if I didn't already look funny enough covered in green seaweed liquid, Selena and her assistant wrapped me up with plastic paper. Already alarm bells are ringing and inside my head, I was thinking, "What are you trying to do!? 'Tapao' sushi is it?"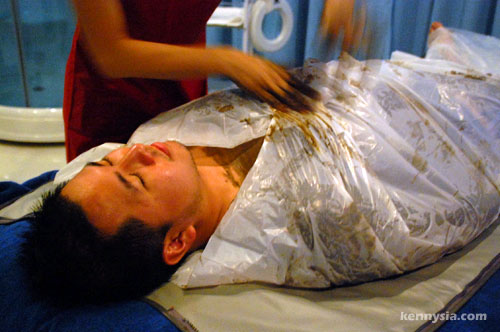 At this point I was starting to sweat quite a bit. But that was not all. The whole process just keeps getting stranger and stranger.
After I was covered in green stuff and wrapped in plastic paper, Selena took up this HUGE aluminium-coloured body bag from underneath the mattress.
She then put the cover over me and zipped me up. Like this.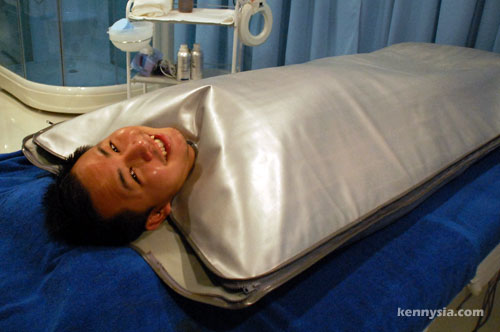 Then she left!
So there I was lying inside the aluminium body bag just laughing to myself thinking, "OI! Is this some kinda joke?"
"What did I do wrong lah! Did I offend someone at Thalgo and this is their way of getting back at me? Or maybe this is Selena's tactic of trapping her customers so they couldn't leave without paying?"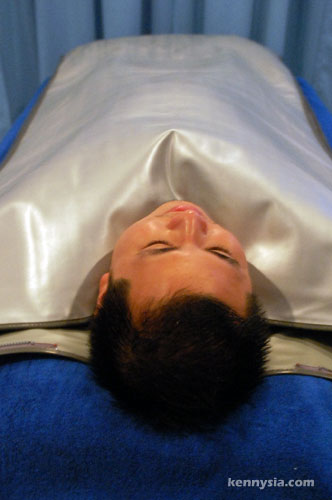 It was the funniest thing ever. I was wondering if Selena had anything more up her sleeves. Until suddenly I felt the body bag beginning to heat up.
It was getting pretty hot. With me inside, the body bag continued to heat up more and more, until it was like hotter than THE SUN.
Okay, maybe not the sun. But my body was being cooked inside the bag and for the next thirty minutes, all I did I was sweat.
This wasn't exactly what I imagined a "seaweed wrap" to be. I was sweating so much I could feel a puddle forming beneath me, and the truth is, I can't help but to think that they were gonna make me into some sorta Kenny Soup.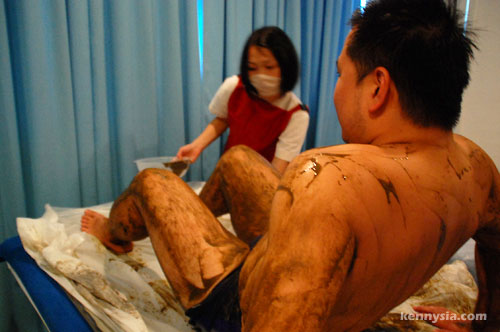 Thankfully, Selena and her assistant eventually returned to free me up from the body bag. By then, I must have sweated out like, A TON.
Whatever toxins that was in my body must have completely flushed out. The best part is, I looked like I just disgustingly shat all over myself.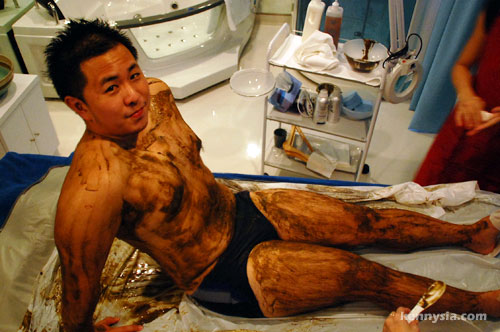 Anyway, shower and a hot herbal tea later, I was finally cleansed and freshened up.
As strange as the treatment was, I actually enjoyed it a lot. No doubt I can feel the difference as soon as I finished.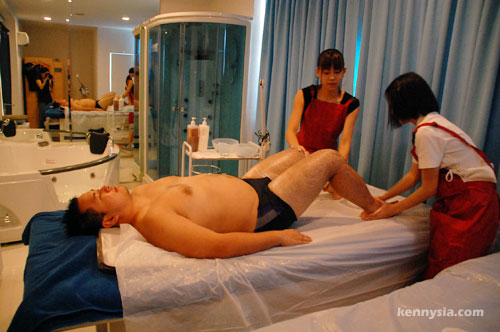 Getting painted with seaweed mud may sound like a odd ritual to some, but it was also one of the most effective spa treatments I ever had. Who knew being wrapped in seaweed could feel so good?
I know, because after 2.5 hours of pampering, I walked out of the spa completely relaxed, re-energised, rejuvenated.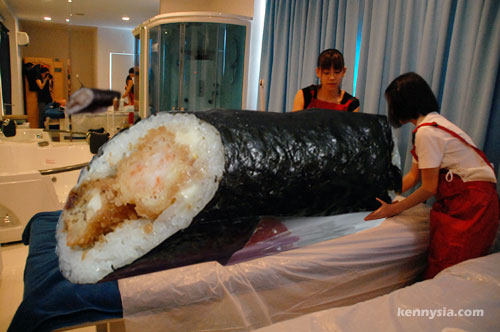 And reborn as one giant sushi roll.

I don't always entertain e-mail requests from students asking me to plug stuff, but this must be one of the better-written ones.
Hillary Chan e-mailed me because she wanna raise funds to help bring Singapore's cyberathletes to compete in the World Cyber Games finals in Germany. She argued that "if ping pong is sports, cyber-gaming should also be sports." Rightttt.