A certain telco company in Malaysia is holding a beauty pageant type contest, aptly named – and don't get me started on this – the 'Leng Lui Hall of Fame'.
Each month, customers can vote for their favourite 'leng lui' (earning the telco money). Customers can even download wallpapers and video clips of the girls (earning the telco money and maybe freaking the girl out in the process).
Not bad a revenue-generating strategy I say.
Anyway, I was looking through this month's contestants when this particular leng lui's profile almost made me puke my coffee out onto my keyboard.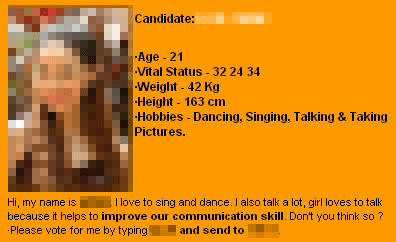 SHE TALKS A LOT BECAUSE IT HELPS IMPROVE HER COMMUNICATION SKILLS!
Waliew! Poor girl.
I think I know what she meant lah, but mannnnn… I can imagine her dinner date to go on forever like this.