The function I attended in KL this past weekend had an Egyptian theme to it.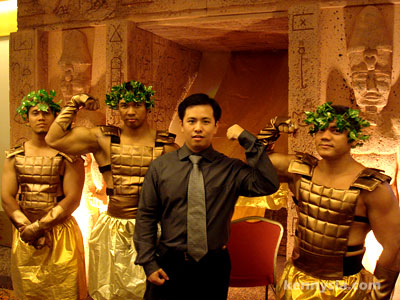 The event organizers did a great job recreating the Egyptian atmosphere at the Sime Darby Convention Centre, decorating the entire ballroom with (styrofoam) hieroglyphic walls and even shipped over some entertainers from Egypt to entertain us in the lobby before the show.
The "Egyptians" spoke suspiciously in a Indian accent. I asked one of them from which ancient city they hail from and he said Subang Jaya, Egypt.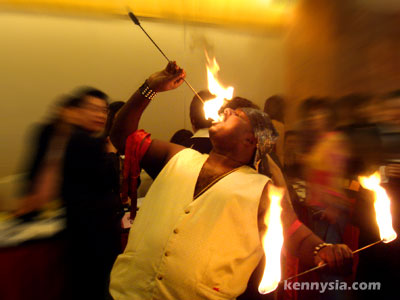 It always freaks me out everytime I watch people play with fire like that. What amused me though was his warning message to us during his performance.
"Please don't try this at home har. You want to try, you can try here. Not at home har!"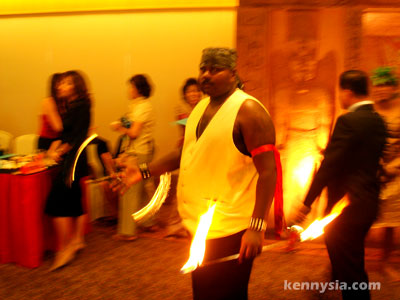 Also on hand was an Egyptian fortune teller, who apparently has the uncanny ability to read into a person's future with the aid of magnifying glass and a plasma ball.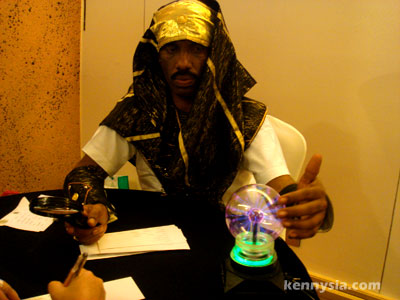 Here's what the Grande O' Ball-Reading Psychic had to say about Kenny Sia.
– "Long life. That means above the age of 80."
– "Very good next 5 years. You can get money suddenly."
– "Very good lady you can get. Very soon. Within 5 years you can get marriage."
– "Very intelligent. Particularly you are very courageous."
– "Following 6 year period. You can expect much more money from sudden change."
– "From 2006 to 2010 – 4 years will be your fortunate period. You will get much more money and within this period you will enjoy your good life."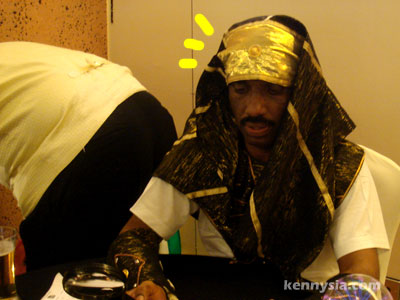 WAH! So nice. But that's like the same as 30 other people's future he read before me.
I thanked the Grande O' Ball-Reading Psychic profusely. Then I put his finger on my left nut while I read into his future.
"One… two… three…. four… five… You will have a very good life, Mr Psychic. You will make a lot of money within 5 years. And according to my reliable Hairy Coconut Ball-O'-Mystery, you are also a graduate of the University of Lick Balls And Bullcrapping. Correct?"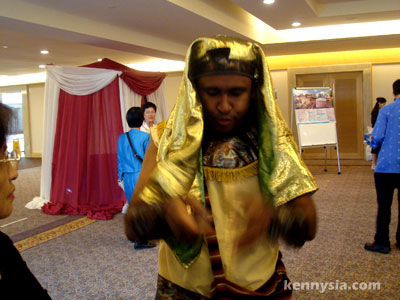 The most entertaining person of the night was perhaps the charismatic Egyptian Magician himself. You may have heard of David Copperfield. You may have seen David Blaine. But have you met David Hassan?
Click the play button to watch the Egyptian Magician in action.

Now, how the hell did he do that?!

"Any can't-miss parties in KL that I should attend?" Among the messages I received after I put up the online free SMS tool on kennysia.com:
anwar imbrahim – "kenny sia, meet me at PUTRA JAYA for some steamy hot action!"
I am very disturbed.