This is yet another very old entry from my trip to KL once upon a time in a land far, far away. I actually completely forgotten about writing this entry until nal1210 made a passing comment to my by e-mail that she saw me before, and she saw me at Nouvo.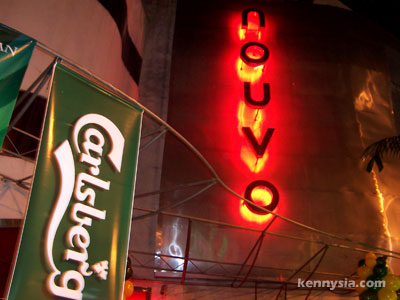 Situated on the corner of Jalan Ramlee and Jalan Sultan Ismail, Nouvo is one of the most popular dance clubs in KL. The sexily architectured building is a landmark by itself right in the middle of the Golden Triangle's busiest nightspot. Nouvo shares the same building with Sangria, a R&B/hiphop club. I ventured down there the night after the PPS Bash to check out the hot chicas the nightlife our nation's capital has to offer.
Coincidentally there's a party going on that night.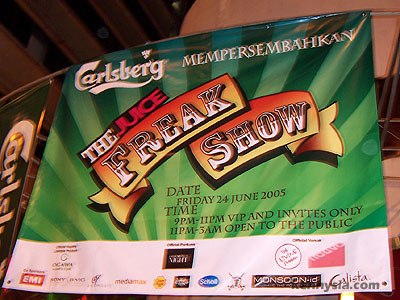 VIPs get to enter for free before 11pm. I got my free invite from Juice Magazine but I arrived 30 mins too late. That 30 mins proved to be costly as I had to pay RM30 to enter the club.
I was kinda loitering outside the club around a bit hoping some kind soul would bring me in for free. But heh, fat chance. I succumbed to the fact that the chances of being recognised was too slim and I paid my way in instead.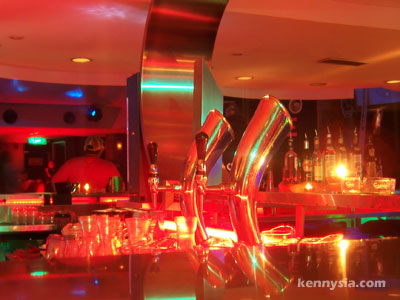 The inside of Nouvo is stylish, clean and elegant. Its very spacious. There's chandeliers and disco balls and the number 3s (its Juice magazine's 3rd anniversary) hanging from the ceiling.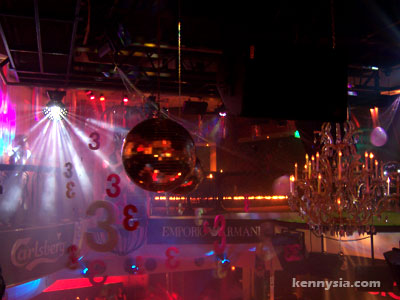 The large dance floor area is located right in front of the DJ booth and comfy lounge chairs are scattered surrounding the dance floor and on the second floor. The setting reminded me very much of Metropolis Perth.
House Music and Drum 'n Bass seem to be the musical theme for the night.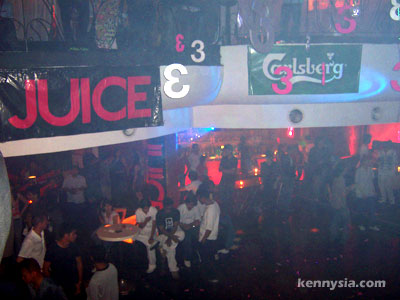 I was disappointed to see that the club was quite empty. Its probably only 40% full. There's no one dancing. People there just seem content enough to huddle around the bars, beer in hand, staring at an empty dance floor. Geez, what's wrong with you people?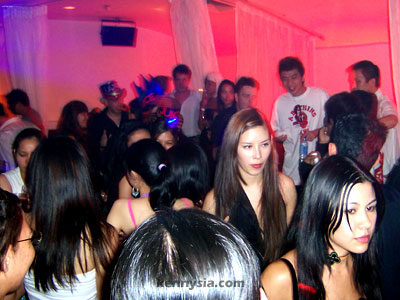 It looks like all the action was in the VVIP room on the second floor. That's where all the friends and employees of Juice magazine were congregating. I didn't know if I was allowed inside the VVIP room or not, but I walked past the bouncers confidently nonetheless and helped myself to some cakes and free drinks. 🙂
kennysia.com believes in the principle that if you're not invited to an event, you can always invite yourself.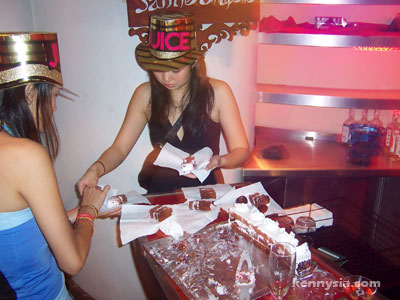 I was happily working my camera away when I heard someone yelled "KENNY! OMG ITS KENNY! KENNY SIA IS HERE!" very excitedly.
Seems like someone do recognise me after all. (Damn, I've already paid my RM30)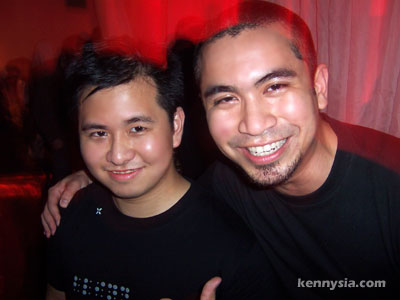 This is Azhar. He reads kennysia.com. Hi Azhar!
A friend of his helped me take this photo. Later he passed my camera to Azhar, then uttered the most ridiculous line I've ever heard. "Aiya I dunno who you are lah, but you look like a celebrity anyway so I'll take a photo with you lah."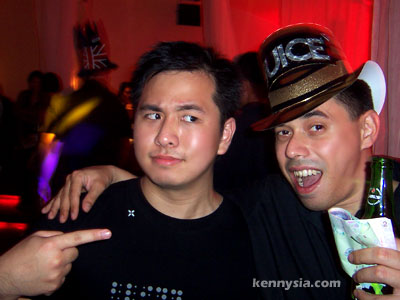 Gee, thanks.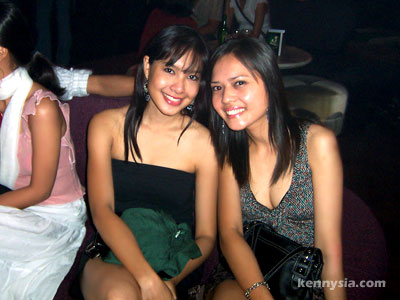 KL girls in the club were game enough to pose for my camera. Some of them even fingered me and asked me to take photos of them. I wasn't even using a huge professional SLR or anything like that, just a standard digicam.
These girls probably think they're gonna end up in Juice mag. Too bad they just ended up on crappy kennysia.com. Sorry!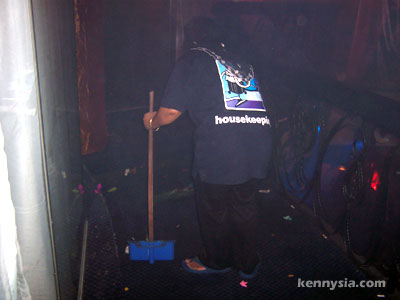 There's something odd about this picture.
1. What's a Muslim lady doing in a dance club? Correct me if I'm wrong, but I thought it's haram for Muslims to work in entertainment outlets? (I'm asking a question, not condemning the act lah ok?)
2. Sweeping away rubbish while a party was still in progress? That's like rearranging the deckchairs on the Titanic.
As the night dragged on, only the Juice people (Juicy people?) were left in an almost empty club. Finally there were people on the dance floor. A short unedited video clip of the night can be downloaded here (Quicktime MOV, 9MB).
Some decided to do away with the glasses and took drinking to a whole new level.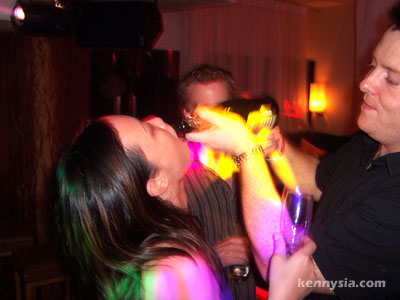 And some were clearly not up for it.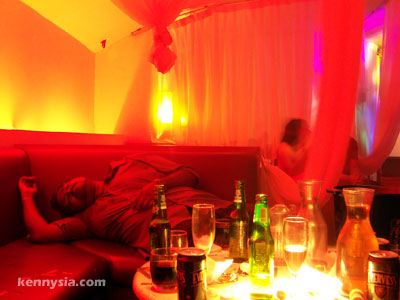 The DJ played Akon's Mr Lonely at 3am to let people know the club was shutting down. I don't know why they played Mr Lonely. Probably its to tell us that the lucky guys had already left with the girls, and the guys remaning in the club are all Mr Lonely.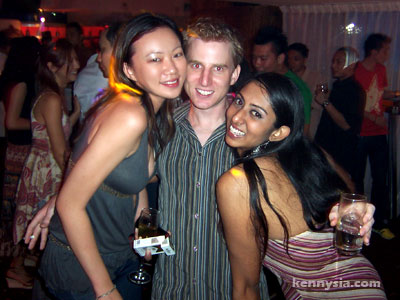 To their credit, the DJ was good and the music playing that night was excellent, but I didn't feel like I enjoyed myself that night. The energy from the crowd just wasn't there. Perhaps it was a Friday night. Perhaps everyone had gone to either Zouk or Bangsar or Hartamas for their clubbing needs. Whatever it was I doubt I'll be heading back to Nouvo anytime soon.
Where's the hot nightspot in KL?