This entry is not-safe-for-work, so make sure your boss, workmates, husband, wife, brothers, sisters, children and doggies are not around you before you continue reading.
If I ever said I'm not a fan of Saddam Hussein, I'm sorry. I take those words back. He's found a new fan in me after the Iraqi Bloggers Conference 2005.
Saddam Hussein missed all the afternoon session of the conference and turned up only during the after party.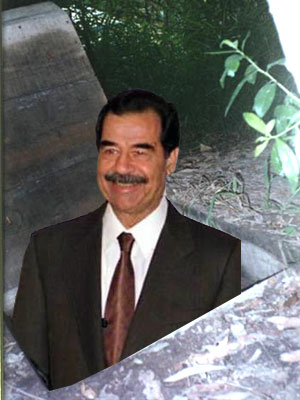 I spotted him wearing business suit inside the spider hole of Baghdad's hippest club, WMDXO at the Esplana-Fallujah. I don't know if he knows me, so I walked over there and introduced myself.
I'm glad I did. That man just kept giving me surprises after surprises throughout the night.
Kenny: "Hi, I'm Kenny. :)"
Saddam: "Heyyyyyyyy, you're Kenny! You're from Kuching right? Guess what? I'm from Kuching too!"
Kenny: "Whoa!"
Surprise #1: Saddam Hussein recognised me.
Surprise #2: Saddam Hussein is from Kuching! Damn, I never read enough of his bio to realise that.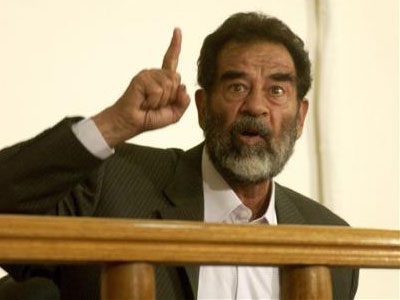 To be precise, Saddam Hussein is born in Tikrit but his parents are from Kuching. But I don't care, I want to claim him as one of our own. 🙂 Despite him being so controversial, I'm still proud that such an evil dictator like him has roots from my hometown, ok?
Saddam: "You know… I know exactly what your Weapon of Mass Destruction looks like."
Kenny: "I know what your Weapon of Mass Destruction looks like too!"
Not bad for a conversation starter eh? How I wish I could say that to every evil oppressor I know. 😉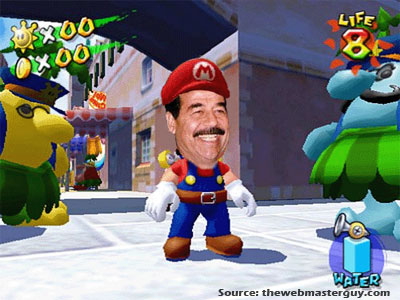 We were referring to the 'UN Weapons Inspection' crisis when Saddam Hussein vehemothly denied that he possessed stockpiles of Anthrax and VX nerve gas agent. Next thing you know, George W Bush went crazy sending airstrikes and ripped Saddam a new asshole with his cowboy 'Shock and Awe' campaigns.
I was amused why George W Bush made a big deal out of this when UN inspector Hans Blix already said that Iraq has no Weapons of Mass Destruction. So I went ahead and e-mailed George Bush a photo of me with my WMDs.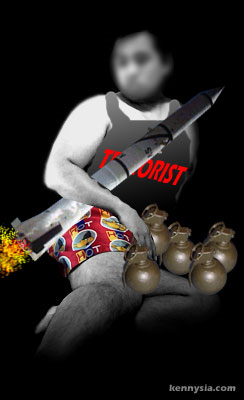 Sad to say, my picture wasn't as well-received.

Later that evening, in a Saddam Hussein's secret underground dungeon where many other evil Iraqi generals were congregating…
Kenny: "Hey Saddam, can I take a photo with you?"
Saddam: "Yah, sure!"
Kenny: (to Chemical Ali) "Ali, can you help us take a photo?"
Chemical Ali: "Sure, man."

Saddam: "You know what would be really funny? I think we should do a photo together showing off our nuclear bombs."
Kenny: "!!!"
Kenny: "I'll do it. Are you gonna do it?"
Saddam: "I'll think about it, but only if you do it first."
Kenny: "Okay."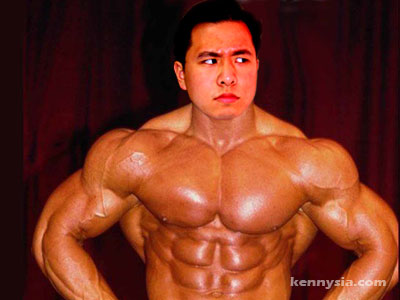 I don't know what happened next but the chatty room full off evil tyrants suddenly turned quiet. VERY quiet.
All I remember was Chemical Ali shaking his head saying "Those nuclear weapons deserve an entire Gulf War on their own, man."
Chemical Ali's camera flash went off.
I turned and saw Saddam quickly putting his trousers back on. I reviewed at my camera AND THEN I saw this.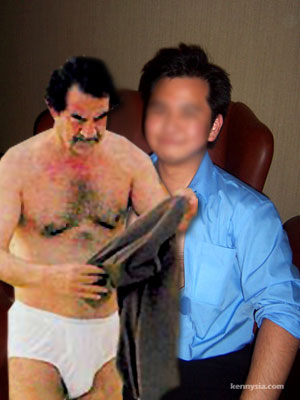 OH. MY. FREAKIN'. GAWD.
I showed it to Saddam and we burst out laughing our tits off. It felt as if I just shot the cover of my first terrorist-training DVD – "Hairy Potter and the Half Naked Czar"
Chemical Ali walked away in disbelief.
Chemical Ali: "I've got only one thing to say about this, man… LET'S GO TAKE OVER THE WORLDDDDD! YEAAHHHHH!!!"

Myself and a few other Malaysian bloggers will be participating in the upcoming Blogathon for Charity program on the 6th-7th August 2005. Our collaborative blog is over at BloggersAreMorons.com
We're still finalizing on the details, but we'll make sure its gonna be a fun thing for everyone. At the end of the day, it is for a good cause. Come 6th August, I hope our readers can be generous with their donation.