This is a much delayed recap of the Bloggers.SG Singapore Bloggers Convention that happened 2 weeks ago. Delayed because you-know-I-know-what-happened lah.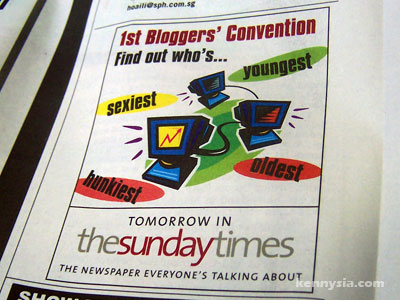 Remember when I wrote about what I thought the bloggers convention would be like?
I have to say – I didn't initally plan on attending the convention at all. My previous trip to Singapore before then was merely 3 weeks ago, and sadly my bank account experienced a severe drought after that trip. No money, can't do anything.
That was, until the venerable mr brown dropped me an official invitation, compliments of SHINE, asking me to attend the convention on behalf of the Malaysian blogosphere. Jeff Ooi and minishorts were invited as well, but too bad they had to turn it down. Sucks, because they didn't know what they missed out on.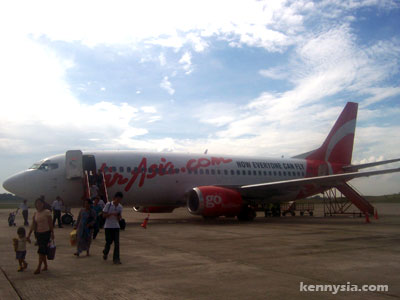 So anyway, on Friday the 15th July, I flew from Kuching to Johor Bahru via AirAsia (saving some RM500 in the process) and took a 'Smiling Bus' down to Singapore. Meanwhile, I sent a message to mr brown asking him which Hotel 81 branch I was supposed to be staying at.
mr brown: "We're putting you at the Swissotel at Stamford, man. Its near City Hall MRT and just next to Raffles City Shopping Centre."
Kenny: "THE SWISSOTEL? You're kidding right? Too generous, mb!"
mr brown: "No worries, man. Its peanuts to us."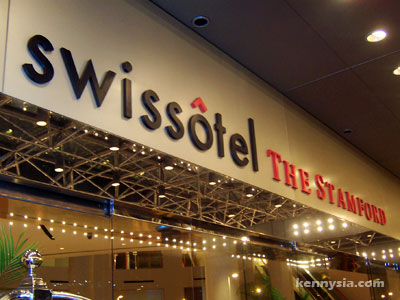 Can I just say, Swissotel is the bomb.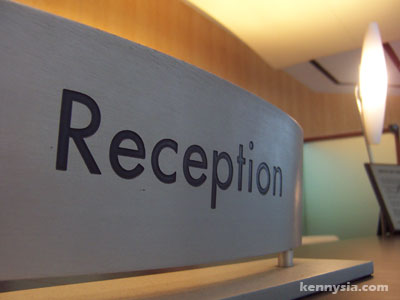 Let me say that again. Swissotel is THE BOMB.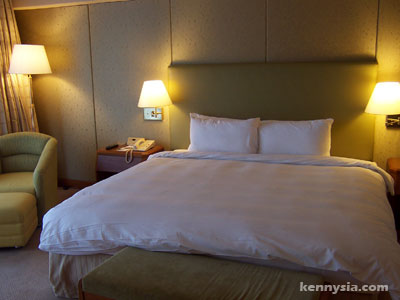 Talk about getting a total VIP treatment. The room was spacious, the interior decor was tasteful done and the harbour view on the 43rd floor is simply spectacular.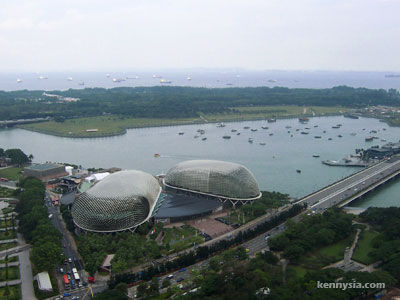 There's nothing like going to bed with the city's night lights, and waking up to sunny Singapore skyline. Meanwhile, minishorts is in KL ,sacrificing her weekend, pulling her hair out, desperately trying to finish her projects.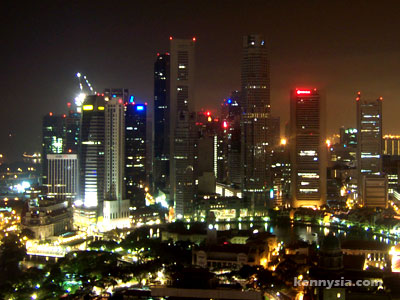 My Friday night was spent catching up with chio bu Apple Lim at Orchard, and having a few rounds with Big Fuck, Postmaster General and the very beautiful Linda Chia at The Hideout.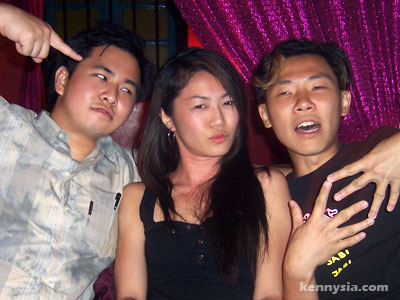 Saturday. 16th July 2005.
The day of the convention.
I foolishly underestimated the time required to travel from City Hall to Woodlands and arrived at the Woodlands Regional Library 30 minutes late – completely missing out on XiaXue's presentation.
I tried to reason with her. But she obviously wasn't too happy about it.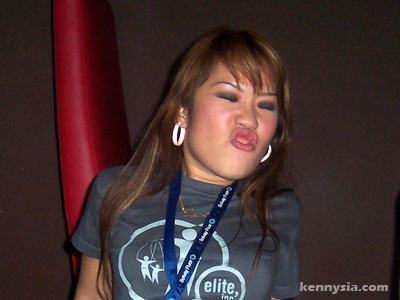 It was also there at the morning session that I finally came face to face with the great mighty Zeus himself.
The blogging workshop presented by XiaXue, mr brown and Preetam was aimed towards would-be bloggers who wished to know how to get one started, and also to parents and teachers who might not know much about the blogging phenomenon.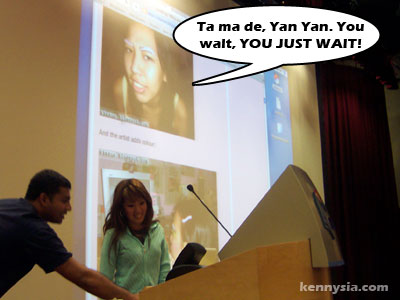 The atmosphere was a bit lecture-ish for my liking, but I reckon the presenters were all very professional and effective in getting the message across. Take into account mr brown was ill, and Wendy didn't sleep till 4am in the morning. I prefer their style of presentation here compared to their afternoon session actually. The three of them certainly did a good job dispelling the myths and paranoia the elder generation have towards blogging. My only regret was that my anti-blog mom wasn't there to listen to it.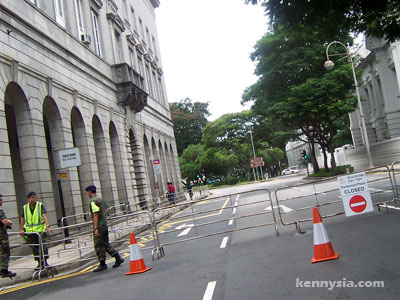 When that's over, its another 45 minutes from Woodlands all the way back to the Esplanade.
Our conversation in the car went something like this.
Wendy: I very tired leh. I slept at 4 in the morning.
Wendy: *yak yak yak…*
Wendy: Can I sleep in the car? I sleep the car hor.
Wendy: *yak yak yak yak yak yak yak…*
Wendy: Are we there yet?
Wendy: *yak yak yak…*
Wendy: So tired… wanna sleep…
Wendy: *yak yak yak yak yak…*
Kenny: Aren't you supposed to be sleeping?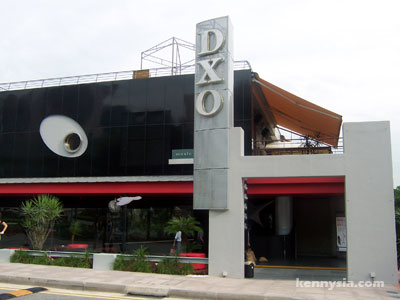 The DXO Nightclub was the perfect location for hosting the Bloggers.SG Convention. I shudder to think what it would be like if the organizers stuck to their original plan and held it at the library instead. I think the organizers wanted a casual and relaxed environment without it being too distracting for the panelists talking on the dancefloor, and DXO certainly did that for them.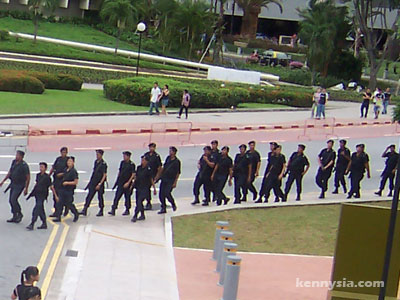 I'm also very impressed by the level of security provided courtesy of the Singaporean Army. I think the Singaporean government must have understood how us bloggers were putting our lives at risk by congregating in such a concentrated venue. Hey, you never knew if some anti-blog lunatic was gonna turn up and threaten to blow us bloggers all into smithereens. With machinegun-toting army men surrounding our perimeter, I see little chance of that happening.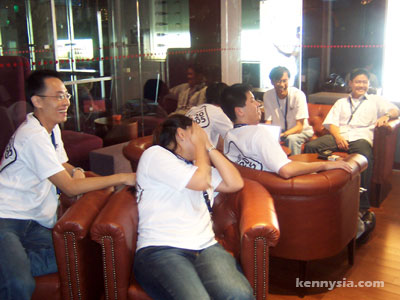 Upon arrival, I was introduced to the many other volunteers and organizers of the event, some I heard of, like Agagoogaa, Tinker Tailor; some I read, like Barffie. These are elves working hard behind-the-scenes ensuring the convention ran as smoothly as possible. I was pleasantly surprised by their enthusiasm and the dedication they put into this project, like its their baby. They absolutely do not want anything to go wrong with it.
Outside, a line was already forming.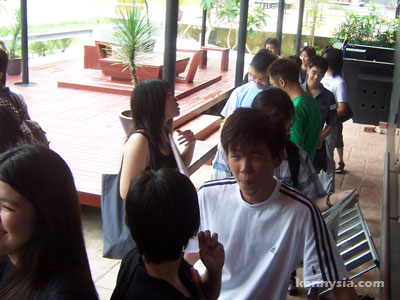 2pm. Doors opened. Within moments the entire venue was buzzing with bloggers, blog readers, and media people alike. Before I knew it, there were camera flashes going everywhere, people saying "That's Kenny!", and a few even asked me for my autograph. There are people who told me which of my past entries they like best. The euphoria I experienced at that moment was indescribable. I'm just a normal Kuching boy, but I felt like a celebrity!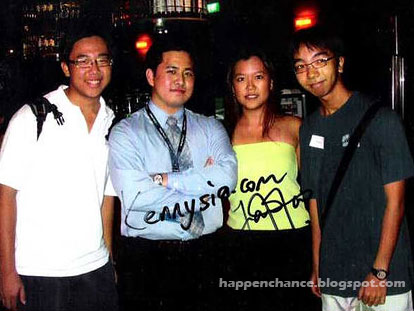 It was still a little difficult to get used to. People were taking photos of me standing up, sitting down, scratching my balls doing nothing. Everything I do sure kena scrutinised one.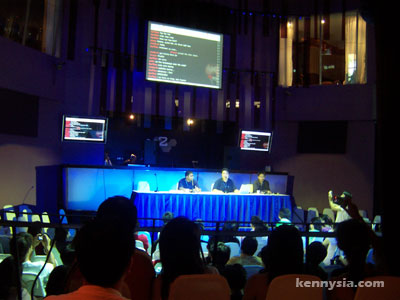 I must have done around 4-5 interviews that day alone. I had another opportunity to talk to Straits Times reporter Melissa Lwee, who I remember as the person who once called me on IDD, conducted an interview with me for one whole hour, then wrote only TWO sentences on me when the story finally came out.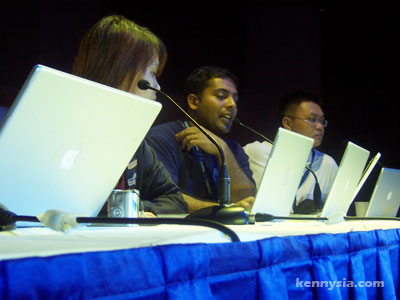 mr brown hosted a large chunk of the afternoon talking about the Singaporean blogosphere in general and the little blogging communities were all given a chance to introduce themselves. I chipped in there and talked about how similar the make-up of the Malaysian and Singaporean blogospheres are, and finished my spiel plugging Project Petaling Street.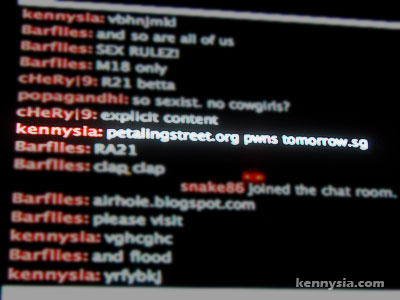 Kenny: "So, that's all… any questions?"
Girl #1: *raise hand* "Will you marry me?"
Kenny: "…"
Girl #2: *raise hand* "Can you show us your Dickonosaurus?"
Kenny: "!!!"
Singaporean girls are very very friendly.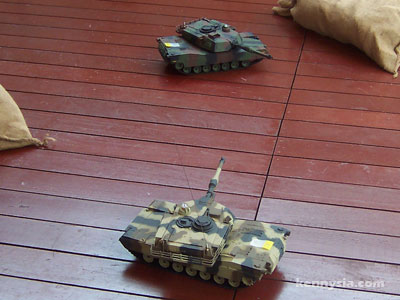 The technology and law portions of the talk unfortunately weren't as engaging, but at least the ladies on the floor had fun watching Mr Miyagi and lawyer Tan Min Liang. By then, some of the audience had already gone to the back and mingle around with friends or play with remote-controlled tanks on the 2nd floor. Rest assured, they all rushed back when they heard the bellydancers are about to perform.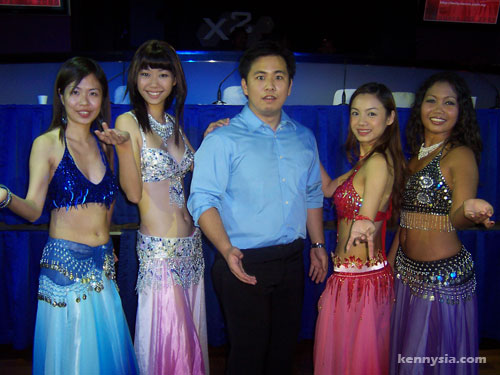 The Bloggers.SG Convention successfully drew to a close with a very impressive display of fireworks over the Singapore River, proudly sponsored by the Singaporean government. I think that's to signify the "explosive impact" Singaporean bloggers have made within the country and around the world.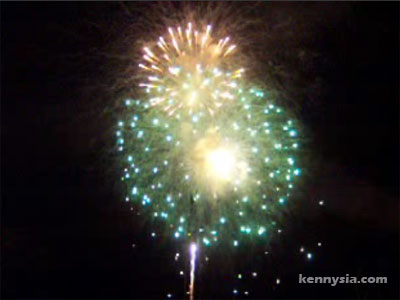 The evening was more of a casual chat and mingle session where the bloggers have a chance to bond over alcohol and get to know each other a little better. For me, I just enjoyed finally putting names to the faces.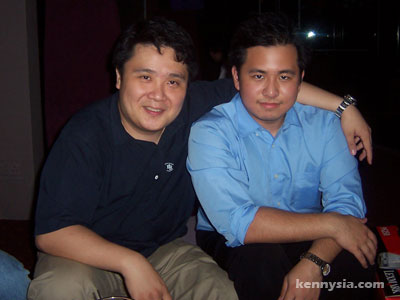 Carrie and Adri are proof that life is unfair. If life is fair, these two sweet-looking girls wouldn't be lesbians. Therefore, life is unfair.
[Edit: mb just informed me that Carrie is straight. Life is fair again.]
And if you haven't yet realised, portions of this entry were fictionalised. I'm sure you're smart enough to figure that out right?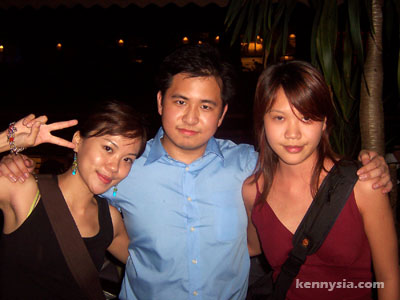 For many many other photos, click here.
The Singaporean blogosphere ought to be congratulated for successfully holding their first ever Bloggers convention. I reckon they all did a wonderful job. I take my hats off to them, and they took their tops off for me.
Hope to be back soon, Singapore. Thanks for the mammaries!