Everybody knows how much I "love" my local newspapers. Well, one thing I "love" more than the newspapers here are the MPs who feed on our tax ringgits. Take for example the news article below.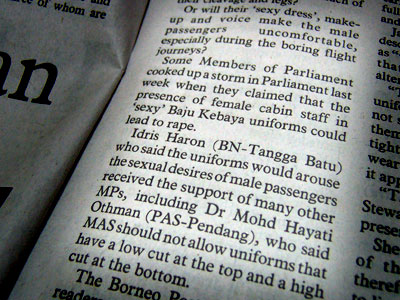 Before you continue reading, I advise you to drink a glass of cold water and make sure that the fire blowing out from your nose is not burning your keyboard into flames.
Well I don't think I need to say anything more on this "sexy dressing is inviting people to rape you" issue. To say its the woman's fault she gets raped because she wore a low cut blouse, is like saying its YOUR FAULT you get sodomised because you have an asshole.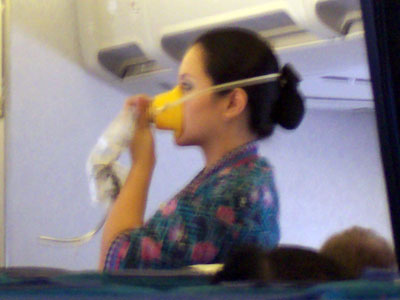 Yes, next time I'm just gonna press the "Call Attendant" button and when the air stewardess comes around I'm just gonna rip her clothes off and fondle her breasts, then scold her for making me so horny.
Now if you think about it, the Baju Kebaya isn't really that low-cut anyway. At least the collar is still quite tight, so when the stewardess bend over no "juicy details" is revealed.
I mean, lets compare our air stewardesses that to Singapore. Once I was onboard an SQ flight when the air stewardess bent over to serve me my dinner-on-tray.
Guess what? I thought she was serving me an extra two buns!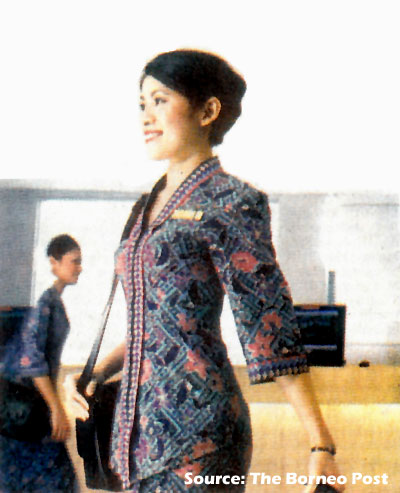 I always like the cabin crew of Malaysia Airlines. I know many people who complained how some of their flight attendants mistreated some poor passenger, but the fact is that these are just a few bad apples among a basket full of good ones. Personally I've met some bitchy ones but most of them are really nice, accommodating and professional so I think they're actually doing a great job.
However I'm just not a big fan of their management team. See, its especially difficult to like them after they fired one of their leading air stewardess just because she's pregnant. And I wonder why they fired a pregnant lady because CLEARLY she won't be contributing towards any rape case.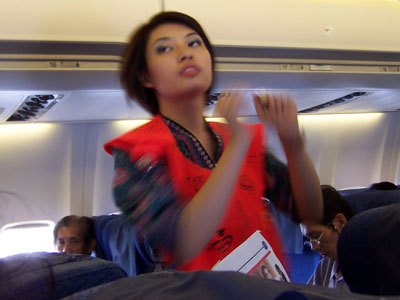 But anyway, a little bird told me that due to that Barisan Nasional MP's comments, Malaysia Airlines is working through day and night madly trying to create their new uniforms. Rumors has it that these uniforms will 'gerengtee' to solve all the issues associated with that evil rape-inducing figure-hugging low-cut Baju Kebaya. I was told, thanks to these new uniforms, that rape claims will drop, male passengers will be more comfortable and everybody can live happily ever after.
What's more? They could be ready next time you choose to fly with Malaysia Airlines!
As usual kennysia.com brings you the first sneak peek at the NEW Malaysia Airlines uniform. 😉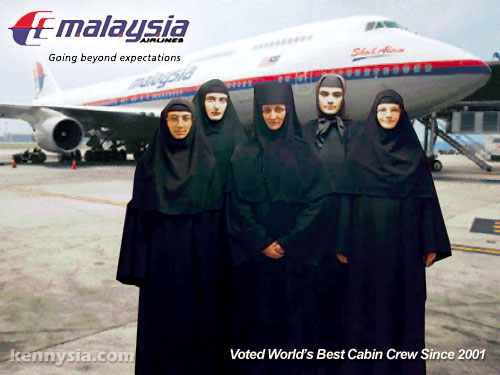 Yep, I bet our skies will be a much safer place then. Amen.