WARNING: Sense-of-humour strongly recommended before reading any further.
Was it just me or did everyone else noticed that Malaysia's Most Influential Blogger Jeff Ooi seems to get all his dirty backstage scoop from his trusty little bird?
Someone once mentioned that I should get an award for making the most references to my own testicles in my blog. But seriously, that someone got to look how many times Jeff Ooi mentioned his 'little bird' in his blog.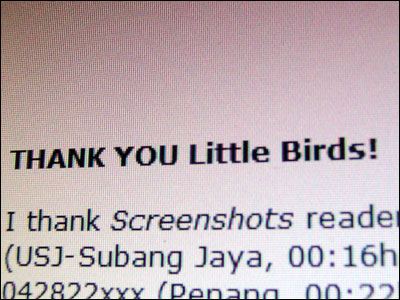 Jeff Ooi's little bird features heavily in many of his stories.
So what exactly happened at that frightening anti-narcotics raid at the internet cafe a while ago? A little bird told Jeff Ooi.
Which Malaysian government websites were vandalised by Indonesian hackers? A little bird told Jeff Ooi, again.
Which Act was the government planning to invoke to take action against at news portal Malaysiakini for their so-called 'irresponsible' April Fool's joke? A little bird told Jeff Ooi, along with some law advice.
Gee I wonder if Jeff Ooi's little bird told him what's the winning 4D number for tomorrow.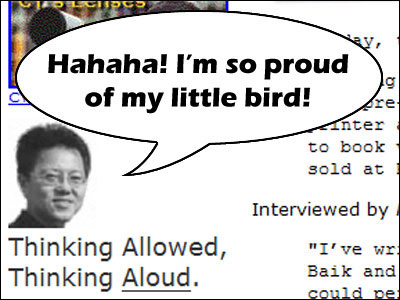 Jeff Ooi's little bird sure is busy poking around everywhere. I'm starting to think that Jeff Ooi is not the brains behind his blog, but his hard-headed little bird is. At least it makes his blog interesting at times with all these wet and juicy gossips his little bird generates. But I seriously do hope that Malaysia's M.I.B. protect his little bird well because we know the politicians in this country don't like to be fucked around. It is going to be a sad day if big-ass ministers here get aggressive and chop off Jeff Ooi's little bird. What a tragedy its gonna be when that day comes.
(Puns galore intended)
Jeff Ooi's little bird sure is famous. I ran a search on Google with "Jeff Ooi" and "little bird" and I got 170 results! Get this there were 170 websites mentioning Jeff Ooi's little bird!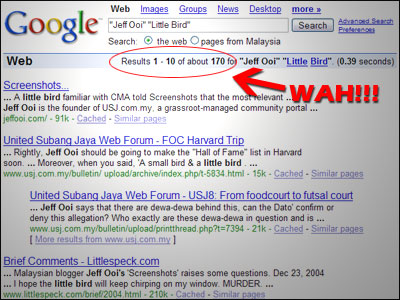 WOW! Why is everyone talking about Jeff Ooi's little bird ar? His little bird so 'geng' meh!?
I wonder how come no one interested in my little bird? What is wrong with me? I ran a search on Goggle with "Kenny" and "little bird" and I got this instead.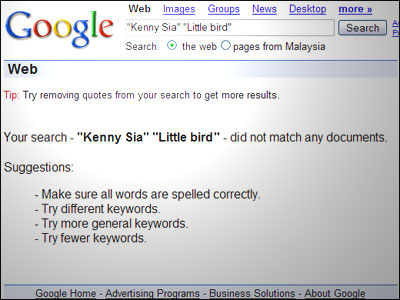 WHY ISN'T ANYONE INTERESTED IN MY LITTLE BIRD.
Geram.
So I adjusted my underwear and asked.
Kenny: "Oi, little bird, what's wrong with you lah? Why can't you be more like Jeff Ooi's little bird and fetch me gossips every now and then"
*silence*
Kenny: "You fucking useless one you know? Goddammit, you 'piss me off' everday! I'm so sick of you"

*still silence*
Kenny: "Oi! Little bird I'm talking to you lah!"
Kenny's Bird: "Fuck you Kenny. And stop calling me 'little bird' will ya?! For the record, its BIG BIRD to you ALRIGHT?!"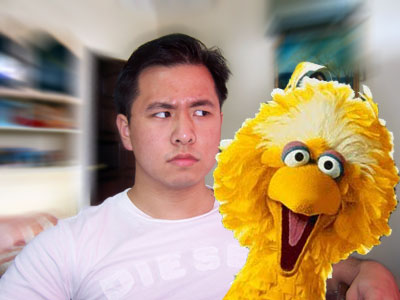 UPDATE: Thanks to minishorts (totally hot), yours truly is now immortalised into your favourite bedtime story. 🙂 You MUST check her out. Thanks, mini!