* Angry Post Warning: This was written at the peak of my annoyance. Any offense caused to anybody, whether intentionally or not, is duly regretted. All people depicted in the photographs below are mere models (unwillings ones) and are in no way related to the descriptions accompanying the photos.
AIYA! If you feel that my sarcastic jokes were getting too personal, by all means, just let me know and I shall kindly cooperate lah!
Now that's out of the way…
Not so long ago, I had the luck misfortune of attending a so-called typical Malaysian-Chinese wedding dinner.
Actually I shouldn't be so harsh about it. After all, the groom is the son of a family friend and I attended the wedding on my family's behalf.
Then again, its not like I personally know who the bride and groom is. So screw it.
The last wedding reception I've been to is of my two close friends David and Geraldine's. That was a simple affair: a registration ceremony, a get-together over coffee and cake, photos in the sunset, plenty of hugs, and they go home as husband and wife, happily ever after.
Hoping to get a similar reception in Kuching with your parents around? Fat chance.
I pity groom. No, not because he can no longer check out other hot chicks (well, that too). But because his wedding day is supposed to be a special day between him and his bride. Instead, the most important day of their relationship was hijacked.
What happened at their wedding dinner that prompted me to write this entry? See, they have every ingredient in my list of Top Nine Signs The Chinese Wedding Dinner You're Attending Is Shit.
(Excuse the blurry pictures. I thought it would be rude to bring my digital camera to a wedding dinner, which is why I snapped these photos with my camera phone instead. Yes, I know it was still rude.)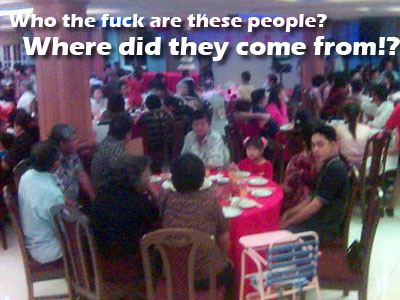 9. The newlywed's parents had invited their colleagues from work, their kopi-o buddies, their chess buddies, their friends from five different associations, etc. Before you know it, half the restaurant is filled with people the newlyweds had never met. Meanwhile the groom's normally loud and obnoxious beer buddies were sitting in the corner table so quietly because they're shy and afraid to offend the elder generations.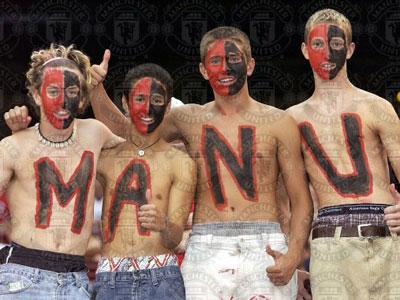 8. The beer buddies didn't stay quiet for too long, luckily. Because after a few rounds of free beers they had forgotten that the parents exist and started singing the Manchester United theme song.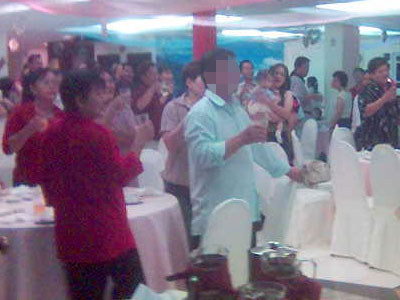 7. In a Chinese Wedding there's always that yam-seng ceremony. I hated it because I was sitting comfortably and my seat had the moulded shape of my ass, but I had to stand because everyone else was standing.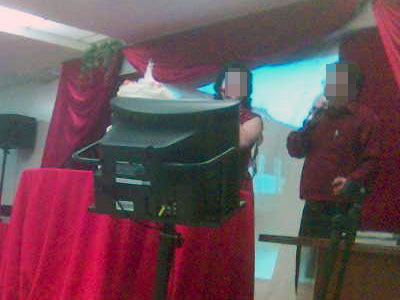 6. There's always that over-enthusiastic 40+ year old uncle/auntie who goes on stage and sing some stupid songs from the 70s like Ai Bia Jia Eh Ia ('work hard and you shall win'). This old couple "sang" a song called Nang Wang Yi Ye Chin ('Unforgettable One Night Stand'). What the fish? This is a goddamn wedding dinner! Take your wrinkly one-night-stand ass to the nearest budget hotel, you two dinosaurs!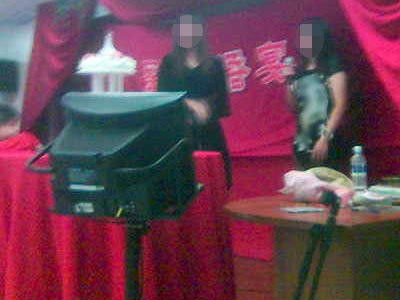 5. If its not some 40-year-old uncle, then its that old classmate of the bride who was rejected by Trashcan Idol singing karaoke. Excuse me, we still need to eat here! What the hell is a karaoke machine doing in a wedding ceremony anyway? A karaoke machine belongs to a KTV lounge, not in a restaurant where people have to eat!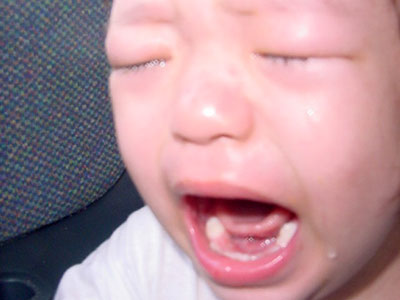 4. Somehow somewhere there's always a baby crying. Maybe its a warning signal to the newly-weds of the things to come.
3. If its not some crying baby, then its those hyperactive kids wearing those… those… shoes.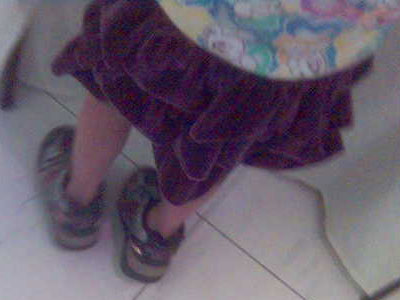 Gah, how do I explain it? Its these shoes!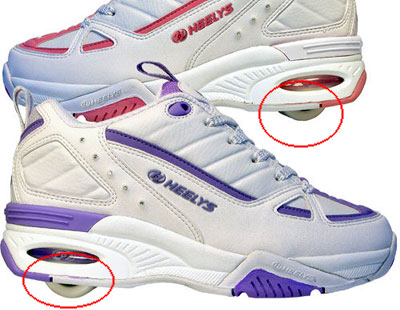 You know, the ones that come with those built-in wheels that make them slide. I HATE THEM! There's nothing more annoying than to have to walk across a hall, and them have some kid glide past you like a ghost! Who the heck invented those things? Makes me just want to cut off their balls, put them into one of these shoes and slide them away into oblivion. Dammit I hate those shoes!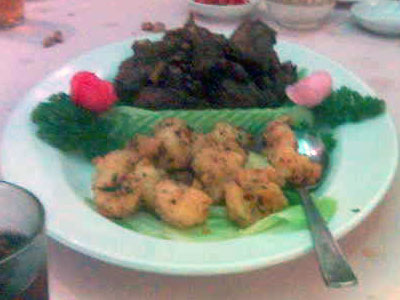 2. A plate of yummy fried chicken is served and you just wanted to gobble it all up because you've been waited 2 hours for your dinner (stupid invitation card asked us to come at 6pm and its now 8). But you can't because there's an elderly person sharing the same table with you. So you look at the food and he looks at the food and you look at him and he looks at you, and then you courteously ask the old man to 'jiak' (eat) but then he quickly replied 'jiak-jiak-jiak-jiak-jiak' in rapid succession. Feeling defeated because he said 'jiak' five times and you only said it once, you proceed to use your chopstick to pick up a piece of chicken and put it at the old man's plate, but then he acted like its an atomic bomb and shouted 'no! no! no! you first you first!' while he put the chicken back into your plate, so you have to put it back on his plate but then he still doesn't want it. So at this stage you feel damn tu-lan because you got so frustrated you just wanna stuff that whole piece of chicken up his nose and yell "EAT THE GODDAMN FRIED CHICKEN DAMMIT YOU OLD MAN!"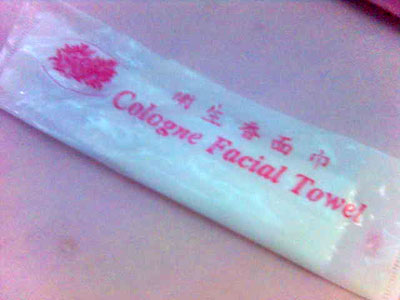 1. At the end of the night, there's always that bloody annoying piece of wrapped wet towel where people would open it by squeezing the air inside to one end of the wrapper, then hitting it to make a loud POP. OI! Ever heard of class and courtesy? Obviously not!
Sometimes it felt as if a wedding is organised for the parents and not for the couples themselves. I mean, karaoke machines? C'mon! If it were left to me to organise my own wedding, I'd make sure:
You may yam-seng in your seat.
If you're my beer drinking buddies, I shall secretly replace your alcoholic beverage with Shandy.
If you're over 40 years old, you're BANNED from using the Karaoke machine.
If you're under 40 years old and does not have a recording contract, you're BANNED from using the Karaoke machine.
Violation of the above karaoke code will result in the microphone being stuck into an orifice of your body of my choosing.
If you have babies who cannot stop crying, please kindly make use of the cellotape provided.
There will be no wrapped wet towels. Instead MAS flight attendants will be available to distribute the wet towels. No, you're not allowed to ask for a cup of tomato juice from them.
The flooring will be covered with rocks and pebbles, so when kids with one of them bloody annoying shoes-with-rollerblading-wheels scoot around, they will fall down and I can laugh at them.
Last but not least, I shall invite only the people I know. If you're not on my Friendster list, you're not invited. Sorry.