Whilst we are still on the subject of tattoo, let us observe another example of 'Engrish' in Kuching. 🙂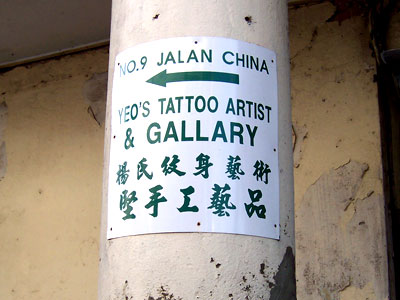 I don't know about you, but I don't think I want to get any English words tattooed by this guy. Lest he spelt it kennyASIA.com, then I'm screwed.
*~*~*~*~*~*~*~*~*
Malaysian newspapers are so bad its funny.
I'm not gonna start bitching about having to endure front-page headlines EVERYDAY about some politician like Pak Lah or Taib Mahmud making a speech about what 'we as citizens' should or should not do, because frankly – just because you say it at some oh-so-important function with a photograph of you hitting some gong, doesn't mean we're gonna do exactly what you said we should.
But that's for another time.
So, I was reading last Friday's edition of The Borneo Post (18 March 2005), when I noticed this headline on Page 4.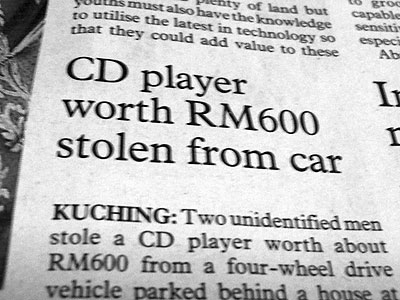 Oh wow. RM600 stolen… La-FRICKIN'-Dee-Da! I had my Playstation 2 AND my XBox stolen only just one day after I bought them. Where's my Page 4 headline, dimwits?
Anyway, just to sum up the story for you – basically this guy Ngiam (what an unfortunate name already) had his 4WD broken into by two burglars. Ngiam spotted them red-handed, but the suspects managed to jump into another car and drove away.
Well, I'll let Borneo Post continue with the rest of the story.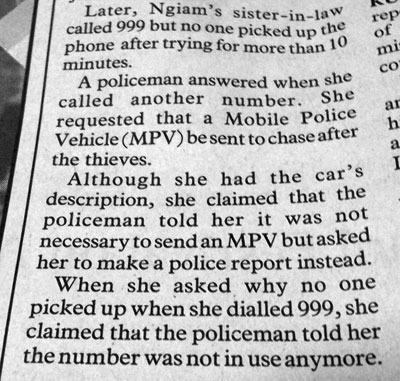 …
Let me try to digest this for a while.
'999' is not in use anymore!? Man, I've only been away for a while and they changed the bloody emergency number?
What the fork!?