Finally, I'm writing the last piece of my Hanoi travelogue.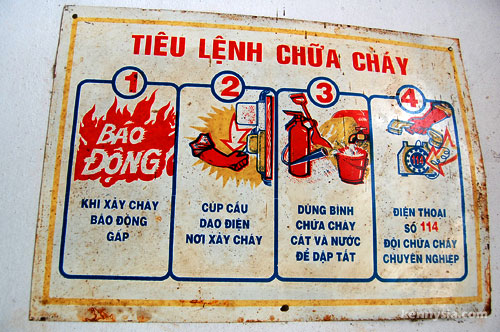 Kinda strange I made a 4-day trip seems like 4 months on my blog.
*~*~*~*~*~*~*~*~*~*
On the first day of our visit, we thought about hiring a bicycle (US$1.50 / RM5) to help us get around.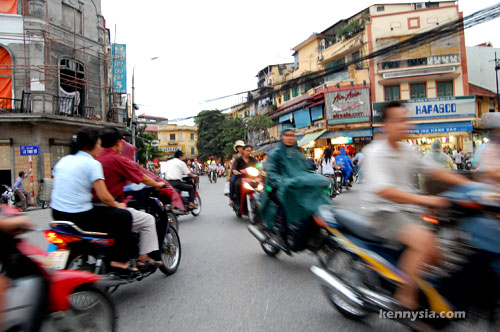 Looking at how crazy the way people drive in Hanoi, I didn't think it was a good idea. But we went ahead with it anyway.
*~*~*~*~*~*~*~*~*~*
The problem is, it is difficult not to love Hanoi.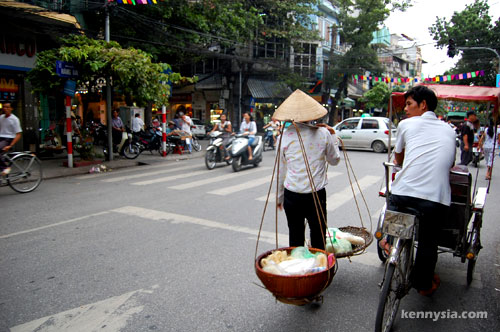 There is not a single McDonalds or 7-Elevens in sight, but that's a good thing. Highrise buildings are also non-existent here.
While KL, Singapore and Jakarta are competing to become the next New York City, Hanoi sets itself apart with a graceful touch of old town charm normally lost in big cities.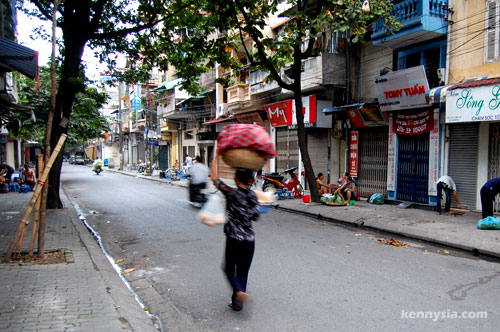 We based ourselves at the Old Quarters, which is a great place to watch the city burst into life and activity. The soundtrack to Old Quarters is a never-ending music of the clanking of metals, the buzzing of chainsaws and the honking of cars. The 800-years-old marketplace is a step back in time and a great place to soak up the atmosphere here.
Meanwhile, elsewhere on the map, the French Quarters is the closest thing you can get to Paris.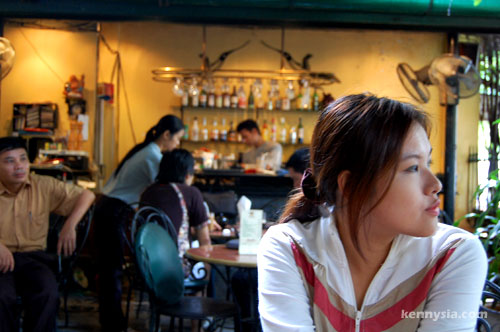 As we sit in a quiet cafe on the side of a tree-lined boulevard, sometimes we forget we're even in Asia.
*~*~*~*~*~*~*~*~*~*
The car drivers here are almost as bad as the ones I met in Shanghai.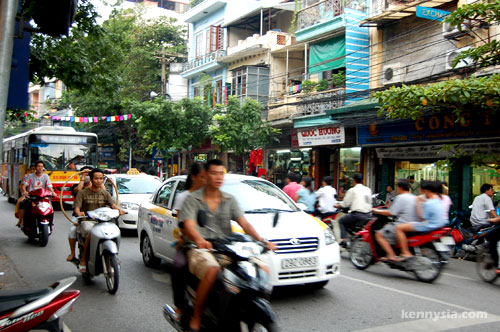 They honk like their hands are like surgically attached to the car honk. Seriously, every small thing they also wanna honk.
Got cars in front, they honk. Got cars behind, they honk. In the middle of the night when there's absolutely no cars around, they also honk!
*~*~*~*~*~*~*~*~*~*
Vietnamese street food is truly one of a kind.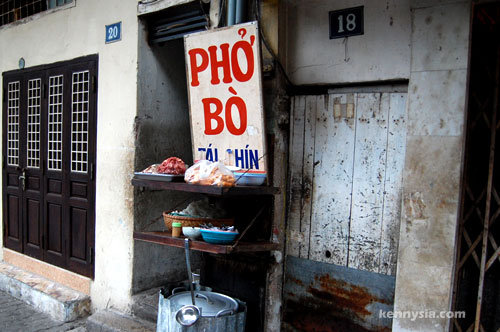 Most other places would be happy to provide you with at least some decent tables and chairs for you to eat at.
Not in Vietnam.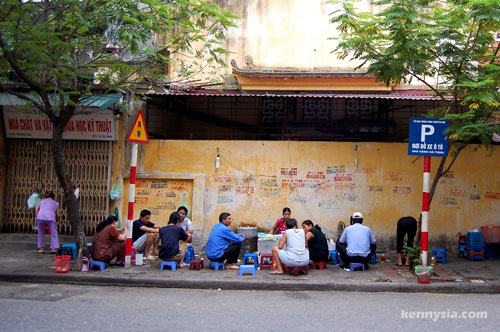 Over here, street vendors seem content providing with you tables and chairs that are SO RIDICULOUSLY SMALL, they look like they bought them from a toy shop.
I don't know what they're thinking. But they must've thought our asses stopped growing since kindergarten.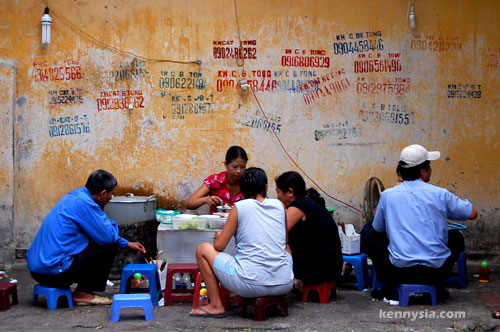 Yet, despite having to sit on freaking small toy chairs, a lot of locals seem to enjoy crowding at this particular joint.
And you know what they say. If the locals love it, it must be good.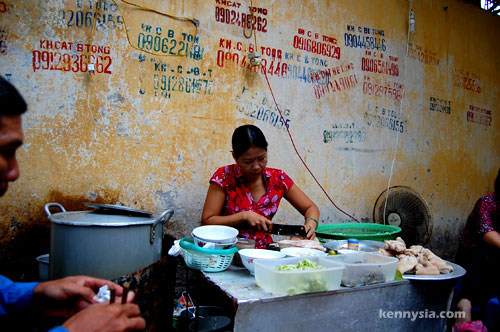 Turned out I wasn't wrong.
For just 10,000 dongs (RM2), the nice lady cut up the meat on the spot and I got a nice big bowl of classic Pho Bo (beef noodle soup) to feed my hungry stomach.
It may not look like the cleanest most hygenic eatery, but the food here is to die for.
Ok… maybe not. Because it's not worth losing your life over a bowl of RM2 noodles.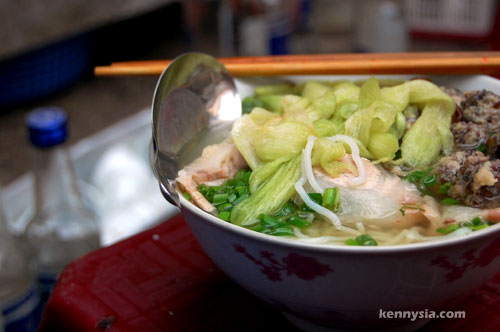 I love it. After growing up loving Vietnamese food for so long, I finally get to sample the real deal.
If you feel like drinking a bit of alco, they even serve cheap Hanoi Vodka. It's perfectly alright to drink freaking vodka for breakfast in Vietnam.
I totally enjoyed the streetside food experience. The only problem I had was still their tiny chairs.
I know I'm supposed to semi-squat and eat with my legs wide open and balls hanging out.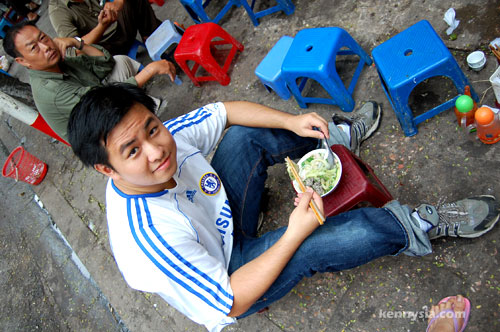 But I am so fat, I couldn't even bend me knees!
*~*~*~*~*~*~*~*~*~*
Lonely Planet has been my favourite travel bible for many years, but I learnt the hard way not to rely on it too much. The information in there can be so terribly out of date.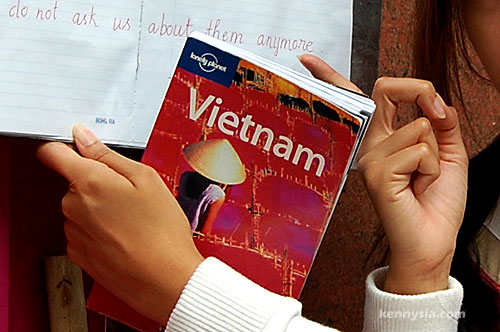 We were looking for this delicious-sounding cafe called Chocolat & Baugette located at 11 Cha Ca Street.
After searching high and low, we stumbled across this sign inconspicuously hanging where the cafe is supposed to be.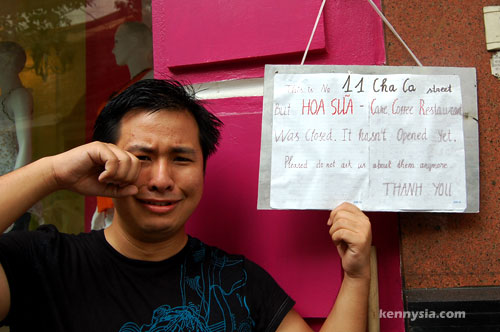 "This is 11 Cha Ca Street. But Hoa Sua Cake Coffee Restaurant was closed. It hasn't opened yet. Pleased do not ask us about them anymore.
THANH YOU.
Sucker."
(I added the last part in.)
*~*~*~*~*~*~*~*~*~*

*~*~*~*~*~*~*~*~*~*
This is Nicole, using my laptop to update her blog at 5am in the morning.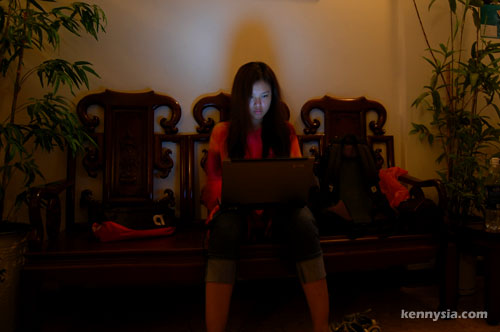 Yes. I know what you're thinking.
I think I can see the title poster for the next B-Grade Korean horror movie already.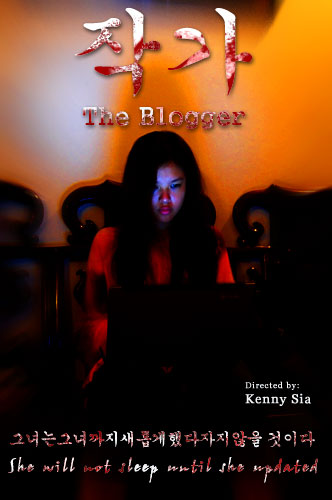 Coming soon to a cinema near you.
*~*~*~*~*~*~*~*~*~*
This is ka fay sua da, otherwise known as Vietnamese iced coffee.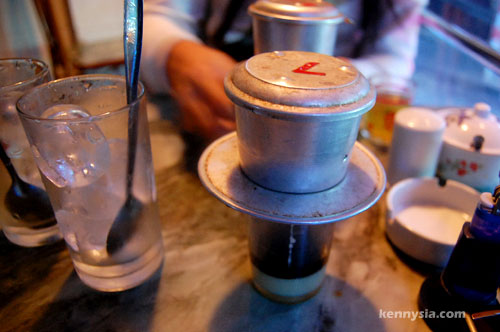 When I took a sip at this drink for the first time, my eyes widened, my arsehole tightened and I was bouncing off the walls. That was the strongest iced coffee I've had!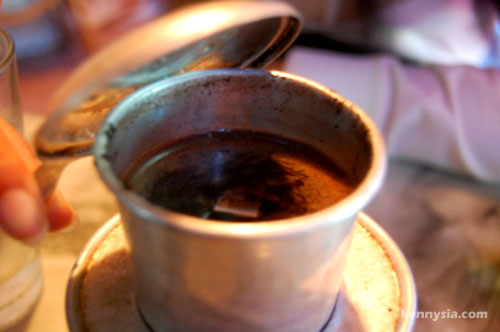 All they gave us was a glass of condensed milk with a weird contraption on top. All it contained was ground coffee and a dose of hot water. But what passed through the filter, dripping into the glass below was ounces of pure coffee heaven.
It's the Asian version of espresso, it's so rich with caffeine kick and it's cheap as hell.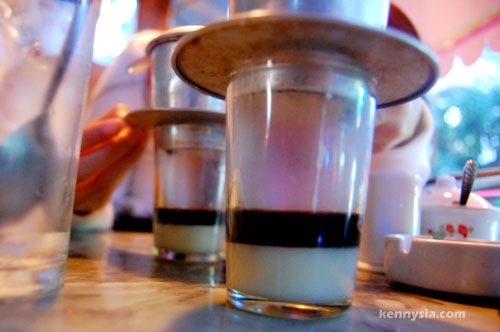 Someone has gotta import this thing here.
We may have spent 4 days in Vietnam, but when we returned, the only Vietnamese word we could speak was ka fay sua da!
*~*~*~*~*~*~*~*~*~*
The water puppet show is a waste of time.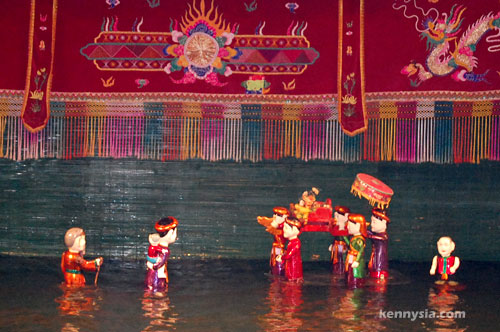 It's cool and all that, but when the narration is all in Vietnamese, what's the point?
Not like there's a button that we can press like in DVDs to get the English subtitles.
*~*~*~*~*~*~*~*~*~*
This is me posing in front of the legendary Nguc Son temple on Hoan Kiem Lake.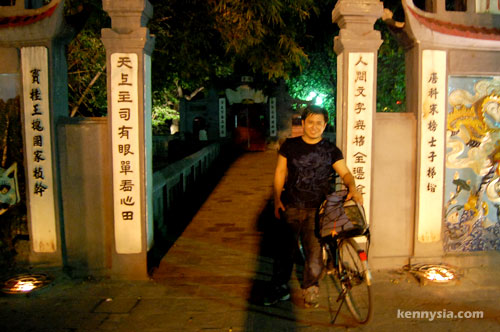 This is me looking like a dork and picking up my bicycle after it fell over.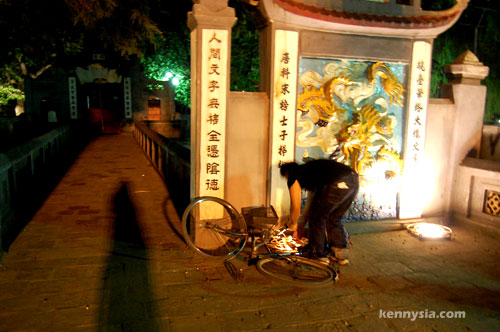 What's worse, my bike fell over some joss sticks an old auntie left there for Hungry Ghost Month.
Sorry ghosts!
*~*~*~*~*~*~*~*~*~*
One restaurant that's definitely worth visiting in Hanoi is Restaurant Bobby Chinn's, the baby of that World Cafe Asia host from Discovery Travel and Living.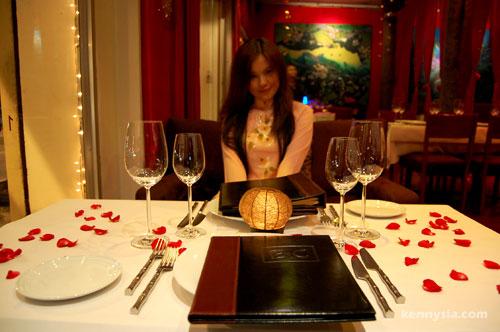 If not for the orgasmically juicy good food, then at least for the quirky and ingeniously worded menu.
It's not cheap though. The two of us managed to rack up a bill of US$40 each, which is alright for a once-in-a-while indulgence.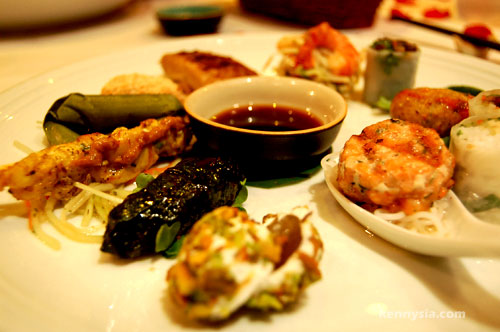 But it was worth it because this is one of the best fine-dining restaurants I had dined in in a long time. My appetiser, the Tropical Seafood Ceviche, has the kind of magic that bursts flavours in your mouth.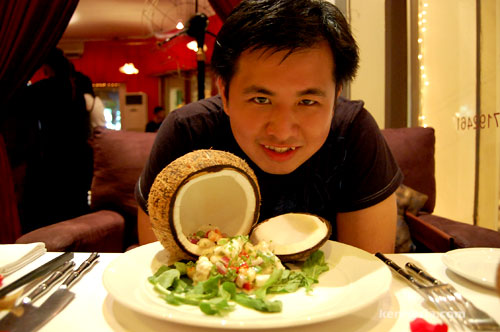 Of course, it's only befitting that my food is served in a coconut as a tribute to the size of my testicles.
*~*~*~*~*~*~*~*~*~*
Disaster struck when we left Bobby Chinn's.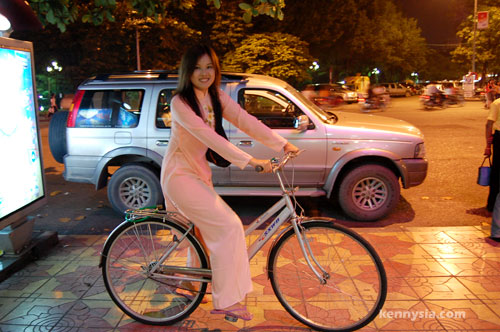 Vietnamese people drive without a care in the world. Road rules are for decoration and zebra crossings are nothing but graffiti on the road. There are tens of other people fitting into the same lane as you. The unspoken rule is that you just cycle slowly, stay on course and others will avoid you.
That doesn't always work, especially when you're trying to cross a busy intersection where bicycles, motorcycles and cars all zoom past you so close you can feel them against your knees. In a situation like this, the last thing you wanna do is PANIC.
Which is of course exactly what I did.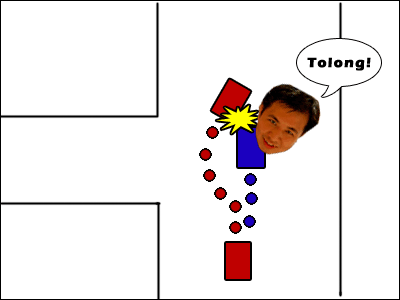 A motorcycle overtook me from behind. In the heat of the moment, I lost my balance, collided into him, fell onto the ground as a car whizzed by me, narrowly missing my head and turning me into a bloody pulp.
I survived (of course), suffering injuries no worse than a sprained wrist and a bruised kneecap.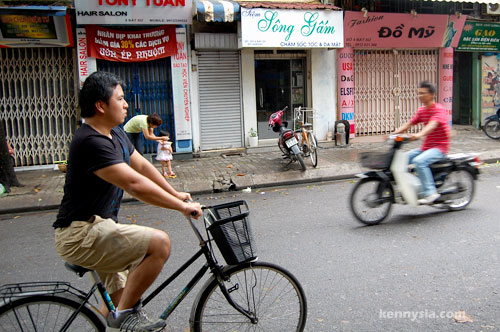 But as they say, "once bitten twice shy".
The followed day I decided to play on the safe side and cycled as slowly and as carefully as I could…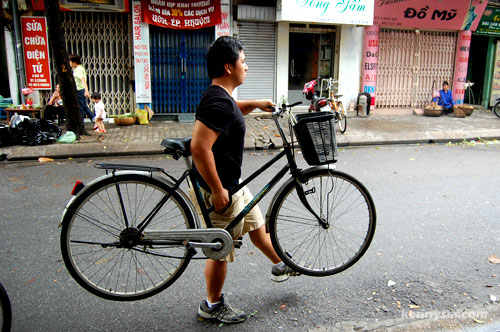 Screw it, I'm walking instead.

I bet you RM1,000 that Dr Sheikh Muszaphar, Malaysia's first astronaut space passenger, will become a Datuk when he returns from space and begin endorsing stupid products from soaps to yoghurt drinks to massage chairs.
I tell ya, he's gonna become the next Mawi.