The 5 C's – cash, car, condo, career and credit card. Those are the main concerns of Singaporean and increasingly, Malaysian people. Word is that if you are a male living in Malaysia/Singapore without any of the 5 C's, you can more or less forget about having a girlfriend. Its true, girls these days are very demanding. Guys are not as demanding because us guys only need one C, and that's Chee-B… sorry I forgot this is supposed to be a kiddie friendly site! 😉 Well, I have very little cash, I don't own a car, I don't have a condominium and I've only just gave up my career recently. Thank goodness I still have my credit card. That means I have a 1 in 5 chance of picking up a Singaporean girl!
The credit card in question is Virgin Credit Card. This is another one of Richard Branson's venture in Australia after Virgin Blue Airlines, Virgin Mobile, V2 Music and Virgin Books, etc.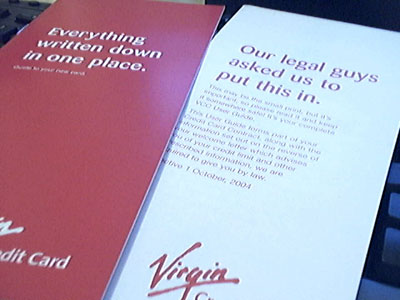 One thing that immediately caught my eye is the image Virgin Credit Card is projecting. All of their promotional printed and electronic materials are in classic Virgin red and white, written in a tone that sounds like a friend in a pub talking to you. Forget about those professional Gold or Platinum credit cards that the major banks are trying to push – those are for your mom and dad. Virgin Credit Card's target market is the 18-30 year olds hip and rich young people.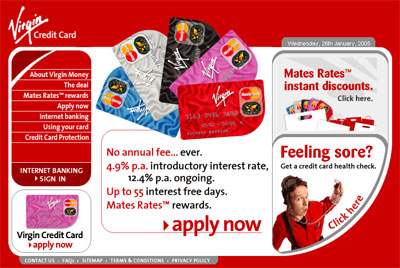 The big words in the front page of their website says it all. The most attractive thing about Virgin Credit Card is the fact that there are no annual fees and they give you up to 55 interest-free days to pay your debts. For those of you who does not yet have your own credit card, these are the two major things to look at when choosing a credit card. For those of you who are still using your daddy or partner's credit cards, you only need to worry about how big the credit limit is. 🙂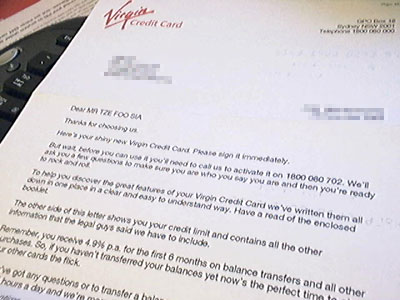 After I filled out their application form online, I attached certified copies of my driver's license, phone bills, official letters, my most recent payslips and sent it to their reply-paid address. All these are returned to me 2 weeks later with a note saying that my credit card has been approved. Another week later I got my credit card along with a letter written in the same casual tone.
Thank you for choosing us.
Here's your shiny new Virgin Credit Card. Please sign it immediately.
But wait, before you can use it you'll need to call us to activate it on 1800 080 702. We'll ask you a few questions to make sure you are who you say you are and then you're ready to rock and roll.
…
The other side of this letter shows you your credit limit and contains all the other information that the legal guys said we have to include.
…
I called to activate it, and to my delight there's no machine asking me to press '1' to do this or that. It was 1am when I did this, and the operator was busy, so I was treated to some random Top 40 pop music while I wait, and wait, and… "We hope you're still enjoying our funky music. Please hold and we will get to you shortly." and wait, and wait… until the operator answered my call. After I answered all those confirmation questions, I'm ready to use my brand spanking new card.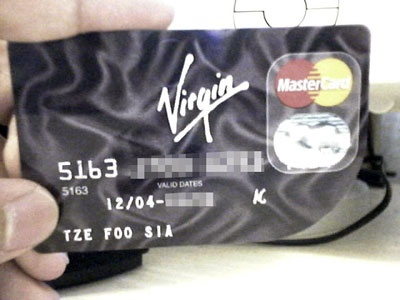 The credit card is a Mastercard, and it comes with a unique rounded-corner shape. This is in tune with Virgin's dare-to-be-different look. Actually, there's five card colours I can choose from, but I decided to go black because I am very the sotis-phicated.
The credit limit I received is rather generous at AUD7,000. There's no annual fee to pay, which makes people wonder how Virgin gets anything out of it. I guess they make up for that with a relatively high interest rate of 12.4%pa. However, there's a 55 days interest free period. So as long as I am disciplined enough to pay my monthly bills in full on time, I don't have to pay Virgin Credit Card a single cent extra.
The credit card comes with other nice rewards such as 20% discount at fancy restaurants, discounts for Virgin's other services, plenty of shopping outlets like Sunglass Hut, etc. In my opinion that's better than point-based rewards many other credit card uses, because I get my rewards instantly.
I say this is the best value credit card I have known and I doubt I can find any other deals that can beat it.