Two months ago, I had the opportunity to travel to Japan.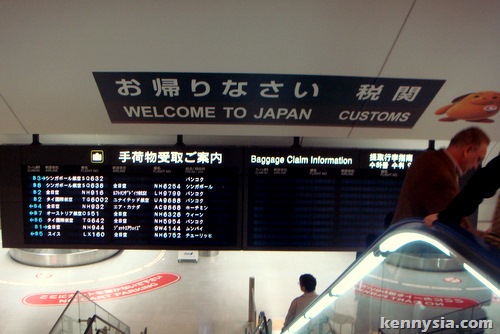 It was a company trip, so the whole group of us were supposed to be on an organized tour where everything was catered for. Me being me, I took the liberty to fly to Tokyo a few days earlier so I can have more time to explore The Land of Weird and Wonderful on my own.
Tokyo is easily the most expensive city in Japan. Here, a very simple and basic 3-star hotel room cost around RM500 a night. I knew if I didn't budget properly, I could use up all my money and end up like one of these guys.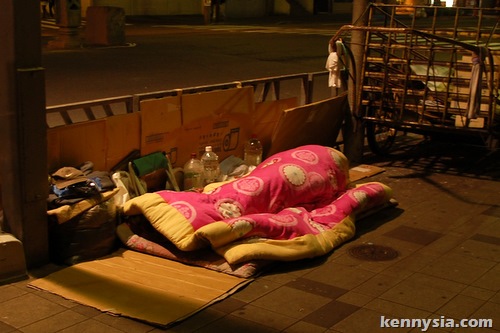 Which is why in order to play safe, I decided that on my first night in Tokyo, I should stay in the cheapest hotel accommodation available.
A capsule hotel.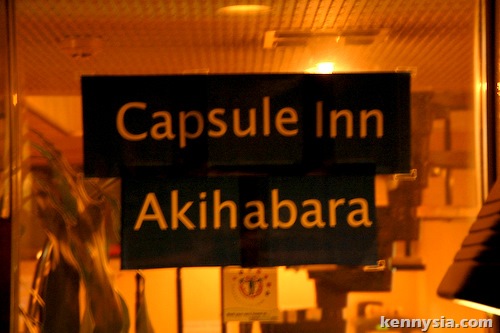 Capsule hotels are relatively cheaper in Tokyo. I paid 4,000 yen, or RM140 a night to stay here.
While RM140 can easily get you a superior room at The Hilton in Sarawak, in Tokyo this is what it got me.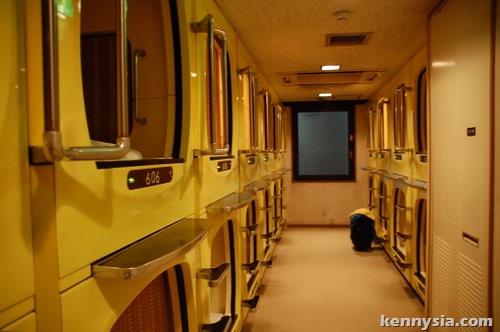 Yes. A morgue.
More specifically, my hotel room is one of those "capsules" I have to climb into.
Here, let me give you a tour of my hotel room.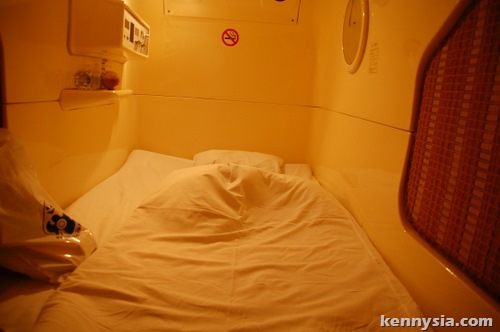 Yep, that's all. Thank you for coming to my hotel room.
It's quite unbelievable really.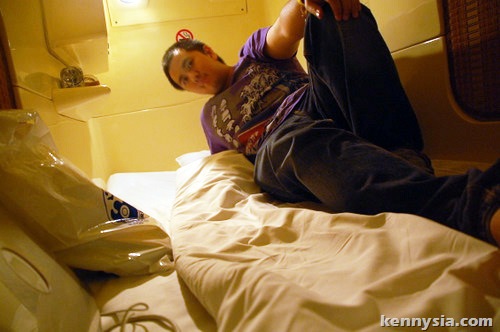 My "capsule" is only big enough to fit one person in. For RM140, I get a reasonably comfortable bed with pillow and blanket, and enough room to sit upright only.
To my left is a mirror. To my right are controls for the lights, air-conditioning, FM radio and TV.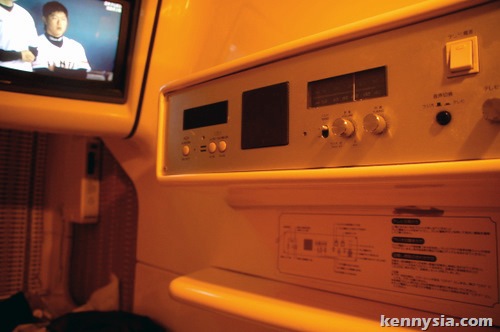 Yes, surprisingly they managed to fit a small television in such a small space there. Even more surprising is that they deemed it necessary to fit a television there.
To get over the fact that I am essentially sleeping inside a human pigeon-hole, I closed my eyes and imagined I was sleeping inside The Hilton. Besides, once you close your eyes, it doesn't matter if you're staying in a 5-star hotel or a 1-star capsule, everything looks the same.
Despite the tiny little cramp space, I had a reasonably pleasant sleep on my first night in a capsule. My only complaint is that the walls aren't exactly sound-proof, because I could hear my neighbour fart when he woke up.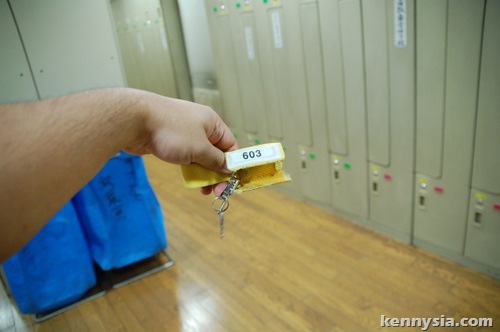 I was given a set of keys when I checked in. These open up a locker where I was provided with amenities like toothbrush, towel and a Japanese yukata.
Nice!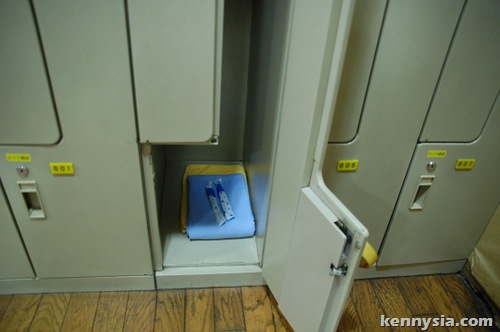 I took off my clothes, put on my yukata and got ready to go into the shower. And this is where it gets a little bit freaky.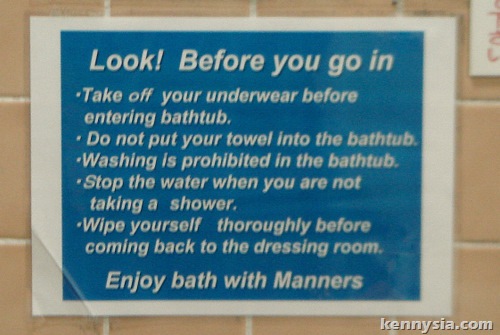 According the a sign outside the communal bathroom, I'd have to take off my underwear before entering the shower.
Now, I have two problems with that:
1) I am not comfortable with other men seeing my pee pee.
2) I am not comfortable seeing other men's pee pee!
Then again, I guess when in Rome, I must do as the Romans do.
Therefore when in Tokyo, I must take my underwear off too.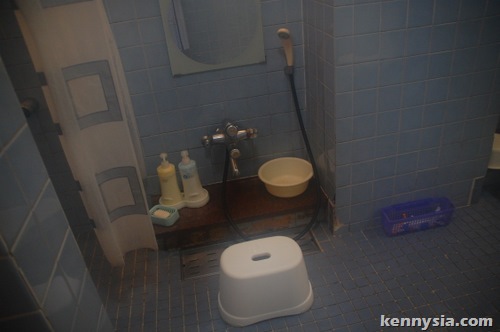 Besides, it's not like I have never seen Japanese dicks before. Eh, I've seen the occasional Japanese porn on the Internet sometimes, so I know how Japanese pee pee look like.
Anyway, I entered the communal bathroom. And luckily no one was inside, so no one saw my naked pee pee, which is a good thing. Unfortunately, my excitement was short-lived.
Barely two minutes into scrubbing myself, a Japanese dude walked into the bathroom. And that's when I got the ultimate shock of my life!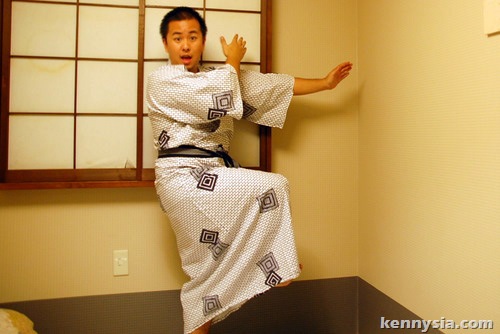 (According to Japanese comics, this is the stupid action people do when they got "a shock of their life")
How come the pee pee on that Japanese dude was nothing like what I saw in Japanese porn?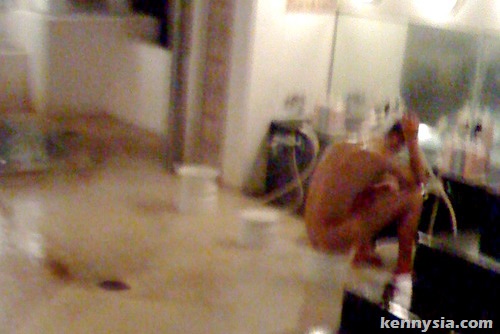 His pee pee got no square square thing covering it one!
If anyone is flying to Kuching for the Rainforest World Music Festival this 10-12 July and wants to stay at the (already fully-booked) Damai Puri Resort just next to the cultural village, please e-mail me at im@kennysia.com because I have a hotel room to let go. RWMF rate is RM 552 per nite.