This entry is about someone I have admired and respected for a very long time.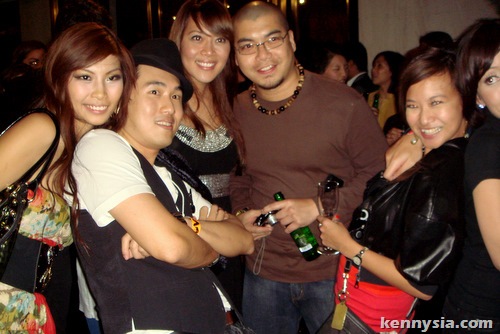 I have been blogging for over four years now. Throughout this time, I have met many inspiring and talented people who have subconsciously influenced, shaped and changed the way I approach life.
I live in Kuching. My family and work are located here, but my blogging has brought me frequently to Kuala Lumpur.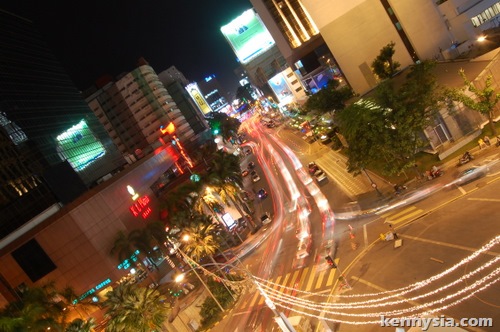 The capital city can be a frighteningly competitive place.
It's not unusual to encounter people who'd try to take shortcuts through life, or undercut you in their quest to get to the top. In such a fiercely aggressive environment, ethics and integrity have become secondary. Good guys often lose out. Yet, once in a while, it is encouraging to still come across people who are capable of making a name for themselves through sheer talent, hardwork and PASSION.
One such person I know of, is Joyce Wong.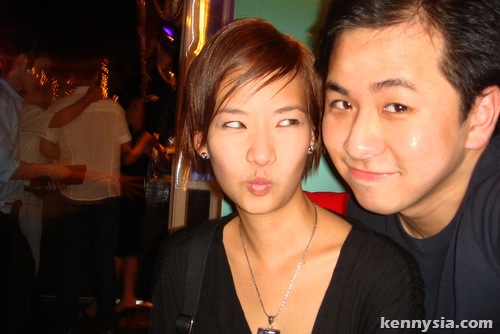 Some people may wonder what is it about Joyce that made me respect her so much. The thing is, most people online only knew her through her blog at kinkybluefairy.net. I have the privilege of meeting her in real life and knowing what she's like behind the computer screens.
Actually, Joyce and I are two vastly different people.
For example, I drink orange for breakfast. She drinks… Guinness.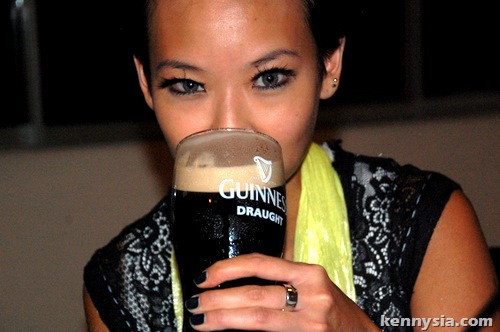 Her hair style changes once every three months. My hair style remains the same since The Jurassic Era.
Joyce can go out wearing garbage bag and people think it's fashion.
I go out wearing fashion and people would think I picked it from a garbage bag.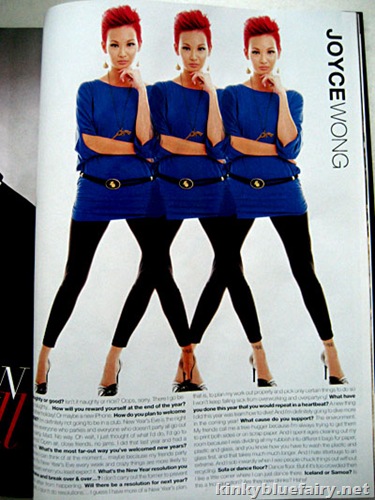 The one thing that we shared in common is that both of us blog, and it is through that that we come to know of each other.
For people who don't know Joyce, it is very easy to make the mistake writing her off as nothing more than a party princess on first impression.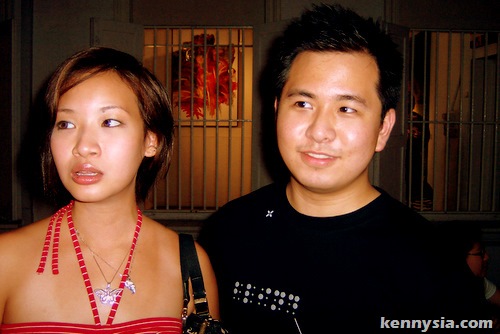 I was shamefully guilty of that too when I first met her at a bloggers' gathering four years ago. The big tattoos, wild hair colour and crazy clubbing photos on her blog all seem to give people the false impression that Joyce is all party and no work.
Initially, I too thought the same.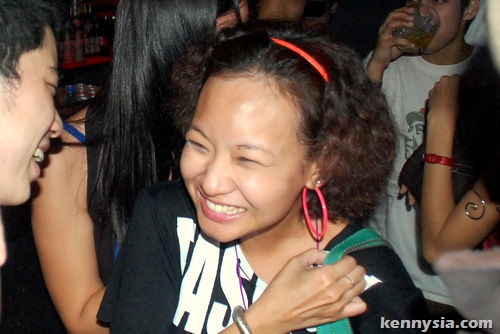 Like most naive people assume, I thought hot chicks would just aspire to live off their rich boyfriends and not think about work. And since Joyce undeniably falls into the category of 'hot', I stupidly thought that she might be just like that.
But going out to parties is only a very small part of Joyce. Most of the time, she's working during those parties but we don't notice.
As I got to know her better over time, I realised that her fame and success is no fluke.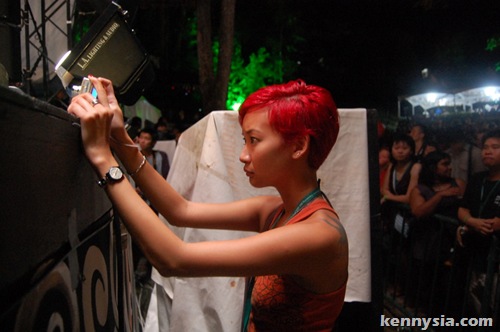 Joyce is 26 and works in the publishing circles.
She's been very active in it since I first knew of her four years ago, when she did writing and photography freelance. Even way back then, her services were already heavily sought after by magazines throughout the nation.
I remembered flipping through the magazine sectio in a bookstore once, and almost every publication I picked up has her name or face on it.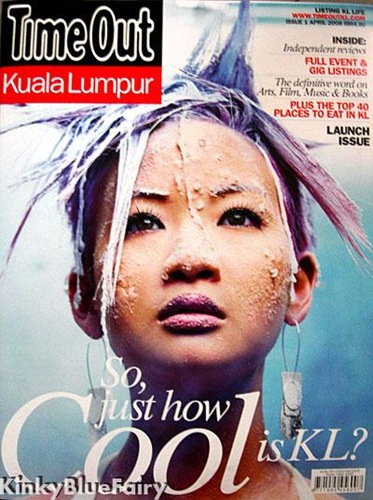 The money from freelancing was good and she earned enough to even buy her own car. However, the income stream can be quite unstable. Soon afterwards, she left writing temporarily to take up a marketing job with British American Tobacco.
It's an entirely different type of job and environment from what she's used to. It is also something that sapped a lot of energy out of her, and often I see her worked till even later nights.
But one day, a giant light bulb popped over her head. It was the day Joyce decided to fuse together two of her greatest passion: writing and fashion.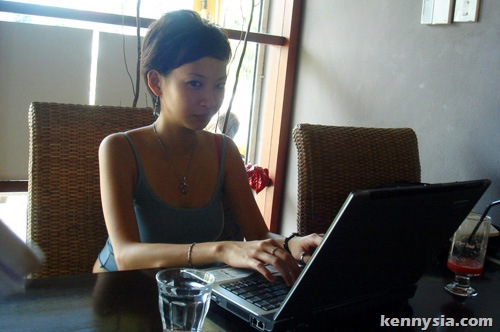 Joyce left her former company and spoke to Adrian Yap, founder of KLue and Junk magazines. Being no stranger to blogs, she told Adrian that there is a void in the market with regards to fashion news.
With his publishing know-how and her passion in fashion, Joyce suggested they should combine their superpowers and harness the might of the Internet in order to bring fashion news from all over the South-East Asian region into one spot.
Adrian liked the idea, made her Managing Editor and Joyce went on to work tirelessly to create what is now known as Tongue in Chic.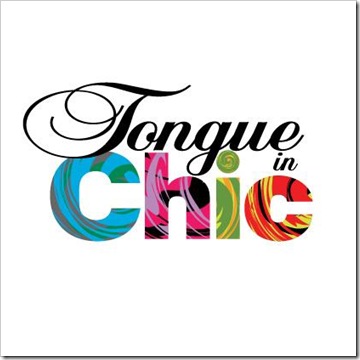 That was a year ago. Today, TiC is now the undisputed fashion blog in South-East Asia, attracting readers and contributors from not just Malaysia, but Singapore, Thailand, Philippines and even Australia.
Although Tongue in Chic is geared towards girls, personally I can't help but to check it out time to time. I find it such a great source to look out for sales and improve my hopeless sense of fashion.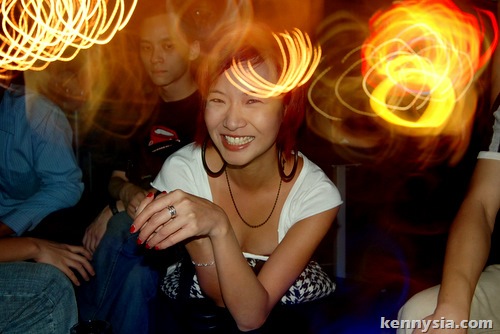 The biggest influence Joyce has on me was when she asked if I wanted to shave my head bald for charity late last year.
At that time, I turned her down because the event was in a week's time and I didn't have time to think it through properly. Losing my hair is a very big deal!
But then Joyce told me she was gonna go through with it and sure enough, she did.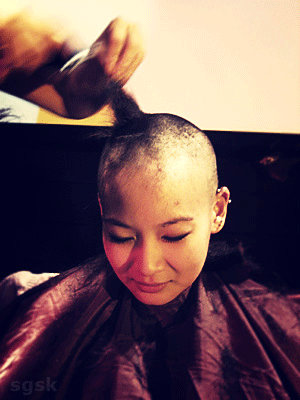 She
raised RM20,000 for the Malaysian Paediatric Foundation.
Joyce's action had left such an effect on me that I actually felt embarrassed I was so protective over my hair. Here's a girl, who manages a fashion blog, yet is able to shave her head bald when asked.
What more a guy like me, right?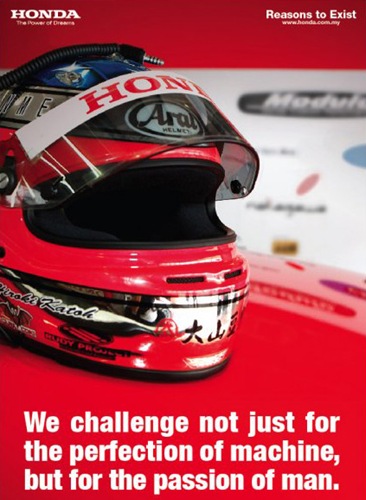 That is the reason why, when Honda Motorsports asked me to nominate somebody who can live up to their challenging spirit of Passion and Dedication, I have no doubt Joyce would fit the bill.
Here's an individual that works hard, plays hard and ultimately, instrumental in changing and improving KL's art, fashion and entertainment scene.
For that, she has my full support.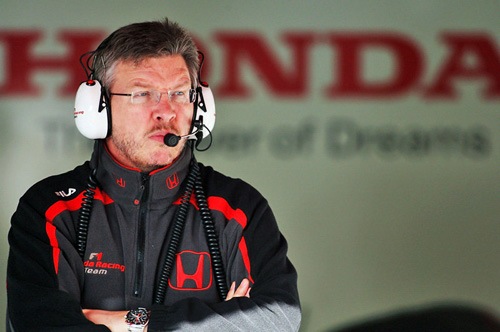 If you also know of somebody who has inspired you through their spirit of passion and dedication, perhaps you too can nominate them.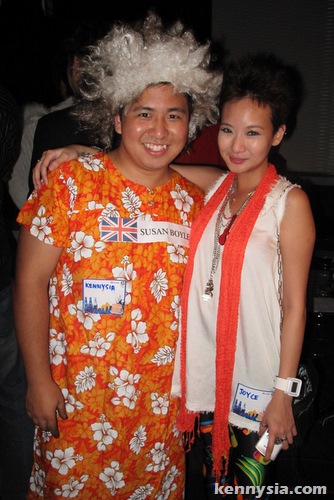 Because it is time we recognize them for the impact they have made.
This Saturday, I am speaking at the PJ Challenge '09 Bloggers Karnival at Jaya33 Shopping Centre. My talk will cover a wide range of topics and everyone is welcome to join. Lots of prizes will be given out and there will be something for non-bloggers, new bloggers and experienced bloggers alike.
The event is organised by Kaspersky Labs, makers of the popular anti-virus software, so don't worry. They will kill the swine flu virus going around.