You could always give the go-go bars a miss if the sight of trannies baring their man boobs offends you.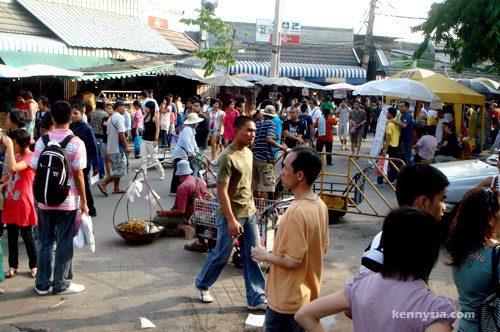 But one place not to be missed in Bangkok is the Chatuchak Weekend Market.
I went there during the last day of my trip, which fell on a Saturday luckily. In most places that I've travelled to, the markets are always the best place to see a wide range of merchandise and score some great bargains. The only exception is Petaling Street in KL, which is a crap hole filled with scams and rude vendors trying to rip you off.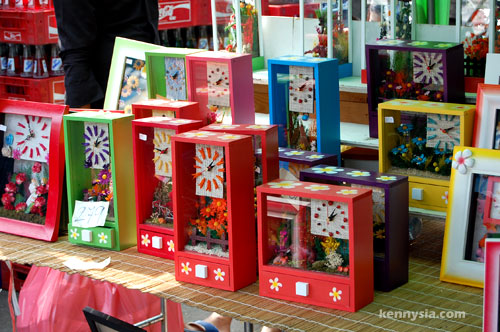 Chatuchak Market is one of those places that is so legendary, I've heard about it long before I visited Bangkok.
My friends often come back home from Thailand sporting some funny but stylish looking T-shirts. When I asked them where they got their T-shirts from, they said 'Chatuchak' and that's how I knew such a wonderful place exists.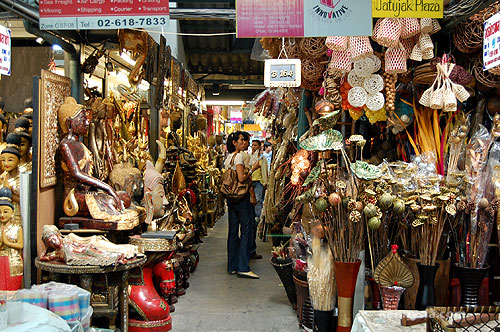 Chatuchak Market is HUMONGOUS. The market is pretty much only about the size of a single storey of Midvalley Megamall. But with 8000 stalls packed so densely together, there's never a risk running out of things to explore.
The prices here aren't always the cheapest. What I like about Chatuchak though is that the vendors are always nice enough quote a very low price to begin with. Since the prices were already so low, my bargaining skills were practically worthless. Even the "pretend to walk away" tactic doesn't seem to work.
Another reason I like Chatuchak is because…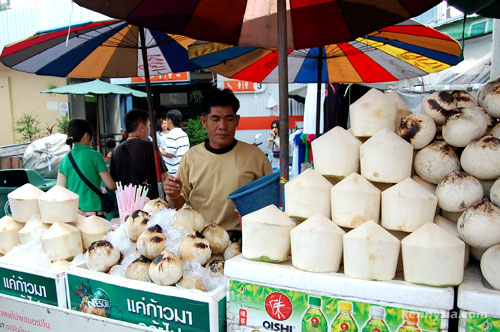 They have COCONUTS!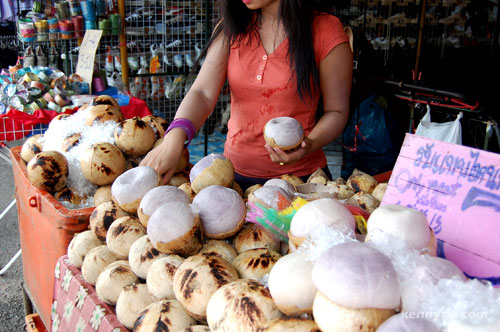 Heaps and HEAPS of COCONUTS!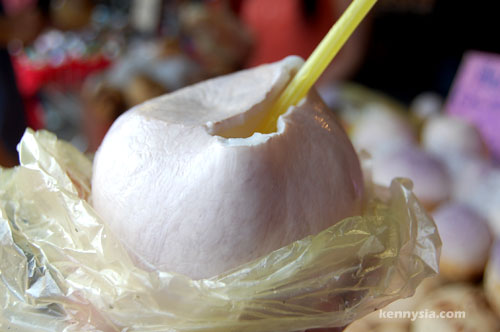 Coconuts so cool, they can deshell the coconut with one scoop, and hand you a ball of meat with all the coconut juice inside still intact.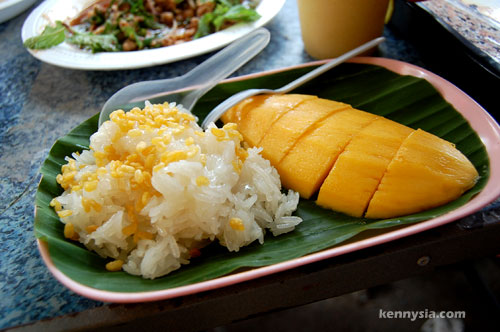 Mango sticky rice, a perennial dessert favourite at Thai restaurants worldwide.
I never used to like it because I thought they tasted pretty bland, but then that's because I've been eating cheap imitations at Thai restaurants outside of Thailand.
The real thing is heavenly.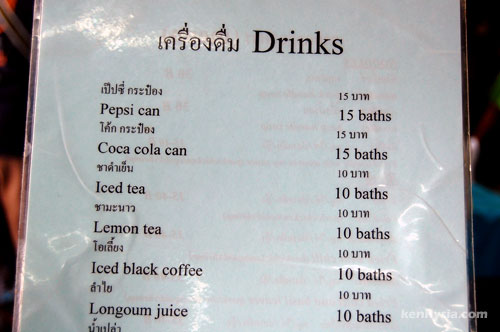 A drink menu in the market.
You don't pay them in baht. You pay them in baths.
A Pepsi can costs 15 baths. You gotta shower 15 times to buy a Pepsi can.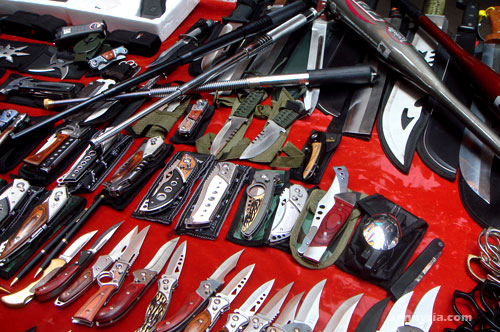 Lethal weapons: knives, swords, clubs, brass knucks, throwing stars, BB guns. You name it, they've got it.
The vendor looks like someone who could ong-bak the living poop out of me.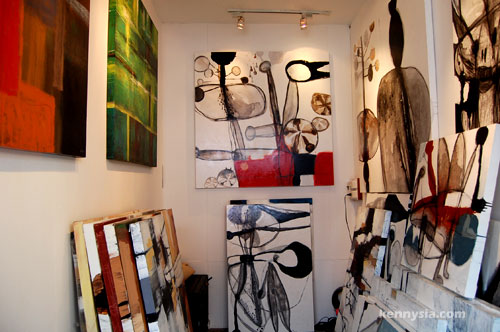 If you're an art lover, you're in for a treat. The alleys of Chatuchak market are filled with paintings, statues and trinkets to brighten up your place. And they're priced quite reasonably too.
There's an art gallery inside the market showcasing some pretty cool contemporary abstract drawings. These ones go for around 3,000 bahts (RM300).


Buddha art.
Technically, it's illegal to sell anything depicting the images of Buddha in Thailand. But no one cares about it anyway. Prostitution is illegal in Thailand but look at how far it went.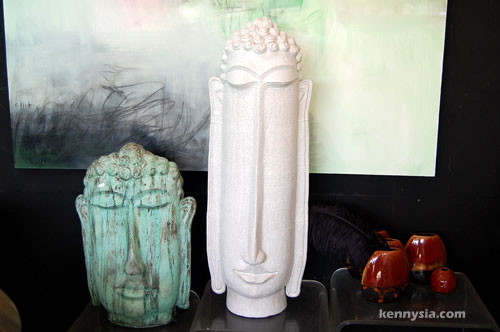 Hey, why the long face?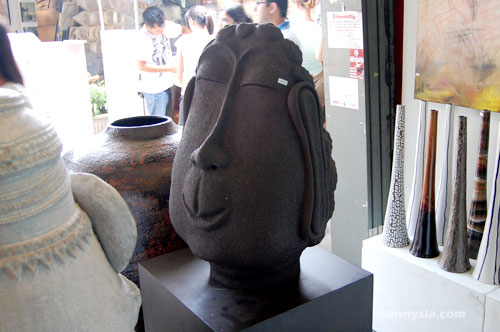 Now that's a happy Buddha.
Contemporary zen or religious mockery? You decide.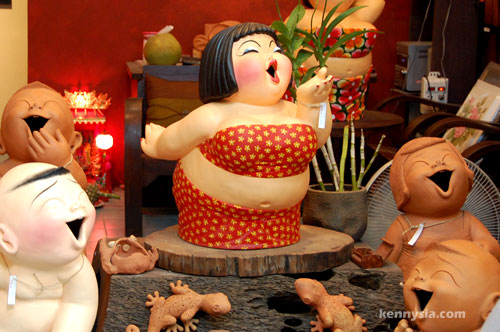 It ain't over till the fat lady sings.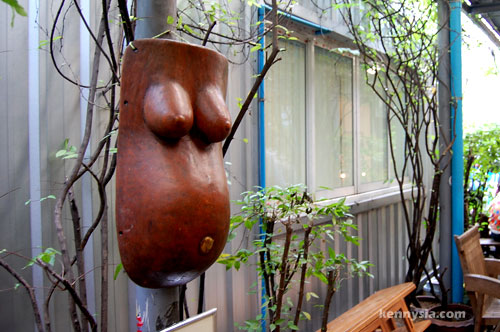 Oh look! Naked tits!
Tee Hee!
Quick! Someone faster go post a comment condemning kennysia.com and force him to take down the photo! Otherwise the minds of many young children reading this will be corrupted, y'know?

There are a lot of things in here not usually found back home, like this "Blob Thing" shown in the video.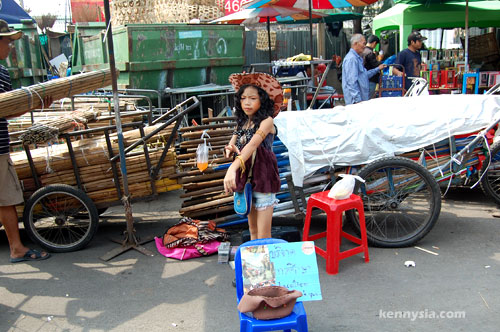 Street performers are everywhere in Chatuchak market.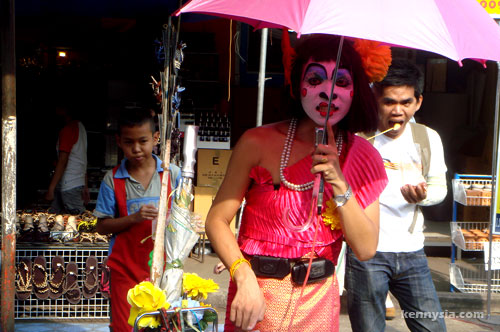 This guy is a cross-dresser trying to raise funds for his surgery, I think.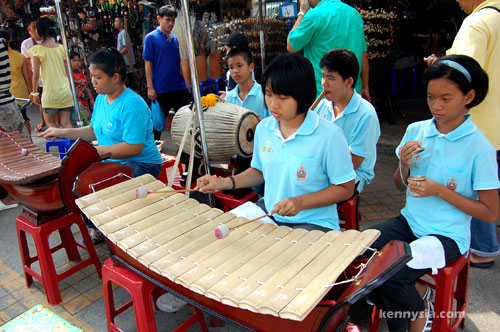 School kids raising funds for their education by playing music.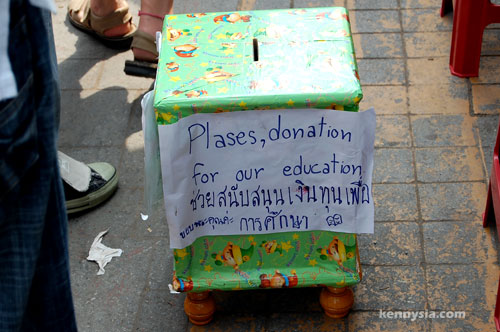 Looks like they REALLY need it their education.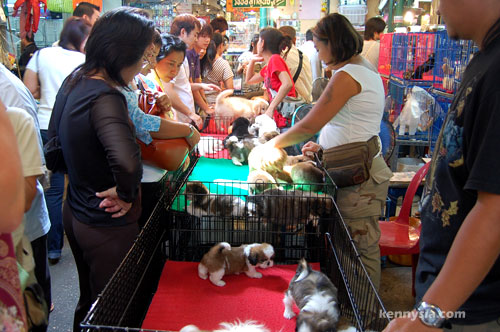 For me, the most fun I had was at the pets section of Chatuchak Market.
The pet section here is incomprehensibly large, selling everything from conventional domesticated pets like cats and dogs to the more exotic types, like giant turtles.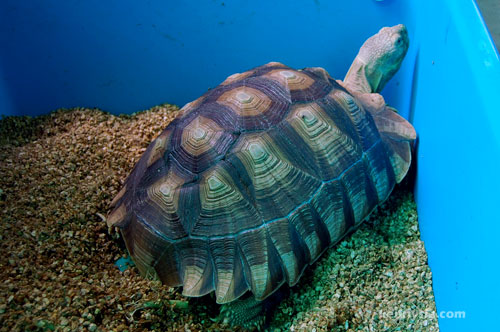 I'd love to have a giant turtle, but too bad my baggage might be overweight.
The variety of dogs here are incredible though.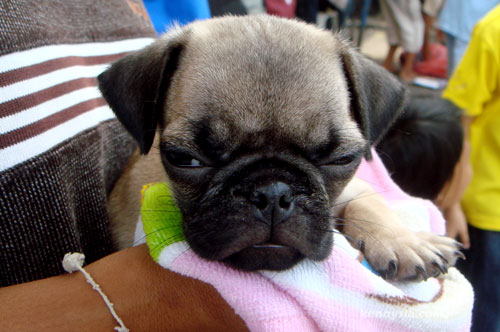 This dog is tulan.
Do not disturb.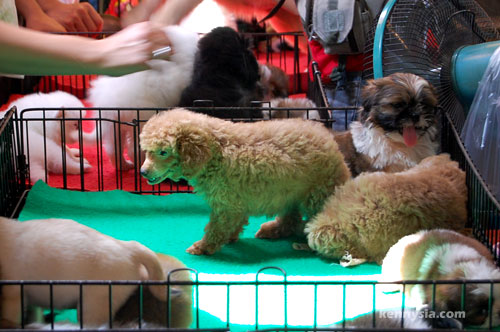 This is what happens when you crossbreed a dog and a sheep. You get a dog that looks like a sheep.
Instead of baa baa, it goes woof woof.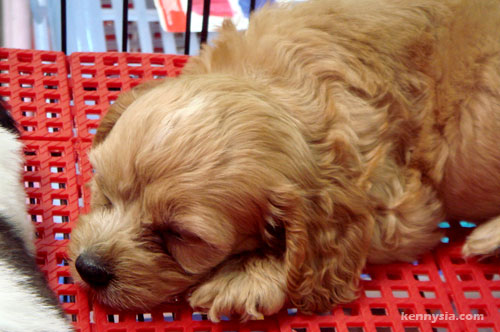 When the dogs here are not busy imitating sheeps, they sleep.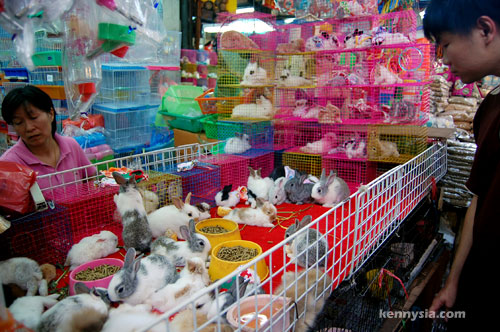 Bunnies. Hundreds upon hundreds of them!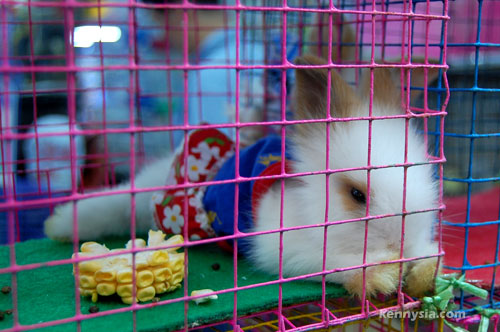 Tulan bunny hates wearing dresses.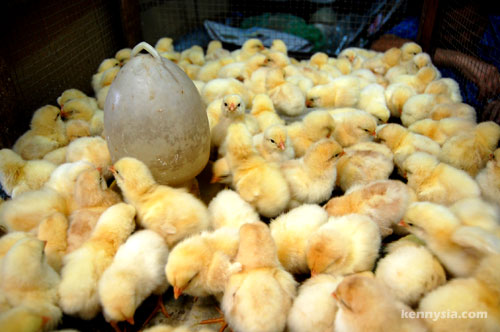 Sexy hot chicks for your viewing pleasure.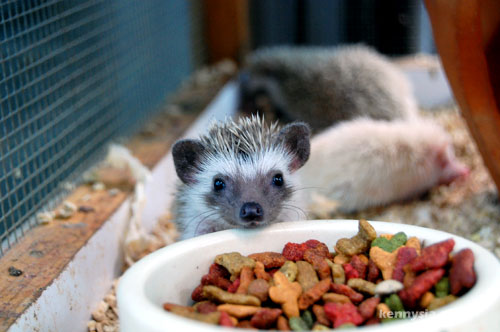 They even sell miniature hedgehogs here. These ones go for 500 bahts (RM50).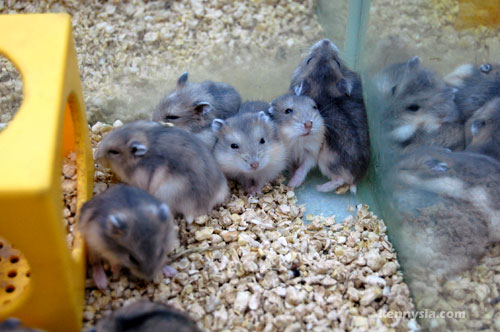 Roborovski hamsters. They have literally thousands of them crawling around and they go for only 100 baht (RM10) each.
Not knowing I could actually get Roborovski hamsters in Kuching, I eventually ended up purchasing a pair of them.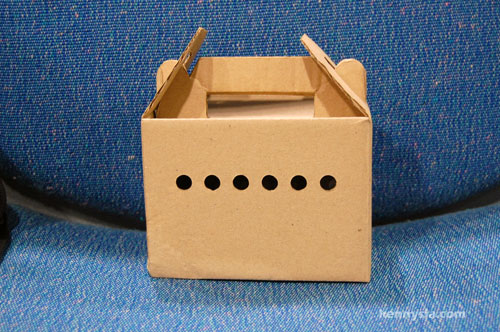 The trouble was bringing these creatures from Bangkok back to Kuching.
I was actually stopped by airport security at the Bangkok International Airport when they found out I was carrying hamsters on my hand carry luggage. They wanted to confiscate my hamsters, but obviously I was not ready to let them go. So I lied to them and tell them that I'll pass the hamsters over to "my friend waiting outside the airport".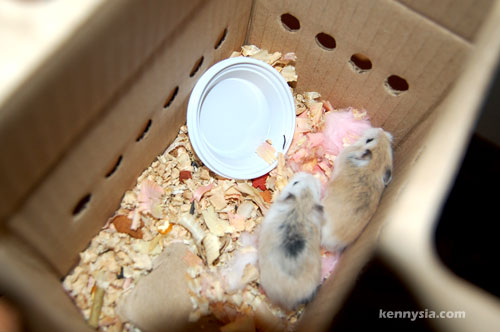 But of course, I didn't know anyone in Bangkok. In reality, I snooped off to the nearest toilet and did the stupidest thing I could ever do for a pair of hamsters.
I stuffed them inside my pockets.
Yes, I thought about stuffing them inside my underpants initially, but I was afraid they might bite my testicles thinking that it's food. So anyway, I stuff them inside my pockets of my shorts but those two buggers kept crawling out.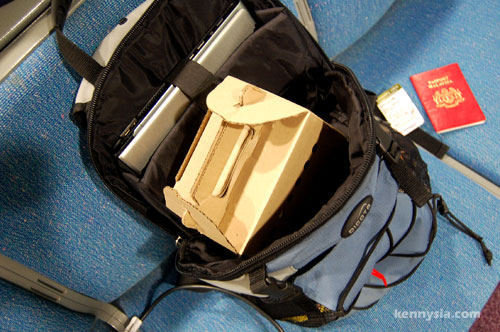 That didn't work, so I thought to myself "bugger it" and stuff them inside my backpack. I figured if they confiscate it, then well, bad luck. At least I tried.
Lucky I didn't put the hamsters in my pockets because when I went through airport security the second time, they actually patted me down and emptied my pockets.
My hamsters, on the other hand, went through the X-ray machine together with my laptop.
I wonder if they saw two tiny little hamster skeletons on their screen, because they let me through successfully.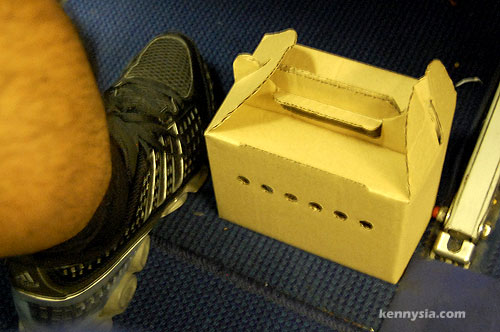 And so, the two little hamsters went home with me back to Kuching (until one became Spiderham and jumped out the window from the second floor).
That concludes my short adventure in Bangkok. I also bought some gifts for friends, a new backpack and a few of those funny T-shirts that I always wanted.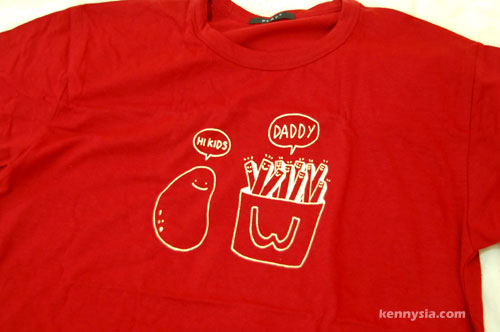 There was this one brilliant T-shirt that I really liked though, but I didn't buy it 'cos I was not sure what my mom would say if I actually wore it out.
Why, you ask?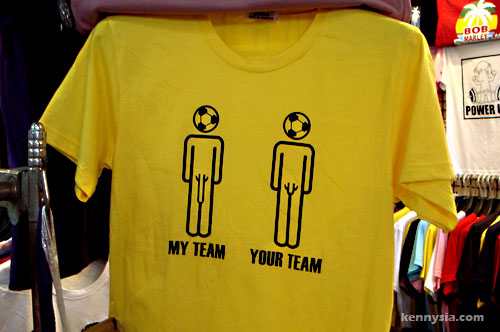 Well, I think that's self-explanatory.

AD: Extreme Events presents… Absolute Kylie!
Absolute Kylie pays tribute to the iconic pop princess in a performance that will have you believing! Sarah Harmony – who shares an uncanny vocal and physical resemblance to Kylie – delivers an engaging show, including audience participation, a hint of cheeky humour, stunning costumes and all the well-known chart topping hits of Kylie Minogue.
It's showing this 31st December at The Grand Ballroom, Hilton Kuching. Tickets available from Tina at 012 888 0080.