Two months ago, kennysia.com reader Joshua submitted this photo for the 'Eat A Chip Like Kenny Sia' contest.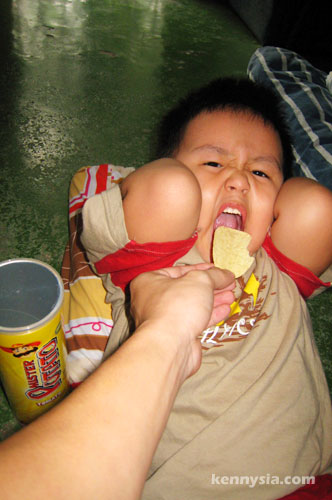 And just like that, Joshua won himself an all-expense-paid trip to Bangkok.
Isn't it awesome being a kennysia.com reader?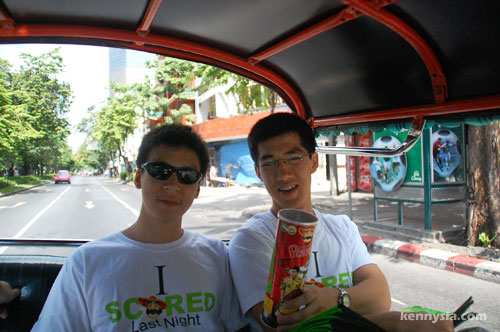 As part of his prize package, Joshua got to bring his friend Boo Leong along for the trip. To top it off, each of them received a tidy sum of baht for their shopping at in Bangkok.
All of these are fully sponsored by the good guys at Mister Potato.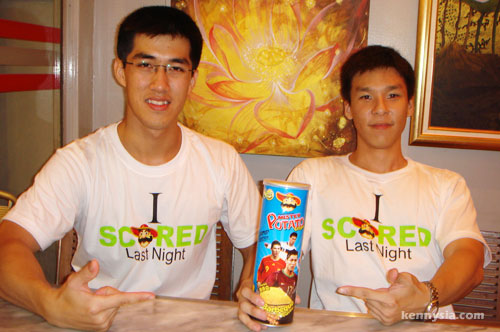 We had just returned from Bangkok and what blast we had at the Land of Smiles.
It was an interesting experience not just for them, but for me as well because it's the first time I acted as a tour guide to two people I have never met before.
Before this, the only experience I had in travel-planning was as the designated driver among my friends whenever we go overseas. It's a miracle how I always managed to get them back in one piece.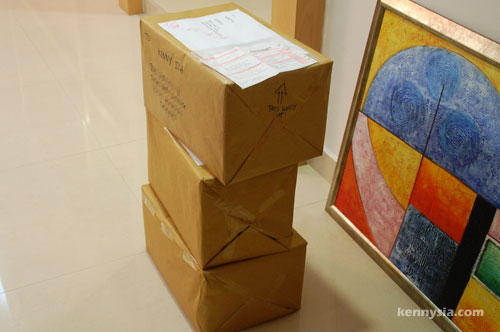 Mister Potato was being awfully nice as our sponsor.
Before I departed for Thailand, they couriered to my house one whole stack of Mister Potato T-shirts, FIFTEEN tote bags and TWO huge cartons of Mister Potato chips.
We had, what can only be described as "Mister Potato Palooza" in Bangkok. There were so much potato chips in our possession that we felt the need to share the love and spread them around like diseases in Patpong's naughty bars.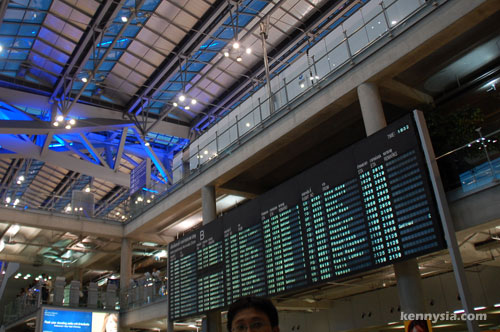 Our adventure in Thailand begins at the Bangkok Suvarnabhumi (pronounced "Sue-Wanna-POOM!") International Airport.
After picking Joshua and his friend Boo Leong up from the airport, we proceeded to check into our guesthouse in Silom – the fabulous but horribly-named Lub d Bangkok.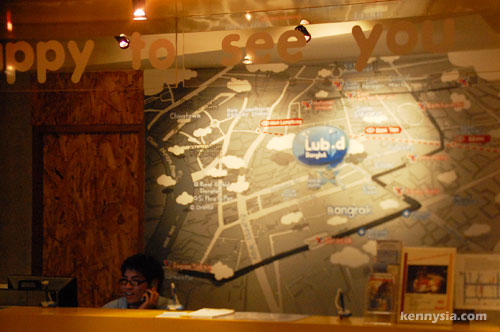 Don't be fooled by its name. Lub d Bangkok is not the brand of some dodgy lubricant.
It is actually one of the best cheap guesthouses I have ever stayed at anywhere in the world. Not only is it located right smack in the middle of Bangkok downtown, it is also comfortably air-conditioned, tastefully decorated and spotlessly clean.
Lub d Bangkok is also close to the dodgy go-go bars of Patpong, but that is not the point. The only thing dirty about Lub d is the price. At RM50 per person, it is dirt cheap!
Joshua and Boo Leong has never been to Bangkok before, so we wasted no time to take the boys to their first tourist attraction here.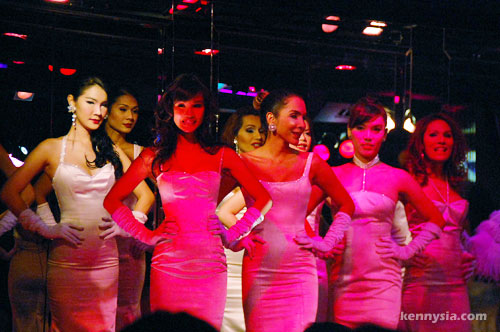 The Calypso Cabaret Ah Gua Show!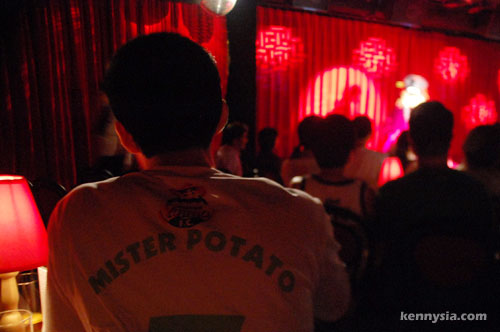 As soon as we were shown our seats, we were treated to 2 hours of non-stop dancing and lip-syncing so good that it puts to shame Lin Miaoke's performance at the Beijing Olympics 2008 Opening Ceremony.
For two boys who have never seen a tranny show before, Joshua and Boo Leong were terribly confused how the guys performing on stage can look so much like girls.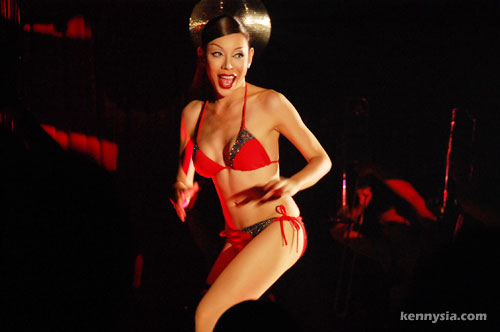 I told them that it's the result of a lot of breast implants, heavy make-up and plastic surgery.
Granted, some have their hormone injection worn off a long time ago.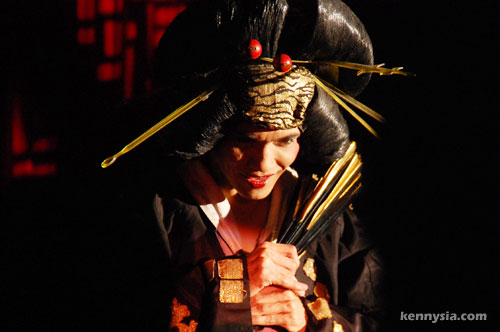 But a lot of them look hot enough to make us question even our own sexuality.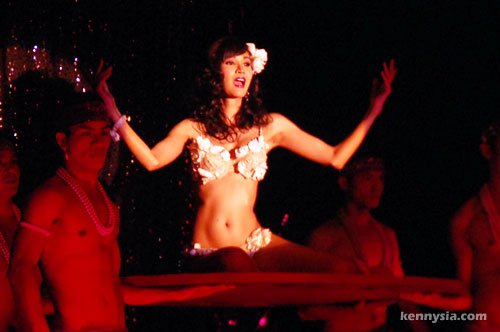 Tickets to Calypso Cabaret aren't cheap at 1,000 baht (RM100) per person, but it is worth it because it's still one of the best shows in town.
Some of the dances incorporated cultural elements from Japan, Korea, Spain and they are all very tastefully done.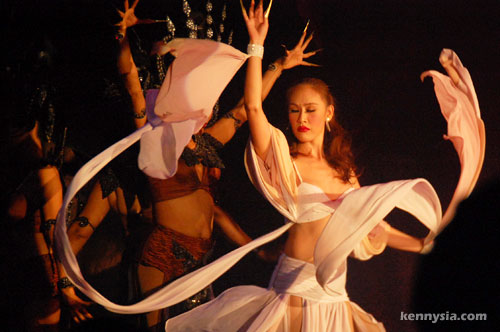 Another thing I like about Calypso Cabaret is that after the shows, the ladies ladyboys were nice enough to all line up at the side of the theatre, so that guests can take photos with them. Unlike at other places, they do not charge extra for photography.
Knowing the controversy that I managed cooked up last year, the boys were initially a bit careful about taking photos with them.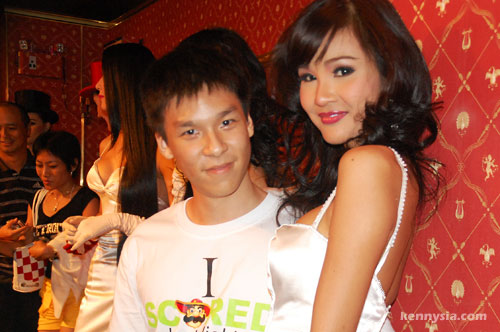 But with the help of potato chips, I think they broke the ice and warmed up to each other pretty quickly.
Surprisingly, the ladyboy did not suggest to us "you bring me to hotel, I show you good time." Instead, all she asked was our can of Mister Potato, which we're more than happy to oblige.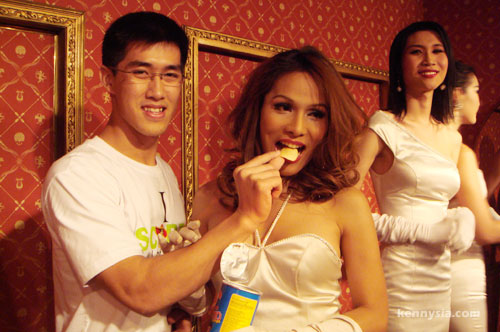 It was pretty late when the show finished, so after randomly browsing the night markets, we retired back to our hostel to rest.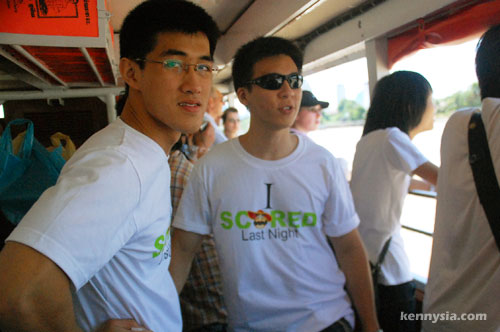 Next morning, the boys woke up early and I took them for a tour down to the cultural and historical centre of Bangkok. Keen to avoid the notorious Bangkok jam, we took the sky train and a ferry ride down the Chao Phraya River.
A moment later, we arrived at the Grand Palace – the former residence of the Thai monarch.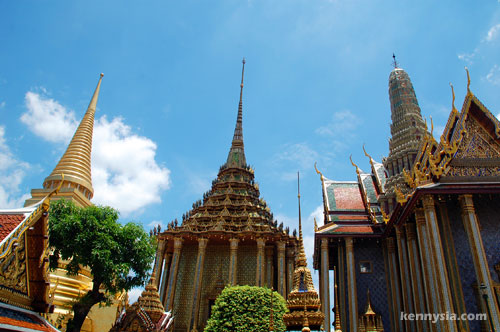 Tickets to the Grand Palace cost 300 baht (RM30) each.
For that price, we also got to enter the amazing Wat Phra Kaew temple.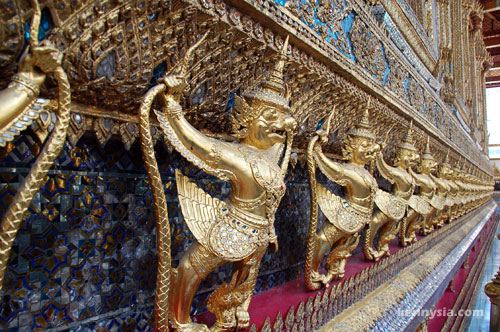 Inside that monolithic and intricately decorated structure, is the disappointingly miniscule Emerald Buddha. No pictures because cameras are not allowed.
We ogled at the tiny Buddha image for a while, until Boo Leong suddenly felt a tap on his shoulder. He turned around and saw a security guard pointed towards his feet.
Apparently Boo Leong sat on the floor with his legs pointing forward towards the Buddha, and in Thailand, pointing your feet towards anyone is akin to giving them a finger. He apologised and meekly tucked his legs away.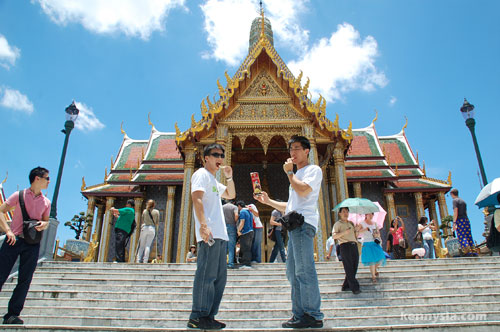 At the Palace Gardens, the boys admired some amazing ancient Siamese architecture.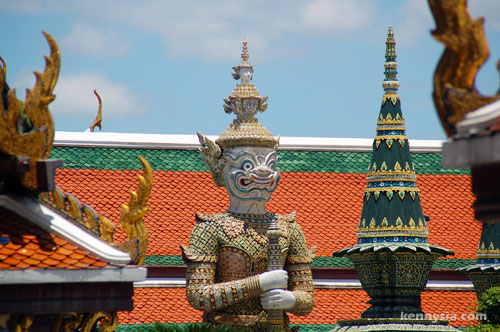 Came face to face with giant statues scary enough to scare my undies off.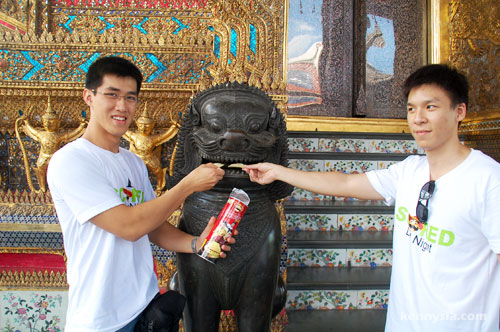 Even fed the royal guard dogs some Mister Potato chips.
How considerate.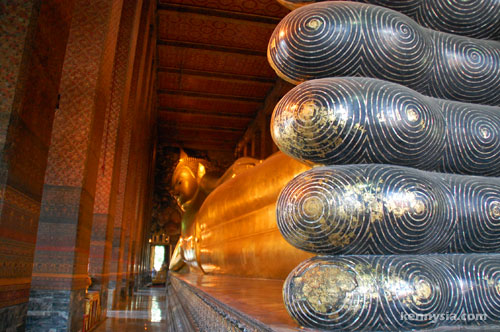 A short walk away from The Grand Palace is Wat Pho, one of the oldest Thai temple.
Wat Pho is home of the largest Reclining Buddha in Bangkok. Unlike the tiny Emerald Buddha we saw earlier, the Reclining Buddha here is bigger than King Kong.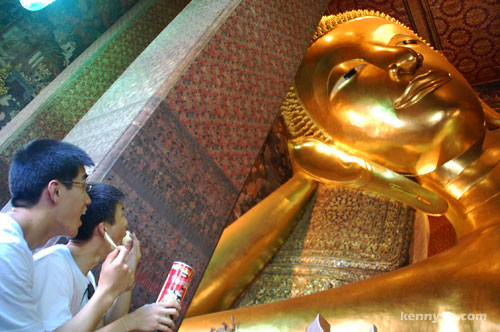 It's difficult not to be in awe by the grandeur and majesty of the golden reclining Holy Buddha. There's so much gold in here that our eyes are instantly blinded.
As we walked out of the building, a funny incident happened.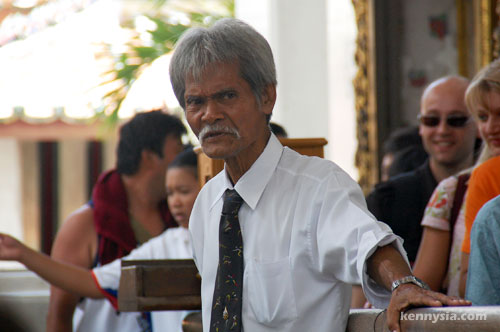 Outside Wat Pho temple, we met this old uncle whose job I think was to give instructions at tourists in their home tongue. All day long, all he did was asking them to queue up and take off their shoes before entering the temple.
The uncle was clearly very impatient, flaring his temper a few times at a few hopeless British tourists who took longer than usual to remove their shoes, thus holding up the queue.
As we watched in amusement, suddenly I had this idea of offering a can of Mister Potato to the uncle.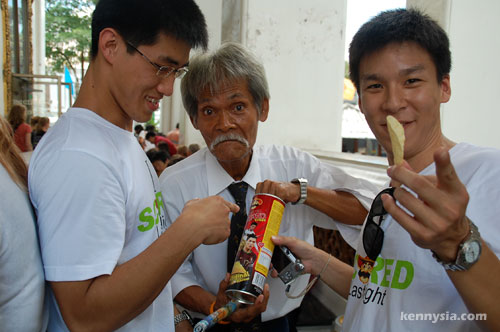 Turned out that the old uncle has a very good sense of humour.
When we offered him some Mister Potato, he took the whole can, waved goodbye to us and pretended to walk away.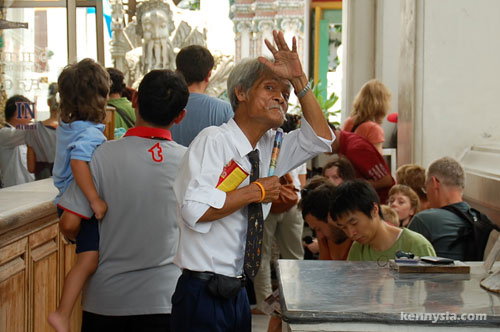 We didn't even had the chance to tell him that we actually wanted to offer him the whole can!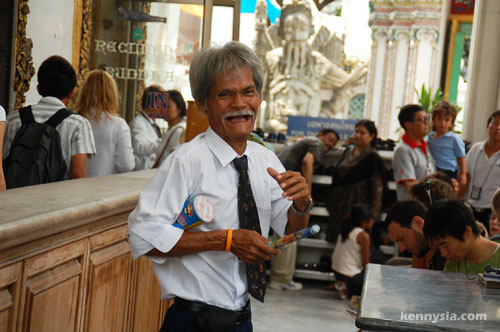 But we did, and it warmed our hearts to know that we made his day. All it needed to cheer him up was a can of potato chips.
The old fella was clearly very appreciative of our gesture. Before we left the temple, they asked if we're looking for massage. I thought why not? I read that traditional Thai massage is born in Wat Pho. After a whole day of walking under the hot sun, it's about time to let someone else stretch our legs.
The uncle then directed his 9-year-old daughter to direct us to the cheapest Thai massage place outside the tourist traps. We thanked him and followed his daughter's lead into a quiet massage shop tucked inside the Amulet Market.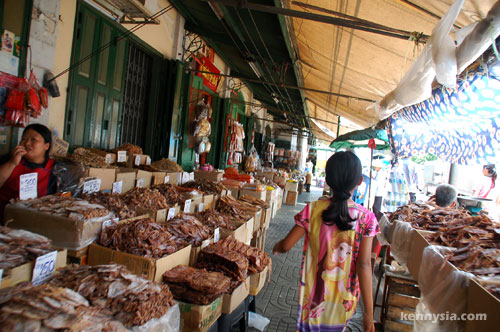 After making sure the massage shop we're visiting is not the kind that includes "happy endings", I approached the owner and ordered the boys a one-hour traditional Thai massage.
The boys were shown into a curtained cubicle, where they changed into what seemed like oversized hospital grubs.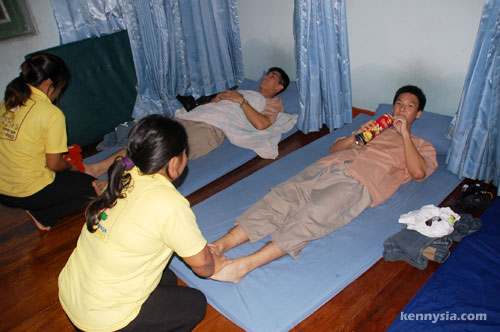 Joshua has never been to a Thai massage before, and he clearly had no idea what he was in for.
As the petite Thai masseuse instructed him to lie on the mattress, Joshua casually munched on a can of Mister Potato thinking that he's in for a relaxing soothing massage.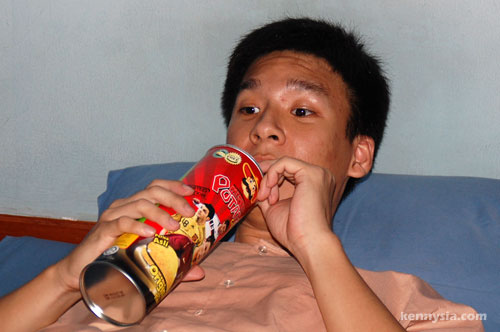 How wrong was he.
Over the course of the next 60 minutes, the little Thai lady used all her might to punch, whack, twist, snap and pulverise the living shit outta Joshua Chng.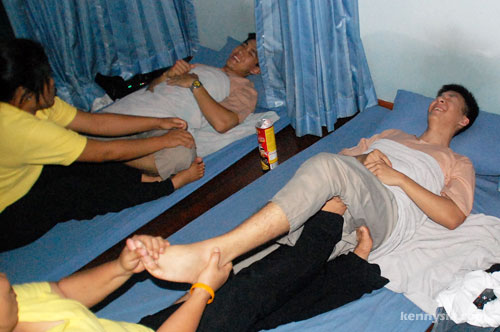 For a moment there, the boys were worried if they were gonna be bent into human pretzels.
By the end of their session, Joshua and Boo Leong were speaking Thai words they never knew they could, most of which includes excruciating yells of "Arggghh!!!" and "Owww!!!" and "HELP MEEEE!!!"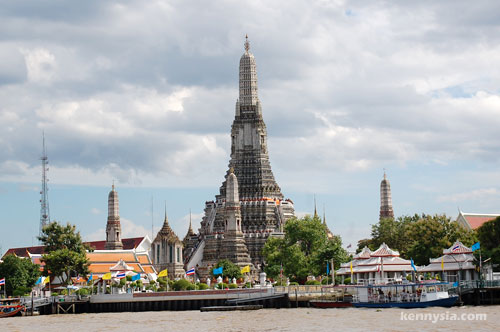 It's a miracle they managed to walk out of the shop alive.
It was late afternoon when we're finished and by then, the sweltering heat has died down considerably.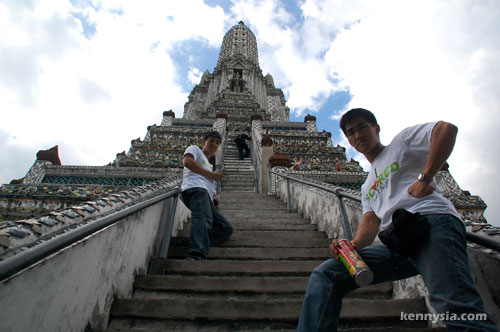 We wanna make the most out of Old Bangkok before we leave, so we took the ferry (3.5 baht or 3 5sen) cross-river to the old Thai capital of Thonburi where the Temple of Dawn Wat Arun is located.
Wat Arun is unlike any of the other wats we had visited. For one, this temple is not covered in gold.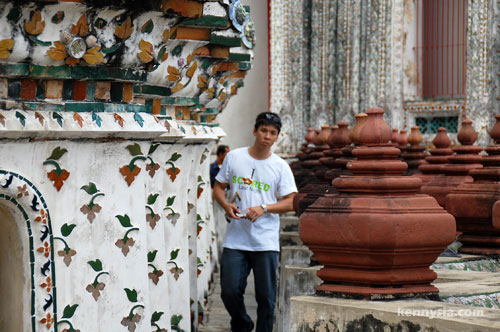 It is also not overcrowded by tourists and hence we get to enjoy it as a more leisurely pace.
The central spire is tall and built like a pyramid. There are steep staircases running up the central spire, which you can climb and be rewarded with a bird's eye view of Bangkok's most beautiful temples.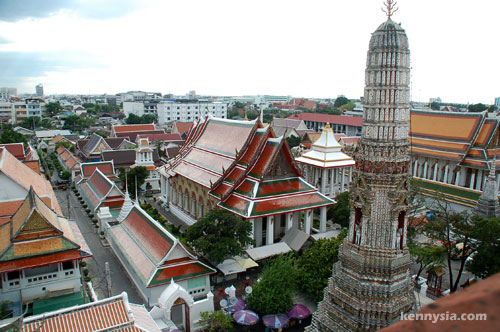 The temple grounds of Wat Arun are just as interesting.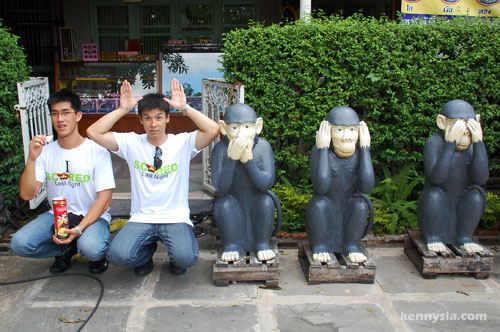 Littered alongside the walkways are plenty of fascinating statues.
And they all seem to enjoy a certain brand of potato chips very much.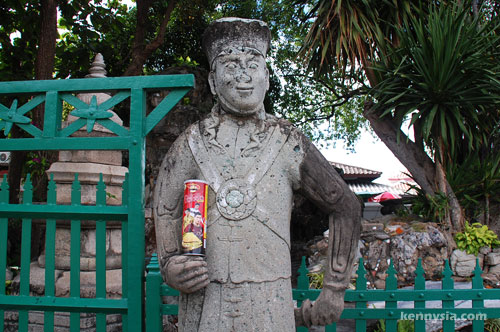 Anyway, we were all wat-ed out by the time we're through with Old Bangkok.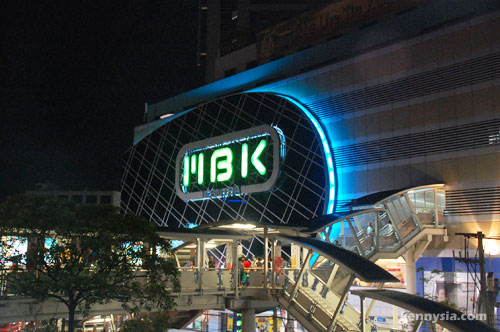 After sunset, I brought the boys to MBK, where we had dinner and some light shopping under the comfort of some much-needed airconditioning.
But before we called it a day, there's only one more place on our itinerary that we needed to go.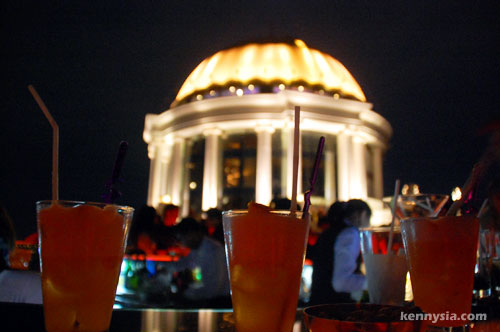 The world's tallest rooftop bar is located just 5 minutes down the road from Lub d Bangkok. After hearing so many good things about it, we just HAD to visit the elusive Sky Bar.
Drinks here are expensive at 200 baht (RM20) a pop.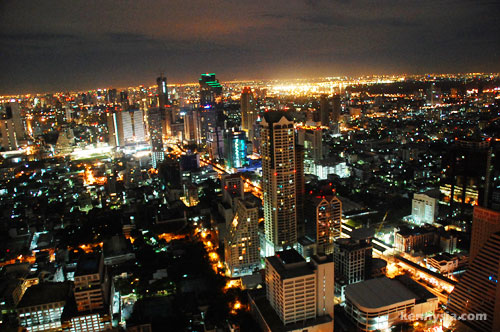 But with views THIS spectacular, you simply cannot put a price tag on it.
It is so spectacular here that when you overlooking the city lights of Bangkok, you can't help but think of yourself as Batman.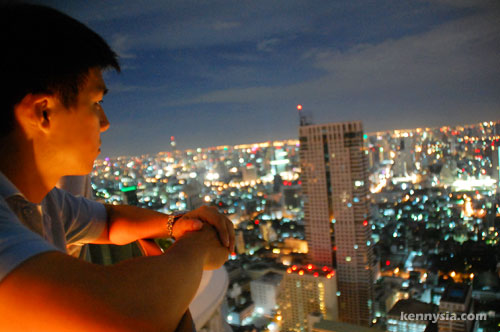 After we left the Sky Bar, our sightseeing part of Bangkok has finally came to an end.
We checked out of Lub d Bangkok on the morning of Day 3, but not before rewarding the helpful receptionist with a bag of Mister Potato.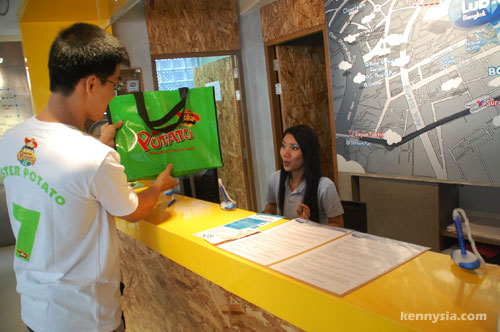 And while we're at it, we spreaded the Mister Potato love to some ang moh tourists as well.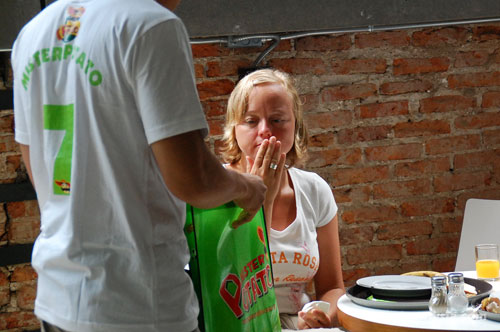 You can see that she's impressed with the size of Joshua's can.
Even the tuk tuk driver who drove us around wasn't spared from the love of Mister Potato.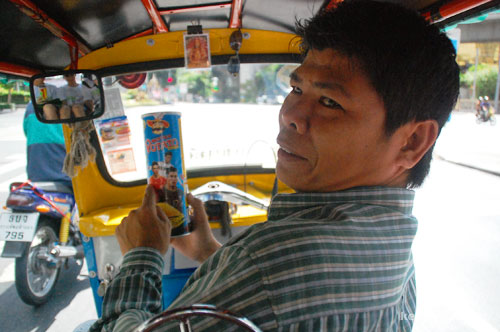 Well, after two days in hostel accommodation, I decided to upgrade the boys to grand luxury and put them up at the spacious President Solitaire Serviced Apartment on Sukhumvit Soi 11.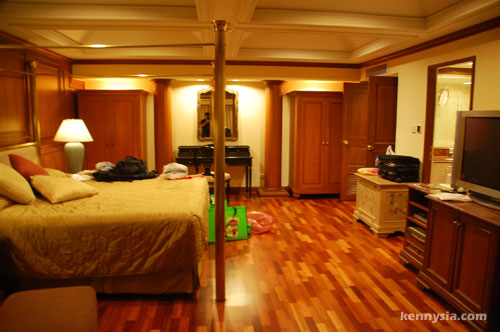 From there, we took the Sky Train to visit the monolithic Chatuchak Weekend Market, where we had yummy mango sticky rice for breakfast.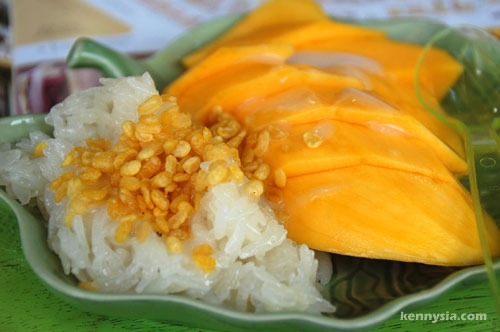 I gave the boys 8,000 baht (RM800) shopping money on behalf of Mister Potato, and then I gave them a mission.
To conquer Chatuchak Market!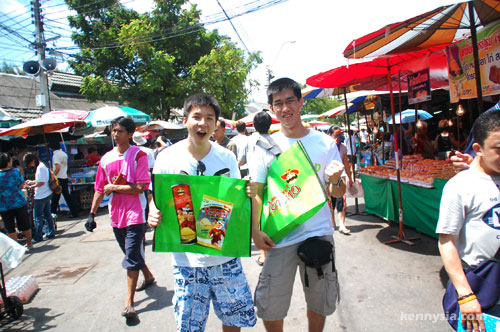 As the boys go off shopping in amongst the 15,000 stalls there, I finally found some time to my own.
It was then that I discovered the most fantastic beef soup noodle at this stall called Boat Noodles inside JJ Plaza.
You can tell a food stall is good when the seats inside are all filled to the brim with locals.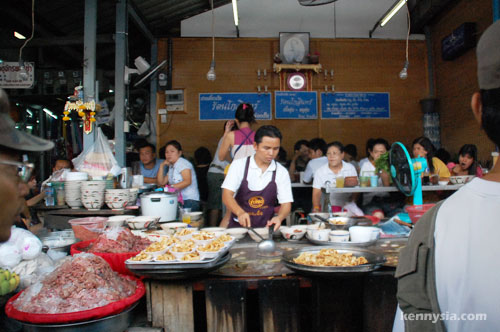 The seating arrangement is cramped to say the least, but that does not deter the patrons from coming in, order a bowl, and helping themselves with spices and freshly-plucked mint leaves on the table.
Boat Noodles certainly did not disappoint.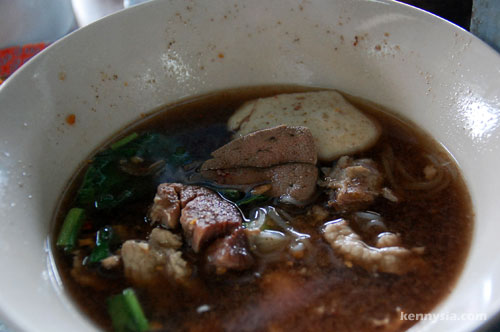 It may not look like much, but this stall sells the freshest, most delicious noodle soup I have ever tasted in Bangkok.
It was so good, my mouth still salivates thinking about it right now.
After one whole day of non-stop shopping, the boys finally returned with their loot from Chatuchak Market. They had spent all the 8,000 baht I gave them, and then some.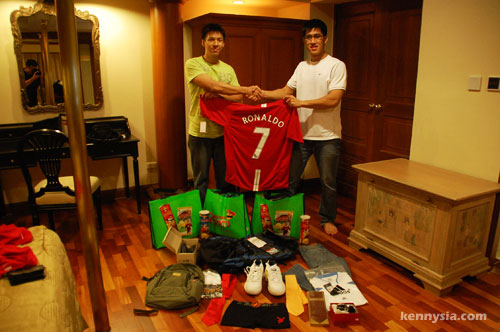 Four days in Bangkok whizzed by pretty quickly when you're having fun.
Just when we're just getting used to good food, cheap massages, bargain shopping and the hospitality of friendly locals, it is time for us to big farewell to fabulous Bangkok.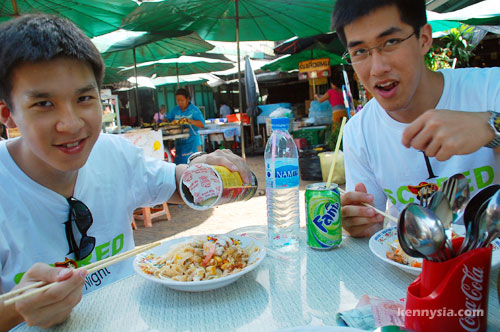 But not before we attempted something so adventerous, it could only be done in Thailand.
One late night, with our empty stomachs protesting, we took it to the streets to hunt for some late night supper.
I thought we're just gonna go for mamak stalls or 24-hour McDs, but what we encountered literally shocked the Tom Yum out of my guts.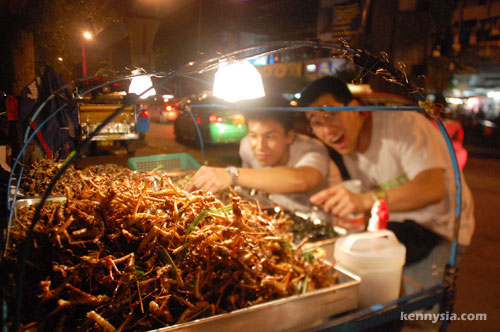 Parked innocently on the side of Sukhumvit Road, is a push cart vendor that selling of all things, INSECTS for supper!
No kidding.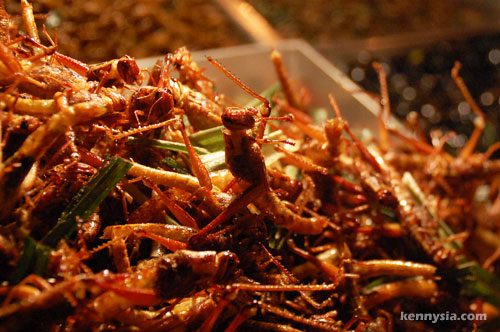 In other countries, restaurants could shut down and the owners hauled to jail if these bugs were found inside restaurants.
In Bangkok however, these insects are considered a DELICACY.
For just 20 baht (RM2), we got ourselves a bagful of very crispy deep fried grasshoppers.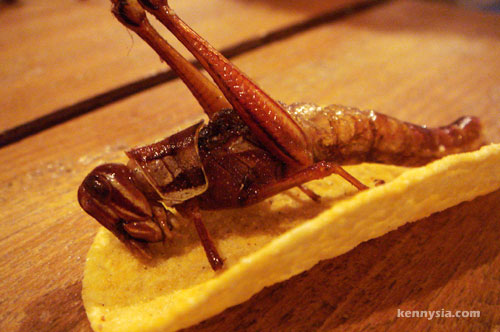 Although initially apprehensive, the boys seemed to have no problems gobbling down fried insects. They literally just broke the limbs off and popped it into their mouths as if they were eating potato chips. Except potato chips don't come with legs.
Myself, on the other hand, took a little bit of courage. Yes, I ate snake heart before. But swallowing grasshopper is a whole new different ball game.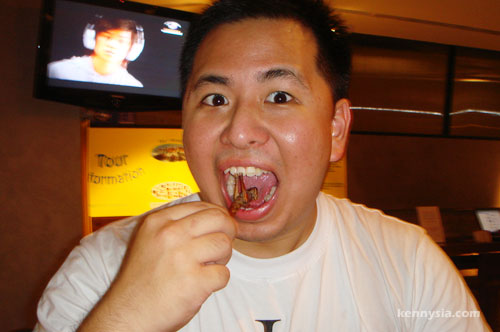 But I took a deep breath, popped it in my mouth, and swallowed the damn thing anyhow.
So how did it taste like?
I must admit, it didn't taste as foul as I thought it would be.
With the heavy masking of lard and soy sauce, fried grasshoppers actually tasted quite alright. The texture may take a bit of getting used to, but I say it's very similar to munching on IKAN BILIS. Just don't expect to see it on your nasi lemak anytime soon though.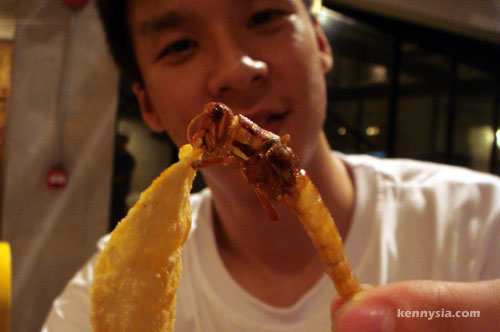 Well, given a choice between fried grasshoppers and Mister Potato, I think I still prefered BBQ flavoured potato chips ANYTIME.

I'm making an appearance on the brand new season of Jason Lo's Latte At 8, so be sure to catch me live this Friday 11pm on 8TV.