Welcome to my super late travel log entry on my recent Bangkok trip.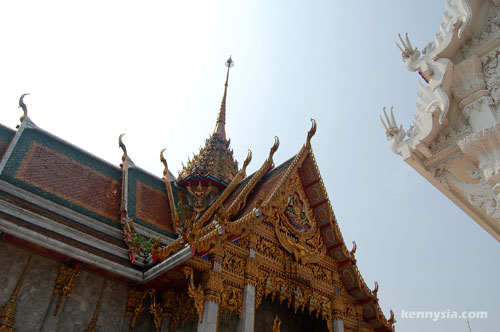 After the Black Eyed Peas concert (of which I went backstage and met them OMG), I had a little bit of spare time to explore the historical Siam city.
Truth to be told, I didn't quite enjoy the trip as much I hoped for. At the time, I had a lot of work at the back of my mind and I couldn't put myself at ease eventhough I'm in an exciting new foreign city. The smog and bustling traffic of the thriving metropolis did nothing to soothe my headache.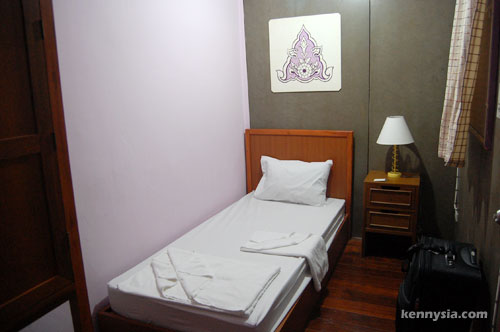 This is my single private room at the guesthouse that costs me only 300 baht (RM30) a night. I did mention before that I don't have the habit of paying for more expensive hotel rooms if I'm travelling solo, so this one suits my budget well.
The place is spotless clean, but the pillows are so damn hard I swear they're made of bricks. You get what you paid for I guess.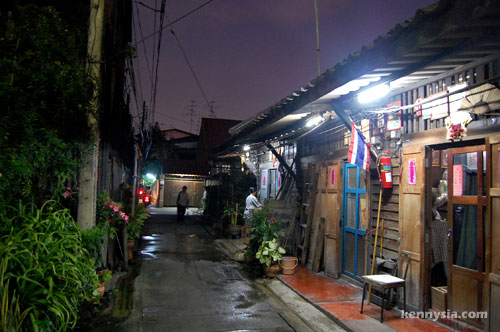 I stayed at the Cozy Bangkok Place which is located reasonably near to the subway station and close to the city centre. Outside the guesthouse are rows of cheap residential houses.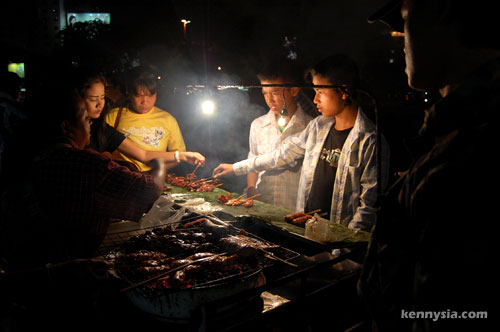 When I walked past them in the morning or at night, the locals would greet me cheerfully though they don't speak a word of English. I always appreciate that kind of heartfelt hospitality when I travel. 🙂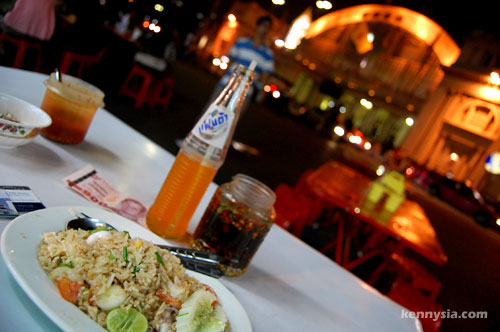 Nothing beats the value, the atmopshere and the taste of streetside hawker food. I tell ya, the Thais serve up some of the best-tasting fried rice in the world.
Wash it down with some Fanta straight from the bottle, and the bill comes up to less than 50 baht (RM5). Bliss!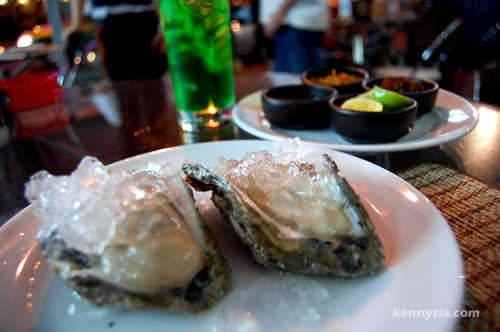 The fattest, juiciest oysters are found in Thailand. These ones are 60 baht a pop (RM6), but I'm sure you could find it cheaper if you search around.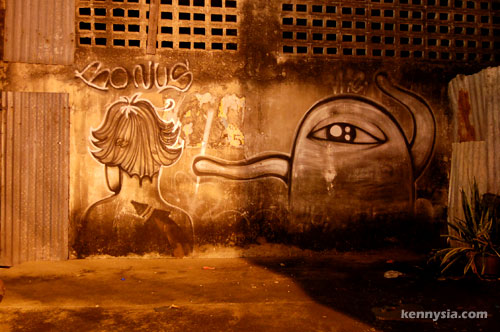 Some street art I spotted outside my guesthouse. It's meaningless, but it's cool. Hey, at least it's a lot better than the ones we have back home.
In Malaysia, our "street art" are either swear words like "F**K YOU C*BAI" or "For gay sex, call John 012-xxxxxxx".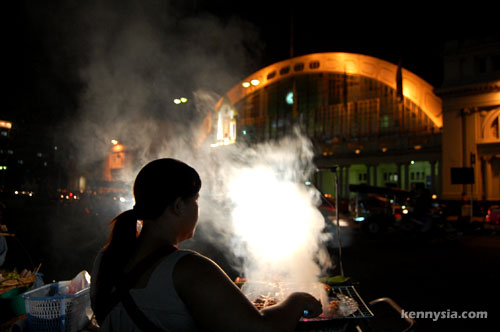 Anyway, it's a good idea to stay at a place close to the subways because the road traffic in Bangkok is a friggin' nightmare. The traffic in Bangkok is so bad it made KL look like Disneyland.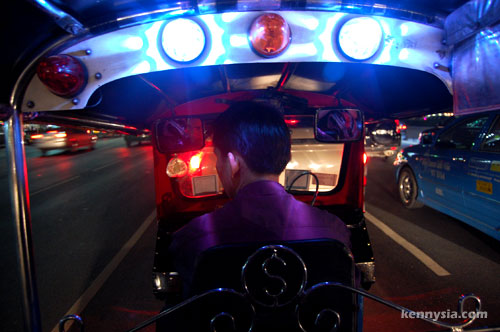 Here, taxis are perpectually stuck in a jam and tuk tuks rip you off big time. You can't win.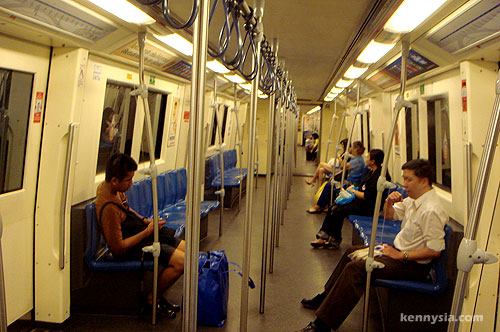 The subway and sky trains of Bangkok on the other hand are surprisingly clean, fast and comfy. For some weird reason, very few locals use them so the trains are empty 99% of the time.
The only hassle is that there's a security guard checking your bags everytime you enter the subway. In case you carry a bomb, y'know?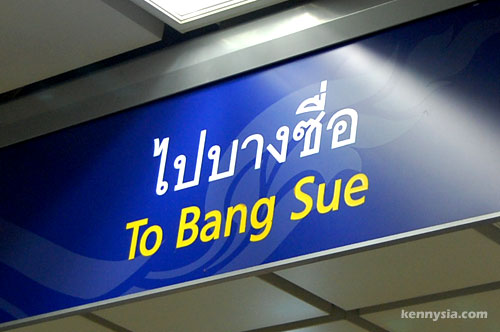 Dear Sue, someone in Thailand wants to bang you.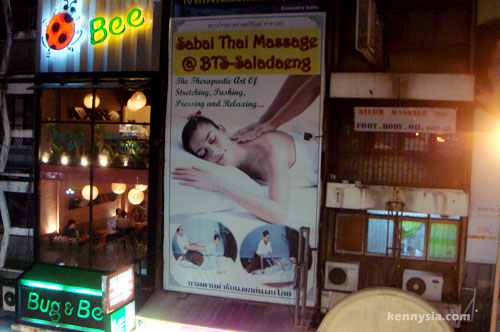 One thing I noticed about Bangkok is that there are so many places advertising for massages and other kinds of "health" crap. Some more their posters are always this picture of a half-naked lady lying down, eyes closed, receiving a massage.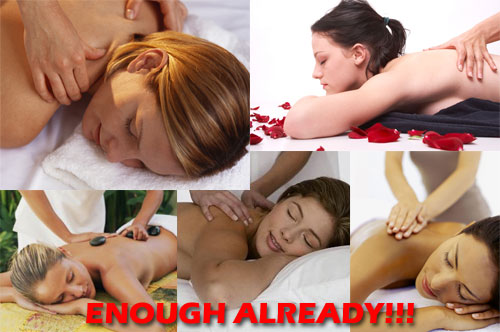 Look, I love watching half-naked ladies as much as the next guy.
But when you're SURROUNDED by these posters all around, it can be kinda annoying. I walked two blocks also sien already and started yawning.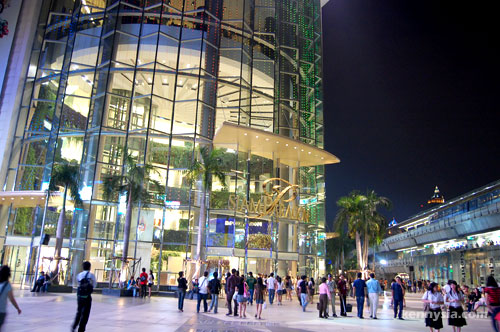 Shopping in central Bangkok wasn't as happening as I thought it was either. Sure, the international brands like Zara and Guess are all there in the glitzy malls, but the prices are more expensive than KL or even Singapore.
I had a really hard time stretching my baht.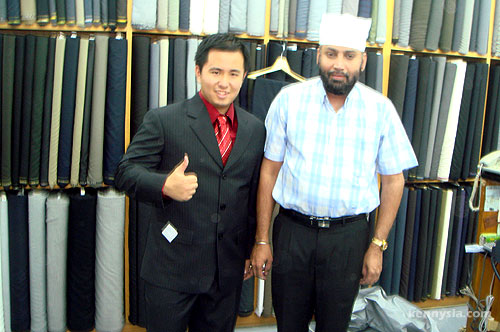 Somethings are worth buying though.
I had this suit tailor made at one of those ubiquitous Indian-run shops near my hotel. One full business suit, including jacket, a shirt, two silk shirts, two matching pants and two silk ties for just 6,500 baht (RM650)! Throw in a briefcase, and I'll look ready to close my next multi-million dollar deal. 😉
All these cut to fit and made in the exact way as an Armani suit. Try to get the same deal back home and it'd cost at least RM1,500.
Dressed to kill, I set out to explore Bangkok's famous nightlife.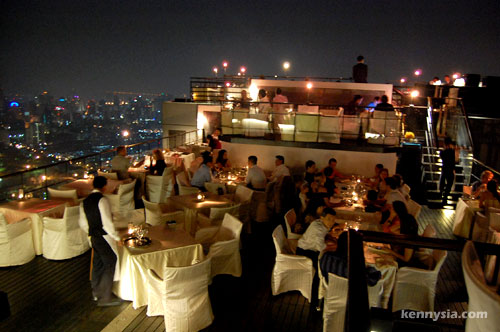 The trend now in many big cities is to have a bar on top a high-rise building. The idea is so that people can get a bird's eye view overlooking the beautiful city night lights.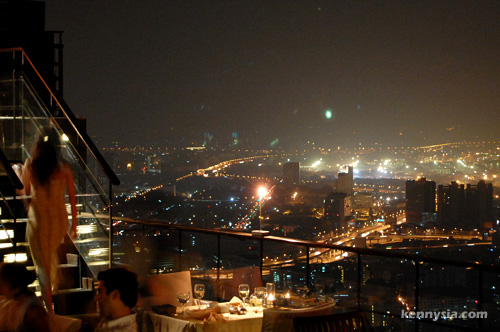 I've been to many similar bars in other countries before and none of them ever fail to impress me. The views here at Sirocco Sky Bar are just as equally stunning.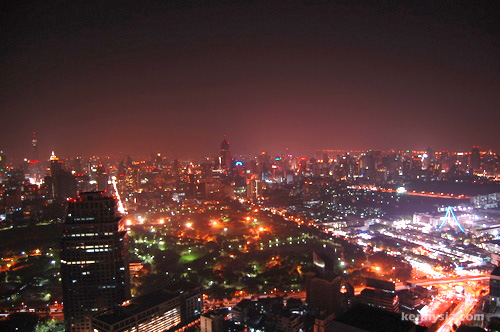 It made Bangkok look like some futuristic city straight out of Star Wars.
Go ahead and click on the pics to download the wallpaper-sized version of them.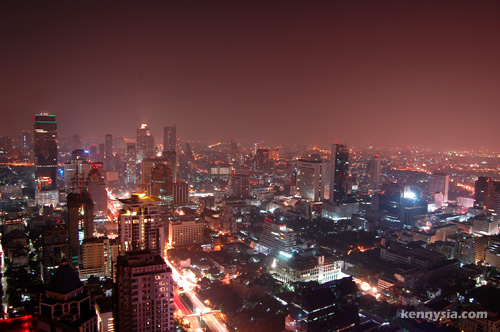 The clubs in Bangkok are no less impressive. When the Black Eyed Peas were here, they said they enjoyed hanging out at the clubs everytime they're in Bangkok.
And I can see why.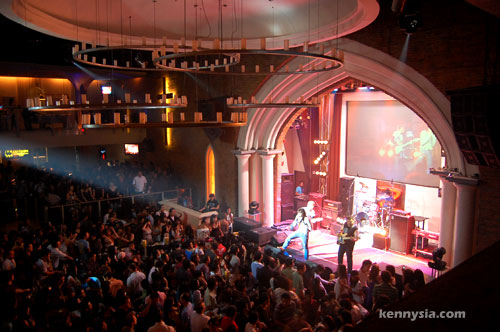 I thought nightlife in Singapore are great. I thought the bars in Jakarta are amazing. But the clubs in Bangkok completely blew me away.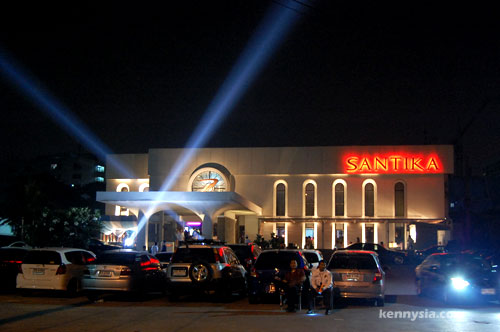 The main clubbing district in Sukhumvit boasts the type of crowd that would put Zouk on a Saturday night to shame. We're talking about a 5km-stretch Ekamai Road all filled with some of the trendiest clubs and hippest DJs along the road.
No cover charge, and you get to mingle in debauchery with some of the best-dressed crowd and hottest chicks in South-East Asia.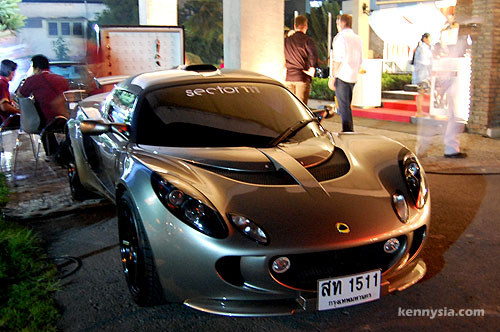 Check out this "bat mobile" parked outside Santika.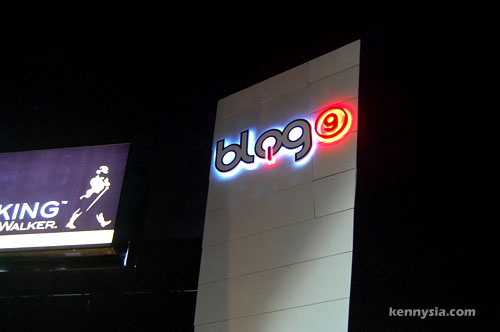 Look! There's even a club called Blog 9! Ha ha.
Anyway, there's a lot more Bangkok stories to tell, but I'm running out of time.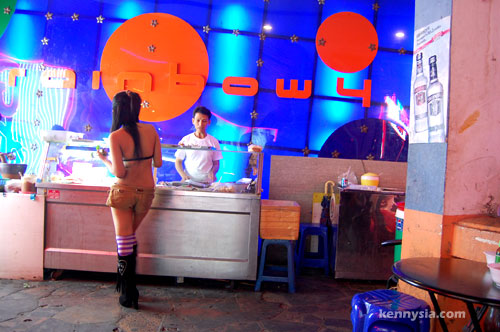 Up next, Kenny Sia explores the seedy underside of Bangkok's sleazy go-go bars.

AD: "Season greetings! Presents exchanging! Where else but at A.L. Designs to welcome the joys of giving! Beautiful designs, intricate sophistications, impressing your loved and close ones like you had never before! Earrings of elegance, charm-oozing bracelets, sweet feminine styles for the lady that desires. Customization is available for you fickle ones out there, fulfilling the most challenging of demands of your rightful choice."
All right here at ald3signs.blogspot.com