Been doing quite a number of interviews lately!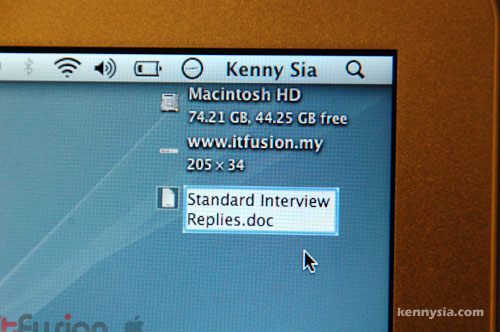 It has come to a point where now I keep a file called Standard Interview Replies.doc on my desktop, just so I could copy and paste my answers to my interviewers.
(In case you wondered how come my interviews in different publications all sound the same, now you know.)
But occassionally, the writer is someone who knows me so well, she can skip the interview altogether and still do an ass-kicking write-up about me. JoyceTheFairy did just that in September's issue of KLue magazine.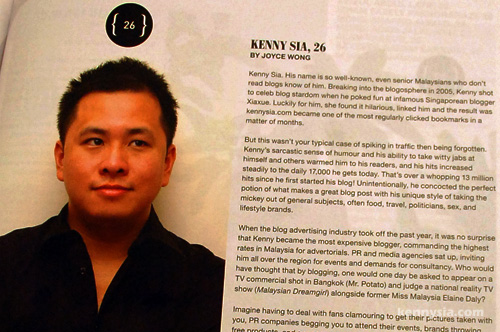 (I know I'm a bit late plugging the mag now, but we are KLue-less here in Kuching. The only KLue we have are in Starbucks, and even those are from April 2008.)
I was featured in KLue's 20 Under 40, a list honouring 20 of KL's biggest movers and shakers.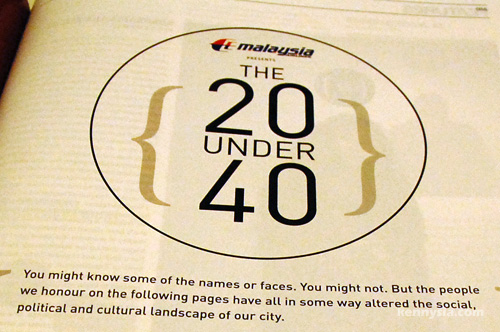 Seriously, I do not know how exactly I moved or shook KL.
If I remember correctly, the only moving and shaking I did was when I went jogging in Lake Gardens last time.
I was so freaking fat that every step I took, the entire KL moved and shook.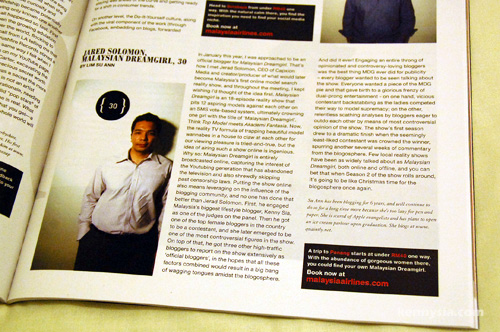 The 20 Under 40 list included more worthy inductees like Anwar's daughter Nurul Izzah, MDG boss Jerad Solomon and Malaysian spaceman Sheikh Muszaphar. Alongside them, I look like a complete waste of space on page 61.
Still, it's quite a honour to not only be mentioned, but also have the "Carrie Bradshaw of KL" write about me. I cannot think of a more suitable person to do the write-up, so thank you Joyce! 🙂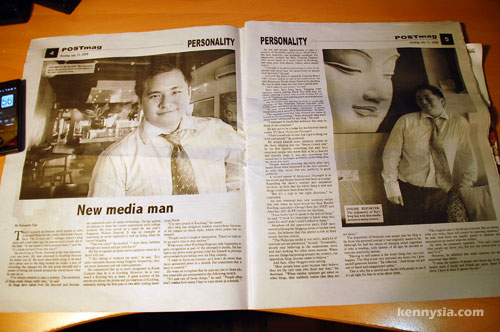 If I had to do an interview though, most of the time I still prefer face-to-face over e-mail interviews. It's a lot more personal that way and I get to express my emotions a lot better. Like what I did recently with Georgette Tan.
The interview, which was published on The Sunday Post's POSTmag, has gotta be up there as one of my most favourite interviews to date.
(Although I reckon she could've chosen a better front cover picture of me that doesn't look like a vampire version of William Hung.)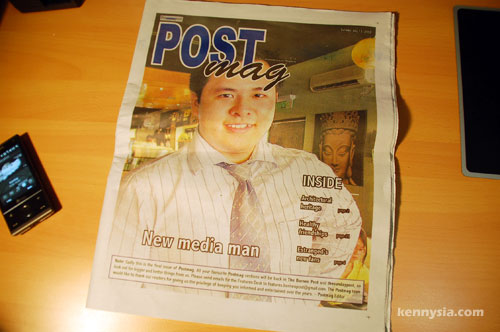 New Media Man
By Georgette Tan, POSTmag, 13 July 2008.
There's scarcely an Internet savvy person in town or around Malaysia who doesn't know who Kenny Sia is. The 26-year-old IT manager started a blog three and a half years ago for reasons most people did at the time. "It was meant to be a personal diary," said Sia. "It's kinda deviated from that since!"
Sia was living in Perth, Australia at the time kennysia.com was born. He then returned to Kuching because his fater was ill. He knew there were going to be hard days ahead and so the blog became an outlet, a way of recording the changes his life was going through and a means of letting his friends around the world know what he was up to.
"I've always wanted to start a website. The invention of blogs made things really easy," he said.
As blogs have taken over the Internet and become an undeniable part of online technology, Sia has gotten invitations to share his varied experiences with college students. He even served on a panel of last year's Singapore Writers Festival. It was an example of something he never expected to end up doing when he started blogging.
"That was crazy!" he recalled. "I went there, babbled through my session and got paid for it!"

But Sia recognises an appreciative audience when he is faced with one.
"I like talking to students the most," he said. "It's more enjoyable because being bloggers themselves, they are more interested and ask valid questions."
Sia commented that he is more recognised in Kuala Lumpur than he is in Kuching. However, he is very much a Kuching boy at heart. A good number of his entries are about the prides and peculiarities of Kuching, especially during the first year or two after coming home from Perth.
"I'm very proud of Kuching," he stated.
Sia's blog has delighted readers everywhere because of his tongue-in-cheek style, which often pokes fun at himself.
"People need to laugh at themselves. There's a time to let go and a time to stay serious."
While some other Kuching blogs are only beginning to gain recognition as part of the alternative media, Sia has had to lay down some ground rules for himself to prevent advertorials from taking over his blog content.
"I want to focus on content, so I won't do more than three sponsored posts in a month, but sometimes this is hard to control."
He went on to explain that he may yes to three ads, but some jobs get postponed to the following month.
"It's just one of those things," he said. "People often don't realise how many ads I had to turn down in a month."
Sia has had several opportunities to play a member of the media, mostly on an official basis.

His first, however, was decidedly unofficial. He infamously crashed the Miss Tourism Pageant 2005 grand finals at a major hotel in Kuching, and came away with photos, videos, and a candid report.
"I thought it would be interesting to cover it for people who never had the opportunity to attend such an event," he said.
Last year Sia wrote to Sarawak Tourism Board CEO Gracie Geikie to ask if he could cover the 10th Rainforest World Music Festival for his blog. He was thrilled when she sent him a media pass.
"All it takes is one event," he said.
Since then, Sia's been busy, blogging huge concerts (we're talking Black Eyed Peas and Jay Chou), playing a cameo role in a Mister Potato TV ad shot in Thailand, and making guest appearances at various other events.

His favourite was getting invited to cover the opening of the Venetian Macao together with 2,500 other members of the international media.
"It was mind-blowingly awesome. I never expected to find myself in that position," he said.
The organisers of that trip realised the value of a well-frequented blog. "A lot of people who went there were referenced by my blog," Sia said.
"I managed to reach that audience that stays in front of the computer."
Sia also got to be a judge for the Internet-based reality TV show Malaysian Dreamgirl.
"I had a small role in that, but I got to hang out with cool people!" he enthused.

He scored himself more infamous points on the show, slipping into the "Simon Cowell role" by the first episode, something that may have surprised people who know him to be a cheerful and friendly chap. It was also something that caused him to apologise profusely on his blog after the show was over.
"People started watching the show after they heard about what happened in the first episode," he said, fully aware that any publicity is good publicity.
A second season of Malaysian Dreamgirl is in the works and Sia has been invited back as a judge. Regarding the show's venture into uncharted territory, he feels that the whole thing is new and things could have been done better.
"But it's a step in the right direction," he concluded.
Sia also ventured into new territory earlier this year when he interviewed the then Bandar Kuching candidates Chong Chieng Jen (DAP) and Alan Sim (BN-SUPP) before the elections.
"I was lucky I got to speak to the both of them," he said. "I think it's important to know what they stand for and I didn't until I talked to them."

Members of the opposition party DAP have started utilising the blogging arena to further their cause. Sia believes that this played a role in their recent election victory.
"The Malaysian media is very strict, and a lot of opinions are not portrayed accurately," he said. "Eventually, people stop believing in the mainstream news and started looking for other news sources. When you see things happening around the country, the opposition blogs become easier to believe."
And then, other bloggers start talking.
"Most people keep quiet because they believe they are the only ones who think that way," Sia theorised. "When similar opinions get aired on other blogs, they suddenly realise that they are not alone."
The popularity of kennysia.com means that his blog is far from the personal journal it was originally meant to be. Although Sia had the choice of charging ahead regardless of who is reading, with viewers of all ages he decided to exercise sensitivity instead.
"Having to self-censor is the worst thing that can ever happen. The blog is not very personal anymore, but I give myself generous leeway," Sia reflected. "And things can get out-of-hand and exaggerated online."
This is why Sia is careful and checks with people to see if it's all right for him to write about them.

"The toughest part is satisfying everyone. But no matter what you write, there will always be opposing opinions," he said. And there are usually plenty of opinions and assumptions no matter what the subject.
Sia takes the pragmatic approach. "You can't control what people say about you, but you can control how you react to it."
However, he admitted that some opinions are more important than others.
"I value the opinion of people who know me. I would matter more if family and friends get upset. Apart from them, I have learnt to ignore the rest."
Coincidentally, that issue of POSTmag was the final one for The Sunday Post.
I guess they ran out of people to interview, had no choice but scrap the bottom of the barrel and find me.

Music of the Week: Another Valentine by Bassmonkey.
This chillout house music featuring Etherfox's sexy vocals is my absolute favourite running song at the moment. It'll be my "power up song" for this weekend's race in KK!