Before I was in London for Tiger Translate, I wanted to go for a little detour.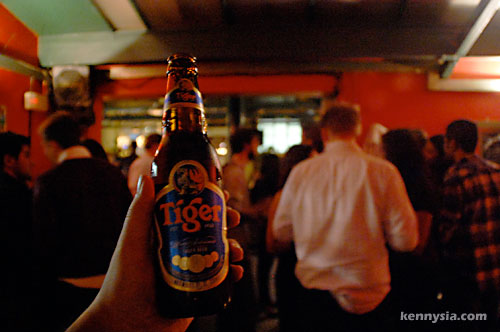 Since my flights to London were all sponsored for by Tiger Beer, and I thought why not make use of the opportunity to visit another country nearby. After all, it's not everyday I get to travel to Europe.
The good news is, London is surrounded by many fanscinating cities. But inside me, there is only one place I really wanted to go.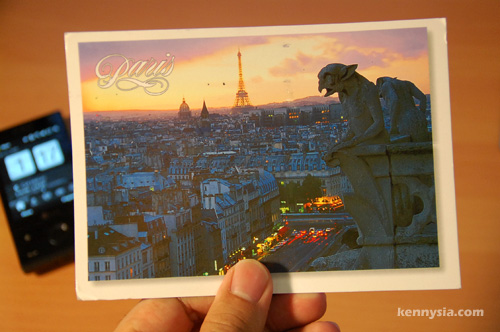 Paris.
The City of Lights. The City of Love. The City of Fashion.
The city where if people insult your mother, you can headbutt them in the chest.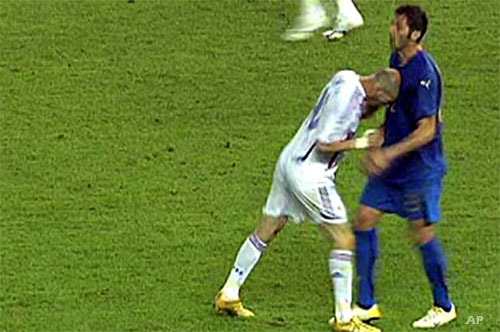 I went to Paris with Dawn and another friend of ours *Belinda (not her real name 'cos she's shy and wanted to remain anonymous).
Obviously, we were very excited in the days leading up to our trip. Who doesn't want to go to the home of champagne, Louis Vuitton and Ratatouille?
Paris is a city crammed with plenty of attractions. Since we're only spending four nights there, we wanted to make the best of it. Being the anal travel planner that I was, I spent TWO FULL DAYS doing intensive research on the Net and came up with… Kenny Sia's Most Kickass Too Fast Too Furious Superman Paris Travel Itinerary.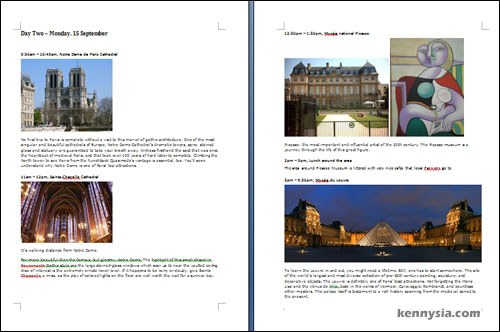 It was the best travel plan I have ever prepared.
I've got my tickets, accommodation and schedule all sorted out and deposits paid for before I even stepped on the plane. I showed the girls what I have prepared and needless to say, they were impressed. They even said to me, "Wow Kenny, you're good!"
And to that I say, with a wink, "Yes ladies, I know. I get that a lot."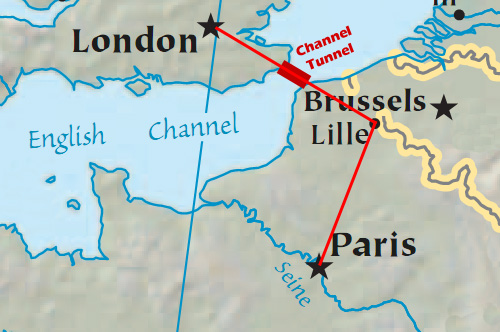 However, the trip didn't start off as well as we hoped it would.
Getting from London to Paris was supposed to be the easiest part. The two big cities are connected by high-speed Eurostar train, which runs from the centre of London, through the undersea English Channel tunnel, right to the middle of Paris. If you book early, you can get tickets real cheap. I got mine at 49 pounds (RM300) return, which is even cheaper than flying from Kuching to KL.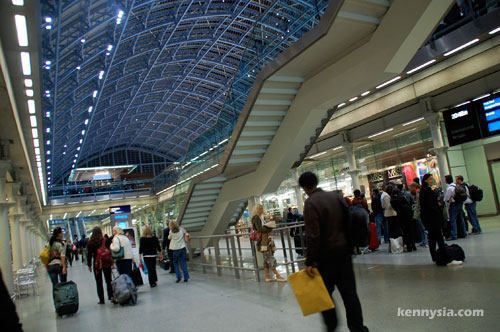 But if there's one thing I learnt in life, it is this.
No matter how good your plans are, the things you LEAST expected could happen and everything you planned for could very well… fuck up.
Pardon my French.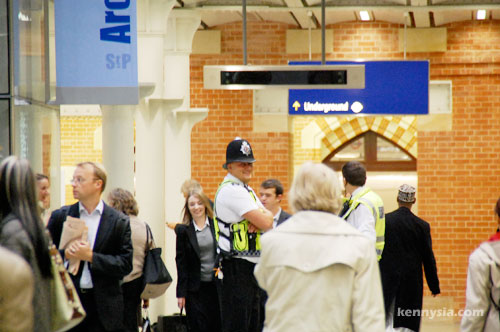 The first unfortunate event happened even before our trip started.
Two days before I was set to depart, we received this wonderful piece of news in the papers.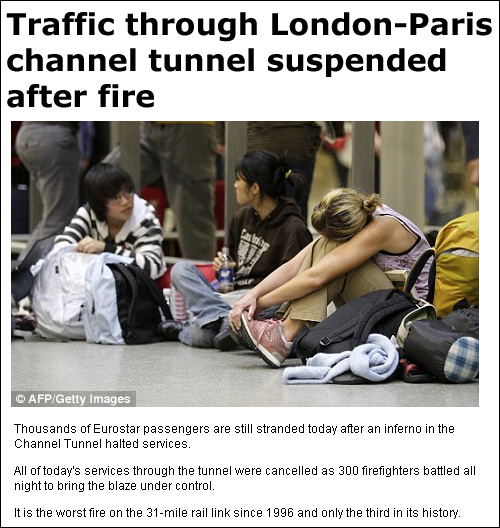 My heart went crashing down further than the US stock markets.
I was in a state of panic. The fire in the tunnel was still going on even as I boarded my flight to London. Throughout my 13 hour journey, all I could think was whether or not I might lose my deposits for our accommodation booking.
I even checked the live news report on the plane's computer continuously to see if the fire has been extinguished. More importantly, if my train to Paris has resumed.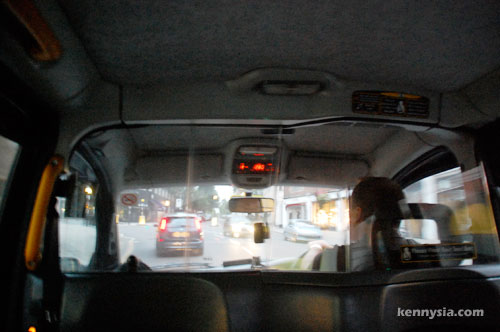 As soon as I touched down London Heathrow, I shot a text off to Dawn and Belinda to find out their whereabouts.
Belinda informed me that train services have only partially resumed. She was lucky enough to grab hold of a seat and managed to get to Paris. Dawn was still stuck in London. Because our original trains were cancelled, we'd have to catch the replacement train the next day.
I myself had to scramble for a place to stay in London last minute because I hadn't had any booking. Needless to say, I had a crap sleep.
Moral of the story is: buy travel insurance.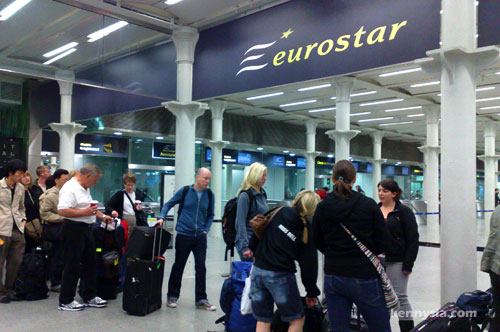 Next morning, I headed to the Eurostar station bright and early to meet up with Dawn. That was when the second of our series of unfortunate events occured.
As if it wasn't bad enough to not have slept all night. I was tearing out my hair because: 1) Dawn was nowhere to be found, and 2) she was not answering her phone either!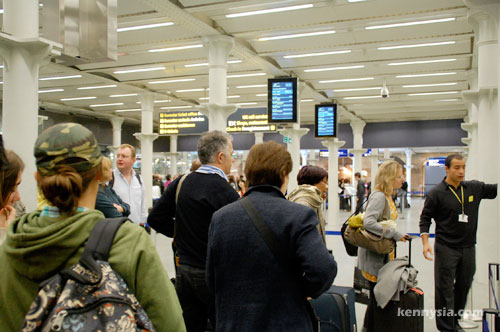 I was frantically searching for her all over the Eurostar station and just as I was about to give up, Dawn suddenly appeared out of thin air and tapped me from behind.
Kenny: "Where did you go? I've been trying to call you!"
Dawn: "I dropped my phone in the cab!"
Kenny: "WHATTTT!!! How now!?"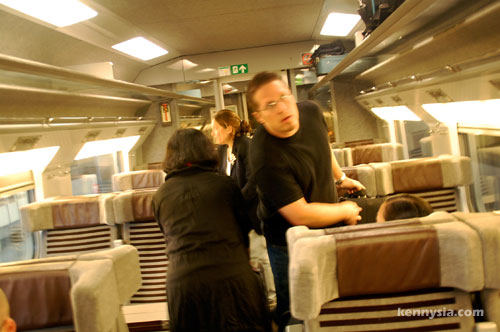 The cab driver was nice enough to deliver her phone back eventually, but that was too late to save me from heart attack.
It was only the start of our trip and already it is turning out to be quite a chaotic nightmare.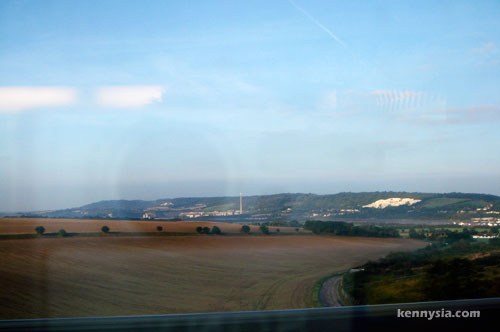 Despite the earlier mishaps, taking the Eurostar train across the English Channel was fun. One moment you can see English signboards, then it's complete darkness for a while inside the tunnel.
Next thing you know, sunlight shines through the windows and everything is in French.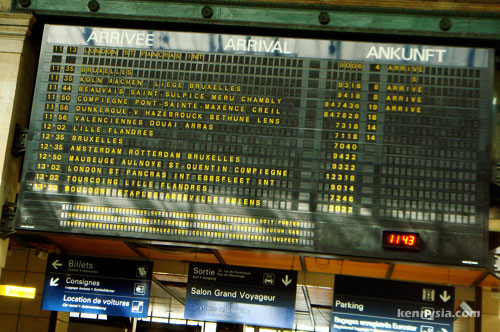 Welcome to Paris!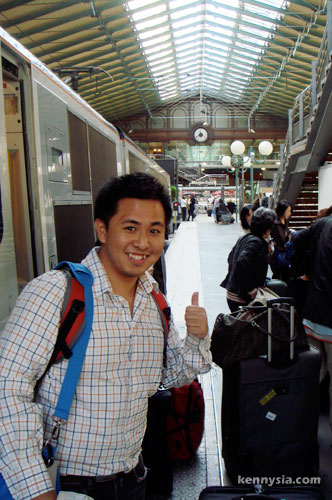 We lugged our heavy luggages through the massive Parisian subway stations, got off at the Jewish quarter and arrived 13 hours late to meet Belinda at our rental apartment.
Finally, some decent rest at last!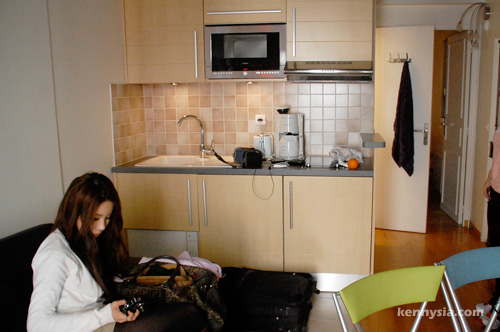 This was the apartment we stayed in. It is small, but very clean and modern.
The apartment has only one bedroom with a queen sized bed.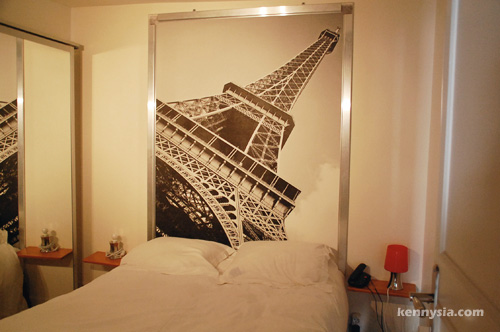 This was the bed that Dawn Yang and I slept in.
For four nights, we shared this bed, made love all night long and performed hardcore kinky sex utilising every single sexual positions known and unknown to men. We made a lot of noise when we did it missionary, cowgirl and doggie style.
We even tried the difficult ones like The Wheelbarrow.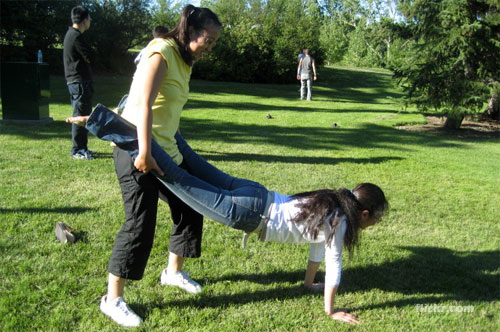 The Helicopter.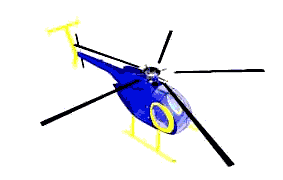 The Windmill…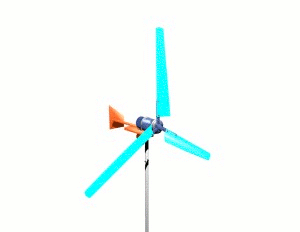 …at least that's what the busy bodies in the gossip forums would like to believe. 😉
Apparently if I travel with a girl and the place we stayed has double bed, automatically those people would jump to conclusion and think that *gasp* we must be screwing each other! RIGHT?
Sorry guys, but unfortunately the truth is far less interesting than made-up fiction. In actual fact, Dawn and Belinda shared the bedroom while I slept on the sofa bed in the living room alone.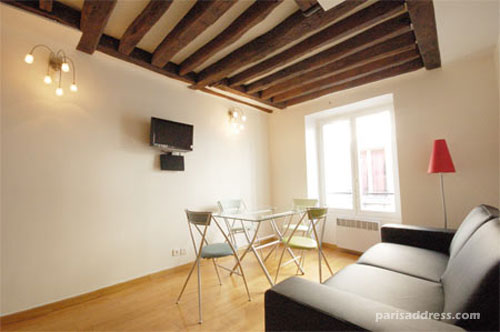 All jokes aside, there was one thing we did correct in this trip. We made a smart decision to stay in an apartment instead of a hotel.
Accommodation is bloody expensive in Paris. Even with a 50 Euro (RM250) a night budget, the best I could find are smelly and old hotels in the red light district of Montmarte. It's too far away from all the attractions and too unsafe for the girls.
Considering there's three of us and staying for four nights, the rental apartments are a better deal.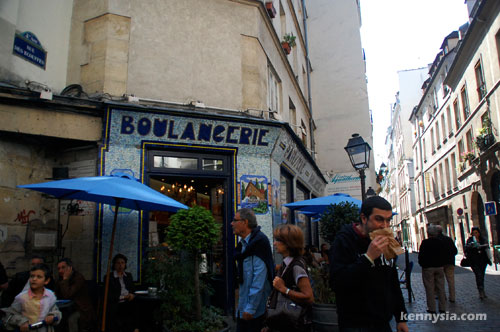 We booked our apartment through parisaddress.com for 135 Euros (RM675) per night. Split among three, each of us paid 45 Euros to stay in a clean and centrally-located swanky apartment.
Throw in free internet, a kitchen and a washing machine, it's a damn good deal by Parisien standards.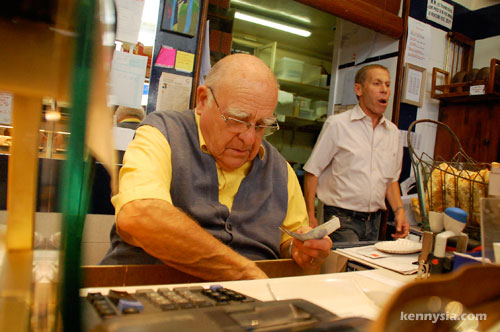 Anyway, we were determined to start our holiday after a bad start to our trip. With our late arrival throwing the spanner in the works, the kickass itinerary I planned earlier was as good as used toilet paper. Still, we compromised and tried to make the best out of it.
We got changed and got out of our apartment. Two steps out our doorway, I heard the two girls screamed "VINTAGEEEEEE!!!" and immediately they scuttled into this old-fashioned vintage store like rats in Ratatoille.
Then they proceeded to stay there for ONE HOUR.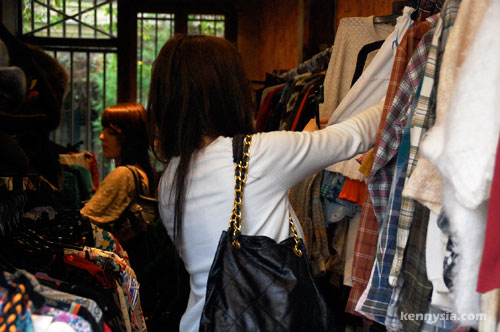 Note to self: remember to keep the girls far far away from shopping.
Our first tourist stop is not in Paris, but in Versailles. Versailles is the old capital of France located 40 minutes away from Paris. There's a Palace there where French kings used to stay many centuries.
We arrived in Versailles after a long train ride. First thing we noticed is that for some strange reasons, everybody seems to be walking OUT of the palace gates.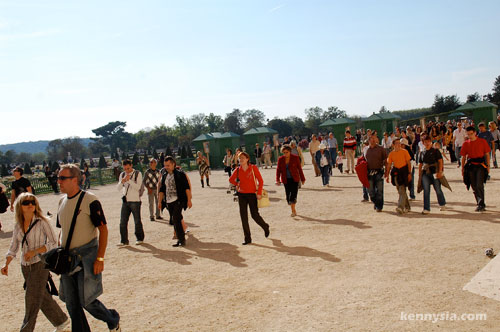 When we went to purchase our tickets at the reception, we encountered the third unfortunate event of our Paris trip.
Due to a private function, the Palace was closed early and we couldn't go in!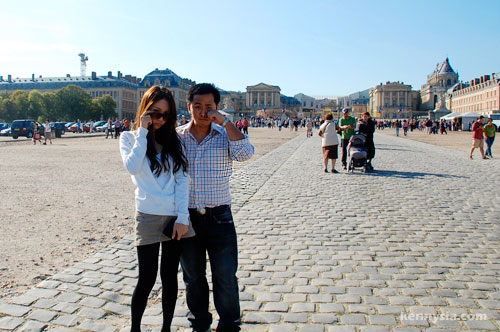 That means we just wasted 2 hours travelling back and forth to Versailles for absolutely nothing! By now the girls were probably thinking what a lousy tour guide this Kenny Sia person is. First trip with him and already everything was going wrong.
Dejected, defeated and utterly disappointed, we made our way back to Paris.
Got off at the Palais de Chaillot, and that's when we saw it.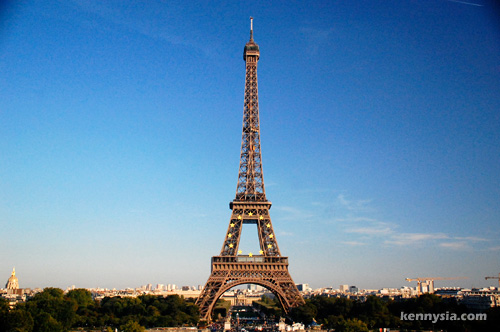 The Eiffel Tower!
We hugged each other, wiped the tear off the corner of our eyes as we gazed upon the 325m of iron structure in front of us, recognised all over the world as the definitive symbol of Paris.
It is so beautiful.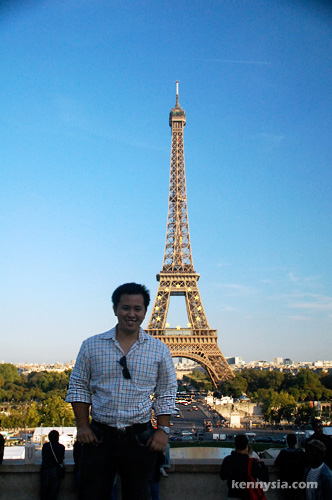 Finally, that's one thing crossed off the list of things I wanna do before I die. 🙂

"We're going to Paris tomorrWOW! No… actually, we're already there."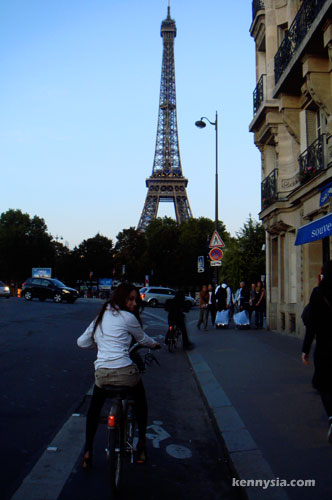 When we had enough camwhoring at Trocadero, the three of us rented a bike for only 1 Euro (RM 5), then cycled down to the base of the Eiffel Tower during sunset.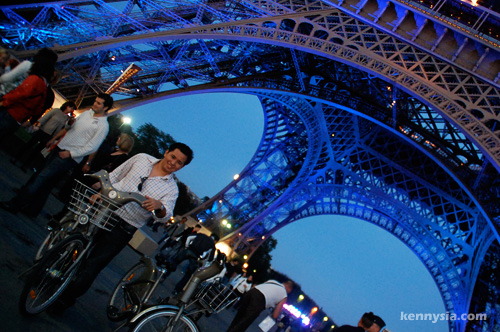 It was a quintessential Paris experience, and I highly recommend everyone to get on a bicycle when you're in Paris.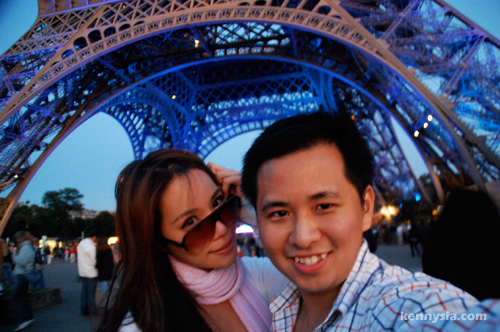 No matter how many times I look at the Eiffel, I can never get tired of it.
At night, the tower lights up and it looks even more spectacular.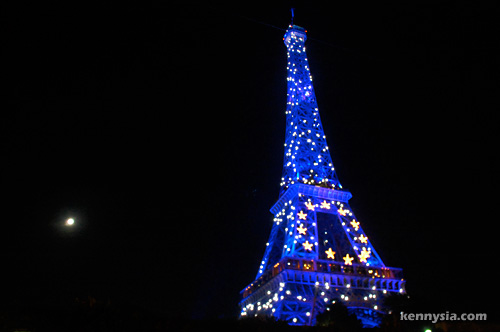 We were satisifed at last.
The beginning of our trip was the worst nightmare anyone could ever imagine. Train got cancelled because tunnel caught fire, phone dropped in cab and the only tourist attraction we went to closed early.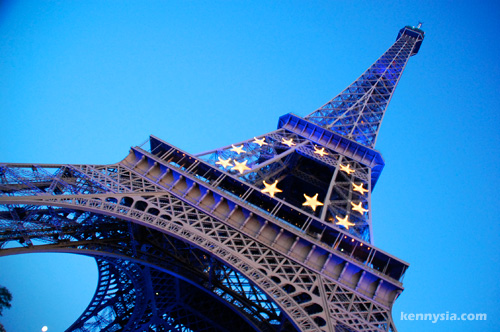 But as soon as we saw the Eiffel Tower, it's as if all our earlier disappointments just instantly vanished.
Such is the magic of the Eiffel.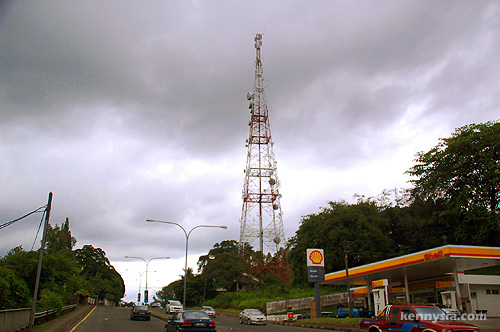 Sure beats the "Eiffel Tower" we have on Batu Lintang Rd in Kuching.

I hope America chooses the right President. It shouldn't be that difficult.
One is a black guy whose name sounds like a WWE wrestling champion. Another has a vice-president whose name is "Salah Paling" and comes from a town called "Wa Si La".